Here is an interesting fact- 74% of trainers use video learning in their training delivery! But why video? This is because people remember 80% of what they see, compared to only 20% of what they read. So, it is best to include a training video when you want to train people to use your product or service.
And the best part? Creating video tutorials is now easy – you only need the best tools, scripts, and time. In this article, we tell you everything you need to know about training videos. From what they are, why you need them, the types and uses, to how to use Zight to create them.
Let's dive right in!
What Is A Training Video?
A training video is a visual guide designed to teach specific skills or knowledge to employees, customers, and business partners. Whether a product demonstration, a software tutorial, or a step-by-step guide to your company process, a training video will turn your information into an interactive experience.
You can think of this video as a tool that allows you to reach your audience anytime, anywhere, ensuring that learning is effective and enjoyable. This instructional video also seamlessly fits into your knowledge base, allowing viewers to learn at their own pace.
How To Create a Training Video In 5 Steps Using Zight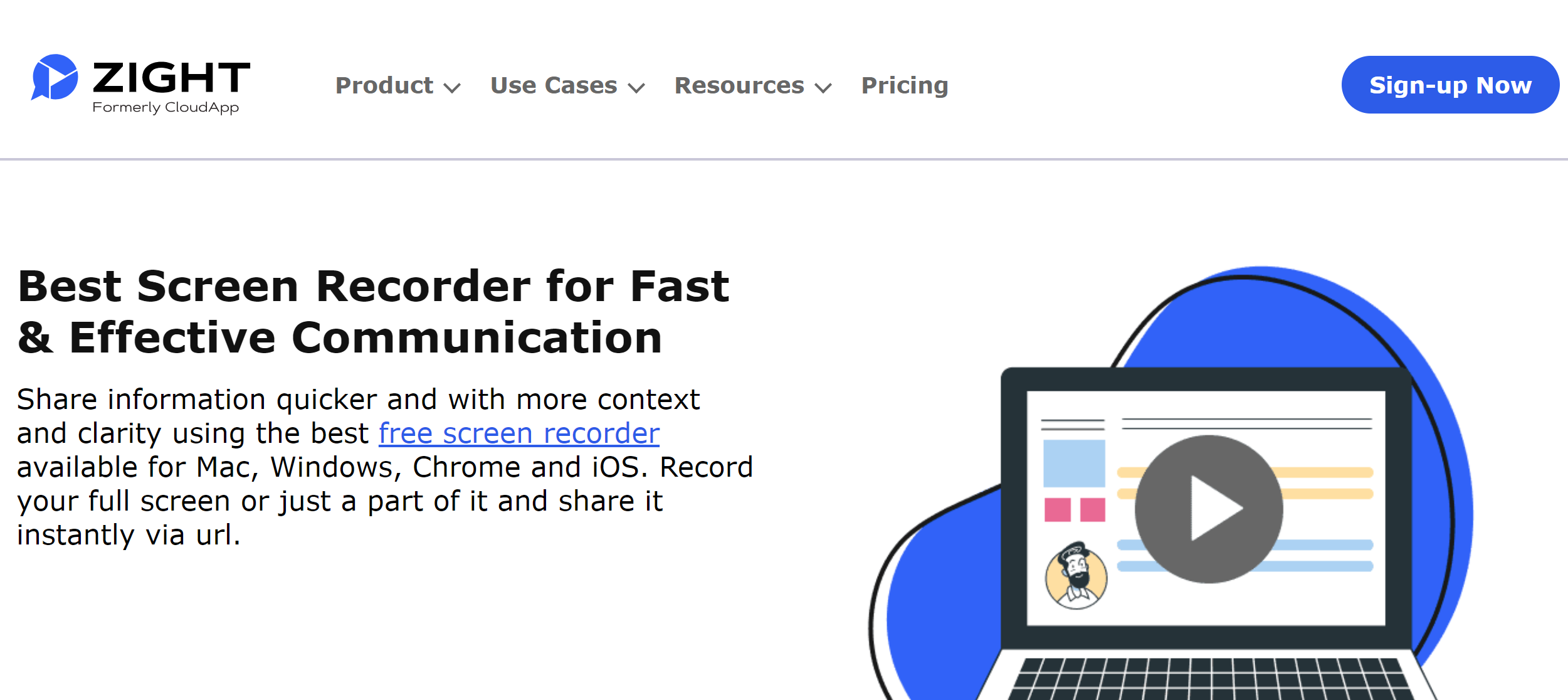 Wondering how to start creating training videos? As mentioned above, all you need is the right tool, plus a script and time. If you're looking for video creation software, we recommend Zight. It is a computer screen recording tool with the best features for making training videos. Here's how:
1. Create An Account
Open Zight.com and create a free account. Simply provide your email and set a password to register. Alternatively, you can sign up with your Google account, Apple ID, or Slack. You can also select the Sign Up with SSO link to use your organization's network.
The process is simple and should not take more than a few minutes. Once you have a Zight account, you have the best features at hand to create effective training videos.
2. Download and Install Zight
Now that you have an account, go to the Zight website and locate the Download Now button. Click it and choose the best app for your device. Zight is available for Mac, Windows, and Chrome extension.
The Zight apps for Windows and Mac come with a range of features. You get all screen recording features for Video, including GIFs. Your recording preferences include Screen Only, Screen & Cam, or Cam Only for videos and GIFs. The app also allows you to upload videos to your Zight dashboard.
The Chrome extension is superb when you want to record tutorial videos from your Chrome browser. You can record Screen Only, Screen & Cam, or Cam Only, and choose between Full Desktop or Current Tab.
3. Record Your Training Video
With Zight, the recording process is as easy as 1-2-3. You only need to decide if you'll use the desktop app or the Chrome extension. Since the process is quite similar with both options, let's cover recording with the Mac or Windows app.
Open the app and click the Record button. You can also use these shortcuts: Mac (CMD+Shift+6) and Windows (Alt+Shift+6):
Here are the recording preferences you can choose from:
Screen & Cam Option: Ideal for all training videos, this option lets you record both your screen and webcam simultaneously, creating a more interactive experience
Screen Only: Perfect for tutorials that focus on on-screen actions
Cam Only: Great for personal messages or introductions
GIF Option: Create engaging GIFs for lighter content or quick demonstrations
When you select the best preferences, check the Camera and Audio settings. Customize these to suit your needs, ensuring optimal video and sound quality. You can select which mic or camera to use if you have options connected to your desktop.
After selecting your preferences, you can start recording training videos. Click the blue Start Recording button and prepare yourself as the 3-second timer runs.
Ensure to cover your script thoroughly. You can demonstrate steps on your screen while explaining them through the mic or use annotations to highlight specific sections in your video. You can pause and resume your recording to ensure enough time to annotate sections.
Once you cover everything and are done annotating, click the Finish Recording button and wait for the video to upload to the cloud. Once uploaded, Zight will copy the link to your clipboard and open it on your default browser.
4. Edit Your Training Video
Zight automatically takes you to its browser-based video editor when you finish recording. This is your chance to polish your video further before sharing it with your recipients. Here are your editing options:
You can click Add a Button to tell your viewers what to do with the video. You can add a link to the button, give it a custom name, and choose the button and text color to accompany it. Finally, choose the button style and where it will appear.
In addition, you can apply a template to your video, with default options like Sales Intro, Bug Report, Support Response, and Announcement available. You can also make custom templates to match the intent of your training video.
Finally, you can click the Edit button, which will expose you to more editing features. These include Trimming, Cropping, Fine Tuning, and adding Filters to your video. You can zoom your training video in or out as you make changes, mute sound, or split and merge sections. After editing, click the Done button to save all changes.
5. Share the Training Video
At this point, your video is ready for your audience. You can download it or copy and paste the link to the desired destinations.
When you Download, the video saves to your desktop, and you will need to upload it when sharing. In addition, your recipient will need to download it before they can view it.
To share the video as a link with a recipient, first double-check the share settings. Here, you can choose who can view and edit the link and when the link expires. When you share the video link, you can also allow comments and reactions on the video that will help you gather feedback. Finally, copy and paste the link to your recipient, or click Share and enter the recipient's email address.
The best thing about sharing the video link is that it's fast and doesn't require your recipient to download or even have a Zight account to view the video. They only need to open the link from their browser and watch the entire video.
But that's not all. Suppose you are creating a training video for your website's self-service knowledge base. In this case, you can embed the video on your website and social media channels.
To do so, click the Share button, then select where to share or embed it. Some default destinations here are X(Twitter), Facebook, Mail, Pinterest, LinkedIn, Google, and an embed code. To embed the video to your website or email, click the embed option and copy the code Zight will provide. Then, you'll only need to paste this code into your blog and publish it.
Benefits Of Creating Training Videos For Your Business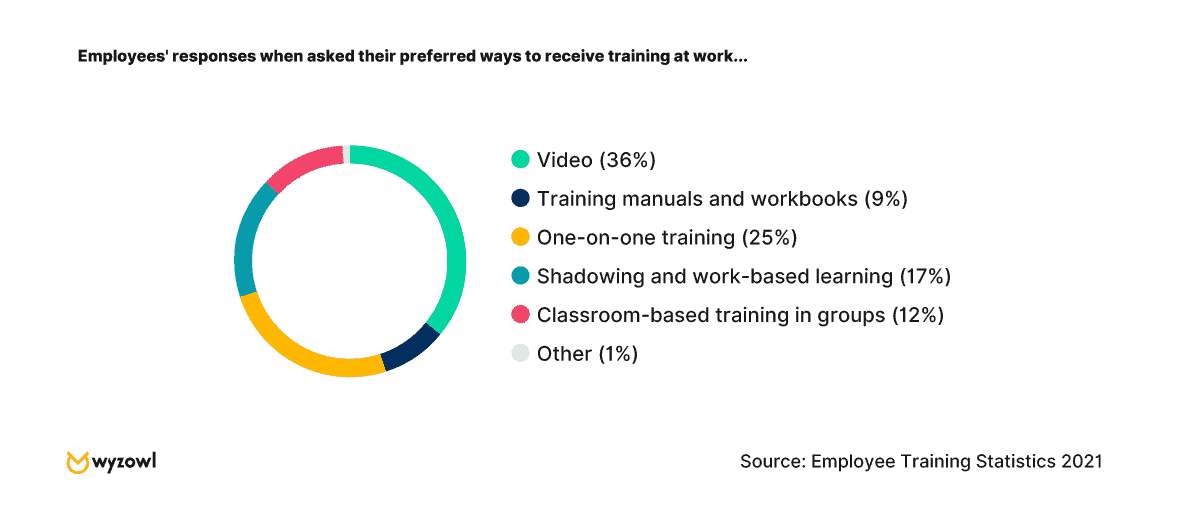 It's easy to learn how to record a training video, and it's good for your business too! Here are nine benefits you will enjoy for your business:
1. Boosts Engagement Through Interactive Learning
With interactive learning through videos, you will capture your viewers' attention and keeps them engaged. Unlike traditional text-based methods, videos use visuals and audio to create a dynamic learning experience. This approach makes complex topics more enjoyable.
In addition, a training video can utilize fun and interactive elements like quizzes, emojis, and other exercises that will keep trainees engaged in the content.
2. Ensures Consistent Training Across the Organization
When you create a video for training, you ensure that every team member – regardless of location or department – receives the same high-quality instruction. That makes your video a standardized curriculum that conveys the exact message, tone, and content to all. This consistency eliminates variations in training delivery, promoting a unified understanding of company policies, procedures, and values.
3. Reduced Training Costs
Cutting down on training expenses is more than just a cost-saving measure; it's a strategic move that reallocates resources where they matter more. With video, you eliminate the need for physical venues, printed materials, and on-site instructors.
The videos are reusable content that's accessible to anyone at any time. As a result, you will have a more flexible and scalable training program – you can even create more self-service training videos without spending much!
4. Offers Flexible Learning Opportunities Anytime, Anywhere
In today's fast-paced world, learning at one's own pace and convenience is invaluable. Video training breaks the barriers of time and location, allowing employees, business partners, or customers to access the training videos whenever they choose.
Whether late at night or during a commute, the training is always available at their fingertips. The flexibility caters to different learning styles and schedules, making your training more accessible and even personalized.
5. Improved Knowledge Retention
Video enhances memory retention, making it crucial and effective in any training. It allows you to present information visually and audibly, thus appealing to multiple senses – and aiding in absorbing and recalling key concepts. By combining images, sound, and motion in a training video, you will create a memorable learning experience that resonates with any viewer.
6. Easy Monitoring and Tracking of Progress
Training videos allow you to measure their effectiveness, determining how fast you can guarantee employee and customer success.
When creating your video, you can integrate quizzes, surveys, and interactive feedback tools that provide real-time metrics into how well the content is absorbed. You can also track progress, identify areas for improvement, and even offer personalized feedback.
This data-driven approach ensures that your training is not just a one-size-fits-all solution but a tailored experience that adapts to each individual's unique needs and performance, enhancing overall learning outcomes.
7. Strengthened Brand Identity and Culture
Building and reinforcing your brand culture is about more than logos and slogans. It's about creating a shared sense of identity and values.
Video training helps you share your company's story, mission, and core beliefs in an engaging and relatable way. When you show rather than just tell, you make these concepts come alive for your team and customers.
It's a way to connect with your target audience on a deeper level, helping them feel part of something bigger and inspiring loyalty and pride in your brand.
8. Drives Organic Traffic Through Shareable Content
When you create shareable and valuable video content, you encourage viewers to spread the word about your company. These training videos can be shared on social media, embedded in blogs, or linked in emails, reaching a wider audience without the additional advertising costs.
As more people discover and engage with your videos, it boosts your online presence and credibility. That makes it a natural way to attract more visitors and potential customers, enhancing your brand's reach and influence.
9. Elevates Customer Satisfaction
You can't succeed in business if your customers aren't satisfied. There are many ways to boost customer satisfaction, but the benefit of using instructional videos cannot be overstated.
You can create clear, engaging videos to help customers understand your products or services better. Whether it's how-to videos or detailed product demonstrations, these videos answer questions and solve problems directly. This proactive approach reduces confusion and frustration, leading to happier customers.
5 Use Cases Where Training Videos Will Save Your Team A Lot Of Time And Money
There are many ways to use training videos at work. But there could be instances where a video will not add much value to your training. You want to only use videos to improve your delivery when instructing your teams and customers. So, here are 5 scenarios where they will save you time and money:
1. Asynchronous Communication
Video training allows you to convey information without requiring both parties to be present. For asynchronous communication, you can share instructions, feedback, or guidance at your convenience and let others access it when they can. It streamlines communication, eradicates misunderstandings, and saves time and effort.
2. Onboarding Employees and Customers
You can use videos to teach new hires or customers how to use a product or service in little time. Video ensures consistent training and reduces the need for live demonstrations to save time and money.
3. Communicating with Remote Teams
Employee training videos prevent incomprehension, especially for remote teams in different time zones. You need a way to train them conveniently. So, when you make a training video, you can share visual explanations or project updates to ensure everyone uses the same information. This way, you will foster a more cohesive remote working environment.
4. Providing Updates and Presentations
In-person or virtual meetings are time-consuming and can mess up your work schedule if you or someone in your team were to be late. But you can avoid them by recording video updates or presentations. Share them with your team, allowing them to absorb the information at their pace. This will make the process more efficient.
5. For Troubleshooting Problems
You can create video guides to common problems your customers face with your product or service. These videos provide instant support and therefore reduce the need for live assistance. In the end, you will save valuable time and resources.
Types of Training Videos You Should Make for Your Business
As you have seen, you can use online training videos for your business in different ways. But it is also clear you need to create different types of videos for different use cases. Here are some types of training videos you can create:
1. Employee Training Video
You can create targeted content to onboard new employees or upskill existing staff. These videos ensure consistent training across the organization to create a unified understanding of company values and procedures.
2. Animated Training Videos
Are you selling something technical? Leverage animations to explain abstract concepts or processes. An animated training video adds visual interest and can make complex information more accessible and enjoyable to learn.
3. Presenter-Style Videos
When you know how to record a training video, you can engage your audience as a virtual presenter who guides them through the content. This format adds a personal touch, making your script more relatable for viewers.
4. Screencast
With a screencast, you capture on-screen actions to demonstrate software usage or online processes. These videos are ideal for technical training as they provide clear visual guides that users can follow at their own pace.
5. Talking Head Videos
With this type, you use a single speaker to convey information directly to the camera. This training video format adds a personal connection, making it suitable for step-by-step instructions for a process.
6. Async Videos
This type lets you utilize asynchronous videos to communicate information without time constraints. You can share updates, feedback, or instructions, allowing viewers to access the content at their preferred time.
Features of a Great and Effective Training Video
Here's the thing; learning how to make a training video is easy, especially when you have a tool such as Zight to use. But will the training video you create positively impact your business? Not all training videos will work, so here are five features you should ensure to be effective:
1. It Has To Be A High-Quality Training Video
An effective tutorial video must be visually appealing and free from technical glitches. High resolution, clear imagery, and smooth playback ensure that the viewer's attention remains focused on the content, not distracted by poor quality.
2. It Provides Straightforward Instructions
Clarity is key! The instructions in the video should be concise and direct. Clear guidance helps the viewer understand the material quickly to enhance the learning experience.
3. The Training Video Identifies Learning Outcomes
Clearly stating the learning objectives at the beginning of the video sets the expectations. It helps viewers understand what they will gain from the video and aligns their attention with the intended outcomes.
4. It Fulfills The Needs Of The Viewer
There is a reason your viewers are willing to watch your training video. Is it to troubleshoot something? Or maybe they want to learn how to use your product or service?
An effective training video's content should be crafted to answer specific questions or solve particular problems the viewer may have, thus meeting and fulfilling their needs. That will be a win for your customer success strategy!
5. It Is Not Too Short, Not Too Long, and in the Right Format
A video that's too brief may skip essential details, leaving the viewer confused or with unanswered questions. Conversely, an overly lengthy video can lose the viewer's interest and dilute the main points. So, when you create training videos, strike a good balance – neither rushing through important details nor dragging on unnecessarily.
In addition, you want to choose the right video format. You can create an animated training video, a talking head video, or even a presenter-style video, among other types. However, you should pick a format that will communicate your training best. For example, a technical training video can be animated to engage the viewer, but the same animation may not work when a viewer needs to troubleshoot something personal.
How to Prepare Yourself to Make a Training Video That Works
Now that you've learned how to record training videos, here are the steps on how to prepare yourself for making an effective video:
1. Choose Your Topic and Define the Goal
Start by identifying the topic you want to cover and the goal you aim to achieve with the video. Whether teaching a new skill or explaining a complex concept, maintaining a clear focus ensures your content is targeted and effective.
2. Select the Right Format
Consider a format that best suits your content and audience. As mentioned above, different formats are ideal for different videos. Will animation make your complex topic more understandable? Or do you need a talking head training video to connect with your viewer? Whether it's a screencast, live session, or animated video, the right format enhances the viewer's engagement and comprehension.
3. Craft an Outline, Storyboard, and Script
Create a detailed storyboard, outline, and script that breaks the content into manageable sections.
An outline is a plan that breaks down the content into sections or main points, providing a roadmap for your video. A storyboard is a visual representation of the video's scenes that helps you visualize the flow and design, including images, text, and transitions. Finally, the script is the written narration or dialogue that guides what you say and present on the screen at a particular time.
These elements help organize your thoughts, ensuring a coherent and engaging video that covers all essential information.
4. Create Training Videos
Prepare your recording environment, ensuring good lighting, sound quality, and a distraction-free setting. Test your equipment and rehearse your script to feel confident and ready to record.
When all is set, settle down and use Zight to record your video training.
5. Edit the Training Video
Now that you have completed the screen recording process, it's time to edit and polish the video for your audience. Trim unnecessary parts, add effects if needed, and ensure the video flows smoothly by merging or splitting sections.
6. Share with Your Audience
Finally, determine the best way to share your training video with your target audience. Whether sending a link, embedding on a website, or uploading to social media, choose the method that reaches your viewers effectively.
3 Training Video Examples
Here are three examples of effective training videos you can learn from:
1. Getting Started with Zight Tips & Tricks
This is one of the best training videos from Zight. It walks you through getting started with the screen recording software. The training video simplifies the processes of creating, editing, and sharing your screen recording, plus using other Zight features like Screenshots and GIFS. It is a presenter-style training video that explains the platform's features.
2. Adobe Photoshop CC 2019 Training Video
Adobe Inc. created an in-depth screencast training video to guide users through the new features in the 2019 version of Photoshop. This comprehensive tutorial was designed to help users maximize the software's potential, offering detailed instructions without being overly complicated.
3. Property Inspect Software Training Videos
This playlist consists of screencast training videos tailored to guide users through the Property Inspect Software and App. The videos break down complex steps into easily digestible segments, allowing users to understand how to create an account and start using the software.
Frequently Asked Questions About Training Videos
a) How do you make a good training video?
To make effective training videos, understand your audience's needs first, then plan how to address those needs in a video. Then, invest in software like Zight to record, edit, and share your video training.
b) How do you make a training video on YouTube?
It is easy to create your video and then share it on YouTube. Use Zight to record and edit your video, then embed it on YouTube from your Zight sharing options. Then, optimize with relevant titles, tags, and descriptions so it ranks well on YouTube for good viewership.
c) What is the goal of a training video?
Training videos aim to enhance understanding, skill development, and knowledge retention for a specific subject or task, enabling viewers to effectively apply what they've learned.