If you want to make your video content more informative, engaging, and attractive, annotation is the way to go. Video annotation allows you to add text, shapes, images, and other elements to your videos, to emphasize key points, draw focus to specific areas, or add some personality and flair to your content.
But how do you annotate video files without much hassle or technical skills? In this article, we will teach you how to annotate videos in three simple steps using some of the best video annotation tools out there. We will also show you how to choose the right tool for your project and answer some popular questions about video annotation.
Let's get started!
Step 1: Figure Out Why You Need to Annotate the Video
When sharing video files, your main goal will be to communicate faster. But even video footage can leave your viewer with a few questions, which is why annotation is perfect. When you annotate videos, you can add text and elements to explain your content better, improving collaboration and productivity.
Still, you want to figure out why you want to annotate videos in different scenarios. What do you want to achieve? Do you want to use the video clips for work or fun?
So, before looking for a video annotation tool, here is how you can define your annotation needs:
I. For Personal Use
You can annotate a video for personal use. You can use these videos for fun, to improve your social media brand, or to ask your friends, family, or colleagues for their opinions on a project you're working on.
If you are annotating videos for personal use, you'll be able to:
Express yourself better with some humor, emotion, or personality in your videos
Share more information: Annotations can help you share more information with friends, family, or social media followers
Highlight details that could otherwise go unnoticed in your videos
You can annotate personal videos for:
Memories and events like birthdays, weddings, or vacations
Social media engagement like travel adventures, cooking skills, or just a fun moment with friends, especially on your TikTok or YouTube video
Video diaries that document your daily life, thoughts, feelings, or experiences
Video gifts
YouTube video tutorials for DIY projects, makeup tutorials, etc
II. For Professional Use
Annotating video for professional use is important because it can help you create more engaging, informative, and professional-looking videos for your audience. An annotated video will help your business:
Communicate your message more effectively – clearly and concisely. You'll include additional information, definitions, examples, or instructions that might be difficult to convey from the video alone. Annotations can also help you avoid misunderstandings, errors, or confusion among your viewers
Capture your audience's attention and keep them interested in your video by creating visual interest, contrast, and variety. You will also draw attention to important parts of your video, such as key points, features, or actions
Make your videos more interactive and appealing by adding fun and creativity. You can add quizzes, polls, calls to action, or feedback mechanisms that encourage your viewers to participate and engage with your video
Here are some types of professional videos you can annotate:
Step 2: Select The Best Annotation Software Tool to Suit Your Needs
Once you have figured out why you need to annotate your videos, the next step is selecting the best video annotation software tool to help you achieve your goals. Not sure which video annotation tools to use?
Here are our top four options.
1. Zight (Formerly CloudApp)
When looking for a video annotation tool, you want a solution that's easy to use, secure, flexible, and guarantees productivity. That's why we recommend Zight.
Zight offers a combination of features, functionality, and ease of use that make it ideal for personal and professional use. With Zight, you can:
Capture and record: Zight is an all-in-one app that lets you capture and record anything on your screen, such as screenshots, screen recordings, video messages, and GIFs. You can also use your webcam to record yourself for that perfect YouTube video!
Annotate and edit: Zight lets you annotate your videos with text, drawings, shapes, images, and more. You can customize the color, size, duration, and alignment of your annotations to suit your needs and preferences
Share and collaborate: Zight lets you share your videos with anyone in seconds by generating a link you can copy and paste anywhere. You can also collaborate with others on your videos by adding comments or assigning tasks. You can also invite others to edit or annotate your videos with you
Access and manage: Zight lets you access and manage all your videos from any device using the cloud storage feature. You can also organize your videos into collections, folders, or tags. You can also search for your videos by name, date, or content.
Markups available with Video Annotations
Here is how to use Zight as a video editor.
Ellipse
Rectangle
Pen
Highlighter
Line
All with any color!
Pro Tips: You can change how long your annotation lasts to match your pace – so your arrows, highlights, etc., can last an eternity or disappear after one second. Spend less effort explaining and save more time!
How Do I Get this Feature?
The video annotations feature is a premium feature that is automatically enabled with all Pro, Team, and Enterprise accounts.
If you are on a Free account and want to access these features, you can upgrade your account here.
Other Fun Zight Features
More Font Options
You can customize font colors and select from limitless fonts at the click of a button! With these two features together, you can create truly custom content unique to your brand and message. Happy creating!
Custom Text Alignment
Make your text annotations cleaner with custom alignment options! Choose between left align, right align, and center align to match the theme and shape of your content.
Interface refresh!
Think outside the box!
We've moved all your actions within easy reach at the top and left more space for your content. The window is also now resizeable to let you work the way you want to.
Make sure you download the most recent version of Zight to see these neat new features!
2. Markup.io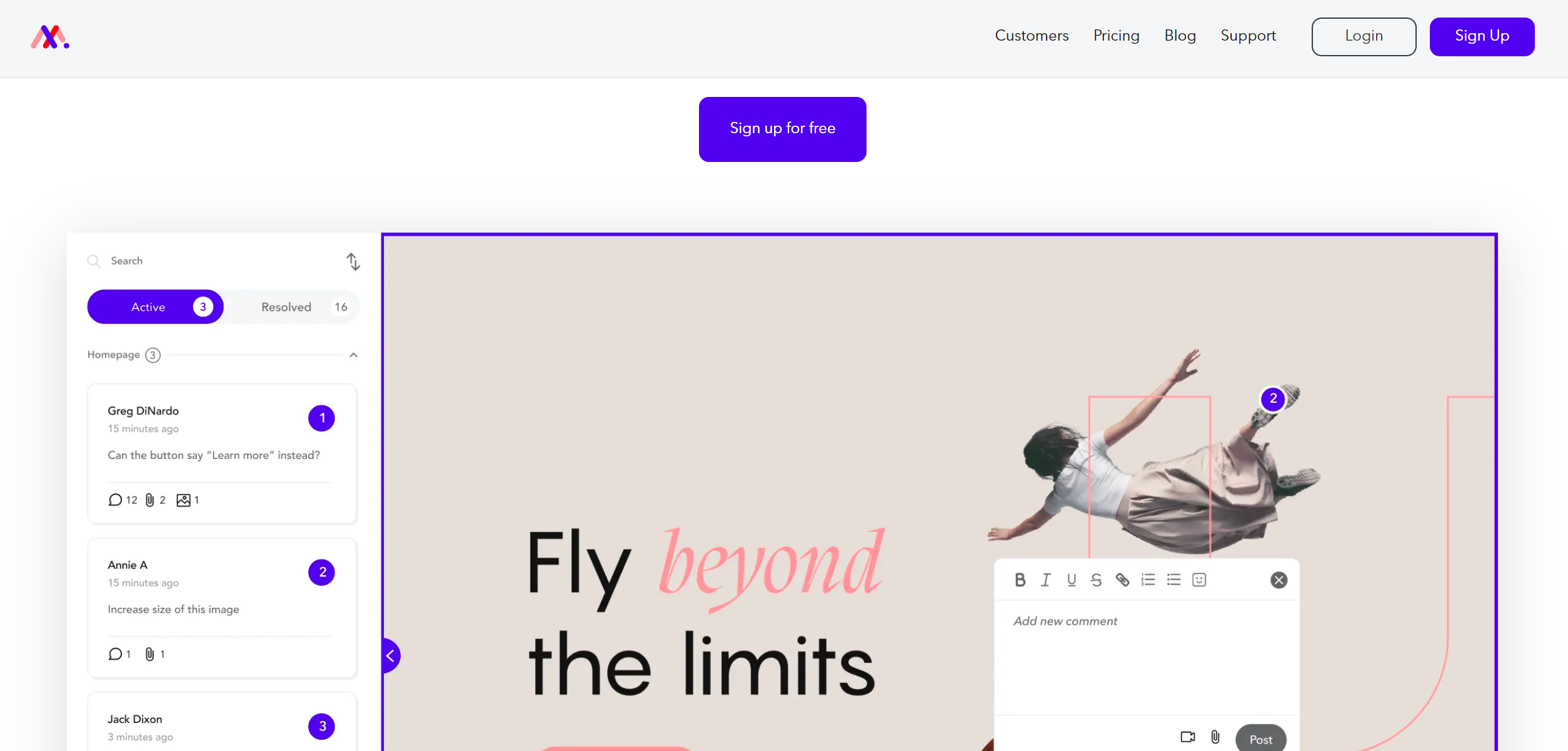 Markup.io is a visual commenting platform that lets you give real-time feedback on live websites and digital content. Its video annotation tool helps users streamline their creative workflows through features like:
Video annotation for MP4, WMV, AVI, GIF, and MOV file formats.
Frame-accurate contextual comments: easily scrub back and forth between frames to leave specific feedback.
Video player: Slow down, speed up, zoom, and loop the playback as needed.
This video editor is suitable for both personal and professional use cases, such as customer onboarding, marketing, company culture, customer engagement, internal communication, and artificial intelligence projects.
Pros
Supports many video file types
Works as a Chrome extension
Allows easy collaboration
Integrates with Zaper and Slack
Simple user interface
Cons
Expensive premium plans
No video recording features
3. Veed

Veed is an online video editor that allows you to annotate videos with various tools, such as drawing, text, images, progress bars, arrows and more. You can also use Veed's online video editor to create animations and add subtitles, translations, background music, and other effects to your videos.
Here are more Veed features:
Seamlessly upload videos from your computer, providing easy access for editing on the platform. Alternatively, start from scratch with a blank canvas to unleash your creativity and craft captivating videos.
No account is required to enjoy the benefits of Veed, making it convenient and accessible for all users.
With Veed's brand kit feature, you can personalize your videos by adding your logo, custom fonts, and chosen colors, ensuring a professional and branded touch to your content.
Enjoy broad video format support, including MP4, MOV, and AVI, allowing you to work with a wide range of video files hassle-free.
Pros
Easy to use – no account or download necessary for video annotations
Customizable brand kit
Supports various video formats
Cons
No live recording
Not frame-accurate, especially when adding auto-generated captions
4. Encord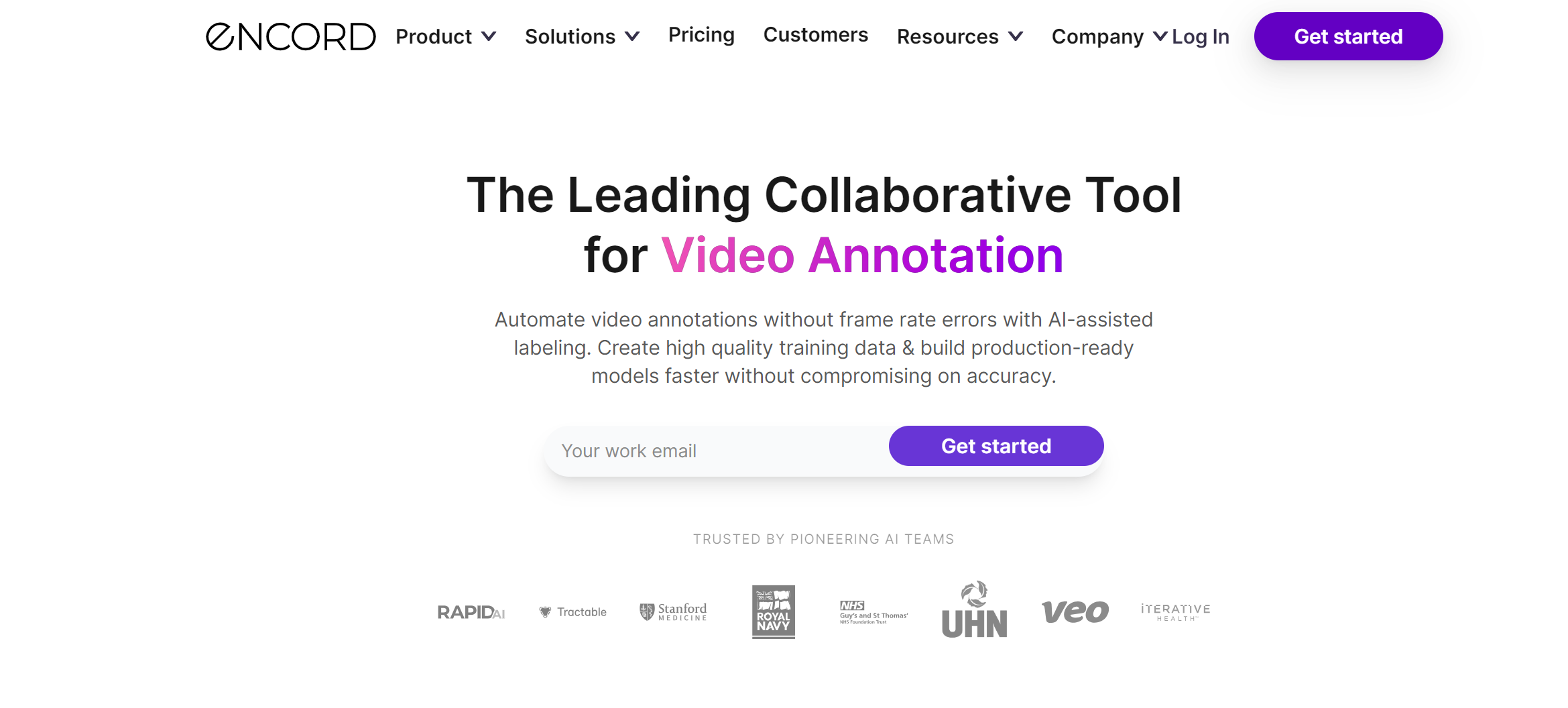 Encord is a collaborative video annotation platform designed for efficient video training data labeling, active learning pipelines, and accelerated computer vision model development. Some of its features are:
It features state-of-the-art AI-assisted labeling and workflow tooling platform powered by micro-models. This makes it perfect for video annotation and training computer vision models.
Supports a wide range of visual modalities for video annotation and labeling, including native video file format support (e.g., full-length videos, and numerous file formats like MP4 and WebM).
Data-driven insights to discover potential edge cases and outliers in your data.
Pros
One of the best AI video annotation tools
User-friendly and intuitive interface
Cons
Might not be the best video annotation tool to beginners
Key Features to Look For In a Video Annotation Tool
When choosing between video annotation tools, it's imperative to understand the key features that enhance productivity and ease of use. These features include:
I. Annotation Types and Modalities
The first thing you want from your video editor is to know it can annotate the videos you have- the way you want. So, ensure the tool supports annotation types like bounding boxes, polygons, polylines, keypoints, and instance segmentation. This diversity caters to various use cases and allows for precise labeling of objects and actions within the video frames.
II. Classification
When annotating video content, you may want to portray different emotions, actions, scenes, and more within different parts of the video. This is why you also need a tool that offers dynamic classification – a perfect video annotation tool should offer the capability to classify both frames and events.
III. Intuitive User Interface
Video annotation can be hard and boring. So, having an annotation tool with a complicated interface would make things worse. A good tool should have a simple and clear interface that makes it easy to use, annotate, edit, and review your videos.
IV. Easy Video Sharing
Look for a tool that enables seamless sharing of annotated videos with team members and stakeholders. A cloud-based platform that allows collaborative work in real-time promotes efficient teamwork and faster project completion.
V. Integration
Consider a tool that seamlessly integrates with other software and frameworks in your workflow, including productivity tools like Asana, Slack, Zapier, Trello, and more. Integration will enhance productivity and enable a smoother transition from annotation to the next step.
VI. Data Insights
Video annotation tools that offer data-driven insights and analytics can be invaluable for your video editing experience. You'll be able to identify patterns and outliers to help you improve your annotation strategy. A good video annotation tool should give you data insights through dashboards, reports, charts, etc.
Step 3: Upload and Share Your Video with Your Audience
After you annotate videos, the final step is uploading or sharing it with your audience. With Zight, this process is as easy as pie. Here's what happens:
After recording your video, Zight automatically uploads it to the cloud, from where you can annotate it further.
If you didn't make the video using Zight, you'll have uploaded it to your Zight dashboard (also pretty easy – open your dashboard, click the upload button, and select the file from your computer) and annotated it. It will still save to the cloud!
You can forever save this video to the cloud, and copy its link to your dashboard so you can paste it to your audience's platforms. It's as easy as pasting the video's link on your messaging or email chatbox. After sending the link, your recipient can view the video online – even if they don't use Zight. And they can always view the video as long as they have the link, not to mention catch up on any edits you make to the video!
You can also embed the link on your website or blog.
Want to save a copy of the video in your device, or send a direct copy to your recipient? You can download the annotated video from your Zight dashboard, then share it as an attachment with your recipients
After sharing your video, you can track and manage your video views and feedback. Zight provides analytics and insights on how many people viewed your video, how long they watched it, and what they commented on it. You can also edit, delete, or organize your videos into collections.
Frequently Asked Questions About Annotating Videos
a) Can you annotate a video?
You can annotate a video in three simple steps when you have the right software. Using Zight, you can annotate any type of video, from a YouTube video to a webcam recording you record with the software.
To annotate, just open the video on your Zight dashboard (you can upload one from your desktop, or make one from scratch using the Zight screen and webcam recorder). Then, click edit and add your desired markups, including arrow, text, ellipse, rectangle, or highlight with the highlighter or pen. These features will enable you make noticeable the most important parts of your video footage, thus making communication easier.
After annotating, simply save the changes, then copy and link the link for that video and paste it to your recipient's communication channel. Alternatively, you can download the video and send it to your recipient as an attachment.
b) How do you write annotations on a video?
To write annotations, download Zight and record or upload a video. Then, open the video from your dashboard and click the edit button. You can then click on your desired markup like arrow, line, ellipse, rectangle, pen, or highlighter.
c) What is an annotation for a video?
Video annotation includes adding descriptive labels or metadata to objects, events, or time points within a video. It makes it easy for viewers to understand what an annotator wants to communicate in video footage. Annotation for video helps when:
Giving feedback, tips, or compliments for video work
Marking and naming things, actions, and events in a video for understanding and analysis
Explaining complex topics and processes to viewers with engaging videos
Teaching AI models to detect or identify objects or patterns in video
d) How can I annotate a video for free?
You can use Zight to annotate video footage for free. You can download the software, then subscribe to a free 7-day premium trial. This way, you'll access all the annotation features like arrow, line, ellipse, rectangle, pen, and highlighter, and improve your content, including a YouTube video!