Research says the best form of communication, especially for businesses, could be video. People remember most information in a video more than we remember what we read. So, isn't it a good time to invest in video for your business? For this, you are going to need the best video creation software.
This software makes it easy for you to create videos, and videos are great for your business marketing needs. Not sure where to start? Don't worry; you're in the right place. We will discuss the best software for your needs and also the factors that should influence your choice.
So, buckle up as we start with the best software below!
1. Zight (Formerly CloudApp)
The best video creation software does many things, which is why we recommend Zight. It is a video creation and editing software all in one! After all, would it be beneficial to create a video and not be able to edit it? We take that as a no.
You can get the software on Windows and Mac and also as a Chrome extension. The best part? Zight is the best free video editing software for beginners with advanced features, and you can upgrade once your videos need a more professional look. Even so, Zight is pretty affordable, at only $9.95/month.
Let's talk video creation – it's super easy on Zight!
Click here to download this software, either the app or the extension. You'll first follow a few steps to create a Zight account with your email and then download the software, and you're ready to create videos.
When ready for your first creation, open the free video editor, and navigate to Record. This button is easy to find on any device, and you could even use hotkeys such as CMD+Shift+6 (for Mac) or Alt+Shift+6 (for Windows). If using the Chrome extension, you only need to click the Zight icon and find the record button.
When you hit Record, the desktop video editing program will give you several preferences. For instance, you can record your entire screen or a section of it. You can also record a video of the screen with your webcam or the webcam only. In addition, you also choose between a video or GIF. With the latter, you'll not be able to use the mic.
Once you select your preferences, hit the blue Start Recording button, then the red Finish button. You'll be able to record a 90-second long video on the free plan and even longer on a premium plan.
Here's another area where Zight shines: editing and sharing your video.
With this software, you can do all sorts of things on your video, including annotating, trimming, flipping, adding captions, and more. And when it's ready, you'll only need to paste the link generated (when you finished recording) to your recipient's communication channels.
And the communication channels come in plenty! Zight works well with popular productivity tools such as Asana, Slack, Zendesk, and Trello. If your recipient is not using any supported integrations, you can still paste the link where you communicate. All they will need is an internet connection and a browser to view your video – without needing to download it!
You can also download the video to your device or even upload another from your device for easy sharing. You can edit your video even when you upload it from your computer.
As you can see, Zight is perfect for all your video recording needs. But that's not all. You can also use it to capture screenshots. Like the videos you create, you can annotate these screenshots to communicate better with your teams. With both screen recording features, you can make the best instructional, explainer, and marketing content for your business.
2. Animoto
Animoto is a good free video editing software that lets you easily create and edit videos. Best use it for business, marketing, education, entertainment, and more.
You can easily upload your media from your computer or import from cloud storage and then use Animoto's drag-and-drop editing tools and visual effects to customize your video. You can also record your screen and webcam, edit your audio, add transitions and effects, and insert text and annotations. When done, you can download your video in 1080p or share it directly from Animoto with integrated social sharing, embedding, and email tools.
You can use its free version or get a premium account for as low as $8/month.
3. Apple Final Cut Pro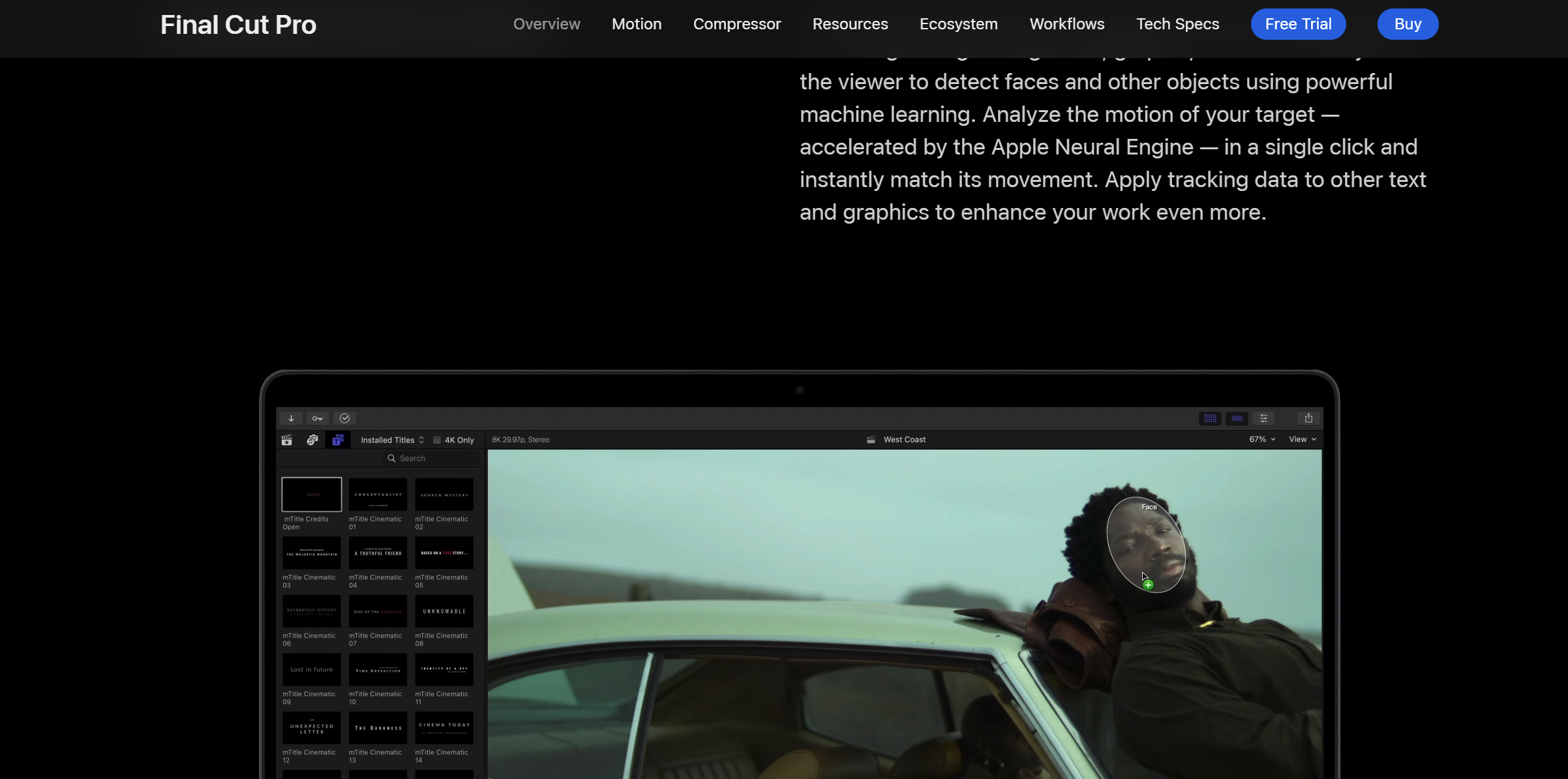 Apple Final Cut Pro is yet another video editor with powerful features. It is perfect for business video editing because it offers unrivaled pro performance and efficiency on Mac computers with Apple silicon.
You can edit more complex projects and work with larger frame sizes, higher frame rates, and more effects at incredible speeds. You can also use the Object Tracker to add dynamic text or color correction to moving footage or adjust the focus points and depth of field on clips captured in Cinematic mode on iPhone. This software also lets you collaborate with others on your projects with time-stamped comments and feedback.
You can try its free video creation software version for 90 days or buy a one-time license for $299.99.
4. DaVinci Resolve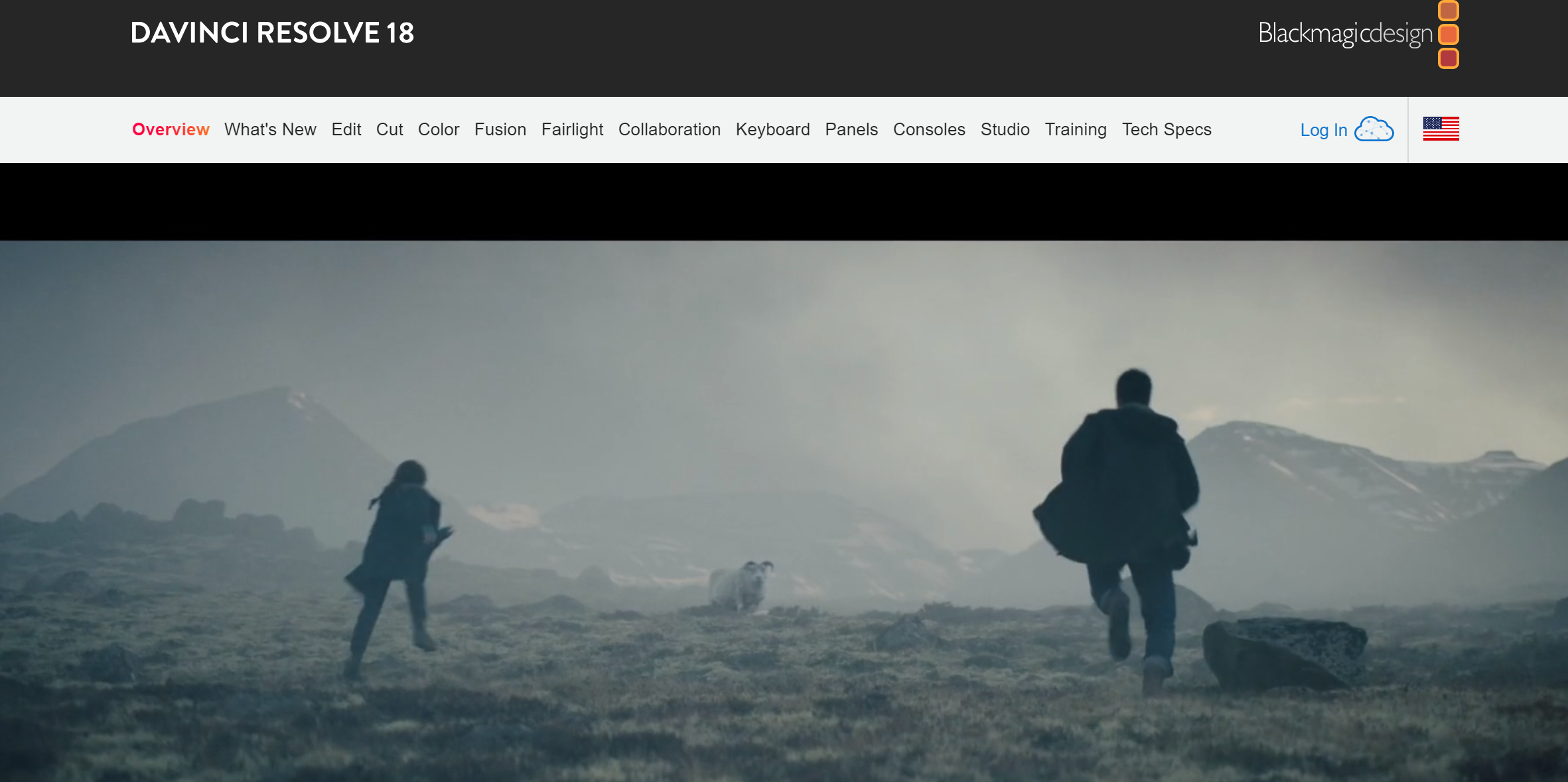 You can use DaVinci Resolve to make and edit videos for various business purposes. It lets you work with virtually all 8‑bit video formats at up to 60fps in resolutions as high as Ultra HD 3840 x 2160. You get extensive color grading tools, including luma, HSL, 3D keyers, color warper and HDR tools, video collage, elastic wave audio retiming, and more.
DaVinci Resolve is suitable for anyone who wants to create stunning videos easily. You can try it for free or buy a one-time license for $295. The software is compatible with Windows, Mac, and Linux computers with support for multiple GPUs for real-time playback of professional 10‑bit formats and accelerated H.264 and H.265 hardware decoding and encoding.
5. Blender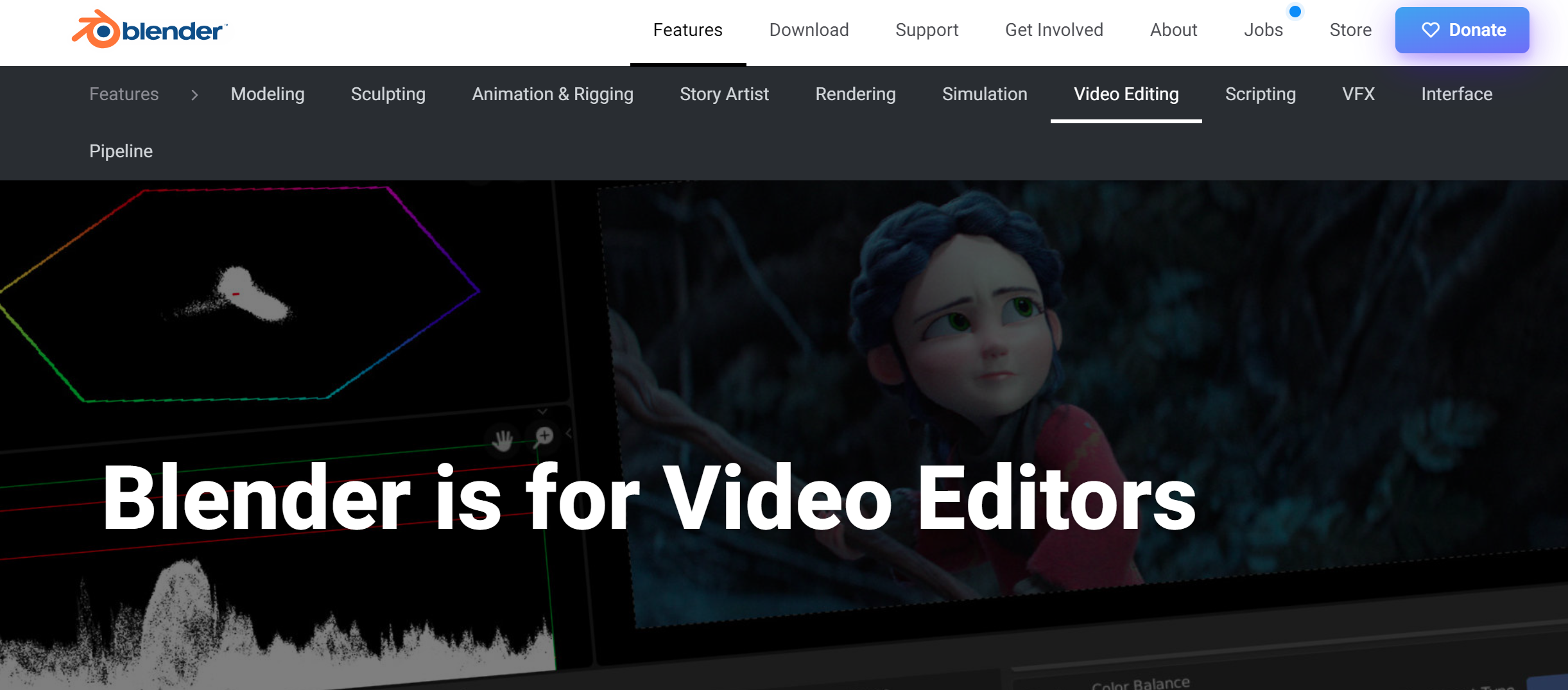 Do you want to edit different video clips into one? Blender has a Video Sequence Editor that allows you to mix multiple video sources and apply effects to them. You can also record your screen and webcam using the software, add effects and adjust audio.
Blender is excellent because it offers advanced tools, including a full 3D creation suite that you can use to create amazing animations, simulations, visual effects, motion graphics, and more. You can use Blender's powerful tools, such as Cycles Render Engine, Modeling, Sculpting, UV Mapping, VFX, Grease Pencil, and more, to enhance your video content projects. It is also your best free video editing software compatible with Windows, Mac, and Linux.
6. Renderforest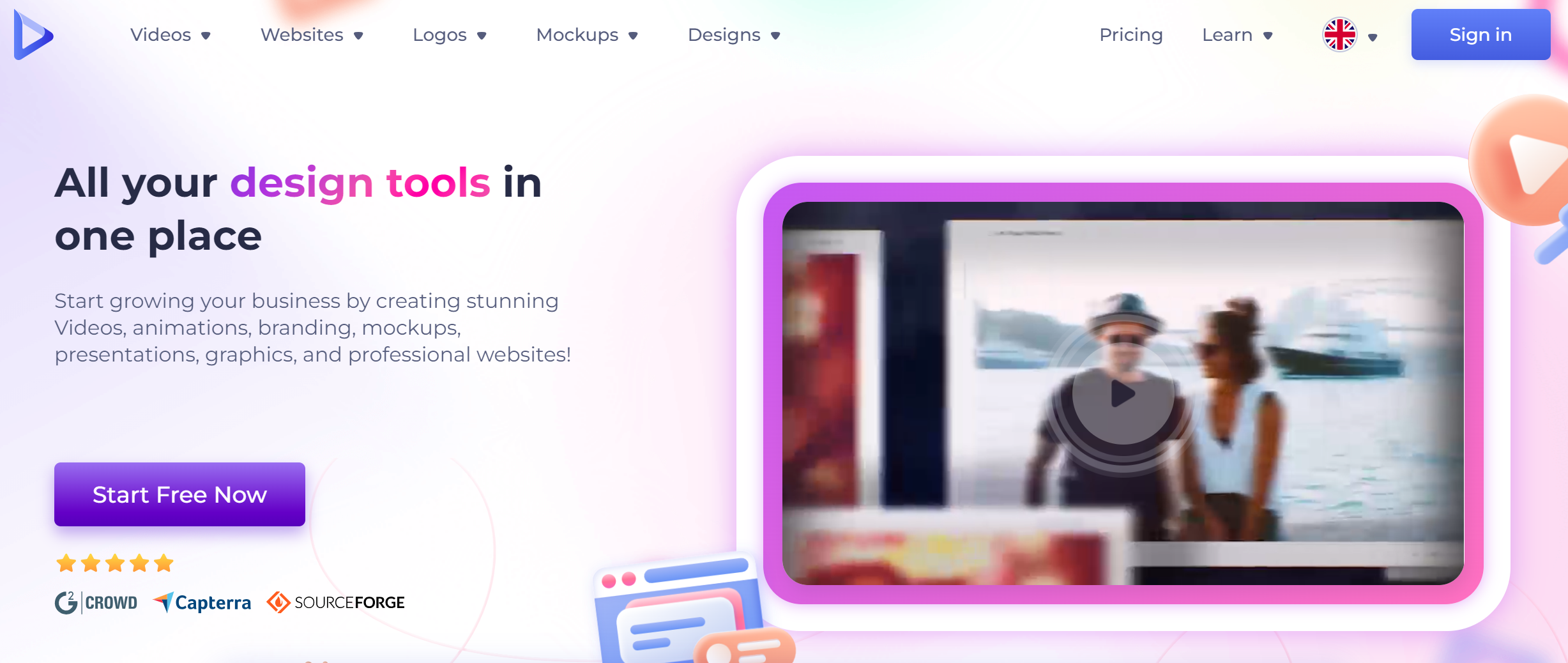 Renderforest is a comprehensive video creation and editing program that offers numerous features beneficial for businesses. It provides a user-friendly interface, a vast library of templates, and customizable options for creating and editing video files.
With its drag-and-drop functionality, you can easily produce promotional videos, explainer animations, and social media content. Renderforest offers a free editing software version and subscription-based pricing plans. The plans start from $9.99 per month.
7. RawShorts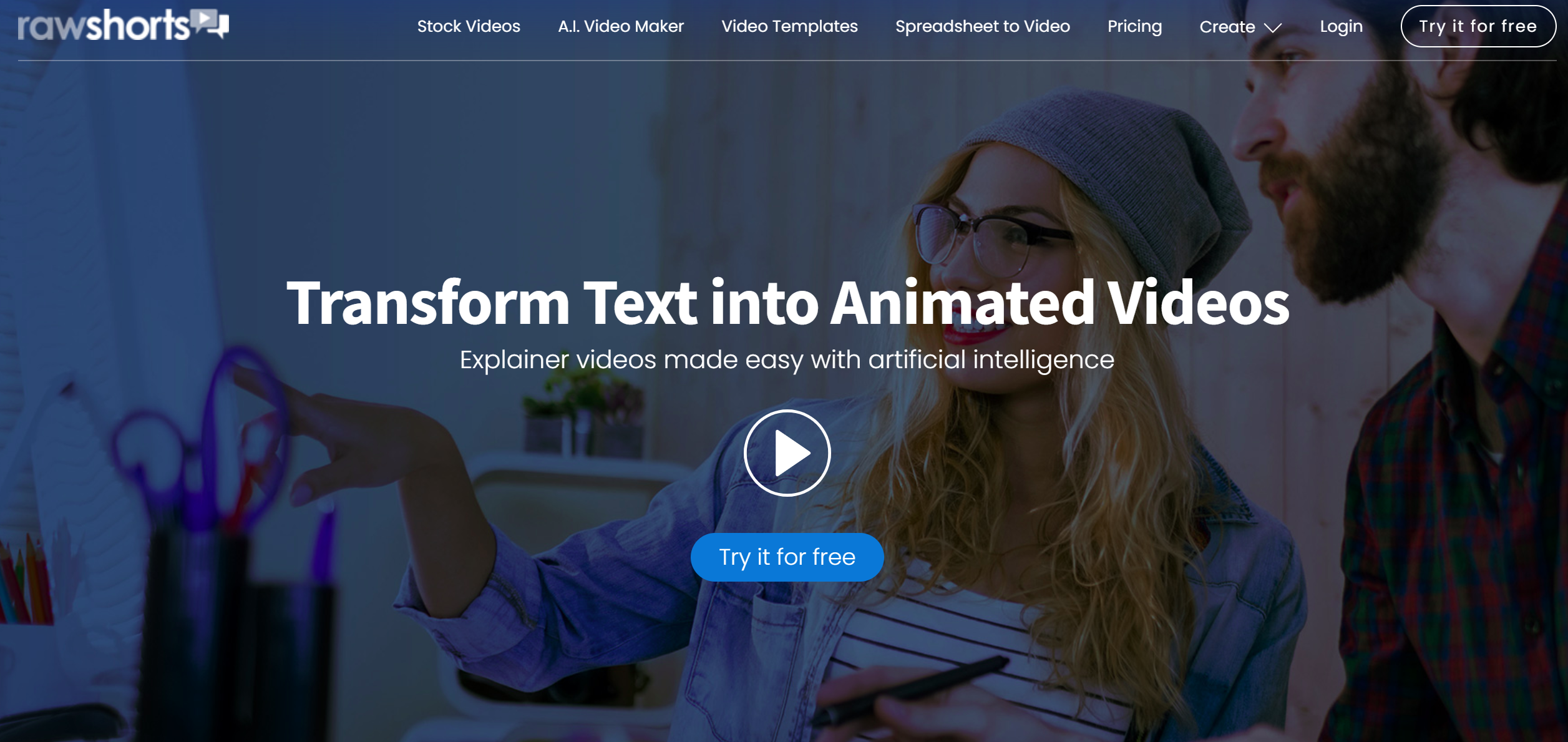 RawShorts is an excellent video creation software for businesses like yours. It simplifies the process of making videos with its user-friendly interface and a wide range of ready-made templates. You can customize these templates by adding your text, images, and animations to create professional-looking videos.
RawShorts utilizes artificial intelligence technology to automate video creation, enabling create videos from text. You can use RawShorts' artificial intelligence video editor to scan and analyze your video script, assemble a video outline, and customize it according to your needs. Advanced features such as voiceover, text-to-speech, color presets, and custom color combinations are also available to enhance your video file projects.
You get a free trial, after which you can pay $30 for a business plan.
8. InVideo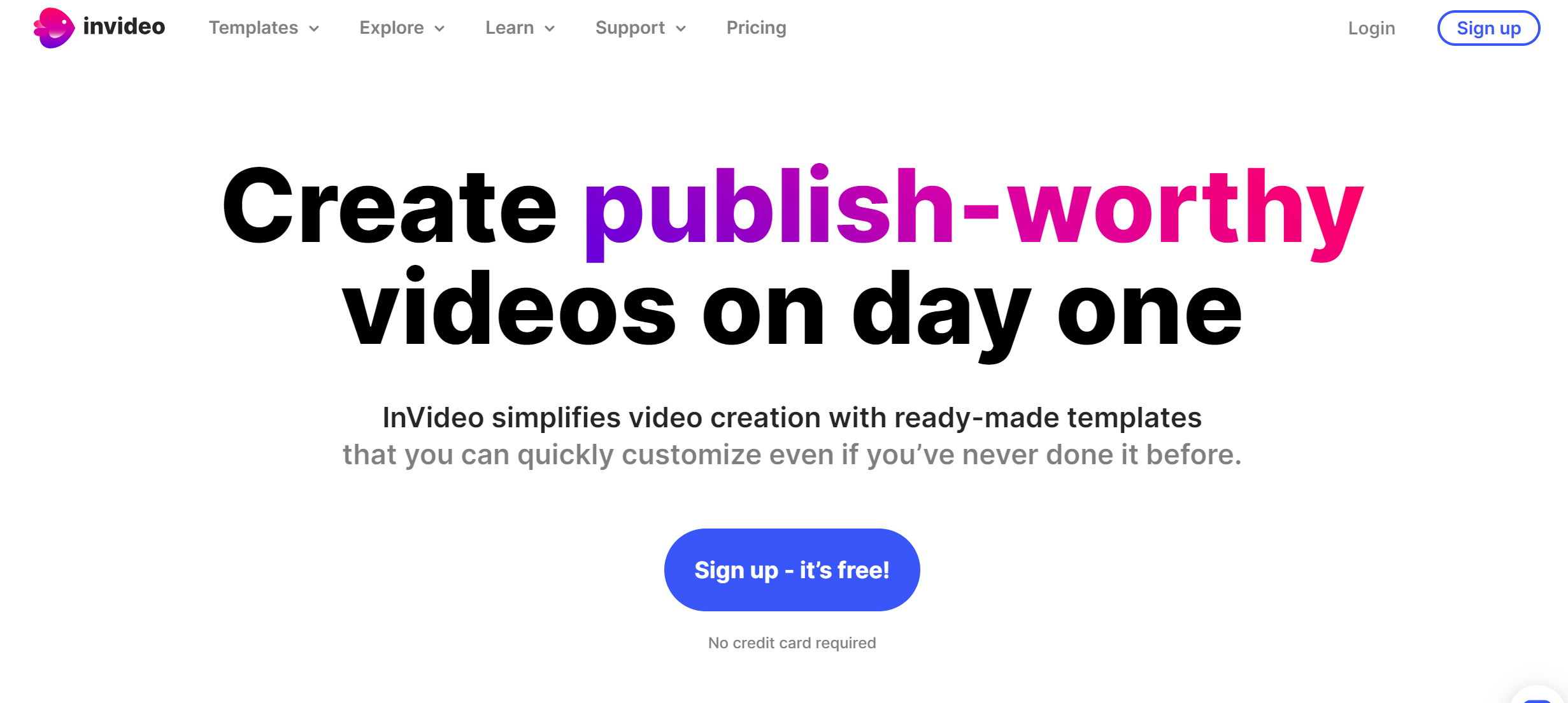 InVideo has text-to-video technology that uses AI to create a video draft within seconds, saving you countless hours of video creation. You can also upload your media or use the stock library for images and clips. You can use the video editor to combine clips, cut, flip, change the speed, and do much more with your images and videos. InVideo also lets you collaborate with others on your video content with time-stamped comments and feedback.
This software has a free version, while the premium subscription starts at $15/month.
9. Canva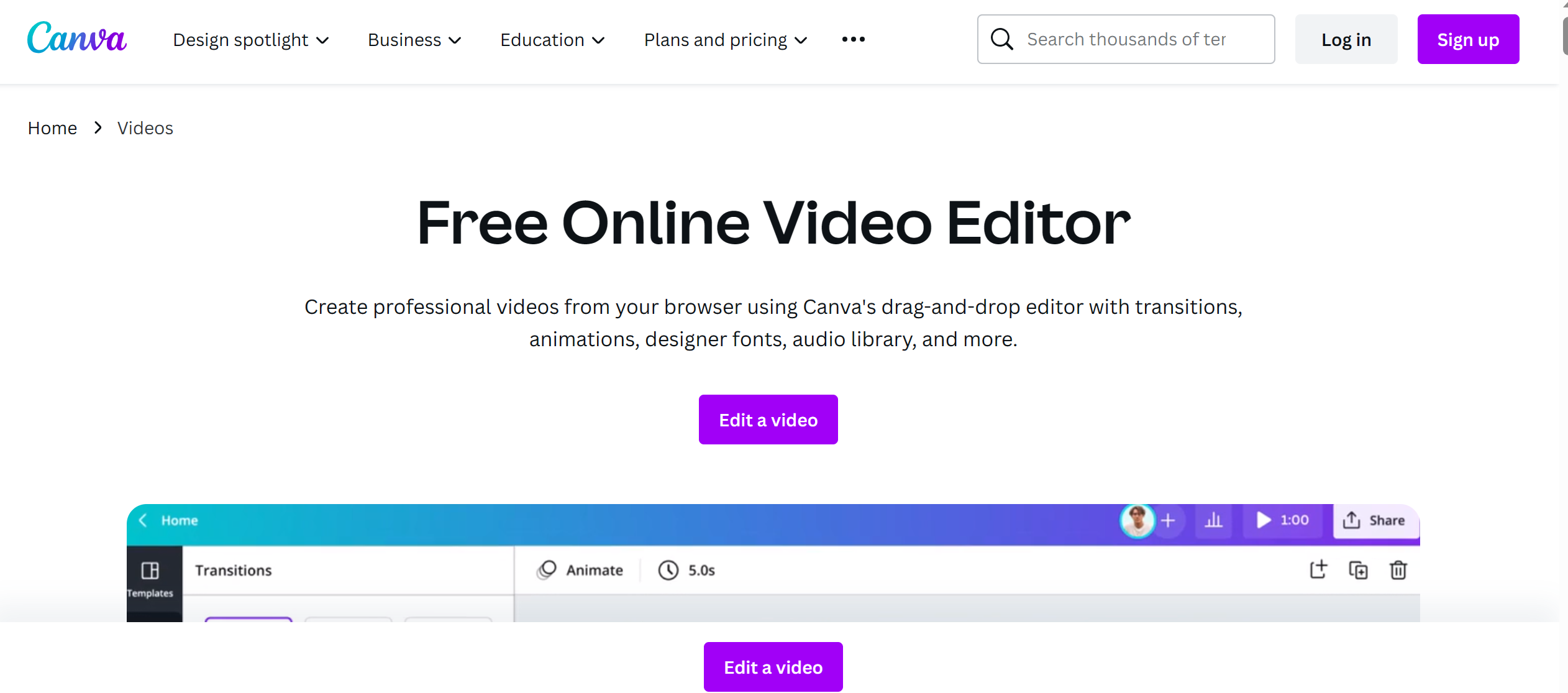 Canva is primarily known as a versatile graphic design tool, but it also offers video editing and creation features that can benefit businesses. While it may not have the advanced capabilities of dedicated video creation program, Canva provides a user-friendly interface and a range of customizable templates for creating professional-looking videos.
Using Canva, you can easily create and edit videos by selecting a template or starting from scratch. You can add text, graphics, and music and even incorporate video clips to produce engaging content. This video editor also offers various tools for trimming, cropping, and adding transitions to your videos.
Canva offers a free version, while paid subscriptions start at $54.99.
10. Kapwing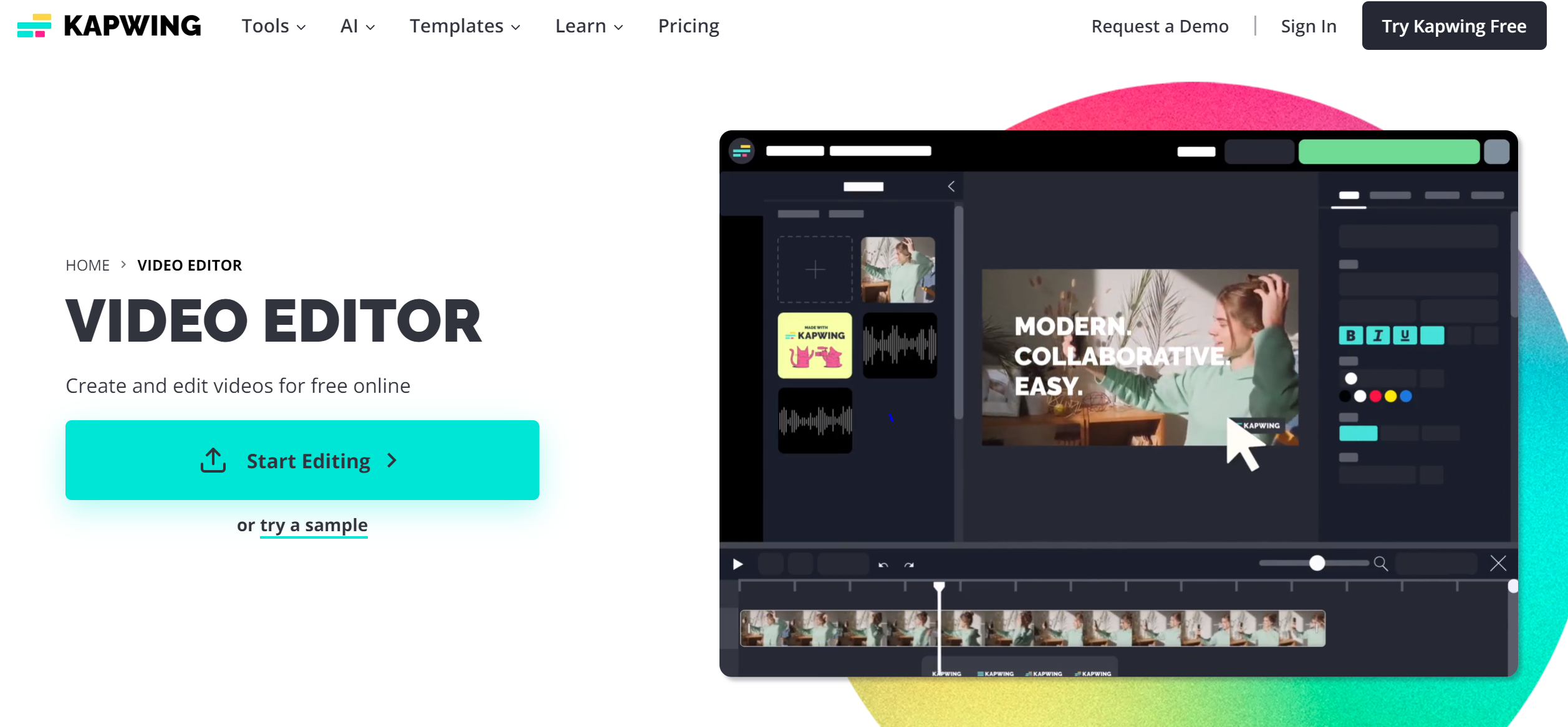 Kawping offers a range of valuable features and an intuitive interface, making it a popular choice for video content editing.
To use Kapwing, you can start by uploading your video footage or choose from a wide selection of templates. The software offers tools for trimming, cropping, adding text, transitions, effects, and more. You can also incorporate images, audio, and even GIFs to enhance your videos. Kapwing's collaborative features enable teams to work together on video tasks seamlessly.
It is a freemium model with plans starting at $16/month.
Features To Consider When Getting a Video Creation Tool
There are many options out there, so you may need to narrow a long list to find your best video creation software. Here are some factors to consider:
1. Features
The best software may vary in the features and tools they offer for creating and editing videos. You can consider what features you need for your projects, such as transitions, effects, filters, text, graphics, animations, voiceover, music, etc. You also need to consider how easy and intuitive the features are to use and customize.
2. Video Quality
Video quality is a crucial factor to consider when choosing a video editor. It encompasses several elements that contribute to your videos' overall visual and auditory experience. Here are some critical aspects of video quality to consider:
Bit Rate: A higher bit rate allows for better video quality as it determines the amount of data encoded per second. Look for video editing programs that offers options to adjust the bit rate to achieve optimal clarity and smoothness in your videos.
Resolution: The resolution refers to the number of pixels in each dimension of the video display. Higher resolutions, such as 1080p (Full HD) or 4K, result in sharper and more detailed visuals. Ensure the video editor supports your desired resolution for creating professional and visually appealing videos.
Frame rate: The frame rate determines the number of individual frames displayed per second in the video. Standard frame rates include 24, 30, and 60 frames per second (fps). Higher frame rates contribute to smoother motion and can be important for videos with fast-paced action or animation.
Audio quality: While often overshadowed by video quality, audio plays a crucial role in the overall viewing experience. Ensure that the video editor allows for adjustments to audio settings, such as volume control, audio effects, and the option to use high-quality audio formats.
Margin for video editing: Consider the software's ability to edit video without compromising quality. Some software may introduce artifacts or quality loss when making edits or applying effects. Opt for software that maintains video integrity throughout the editing process.
3. Video Duration
Different software may have limitations on video length or processing time, which can impact your video projects.
So, ensure that the video editor you want can handle the desired duration of your videos without compromising quality or encountering performance issues. Some best free video editing software may be better suited for shorter videos, while others can handle longer formats.
Also, consider the intended platform for your videos, as certain platforms may have specific duration restrictions.
4. Video File Formats
Many video editors support different file formats for importing and exporting videos. You need to ensure that the editing software you choose can handle the file formats that you use or need.
For example, if you want to edit videos from a drone or a 360 camera, check if the software can support those formats. Likewise, if you want to export your videos in a specific format for YouTube videos or other platforms, you can check if the video editing software can do that.
5. Pricing
Video editing tools may have different pricing plans and options. Some are the best free video editing software, while others offer a free version/trial, one-time payments, monthly or yearly subscriptions, etc. Consider your budget and how much value you get from the software. You also need to compare the advanced features and benefits of different plans and options and see which one suits your needs best.
6. Integration and Collaboration
If you require collaboration or integration with other tools or platforms, ensure the software offers such capabilities. This can include cloud storage integration, team collaboration features, or compatibility with third-party plugins.
Conclusion
That wraps it up: You now have some of the best video creation software to consider for your needs. With our options and tips above, you will undoubtedly find a free video editing app you can use today.
Some options above are free video editing software for beginners and pros, while others offer a free version, making it easy to decide which one provides the best editing tools and features.
Are you still stuck? Why not try Zight today?
Over 4 million people trust Zight as their number one free video creation software. Sign up free now or request a demo and see why!