Our State of Collaboration report, first published in 2019, included many interesting details on the remote future of work. For instance, did you know that 57% of Gen Zers, half of Millennials, and even 46% of Gen Xers work remotely at least once a week? And even so, meetings must be had, right? So how do you get the meetings done when managing a remote team? You host video conference calls.
In this dynamic era of remote work, various technological solutions have emerged to empower remote workers and enhance their productivity. Among these solutions, video conferencing software is a key enabler of seamless communication and collaboration across distances.
Are you ready to master the art of video conferencing calls and lead productive virtual gatherings? In this article, we'll teach you what a video conference call is, why they're beneficial, and how to be a successful conference call host.
What's a Video Conference Call?
A video conference call is exactly what it sounds like: a conference or meeting conducted via video. Participants log into a specific video conference software and can collaborate in real-time with each other — even if said call participants are located in different areas.
For example, a remote employee in Paris, France, could join a conference call with a remote colleague in Beijing, China, and their boss in New York City but still converse face to face.
The Power of Video Conferencing
In many ways, video conferencing enables the remote work revolution we're currently experiencing. Without a dependable way to collaborate, many businesses would never allow their employees to work out of the office, let alone from distant corners of the world.
But for the purposes of this article, we want to focus on three specific video conferencing benefits: reduced travel expenses, better attendance, and improved productivity.
Let's look at each of these in greater detail…
1. Reduced Travel Expenses
The most obvious benefit of video conference calls — especially for remote teams — is the reduction in travel-related expenses. If your company has employees located in different countries, getting them all together in one room would be costly.
Flights, hotels, and meals would need to be provided. Depending on the number of remote employees on your team, that could amount to thousands of dollars per meeting.
A video conferencing app removes these unnecessary expenses. Companies invest in proven software and host meetings via the internet instead.
2. Better Attendance
You don't schedule company meetings for no reason, do you? Of course not. When you gather your team together, you have a specific reason or goal in mind. This means you probably want as many team members to attend as possible.
Video conferences ensure more of your employees can attend your meetings. As we mentioned above, remote employees will be able to participate without incurring prohibitive expenses. But other team members, traveling salespeople, for example, will be more likely to attend, no matter what day you decide to host your meeting.
3. Improved Productivity
Lastly, video conferences boost team productivity. This is because of the improved communication they enable. When each of your team members knows exactly what's required of them, they can focus all of their energy on completing those specific tasks.
They won't have to spend time deciphering lengthy email messages or waiting for replies to clarify duties. And when problems arise, you can solve them much quicker due to the face-to-face nature of video conferencing apps.
Chasing More Benefits? Zight!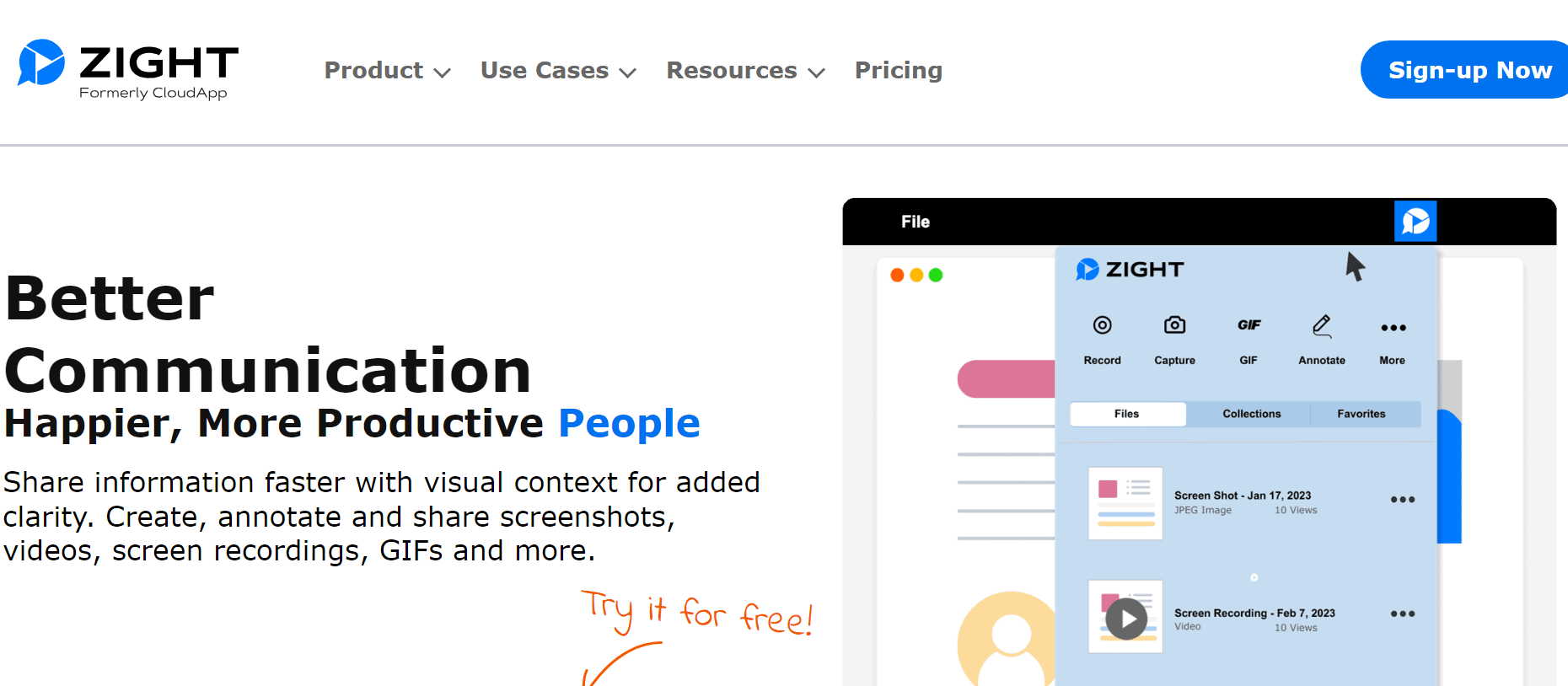 While video conferencing has advantages, it would be unfair not to introduce you to Zight, a cutting-edge communication tool that can revolutionize how you collaborate and share information.
Zight eliminates the need for traditional video conference calls and replaces them with faster and more effective methods. Instead of scheduling a meeting and gathering everyone on a call, Zight allows you to send annotated screenshots or screen recordings to convey your message.
This means you can communicate complex ideas, provide updates, or share information without needing everyone to be present in a video call. Also, it means you can still get benefits from conference call services.
Do you still need more convincing of the benefits you will reap from using Zight instead of the conference calling services? Here we go:
Time Efficiency: Recording a screenshot or screen recording takes a fraction of the time compared to setting up and conducting a video conference call. You can quickly capture your message and send it to your team or clients.
Flexibility: With Zight, participants can view the message at their convenience, eliminating the need for everyone to coordinate schedules for a live video call. This flexibility allows for seamless collaboration across different time zones and work schedules.
Clarity and Precision: Annotated screenshots and screen recordings provide clear visuals and allow you to highlight specific details, ensuring your message is easily understood by recipients. This can reduce misunderstandings and improve overall communication efficiency.
Work Progress: Zight enables you to share progress updates and project status or provide feedback without requiring lengthy video conferences. This keeps everyone informed and ensures work continues smoothly.
In conclusion, while traditional video conferencing has revolutionized remote work, Zight offers a faster, more efficient, and more flexible communication method.
By leveraging the power of Zight, businesses can cut down on unnecessary video meetings and boost productivity while ensuring that the message is effectively communicated and progress continues to be made.
Host an Effective Video Conference Call in 5 Steps
The benefits of video conferencing software are clear — especially for teams that employ remote workers. If you're ready to host your video conferences, follow these five steps:
1. Select the Right Video Conference App
The first thing you need to do is choose the video conferencing software you will use. When choosing the right video conference app, consider your needs, team or organization size, and the desired features and integrations. There are plenty of options, each with its pros, cons, and quirks. Here are a few popular options:
a). Zoom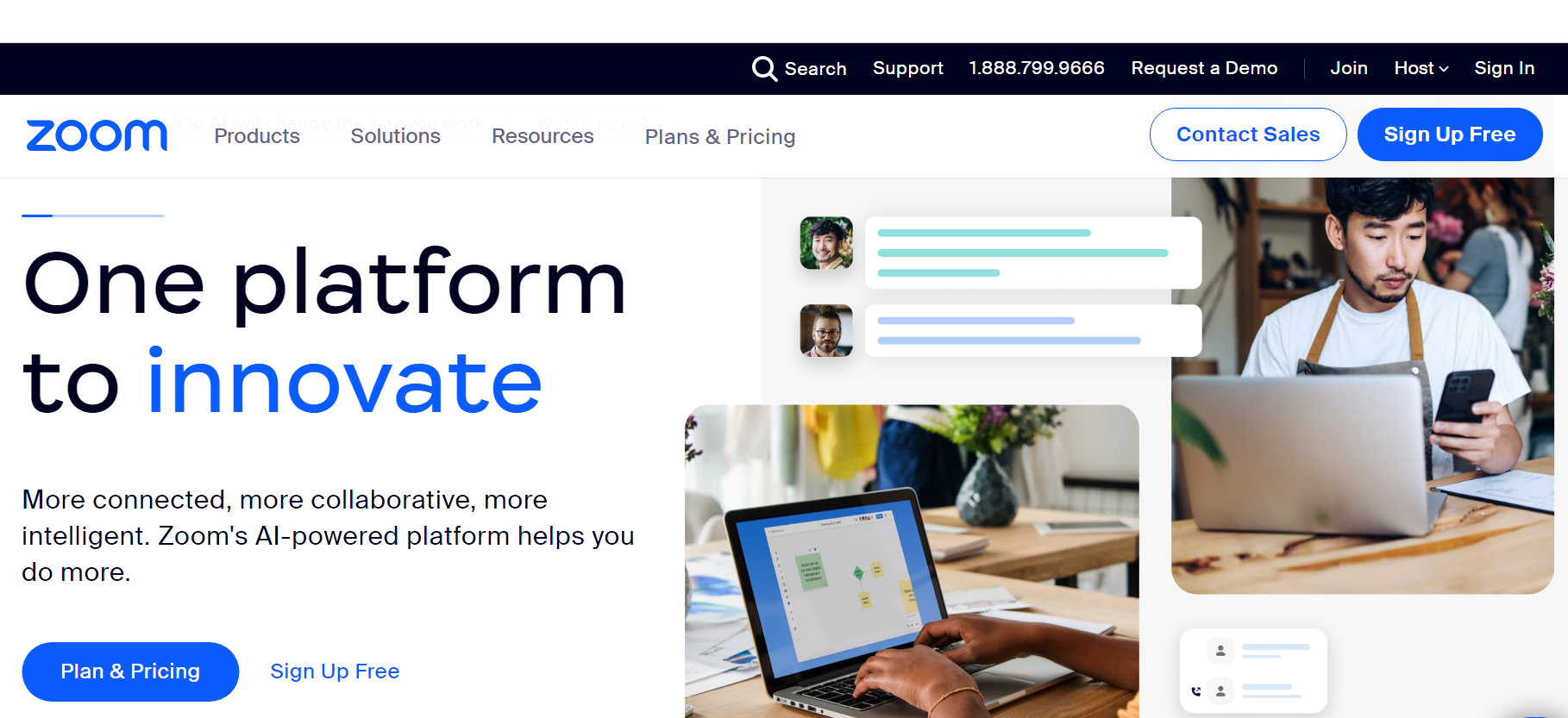 Zoom is one of, if not the biggest, video conference software names. Its platform is easy to host a conference call and includes handy features such as text chat with searchable history and file sharing.
What makes Zoom indispensable to some teams, though, is its suite of features that go beyond traditional video web conferencing tools. For example, Zoom can host live webinars with 100 participants and 10,000 viewers. You can also make your conference calling easier thanks to this Zoom call etiquette.
If you're looking for a fully capable video and audio conference platform and a way to host webinars easily, Zoom is a good option to host both an audio and video conference call.
Pros
Easy-to-use platform with a user-friendly interface.
Offers features such as text chat with searchable history and file sharing.
Can host live webinars with a large number of participants and viewers.
Popular and widely recognized in the industry.
Cons
Some users have raised concerns about privacy and security.
The free version has limitations on meeting duration and number of participants.
Reliance on internet connectivity for smooth video and audio quality.
b). Google Hangouts
Looking for an effective video conference app and already using G Suite? Google Hangouts Meet might be the perfect international conference solution.
Google Hangouts Meet is the professional version of Google Hangouts, a consumer-level tool offering free basic video conferencing features. And just like every other Google product, Hangout Meet integrates seamlessly with Gmail, Google Calendar, and the rest of G Suite.
Regarding features, Google Hangouts Meet qualifies as a great conference calling solution for its intuitive interface and ability to access meetings on computer, tablet, or smartphone devices.
Pros
Integration with other Google products and G Suite.
Intuitive interface and easy access to meetings on various devices.
Offers free conference calling services with basic features
Simplified scheduling through integration with Gmail and Google Calendar.
Cons
Limited features compared to other dedicated video conference apps.
It may not be as suitable for large-scale conferences or advanced collaboration needs.
Requires a Google account to access all features.
c). Highfive
While lesser known than the other two options mentioned, Highfive is a fantastic video conference app that easily hosts virtual meetings.
First, users don't have to deal with pin codes, and they click the meeting they were invited to and begin participating. Highfive is also a good conference call service since it doesn't restrict the number of meetings a user can host or the length of said meetings.
Highfive conference call platform has optional hardware that runs with software for teams that regularly host video conferences.
Pros
Easy access to meetings without the need for pin codes.
No restrictions on the number or length of meetings.
Free conference calls
Optional hardware is available for enhanced video conferencing experience.
Cons
Less well-known compared to other options.
Limited information is available on advanced features and scalability.
Hardware may require additional setup and maintenance
d). Microsoft Teams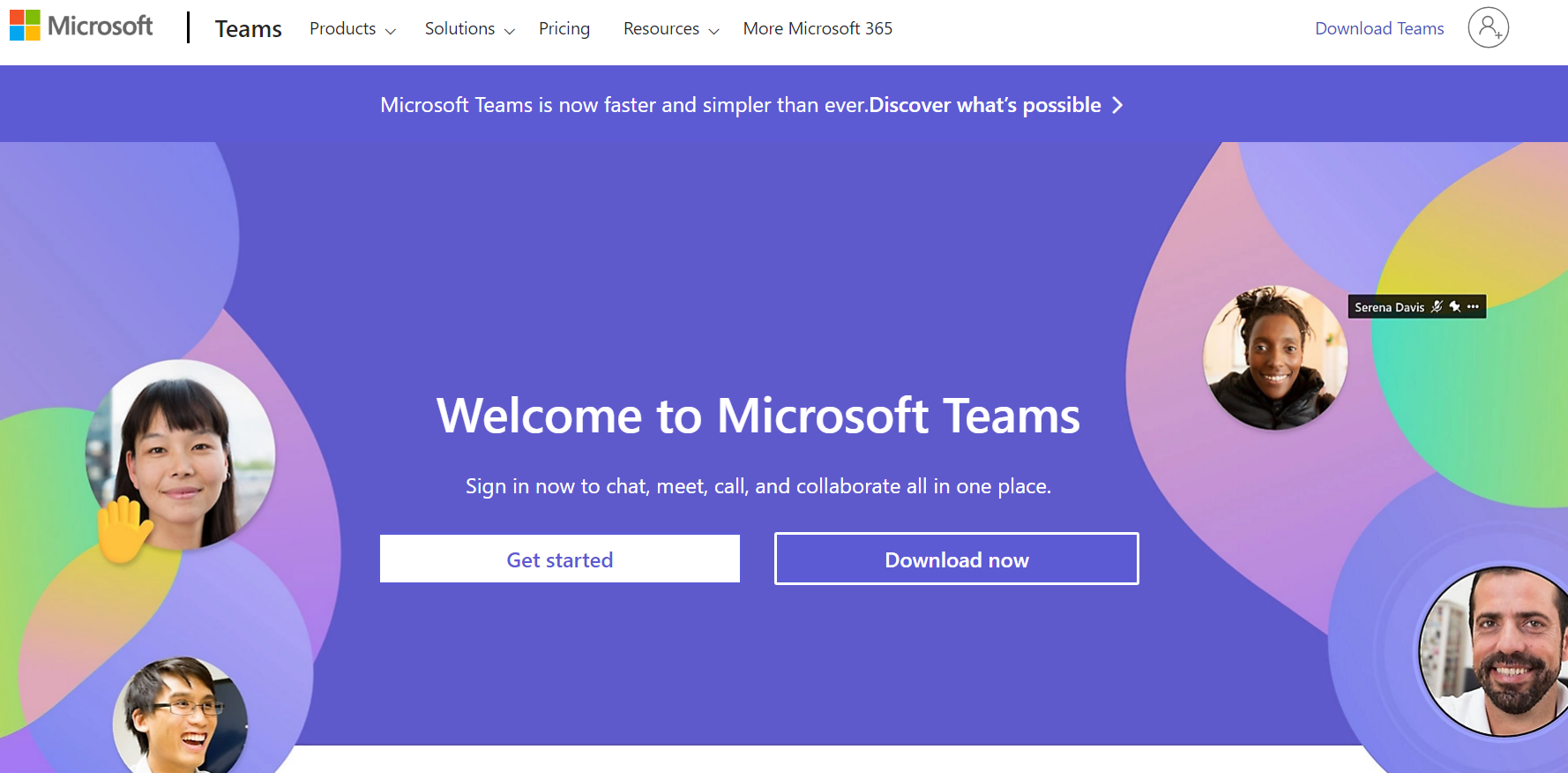 Microsoft Teams is a popular video conference app that offers a comprehensive suite of collaboration and communication tools. The conference callings service seamlessly integrates with other Microsoft products, making it a convenient choice for teams already using the Microsoft ecosystem.
With Microsoft Teams, you can easily host virtual meetings and video conferences. It supports high-quality video and audio calls, screen sharing, and real-time document collaboration. You can also schedule and join conference calls directly from Outlook or Microsoft Teams' integrated calendar feature.
Teams also offer chat functionality, file sharing, and the ability to create dedicated channels for specific projects or topics. This makes it a versatile conference calling platform for informal conversations and structured meetings.
Pros
A comprehensive suite of collaboration and communication tools.
Seamless integration with other Microsoft products.
High-quality video and audio calls, screen sharing, and real-time document collaboration.
Versatile platform for both informal conversations and structured meetings.
Cons
It can be overwhelming for users unfamiliar with the Microsoft ecosystem.
Requires a Microsoft account or subscription to access all features.
Some users may experience occasional glitches or performance issues.
e). Cisco Webex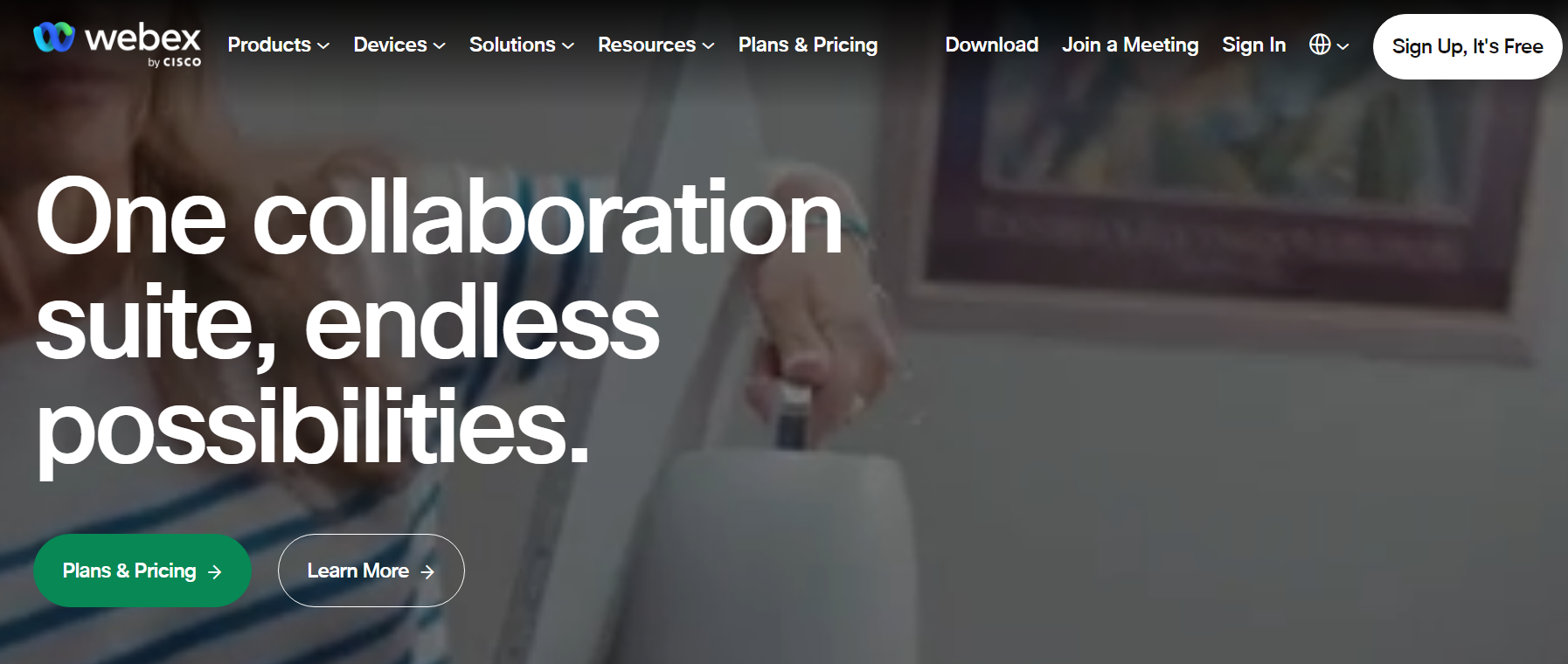 Cisco Webex is a reliable and feature-rich video conference app suitable for small and large businesses. It offers high-definition video and audio, ensuring clear and seamless communication during meetings.
Webex provides various collaboration tools to enhance teamwork and productivity, such as screen sharing, whiteboarding, and file sharing. It supports virtual meeting backgrounds and offers advanced features like transcriptions and AI-powered meeting insights.
One of the notable features of Webex is its support for large-scale conferences and webinars with up to thousands of participants. It includes options for registration, Q&A sessions, and audience engagement features to create interactive virtual events.
Pros
Reliable and feature-rich platform.
High-definition video and audio quality.
Offers collaboration tools like screen sharing, whiteboarding, and file sharing.
Support for large-scale conferences and webinars.
Cons
Some users may find the interface less intuitive compared to other options.
Advanced features may require additional subscriptions or licenses.
Limited customization options for virtual backgrounds and layouts.
f). GoToMeeting

GoToMeeting is a user-friendly and reliable video conference app known for its simplicity and ease of use. It offers high-quality video and audio capabilities, ensuring clear communication during meetings.
With GoToMeeting, you can easily schedule and invite participants to join meetings, whether from a computer or mobile device. It provides features like screen sharing, chat functionality, and recording meetings for future reference.
GoToMeeting also integrates with popular productivity tools like Microsoft Outlook and Google Calendar, making scheduling and managing your meetings convenient.
Pros
User-friendly and easy to use.
High-quality video and audio capabilities.
Integration with popular productivity tools.
Simplified scheduling and joining meetings from different devices.
Cons
It may lack advanced collaboration features compared to other options.
Limited customization options for meeting layouts.
Price plans may be relatively higher for certain business needs.
2. Plan Your Video Conference Call
Next, you need to plan your video conference call. Why did you schedule the meeting in the first place? What topics must you cover, and which employees need to participate?
These are important questions that need to be answered before your meeting starts. But knowing the answers to them isn't enough. We also suggest creating a meeting outline and sending it to each participant beforehand. That way, they can be as prepared as possible too.
Lastly, ensure every meeting has a monitor, someone tasked with keeping the video conference on track and ensuring every participant gets a chance to speak. That person might be you. But if you want to focus on delivering information, assign the job to another person on your team.
There's nothing worse, not to mention less productive, than when a boss calls a meeting and then spends the first 20 minutes gathering their thoughts. Be prepared!
3. Set Rules for Your Digital Meeting
Part of preparing for your first video conference is setting rules and guidelines for each of your participants to follow. For instance, common courtesy should always be displayed.
Everyone else should be paying attention when someone is talking, not checking email or scrolling through their phones. Also, ensure that your participants aren't constantly trying to talk over one another. This is wildly unproductive and rude.
Instead, give everyone a turn to talk so all opinions are voiced, heard, and cataloged. This may not be easy, but it is worth the added effort.
Just because your meeting is being held over the internet rather than in an office space doesn't mean participants can act like animals. Always enforce strict common courtesy rules, and everyone will benefit, guaranteed.
4. Keep Your Videos Conferences Concise
Business meetings, in general, should be as concise as possible. This is even more true for video conferences that likely include participants working from remote locations.
Your team has a lot going on. They don't have time to waste two hours rambling about irrelevant topics. You probably don't, either. So do everyone a favor and do your best to keep video conferences as short as possible while still sharing all relevant information.
One of the easiest ways to shorten digital meeting times is only to invite people who need to be there. If a colleague can't add anything of value to the conference, they shouldn't attend.
5. Record Your Video Conference
Finally, ensure that you record your video conferences so they can be referred back to later or shown to colleagues who couldn't make the live meeting. This will save you so much hassle down the road! Rather than trying to explain every detail discussed to absentees, send them a link to the video and let them catch up on their own time.
Fortunately, most video conference apps include a recording feature. But if your tool of choice doesn't, you can always use Zight's free screen recorder to capture every detail of your online meetings and securely store them in the cloud for future access.
Video Conferencing Best Practices
You now know the basics of hosting a successful video conference call. Before we let you go, we also want to share a few video conferencing best practices with you. Keep these three things in mind, and your digital meetings will be more enjoyable and effective:
1. Be Professional
It may be tempting to forego professionalism during video conference calls. The fact that you and your team aren't in the same room together might make your online meeting, and powwows seem more informal. This is a mistake!
Ensure your video conferences meet or exceed the general professionalism standards of traditional, in-office gatherings. Here's how:
Look the Part: If you work remotely, you probably dress more casually than most office workers. You might even rock your PJs all day long. The clothes you wear in your own home are your business except when you have to jump on a video conference call. Make sure you look presentable during your online meetings. That means wearing a work-acceptable wardrobe and following basic personal hygiene best practices.
Pay Attention to Your Surroundings: Similarly, ensure your surroundings give off a professional vibe. Your workspace may be a disaster, but at least ensure that the small area behind you (the space caught on camera) is clean and tidy. Also, attend virtual conferences in a quiet area. Loud noises are distracting.
Know How to Use Your Video Conference Software: Lastly, take some time to learn your video conferencing app of choice to operate it smoothly during your online powwows. This tip is especially important for meeting leaders. 20 minutes spent fiddling with technology is 20 minutes wasted and will make you look unprofessional.
If you follow these three simple tips, you should be able to both host and attend video conferences with the proper amount of professionalism.
2. Use Visuals
In-person meetings allow conference call attendees to easily share detailed visuals like graphs, charts, and videos to illustrate important details and keep things interesting. Video conferencing has restrictions in this area. You can't simply pass a printed visual to the attendee on your right.
Fortunately, modern technology makes sharing visuals during video conferences easy!
Take Zight, for example. Our visual collaboration software gives users access to powerful screen and webcam recording, GIF creation, and image annotation features. These specialized content types can then be sent to anyone with the click of a button.
When explaining a complex digital workflow, you can record your screen or annotate a screenshot and send the resulting content to your colleagues to be viewed during your video conference.
Visual content keeps people interested. Zight makes creating and sending visual content to any remote team member quick and easy.
3. Minimize Distractions
Last but certainly not least, always do your best to minimize distractions during your video conference calls. Many of the professionalism tips we outlined above apply here as well. Dressing appropriately, ensuring your environment is conducive to digital gatherings, and learning how to use your video conference app will help keep attendees focused.
You can also do your team a favor and turn off the cell phone and email notifications (or at least set them to silent) so they don't interrupt your meeting's flow.
Distractions have two major consequences: they hamper creativity and reduce productivity. Your team won't be able to generate as good of ideas if their thought processes or constantly interrupted. And your video and audio conferences alone will run on for far longer than needed if you must stop to address disturbances.
4. Have a Backup Plan
A backup plan is crucial to hosting a successful video conference, especially when dealing with potential technical issues. Technical glitches and connectivity problems can disrupt the meeting flow, leading to frustration and inefficiencies. To ensure a smooth experience, it's essential to be prepared with contingency measures.
Here's how to have a backup plan for your video conference:
Identify Potential Technical Issues: Before your conference call, assess potential technical challenges that may arise. These could include internet connectivity problems, audio or video malfunctions, or software compatibility issues. Being aware of possible pitfalls allows you to plan accordingly.
Test Technology and Equipment: Conduct a thorough tech check with all call participants before your conference calls. Ensure that their devices, internet connections, and necessary software function correctly. This step helps to minimize the likelihood of technical hiccups during the conference calling.
Have Alternative Communication Channels: In case of severe technical problems that disrupt the conference call, establish alternative communication channels as a backup. These channels can include chat platforms, instant messaging, or conference call lines. This ensures that communication can continue despite video conference interruptions.
Assign a Backup Host: Designate a backup host or facilitator who can take charge if the primary host encounters technical difficulties and cannot continue leading the meeting. This ensures the conference call can proceed smoothly even if the original host experiences issues.
Empower Your Remote Team With Video Conferencing
Video conferencing is a necessity for many modern businesses. As more and more workers work remotely, video conferencing apps allow teams to stay in touch and maintain peak productivity.
Fortunately, you now know exactly how to host a successful video conference. Just remember to follow the five steps we outlined above:
Select the Right Video Conference App
Plan Your Video Conference Call
Set Rules for Your Digital Meeting
Keep Your Video Conferences Concise
Record Your Video Conference
And don't forget about Zight! Our tool's screen and webcam recording, GIF creation, and image annotation features will enhance any virtual gathering. The best part? Zight can be used for free. Download our solution today and get started.
Frequently Asked Questions on Host Conference Call
1. How can I host a free conference call?
To host a free conference call, you can follow these steps:
Choose a reliable conference call service that offers a free plan. Several conference call services are available in the market, and we have highlighted some of the best above.
Sign up for an account on the selected conference call service.
Schedule a conference call by providing the necessary details, such as the call's date, time, and duration.
Obtain the dial-in number and access code for participants to join the call. The conference call service usually provides these details.
Share the dial-in number and access code with your participants via email, calendar invitations, or any other communication method.
At the scheduled time, dial into the conference call using the provided number and enter the access code as the host.
Once all participants have joined the call, you can begin the conference.
2. How do you introduce attendees on a conference call?
Introducing attendees on a conference call typically involves the following steps:
As the host, start the conference call and wait for participants to join.
Once participants have joined, greet them and introduce yourself as the host.
Ask each participant to introduce themselves, starting with their name and, if necessary, any additional relevant information, such as their affiliation or role in the meeting.
If the number of participants is large, you can consider using a round-robin approach, where you go around the virtual table and ask each participant to introduce themselves in order.
Alternatively, you can ask participants to introduce themselves as they speak or contribute during the conference call.
3. How does a conference call work?
Conference calls enable multiple participants to communicate and collaborate remotely using audio or video connections. Here's a general overview of how a conference call typically works:
The host schedules the conference call and shares the necessary details with the participants, such as the dial-in number, access code, and meeting time.
Participants dial into the conference call using the provided dial-in number and enter the access code to join the call.
Once connected, participants can communicate using their microphones and speakers (for audio calls) or cameras and microphones (for video calls).
The host manages the call by initiating discussions, moderating the conversation, and ensuring everyone has an opportunity to speak.
Additional features provided by conference call software may include screen sharing, chat messaging, recording capabilities, and more, depending on the chosen service.
At the end of the call, participants disconnect from the conference, and the call concludes.
4. What are the main features of conference call software?
Conference call software typically offers a range of features to enhance the communication and collaboration experience. Some main features include:
Call scheduling and invitation management: The ability to schedule conference calls in advance, send invitations to participants, and manage the meeting details.
Dial-in numbers and access codes: Participants can join the call using a designated dial-in number and access code, ensuring secure and controlled access to the conference.
Audio and video capabilities: Conference call software allows participants to communicate using audio and video connections, enabling real-time interactions.
Screen sharing: The ability to share your screen with other participants, allowing for visual presentations, document collaboration, and demonstrations.
Recording: Some conference call software allows you to record the call for future reference or to share with those who couldn't attend.
Chat messaging: Instant messaging functionality within the conference call software, facilitating text-based communication between participants during the call.
Participant management: Features to manage participants, such as muting/unmuting participants, controlling access, and managing participant roles.
Integration with other tools: Integration with popular productivity and collaboration tools, such as calendars, project management software, or file-sharing platforms, to enhance the conference call experience.
Editor's note: This article was first published in November 2019 but has been updated for comprehensiveness, detail and improved accuracy.