GIFs have rightfully earned their place as the fastest way to communicate information in one visual punch. They are one of the primary reasons teams choose to create GIFs to communicate with customers and internally.
What is a GIF Creator App?
A GIF Creator App is a software application designed to facilitate the easy and efficient creation of GIFs (Graphics Interchange Format) from various sources such as photos, videos, or existing GIFs. These apps typically offer a user-friendly interface for users to convert their media files into animated images, allowing them to add stickers, filters, text, and effects to enhance their GIFs.
GIF creator apps often provide options for customization, including adjusting aspect ratios, frame order, and animation speed. Users can quickly convert videos or images into GIFs with just a few clicks, utilizing features like editing tools and other creative elements.
These apps cater to different platforms, such as iOS and Android devices, offering users a convenient and accessible way to produce stunning animations, memes, and visual content. There are free GIF-maker apps, while others may offer additional features through in-app purchases.
Best GIF Creator App: Zight (Formerly Cloudapp)
The purpose of a GIF creator app is to save time and skip lengthy explanations or meetings, so the application mustn't take more time to create than the benefit of using one in the first place. And this is why we created Zight.
With our GIF recorder, anyone can save time and skip lengthy explanations or meetings. Teams can create GIFs of anything on a screen and instantly save them to the cloud in an easy-to-use enterprise-level app. Just capture, share, and accelerate your workflow.
Easy GIF App Download
Zight offers an easy solution to help your team create GIFs that are effortless and quick to execute amongst team members and customers. Simply click on the Zight icon and select the GIF icon (or the TV icon) depending on how long you'd like your GIF to be and the quality you prefer.
You can also use the hotkey combination for Mac: Cmd+Shift+6, Windows: Alt+Shift+6. Recordings under 30 seconds long make perfect GIFs, while recordings over 30 seconds long are better recorded with HD video.
Other Great GIF Maker Apps
If you want to check out other options apart from Zight, there are other GIF makers in the market, including:
2. Giphy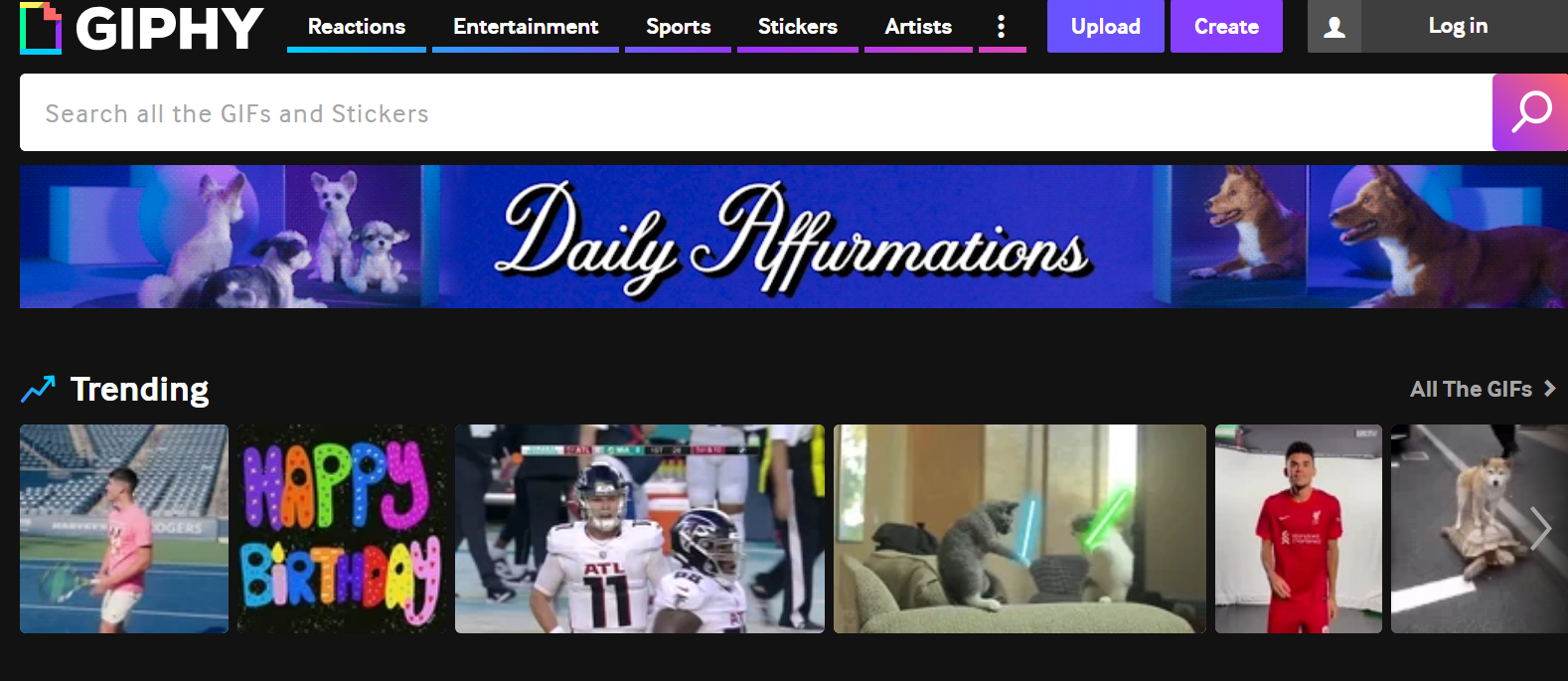 Giphy is a widely recognized GIF maker app that offers a massive library of existing GIFs. It's one of the free apps with a user-friendly interface that lets you quickly search and find the perfect GIF for any occasion.
You can also create GIFs from videos and images, adding text, stickers, and effects. The app's strength lies in its extensive collection and easy sharing options.
Also, the GIF maker offers face-tracking accessories, stickers, and additional elements to elevate the impact of your GIFs. Lastly, it's available for both iOS and Android users.
Pricing
Pros
A vast library of GIFs, stickers, effects, and emojis
Simple and straightforward interface
Saving doesn't need a user account.
Built into the iOS keyboard
Easy sharing options to various platforms
Cons
Easy to exit without saving your own GIFs
Uploading needs a user account
3. Wondershare Filmora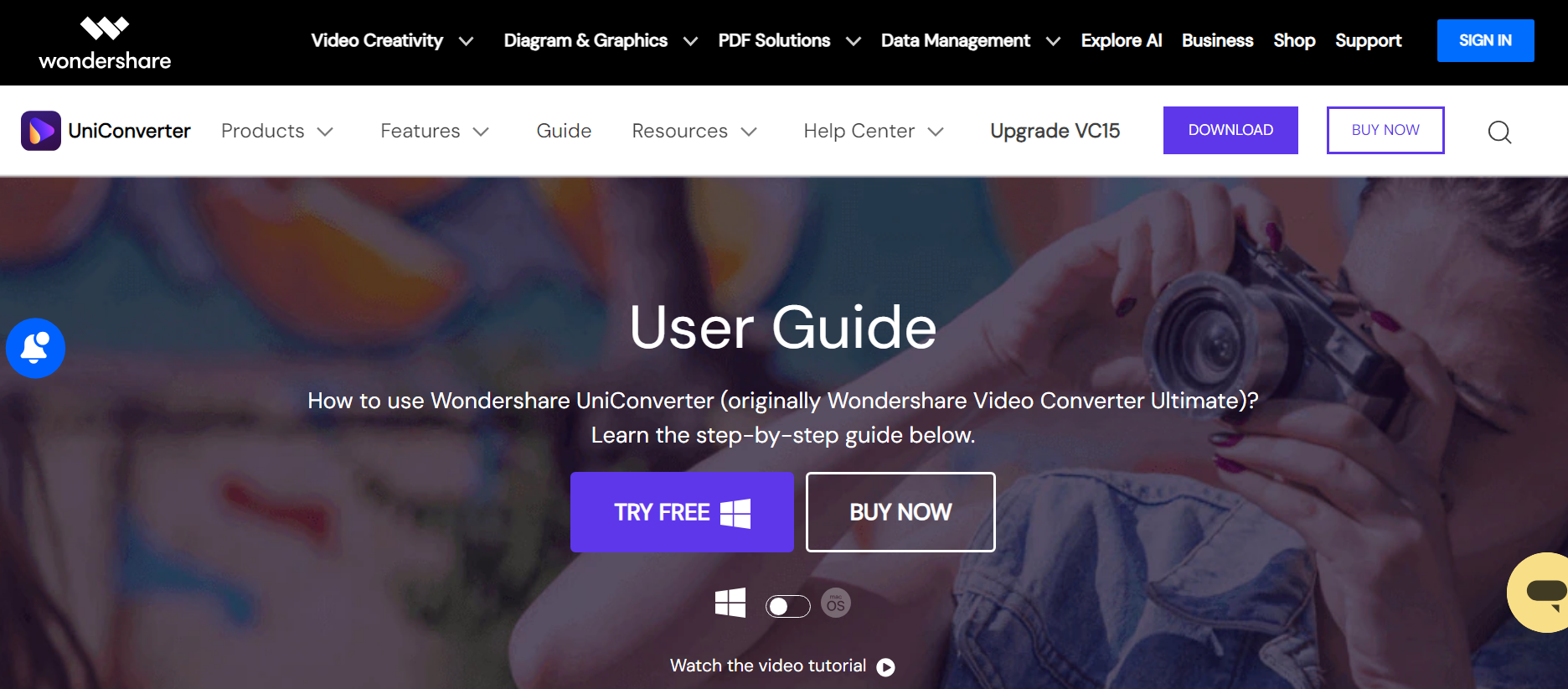 Wondershare GIF Maker is a free GIF maker suitable for converting still images and videos into animated GIFs on Windows and Mac devices. This GIF online software empowers you to generate concise yet visually engaging animated visuals, drawing from a limitless collection of photos and videos.
Its user-friendly interface simplifies transforming your image and video content into dynamic animated counterparts, providing an effortless means of adding movement to your static media. Lastly, the free app connects with the Wondershare suite.
Pros
It supports an unlimited number of photos and videos
User friendly
Over 100 features of visual effects
The app lets you edit GIFs with wonderful effects, text, and subtitles.
Complete control over audio and video settings
Cons
The software doesn't allow you to
Pricing
4. ImgPlay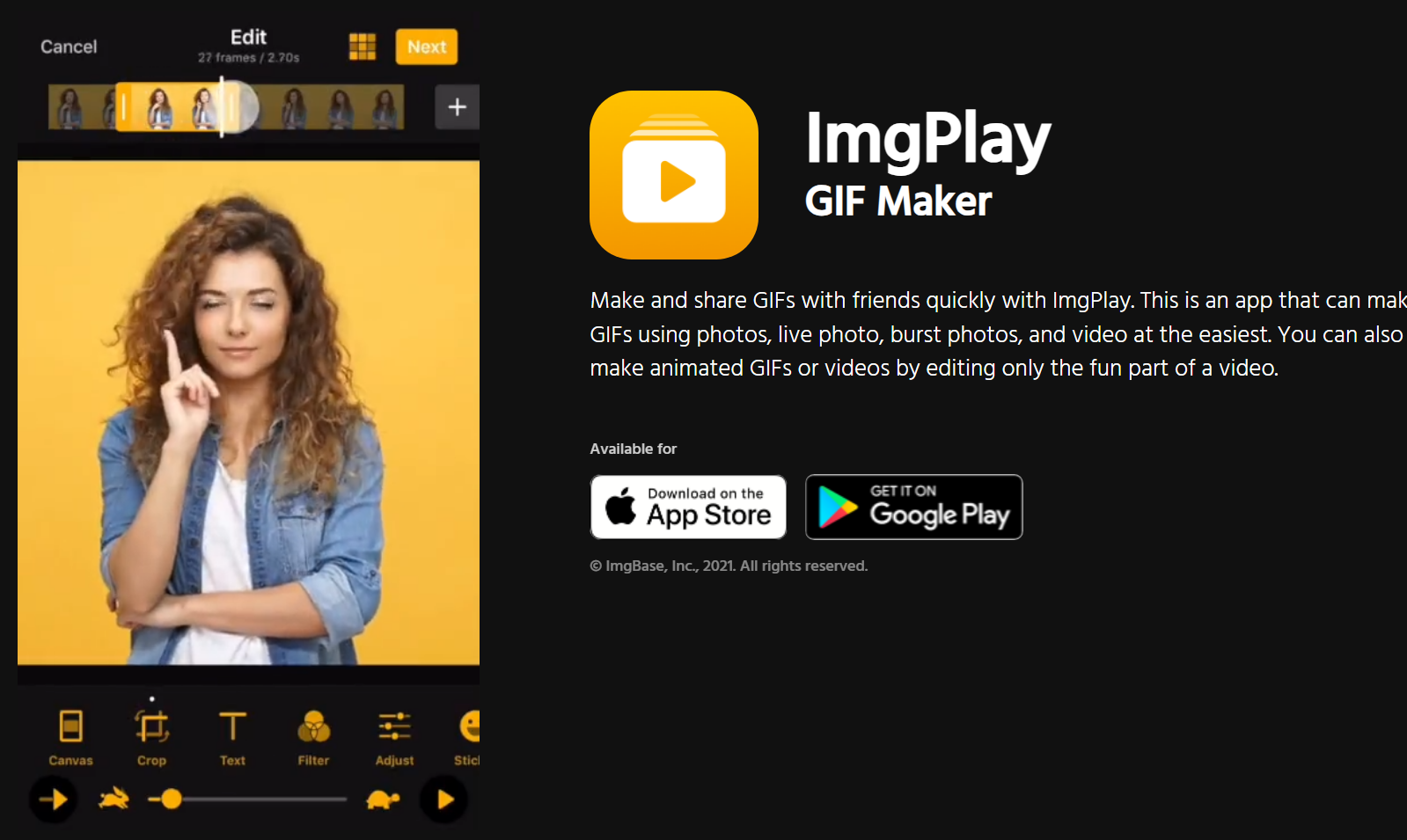 ImgPlay is an intuitive GIF maker app that excels in turning videos and photos into high-quality GIFs. It offers customization features like text, stickers, and filters, making your GIFs more engaging.
The app's user-friendly interface and range of editing tools make it an excellent choice for beginners and more experienced users. However, some users may find the free version limited in features, and the app may display ads.
Pricing
Free GIF maker with in-app purchases
Pros
Intuitive user interface,
Supports conversion of both videos and photos into high-quality GIFs,
Offers customization features like text, filters, and speed adjustments
Cons
Some advanced features are locked behind in-app purchases
The free version may have watermarks and ads
5. Make a GIF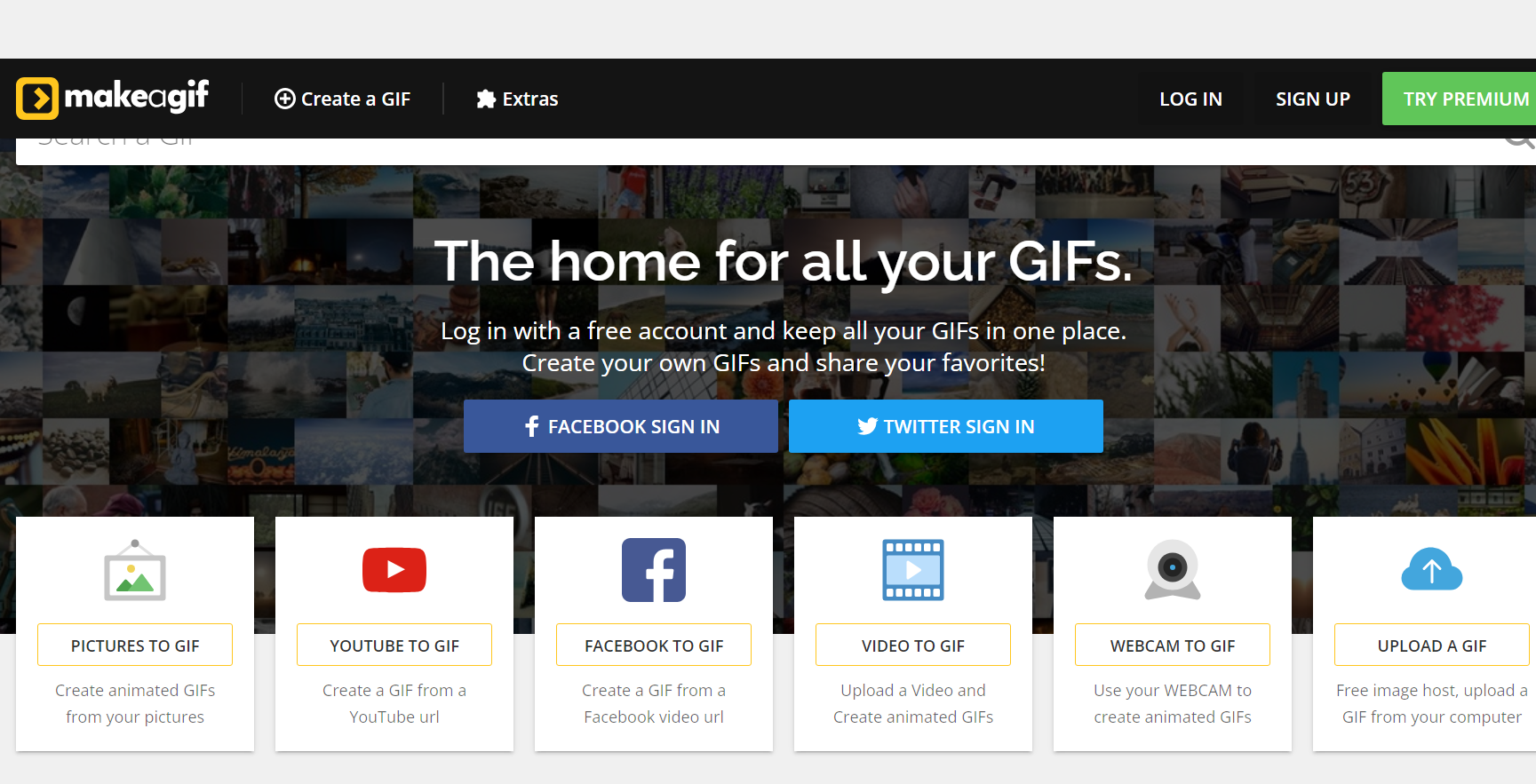 If you are interested in an online GIF creator offering seamless assistance in crafting animated GIFs utilizing your own image collection or harnessing the potential of Facebook or YouTube video URLs, Make A GIF is a commendable choice.
Moreover, unlike other apps, this GIF maker extends its versatility by enabling the utilization of webcam videos directly. At the same time, its user-friendly drag-and-drop interface grants the flexibility to rearrange the sequence of images effortlessly.
Pros
High Definition GIFs
You can add more than one image simultaneously
Lifetime Saved Gifs
You can arrange your GIF images by date or name
Ultra-fast editing/uploading
You don't need an account to make a GIF format
Cons
The site may contain adult content
Not child-friendly
Pricing
Free trial and a pro version of $11.95 per month
6. Ezgif.com

Ezgif lives up to its reputation as an efficient GIF maker, streamlining the process of crafting GIFs online. With a generous cap of up to 2000 files, its user-friendly interface enhances the GIF creation experience. The GIF maker also offers comprehensive features essential for producing exceptional GIFs.
The Ezgif GIF maker can also flip GIF images and seamlessly incorporate text. Ezgif's standout feature is its ability to produce watermark-free and attribution-free GIFs, ensuring your creations maintain their authenticity.
Pros
Suitable if you have a folder of images you want to turn into a GIF
You can adjust the animation speed and frame order, resizing, optimizing, and setting a delay timer
Split images and add text
Can create GIFs from a variety of image formats
Can edit, shorten, or merge existing
Cons
Has a maximum file size limit for uploading and processing files
Only supports JPG, JPEG, PNG, and BMP images
You dont have control over many functions
Pricing
7. GIF Maker by Momento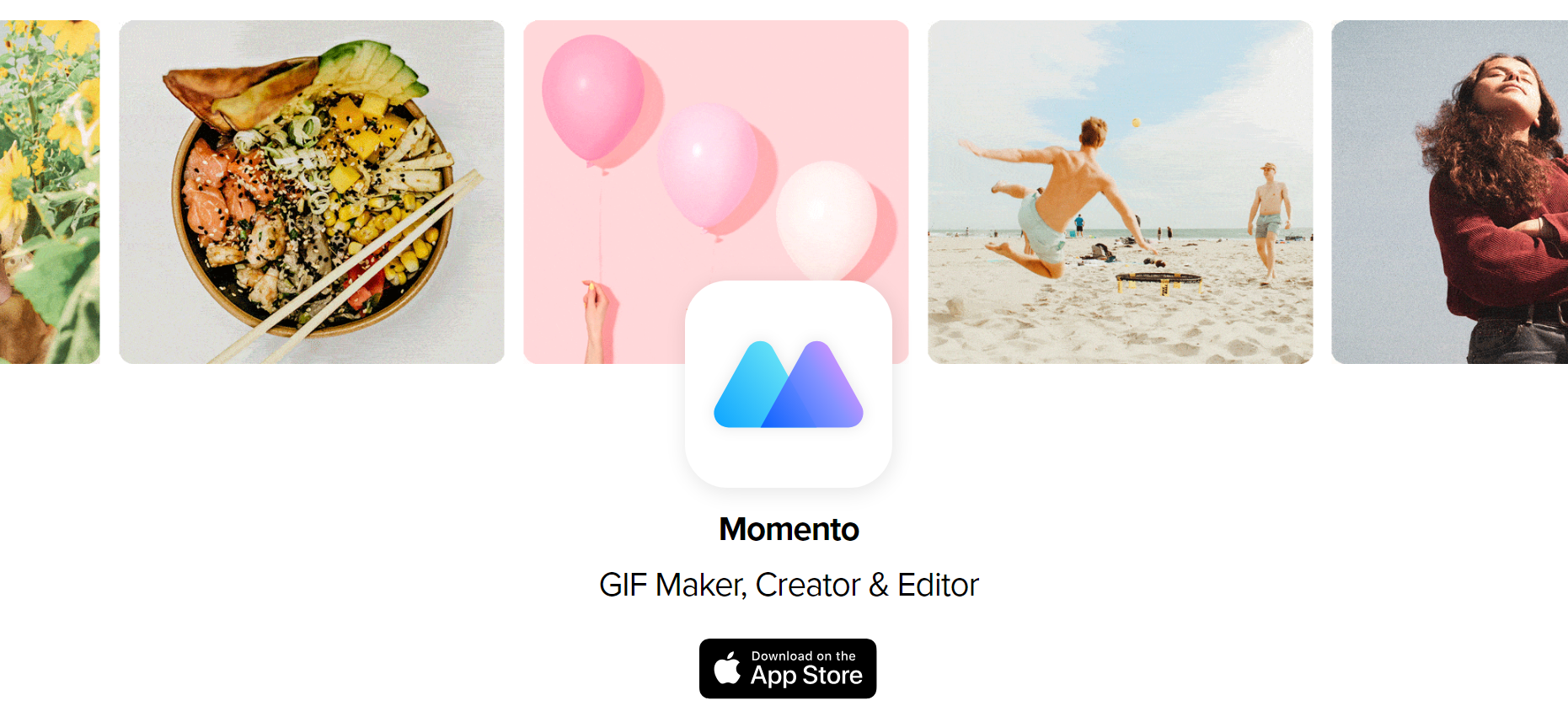 Another GIF maker you can use to transform Burst photos, Live Photos, and your own videos into GIFs is this GIF Maker by Momento. It stands out for its simplicity and ability to quickly convert existing media into GIFs.
While it's not as feature-rich as some other GIF apps, it's a solid choice for creating GIFs from moments captured on your iOS device.
Pros
Supports different media sources
Offers a variety of creative features such as stickers, filters, effects, and more
Allows adding animated captions, text, frames, AR, music, and more
It provides options to adjust speed, direction, trim, and zoom
Supports sharing GIFs directly on various platforms like TikTok, iMessage, Facebook Messenger, WhatsApp, and more
Simple and quick conversion of any image format
Cons
Less feature-rich compared to other similar apps
Only supports certain image and video formats (JPG, PNG, GIF, MPF, and MOV)
GIFs can only be up to 15 seconds long
Pricing
Free but offers in-app purchases for premium features
8. GifLab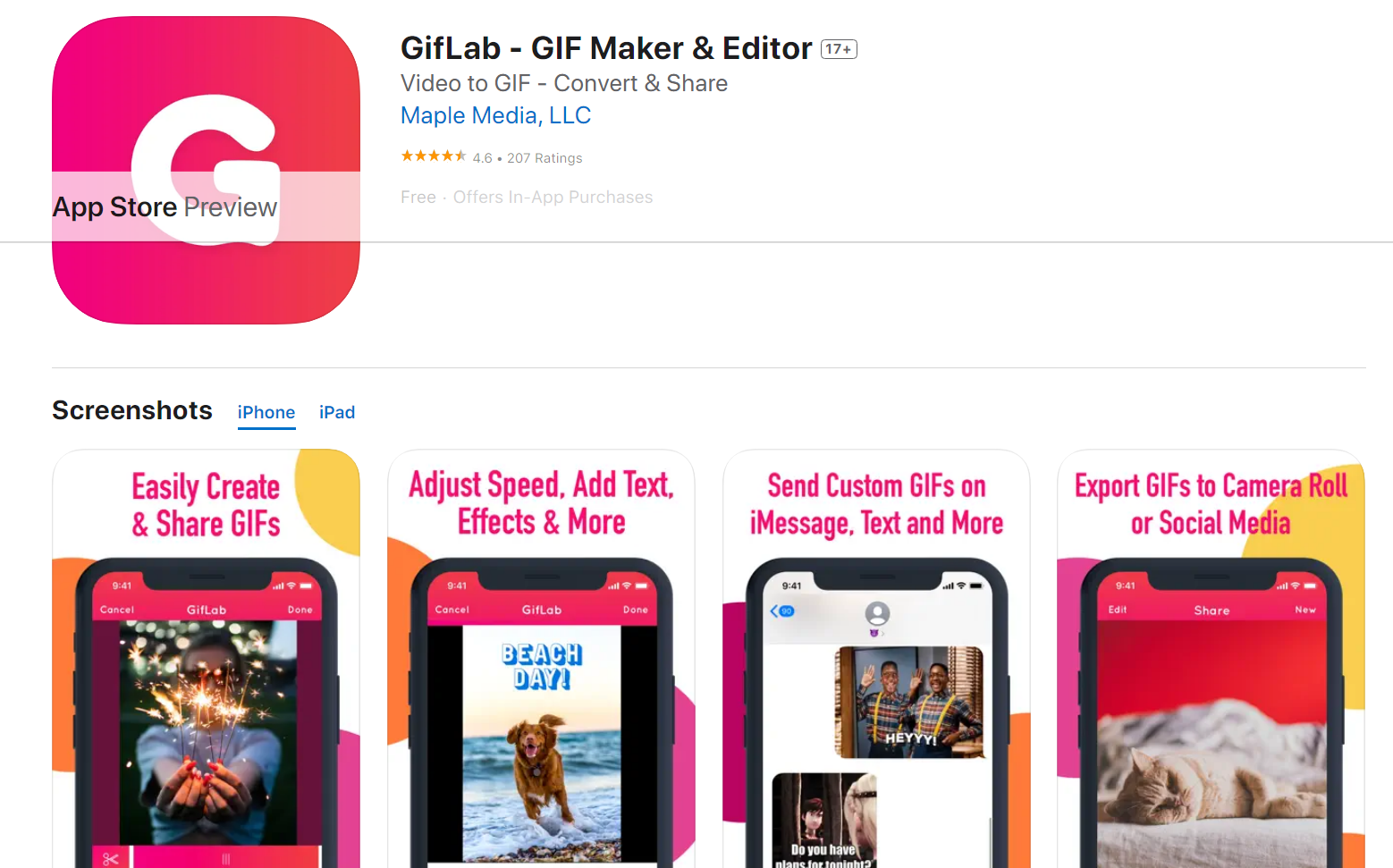 If you want the easiest way to create GIFs on your iOS device, GifLab is one of the best GIF creator apps. It is a straightforward video-to-GIF converter with added editing and filtering options.
The GIF maker excels in simplicity, making it easy to transform videos into GIFs quickly. The app's main advantage is its user-friendly approach, but it might lack some advanced features in other GIF maker apps.
Pros
Simple video-to-GIF conversion process
Basic GIF editor and filtering options
Allows users to control speed, add captions, and apply filters
User-friendly for quick GIF creation.
Cons
There is no Android version
Pricing
Free to use, offers in-app purchases for removing watermarks and accessing premium features.
9. PicsArt Animator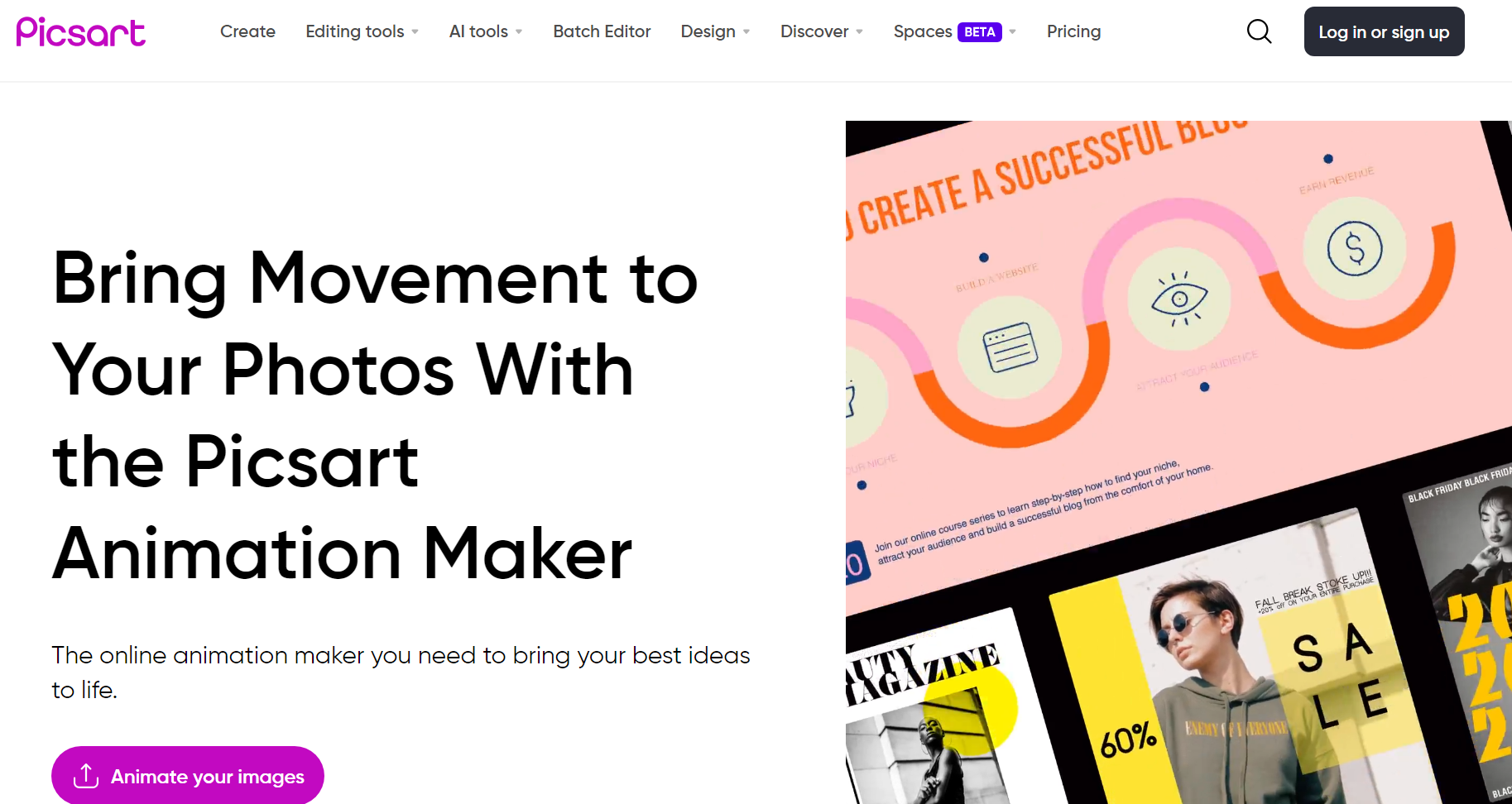 PicsArt presents itself as a creative and versatile GIF app that allows you to transform a wide array of media formats (including photos, videos, and existing GIFs) into customized, animated GIFs.
This competent GIF maker app boasts an in-built library comprising effects, masks, stickers, and text options to elevate the quality of your GIFs.
Much like several other applications on our list, PicsArt lets you capture imagery for your GIF through the in-app camera if that suits your preference.
Pricing
Free
Picsart Gold- $5/month, $60 billed yearly
Team- $7/month, $84 billed yearly
Pros
You can overlay other GIFs
Custom text options
GIF editor options such as crop, trim, and resize
Provides customer support through a contact form and live chat
Cons
Autosave facility not available
10. Snagit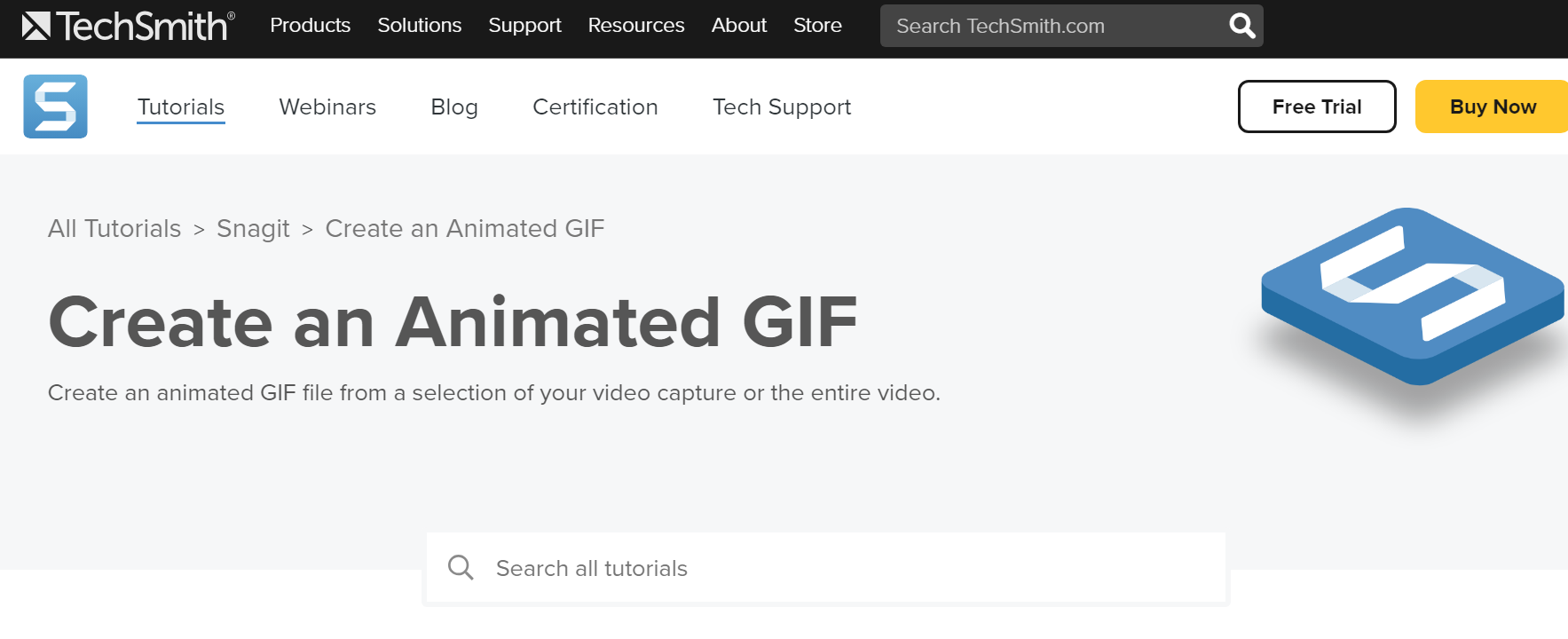 The Snagit platform is another popular GIF maker you can use to Turn videos into GIFs. With its wizard-like abilities, Snagit transforms videos into captivating GIFs with a simple flick of your creative wand.
After you choose the exact moments to shine in your GIF masterpiece, let Snagit weave them into visual stories that pop.
No more cookie-cutter Graphics Interchange Format files – Snagit hands you the reins to customize and craft GIFs that reflect your unique style – where imagination meets pixel-perfect reality!
Pros
Offers a variety of creative features such as stickers, filters, effects, and more
Allows adding animated captions, text, frames, and more
It provides options to adjust speed, direction, trim, and zoom
Can create GIFs from screen captures and videos
Allows sharing GIFs directly on various platforms
It comes with professional-looking shapes, arrows, callouts, and stamps to keep your markup looking professional
Offers a free trial
Cons
Video editing setbacks aside, Snagit may not be as powerful as other tools
Only supports certain image and video formats
It may have a learning curve for some users
Pricing
Snagit has a one-time license cost of $62.99
11. Adobe Express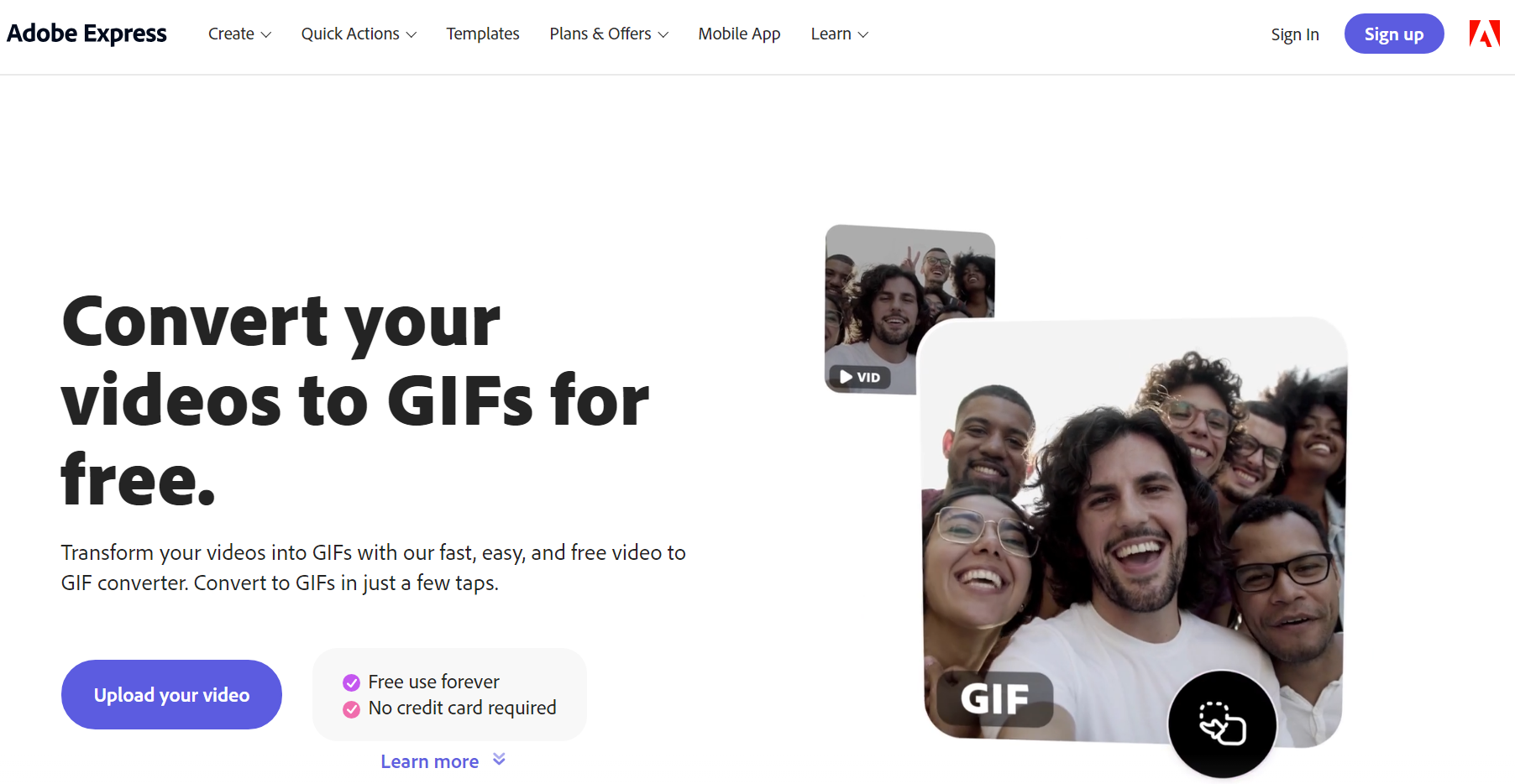 Elevate your GIF game with the magic of Adobe Express! This app is your ticket to creating animated GIFs that are crisp, smooth, and lightning-fast. Experiment with your creativity as you transform images, camera shots, existing GIFs, and screen recordings into dynamic animations.
The interface? It's as friendly as a high-five, easy as pie, and a breeze to navigate, even for rookies.
Pros
Offers a variety of creative features such as stickers, filters, effects, and more
Allows adding animated captions, text, frames, and more
It provides options to adjust speed, direction, trim, and zoom
Can create GIFs from photos and videos
Equipped with a multifunctional GIF maker
Cons
Only available as a mobile app
Limited control over functions
Pricing
12. Easy GIF Animator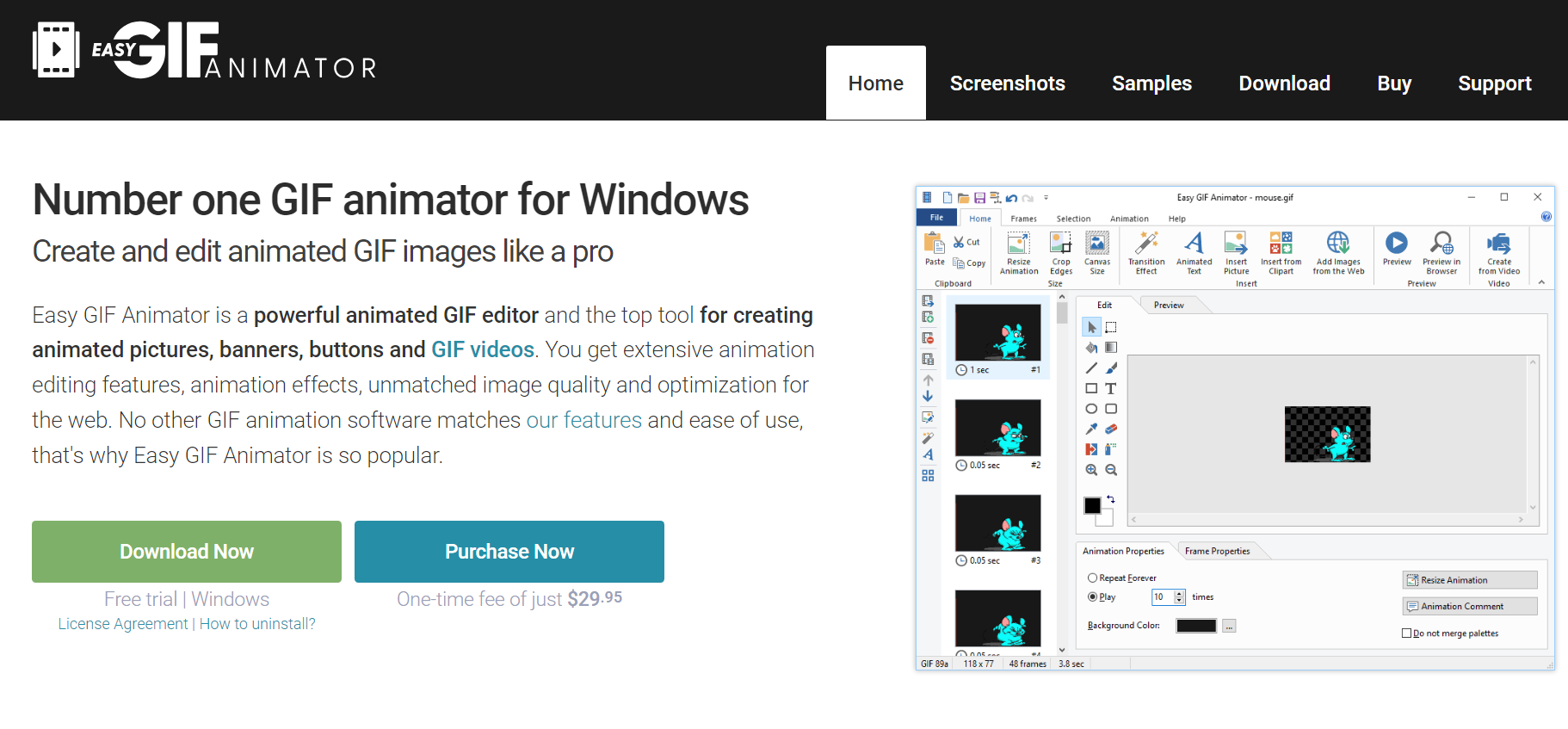 From mesmerizing animated banners and buttons to captivating GIF videos, this Easy GIF Animator app is your ticket to a world of visual wonders. Boasting an impressive 4.8 rating, it has a GIF arsenal, including text effects, sound-enhanced animations, captivating frames, and more.
Imagine exporting in SWF, AVI, GIF, or video formats, plus converting videos to animated GIFs. Not only does it juggle various file formats, but it's also your genie for image effects, resizing magic, and more.
Pricing
Easy GIF Animator 7 Personal $29.95
Easy GIF Animator 7 Pro $59.95
Pros
Offers extensive animation editing features
Provides animation effects and unmatched image quality
Supports all types of GIF animation
Provides high compression and excellent quality for animated GIF images
Can create animations by combining a sequence of pre-existing still images
Cons
A limited number of images to create frames
Not suitable for professionals
13. Imgur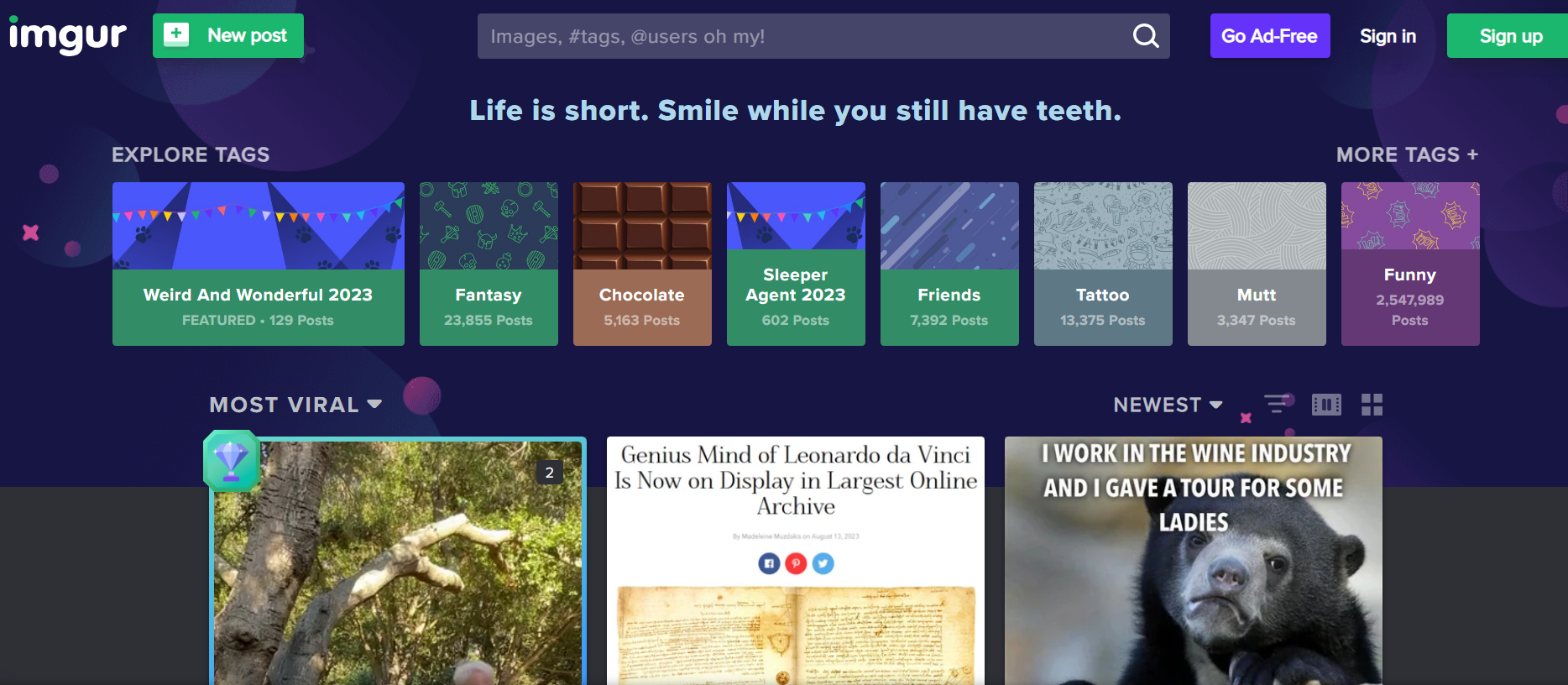 Imgur stands out as a user-friendly GIF maker, making GIF creation from videos a breeze. This top-notch GIF generator streamlines the process and lets you explore various humorous, informative, and inspiring images, GIFs, and visual stories. The best part? You can create GIFs without the need for an account.
You can effortlessly share your final creations with others and benefit from support for various file formats like JPEG, PNG, GIF, APNG, TIFF, MP4, MPEG, AVI, and WEBM. Imgur empowers you with essential editing tools like Crop, Trim, and Resize to perfect your creations. You can also easily share your GIFs via a link.
With features ranging from Upload images and Videos to GIFs to Meme maker and more, as well as Video to Animated GIF, Photo Animation, Drag and drop functionality, and a built-in image editor, Imgur covers all your GIF-making needs.
Pros
Diverse content offers a wide variety of funny, informative, and inspiring images, GIFs, and visual stories
Reaction GIFs and auto expand
Phone verification
No account required
Video and sound support
Multiple file format support
Essential editing features like crop, trim, and resize enable users to refine their GIFs to meet their desired specifications
Cons
Lack of in-app customer support
The platform focuses on user-generated content, so the quality and availability of content can vary, potentially impacting the variety and suitability of resources for GIF creation.
Pricing
14. GIFMaker.me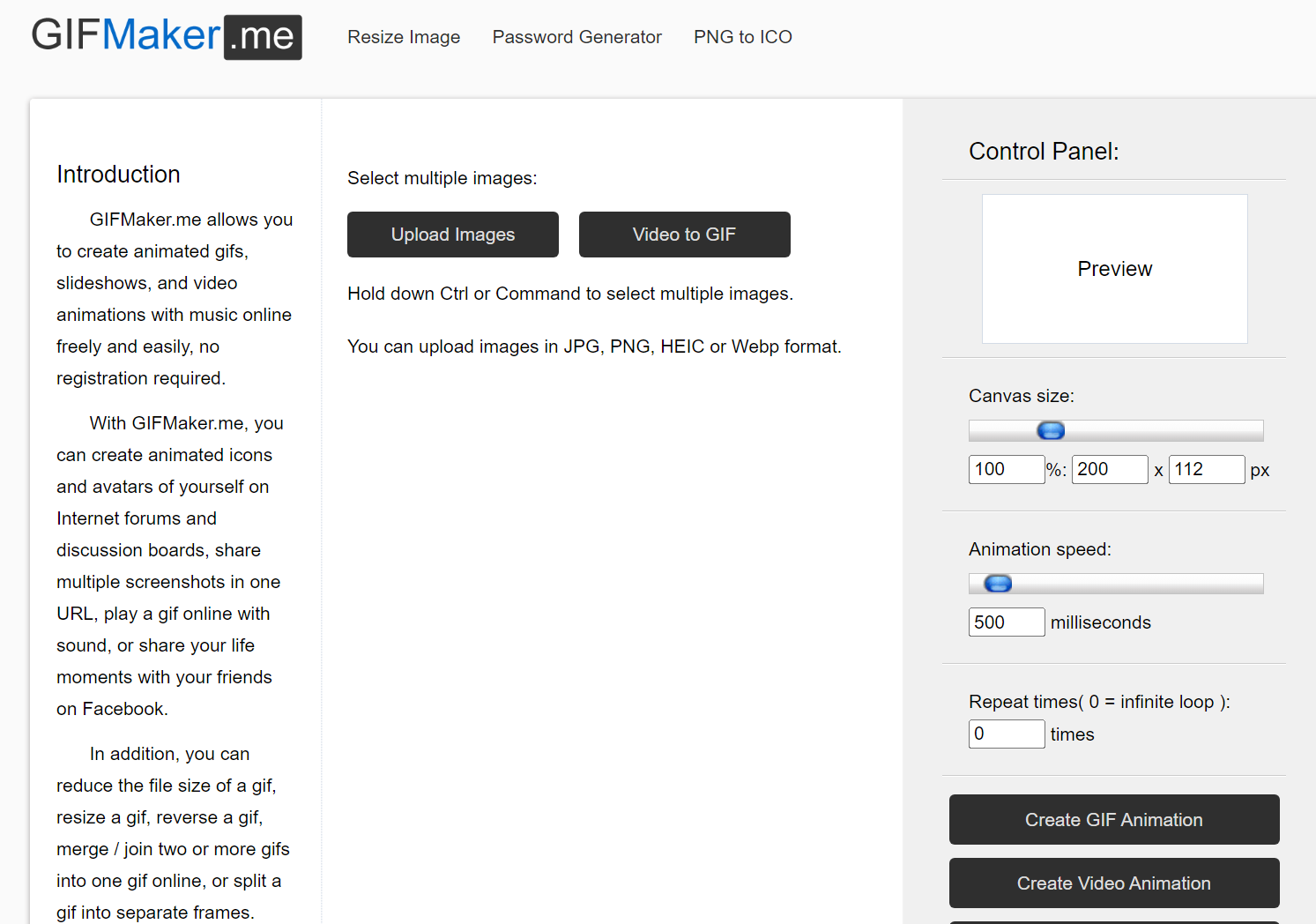 Are you looking for a fantastic animated GIF generator? Look no further than GIFMaker.me! It's your express ticket to easily transforming images and videos into captivating GIFs. Whether on Mac, Windows, or Linux, this versatile tool has your back.
And guess what? It doesn't stop there – you can also shrink file sizes, resize, and even reverse GIFs with a breeze.
Pros
User-friendly interface
Multiple input sources
File size reduction
Resize and reverse
Cons
Limited advanced features
Limited editing options
Some users might find that the compression process could slightly affect the quality of their GIFs
Pricing
15. Screen To Gif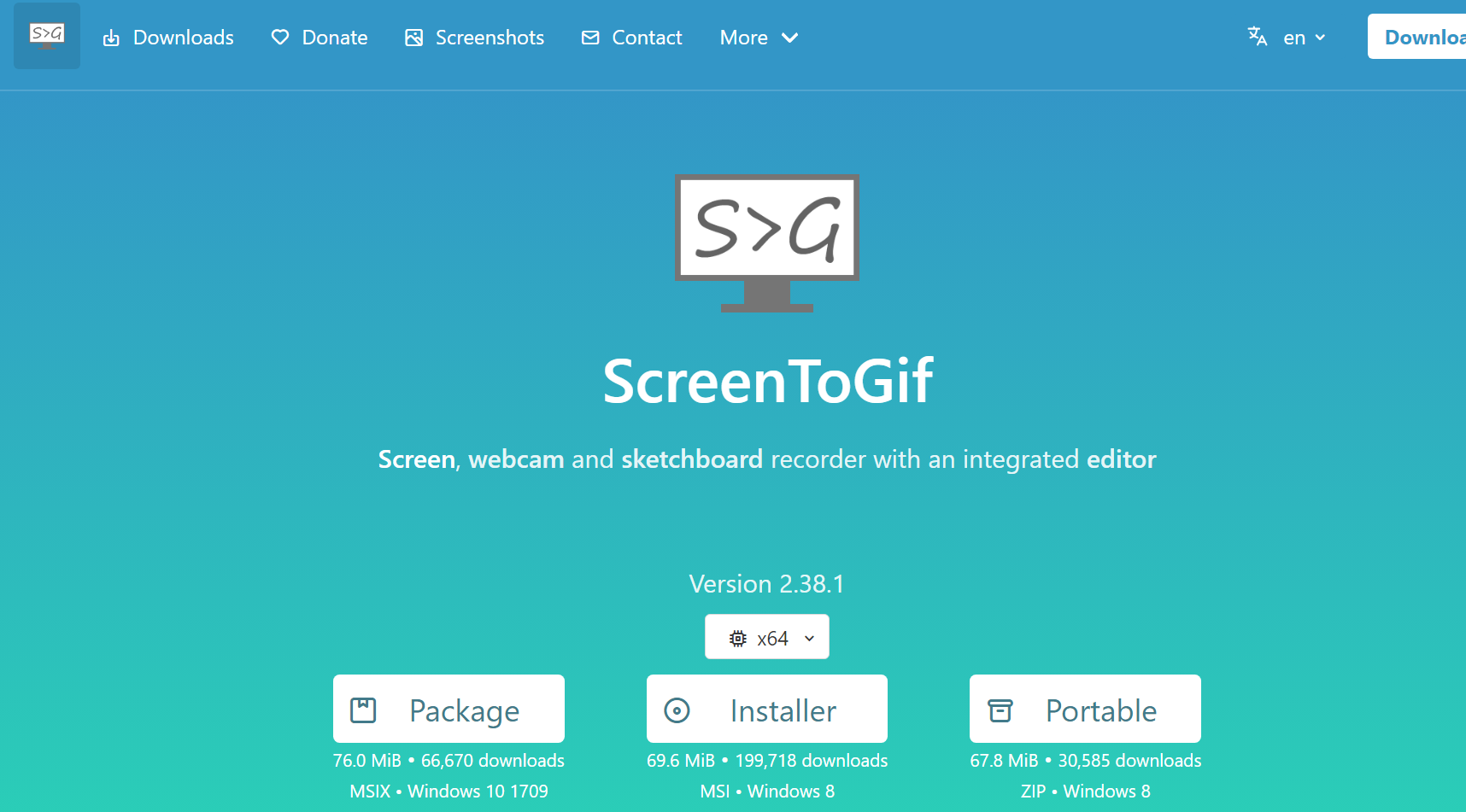 ScreenToGif is a remarkable open-source tool that empowers users to capture, edit, and enhance GIFs effortlessly. This versatile software offers a range of functionalities, including screen recording, webcam capture, and digital sketch board integration, allowing for dynamic and engaging GIF creation.
With features like Reverse, Transition, Playback, Webcam recording, and more, the creative potential of your GIFs is greatly expanded. The software supports multiple file formats, including GIF, PNG, and PSD, while offering seamless export options. Integrating features like Video to Animated GIF, Photo Animation, Drag, and drop functionality, and a Built-in image editor adds to the software's appeal.
Pros
Open-source and free
Versatile recording options
Customization and editing
File format support
Cons
Some advanced features might have a learning curve for users new to GIF editing
Pricing
One of the free gif maker apps
GIF Creator Screen Capture
After you select the TV or GIF icon (or use the hotkey combination above), recording your screen as a GIF is as easy as clicking and pointing. Simply select the recording area on your screen, and if you use the hotkey combo, you'll be prompted to choose to record with or without sound.
You can also click on GIF or HD at the bottom of the recording area if you change your mind about the type of recording you want to start. Just follow these steps:
Press start to begin the recording.
Press finish when you are done recording.
Share the link with your team or customers.
Time-Saving Benefits of the GIF Recorder
Using GIFs to communicate with your team and clients has numerous time-saving benefits. Here at Zight, GIFs help us increase productivity and complete tasks up to 300% faster.
When you think about how many customers can be helped, team members briefed, or support tickets answered in that amount of saved time, it makes GIFs a reliable and necessary productivity tool. Here are some of our favorite ways we (along with our customers) use GIFs:
Use a GIF recorder to create your library of visual answers for customer FAQs on your help desk or support page
Cut down on the time that support teams spend answering the same question with our annotated GIFs feature
Use GIFs in place of email explanations – a picture is worth a thousand words (and several minutes)
GIFs help quickly communicate shared goals between teams, helping to cut down on confusion and missed initiatives
Accurately report a bug to your engineering team. This saves time troubleshooting, and you'll avoid endless back-and-forth conversations.
Boost internal morale with inside jokes, memos, and updates. Communicate lengthy ideas
Show and not tell clients how to complete tasks and provide them with a visual they can refer back to time and again
Skip unnecessary team meetings and "stand-up" updates
Quick and Easy Sharing of GIFs
Ironically, it isn't typically creating the GIF that takes the most time – it's sharing it. Zight makes it a piece of cake to share your GIF by easily dragging and dropping it into emails or social and working platforms.
When it comes to productivity, a simple drag and drop is much quicker than downloading your GIF, attaching it, and finally sharing. With Zight, it's drag, drop, and done!
How to Get Started Creating GIFs
Getting started creating GIFs is as easy as point, click and share. What we love the most about GIFs is that you can immediately reap the benefits of faster productivity and better communication. You don't have to wait weeks or months to start saving time, improving workflow, and making customers happy.
Ready to make those improvements now? If you haven't already, create a free Zight account to start implementing the power of GIFs.
Frequently Asked Questions on GIF Creator App
1. What is the best GIF creator app?
Zight is undoubtedly the best GIF creator app. This exceptional app stands out amidst the array of GIF-maker apps, offering an intuitive interface, user-friendly controls, and the ability to craft captivating GIFs swiftly in just a few clicks.
Zight's arsenal of features includes an extensive library of stickers, filters, and cool effects for businesses looking to streamline generating animated content. Additionally, its compatibility spans across iOS devices and Android platforms, ensuring accessibility for a wide range of users.
Zight's attention to detail extends to creating gifs with sound and stunning animations, allowing for a more immersive experience. The app also supports integrating existing videos, enabling users to convert videos into gifs with the same quality quickly. Moreover, Zight's customization options, such as aspect ratio adjustments and in-app purchases for access to extra features, enhance the gif-making process.
2. How do you make your own GIF using Zight?
Creating your personalized GIFs with Zight involves an intuitive process. To make your own GIF using Zight, follow these steps:
Begin by selecting the content you want to transform into a GIF: images, videos, or screen recordings.
Use Zight's intuitive interface to add your creative flair by adding stickers, filters, text, or music.
Once satisfied with your edits, hit the create button, and Zight works its magic, transforming your input into a captivating GIF.
3. How to make a GIF on Android?
Zight simplifies GIF creation on Android and seamlessly transforms your content into captivating GIFs with minimal effort.
To make a GIF on Android using Zight:
Install the Zight app from the Google Play Store.
Choose the content you wish to turn into a GIF.
Utilize Zight's user-friendly features to customize your GIF's appearance.
Create your GIF in just a few steps and share your animated creation with the world.
4. How do I make a GIF on my iPhone?
Elevate your iPhone GIF-making experience with Zight effortlessly. Convert existing content into GIFs on your iPhone that maintains the original quality.
Crafting GIFs on your iPhone with Zight is simple:
Download Zight from the App Store.
Pick the content you want to transform into a GIF.
Apply creative enhancements using Zight's features.
Convert your chosen content into an engaging GIF with a few taps.
5. How do I make a GIF with sound?
Adding sound to a GIF can make it more engaging and entertaining. However, since GIFs are image files, they do not support sound. Therefore, to add sound to a GIF, you must convert it to a video format, preferably MP4.
Here are some tools that offer different features, functionalities, and steps to make a GIF with sound:
Wondershare Filmora: Import a video to the timeline, unmute the sound, and export it as a GIF.
MiniTool MovieMaker: Import a video, add sound, and export it as a GIF.
Canva: Upload a GIF or create one with a template, add sound, and export it as a video.
Clideo: Upload a GIF and an audio track, drag them to the preview area, and export them as an MP4.
Kapwing: Upload a GIF and an audio file, combine them, and export it as an MP4.
VEED.IO: Upload a GIF, add sound effects, recordings, songs, or other audio tracks, and export it as an MP4.
6. How do GIFs work?
GIFs operate on a sequential display of individual images, creating an illusion of motion when viewed quickly. These animated images have become a staple of modern communication, offering a creative and engaging means to convey messages, share humor, and tell stories.
Whether it's funny memes, stunning animations, or captivating how-tos, GIFs have found their place in various contexts across the digital landscape.