Visually communicating is imperative in today's work environment. Whether you're working remotely or in the office, sending an annotated screenshot can save you an incredible amount of time. If you're not using one of the best screen capture software, it's time to upgrade.
Capturing, annotating, and sharing a screen recording can be done in a few seconds, speeding up your workflows and helping you communicate more efficiently.
But we get it. It can be hard to pick the right screen recorder for you and your team.
There are a bazillion paid and free versions to choose from, all with slight differences in features and capabilities. We've created a list of the best screen recording software heading into 2023. Read on to find your best!
The Purpose of Screen Capture Software
If a picture is worth a thousand words, a screen capture must be worth much more! A capable yet easy-to-use screen recording software in your business software suite is necessary.
Visual communications can be a powerful yet simple way to reduce time spent on communications while sending a more straightforward message. And besides, your recipients will thank you for a simple video instead of an essay email.
1. The Best Screen Capture Software: Zight (formerly CloudApp)
This might be an obvious choice, but our favorite screen recording software is undoubtedly Zight. Sure, we might be biased, but you'll likely agree after looking at the features, benefits, and pricing.
Zight Screen Capture Features
Zight is a simple tool that allows you to create screen captures, GIFs, screenshots, and annotations. Once you've recorded your content or taken your screenshot, it's easy to edit your content with visuals for clarity. Add arrows, text, or even emojis. You can even blur sections of your screen captures to take out sensitive or irrelevant information.
Even if you haven't taken your screen capture with Zight, it's simple to drag and drop it into your folder to begin editing it. With just a few clicks, you can add text, drawings, emojis, shapes, and more.‍
One of the best parts of using Zight is that it securely keeps everything in the cloud, which means no more sifting through your downloads folder for your latest content. It also prevents your hard drive from getting bogged down with the inevitable accumulation of screen captures.
Zight also has a ton of integrations with the software you're likely already using. Through its integrations, you can drag your content directly from Zight to almost anywhere, including your email, chat, project management software, or chat window. Or, you can simply share a link to your content in the cloud. Sharing a link means no upload time for you and no time and space wasted downloading your files for your recipient.
Zight also shares real-time notifications when your recipient views the link you've sent. Although there are many features packed into Zight, it's incredibly simple to use. You'll find there's no learning curve to get started once you've downloaded it.
The enterprise-level plan pricing and features are the most competitive on the market. With recent SOC2 integration, companies can securely use Zight's screen capture software to communicate internally and externally with easily shareable links.
Zight Integrations
Zendesk, Jira, Trello, Zapier, Sketch, Adobe XD, Google Sheets, Google Docs, GitHub, Google Slides, Wordpress, Slack, Pivotal Tracker, Asana, Quip, Microsoft Office, GitLab, Freshdesk, Zoho Desk, Zoho CRM, Help Scout, LiveAgent, Basecamp, Mattermost, Intercom, Zoho Notebook, Freshservice, Zoho Writer, Drift, Workfront, and Medium.
Zight Screen Capture Software Cost
You can get started with a free forever plan that allows you to create screen captures, screenshots, GIFs, and annotated content. However, if you need to record longer videos, or GIFs, or missing out on other features, you can upgrade to the next plan for only $9.95/Month.
Pros of Zight
Works with Mac, Windows, Chrome, and iOS
Ability to create screen captures, screenshots, GIF creation, and annotations
Affordable and simple to use
Automatic share link generation
Video transcription and other advanced screen capture features
Many enterprise features including SOC2 integration, custom branding, SSO & more
Integrations with Zendesk, Slack, Zapier, Asana, Google Suite & more
Cons of Zight:
Monthly subscription instead of a one-time licensing fee
Other Good Screen Capture Software To Consider
2. Snagit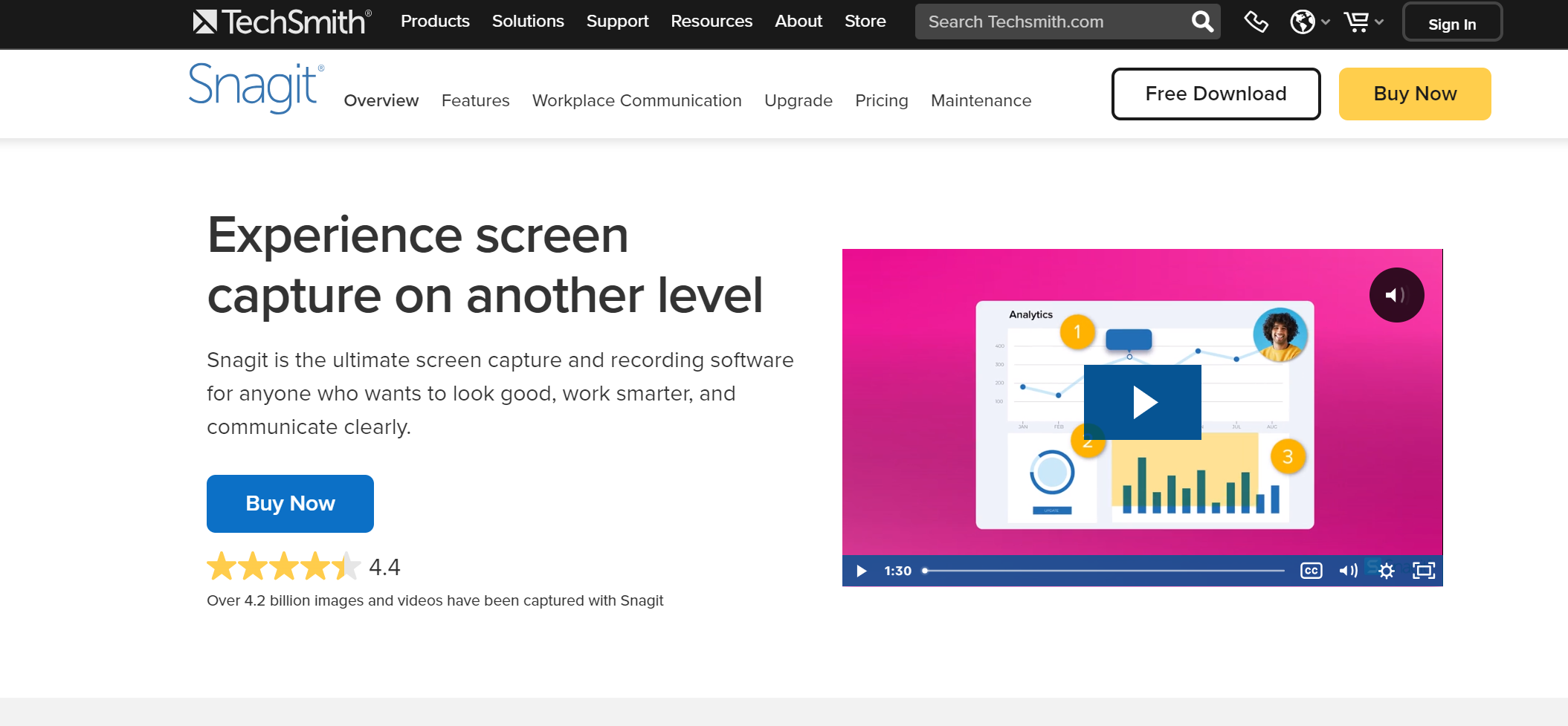 There are several screen capture tools on the market, and Snagit is one of the more popular choices that provide both high-quality screen capture and sharing capabilities. It offers a variety of screen capture and editing tools, as well as the ability to share content directly to an outlet of your choice. This software is suitable for beginners as well as professionals.
Snagit Screen Capture Features
Snagit is one of the best screen and video capture software to help you capture how-to processes and add notes or instructions on both Windows and Mac. If you're creating visual how-to guides or giving feedback, it can be an incredibly useful tool.
You can capture yourself or your screen, then edit your content later. One of the best features of SnagIt is the 'Favorites' tool. It allows you to put all your favorite editing tools in an easy-to-access place, keeping you from wasting time searching through countless menus for your most-used features.
Snagit has a lot of functionality for screen captures. It allows users to record scrolling screenshots and horizontal screen captures across multiple desktops or even your iOS screen.
One of the unique features is the 'grab text' feature. If you take a scrolling screenshot of an entire webpage, you can select a portion of your screen capture, then right-click and choose 'grab text.' SnagIt will open a new window where you can select the text and copy and paste elsewhere.
Snagit Cost
You can snag a trial of Snagit for 15 days to see if it is a good fit. After the free trial, there is a one-time fee of $62.49 for a single user on up to two devices. Or, you can upgrade to business, government, or non-profit licenses. Depending on how big your organization is, your cost-per-license decreases the more licenses you purchase.
Snagit Integrations
Microsoft Office, Adobe Creative Cloud, Dropbox, Evernote, OneDrive, Slack, and more.
Pros of Snagit:
Simple, intuitive
A simple way to create tutorials
One-time licensing fee
Cons of Snagit:
Gameplay cannot be recorded
Limited 15-day free trial
3. ScreenPal (Formerly Screencast-O-Matic)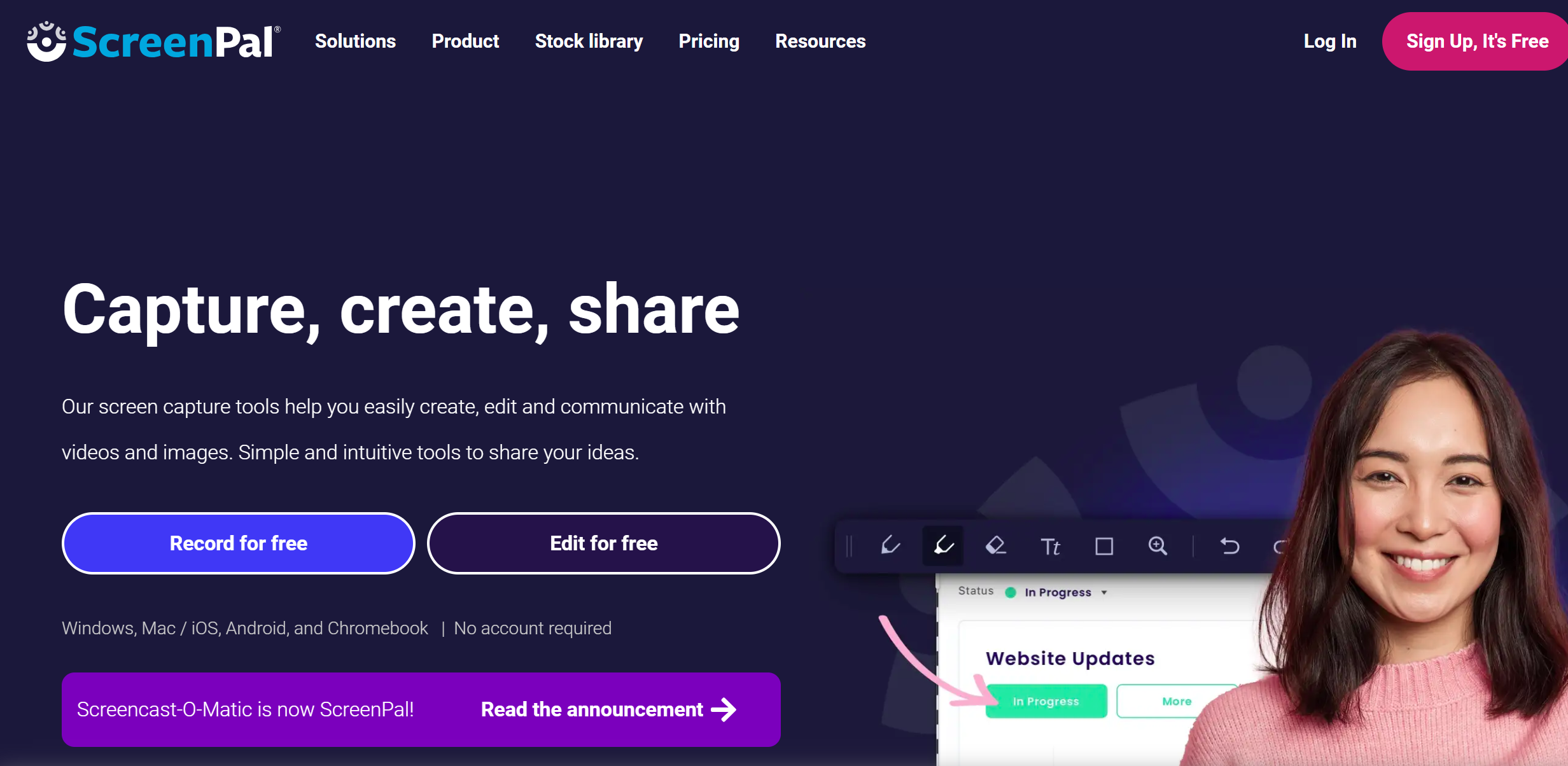 ScreenPal is a popular screen and video capture tool that allows its users to create, edit, and share their screen and webcam video. It has a wide user base of more than two million members and is available on Windows, Mac, iOS, and Android.
The free version of this screen recording software can record up to 15 minutes per video, though with a ScreenPal watermark included. Webcam recording is an option, and videos can be saved as MP4, AVI, GIF, or FLV files. Though users can take screenshots with the software, they can only be saved as PNG files. When in need of a JPG file, users will need to find another screenshot software.
There are a variety of features that make this one of the best screen capture software. Users can take advantage of different video editing features, including blurring, adding music, recording audio, green screen filters, overlays, speech-to-text, and more. Videos can be uploaded to ScreenPal's site or shared on various sites, including YouTube, Twitter, Google Drive, Google Classroom, Facebook, MS Teams, or email.
ScreenPal Pricing
ScreenPal's Deluxe plan starts at $1.65 per month, and their Premier version is $4 per month, making it a great option for users who need more features than most free plans offer but still need a low price point.
ScreenPal integrations
Zoom, Webex, Microsoft Teams, Blackboard, LiveAgent, Zoho Desk, Help Scout, Olark, Freshdesk, Slack, Powerpoint, Zendesk, Jira, Trello, Dropbox, Prezi, Schoology, Moodle, Desire2Learn, YouTube, Google Drive, Facebook, Twitter, Basecamp, Asana, Google Slides, Google Sheets, Vimeo, Google Classroom, Sketch, Github, Canvas,
Pros of ScreenPal
Affordable premium plans
Extensive sharing options
Comprehensive editing features
Cons of ScreenPal
Limited file-saving options
No OCR (optical character recognition) for screenshots
4. Ashampoo Snap 12

Ashampoo's screen recording software is a user-friendly tool that is great for both screenshots and screen captures, though it is only available on Windows 8, 10, and 11. Their new feature, "magic eye," provides a menu that is conveniently located on the edge of your screen to have instant access to record your screen. There are various screen recording features, including the ability to add watermarks, create timed captures, a collage template for multiple screenshots, video cropping, and more.
This tool is a good option for presentations, webinars, and tutorials. Once a screen capture or screenshot is completed, users can use the editing suite to enhance the capture or upload files directly to Ashampoo's Webspace for free. Files can also be shared via Twitter, Facebook, Dropbox, OneDrive, or email.
Ashampoo Snap 12 Pricing
Ashampoo's software has a one-time licensing fee of $24.99 and can be used on up to 3 Windows devices.
Ashampoo Snap 12 Integrations
Facebook, Flickr, Picasa, YouTube, Microsoft Suite
Pros of Ashampoo Snap 12:
One-time licensing fee
Variety of editing tools and features
Cons of Ashampoo Snap 12:
Limited to Windows 8, 10, and 11
5. Vimeo Record
This may be most well-known as a video streaming platform, but they also offer screen and video capture software that can be used on Mac, PC, Chrome, iOS, and Android devices. Vimeo introduced this new tool late in 2020 to cater to the remote workforce and improve communication and collaboration.
Users can upload or capture photos and videos to Vimeo's online storage. Notable features include color filters, music/audio options, text layers and 44 styles of fonts, trimming options, and the ability to save content in various file types.
Vimeo Record Pricing
Vimeo Basic offers up to 500MB per week of upload space with up to 5GB total account storage. So though they advertise unlimited screen captures with the free plan, there is a limit to how much can be stored. The free plan limits users to 30-second video creations with up to 10 drafts with a watermark. Users can upload up to 10 videos per day, create one channel, and have access to limited privacy controls and basic embedding features.
The Vimeo Plus plan, their cheapest paid option, is $7 per month billed annually or $12 per month if billed monthly. It includes up to 5GB per week or upload space and 250GB every year. This plan will offer more customization than the free plan, including more privacy controls and editing tools.
Vimeo Pro is $20 per month billed annually and provides 1TB of storage every year, or 20GB per week. This is the cheapest plan that allows users to work in a "team" and access projects from other team members. Users can also review and approve videos and create customizable Showcase sites.
Vimeo Premium is $75 per month billed annually and provides 7TB total storage and unlimited live streaming. This plan would appeal to users who need to host live events and webinars (up to 100 registrants per event), live stream to multiple destinations, chat with live audiences, and access basic analytics for webinars.
Vimeo Enterprise is the most customizable, and pricing is unavailable without contacting Vimeo's sales team. This level offers a searchable video library, SSO, private live and on-demand showcase, 101+ registrants per webinar, and advanced analytics for webinars.
Pros of Vimeo Record
User-friendly
Advanced features
Cons of Vimeo Record
Team collaboration requires Pro plan or higher
Limited storage for free plan
6. Free Cam by iSpring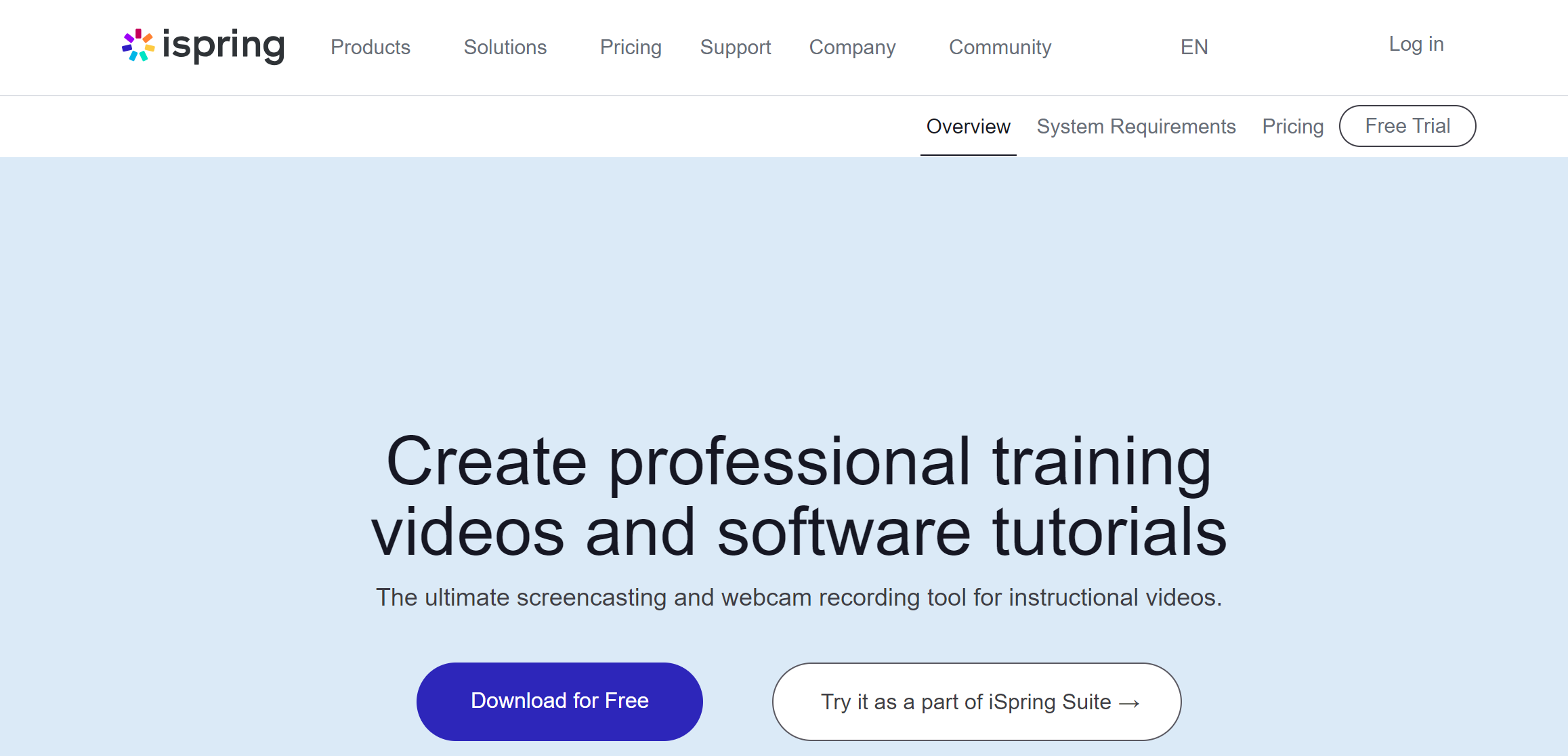 Free Cam is a great option for Windows users who need to easily create presentations, video lessons, or webinars. Though there aren't many features, this software is high-quality and easy to use. Keep in mind that it only works on Windows 7, 8, and 10.
iSpring's Free Cam allows users to record with a maximum quality of 760p, and a screen or webcam video can only be exported directly to YouTube or as a WMV file. However, users can record without a watermark or time limits which are not common among free screen capture tool options.
Like most software, Free Cam allows users to record their full screen or select an area to record. There are several editing features, including noise reduction, recording system audio or voiceovers, trim/crop, and fade-in and fade-out effects.
Free Cam Integrations
YouTube
Free Cam Cost
iSpring's Free Cam is, of course, free. However, a premium version of the software called Cam Pro offers more advanced features and functionality. A pro license is $227 per year.
Pros of Free Cam
Free account doesn't include a watermark
No time limits for screen captures
Cons of Free Cam
Limit of 760p resolution
Webcam recording not available
Only available on Windows
7. ShareX

ShareX is a free and open-source program that lets you capture or record any selected area with a single key, save it locally, upload it to over 25 different file hosting services, or just copy the link to the clipboard. Tech-savvy Windows users may find this tool to be a great option if they can learn the various keyboard shortcuts and navigate the dropdown-type menus. For most other users, the learning curve may be too steep.
This software allows users to set customer watermarks and color effects. It can even detect text in screenshots and copy it to the clipboard. Once videos are completed, users can either save them in a few different file formats or upload them directly to many different sites, including Google Photos, Twitter, Imgur, Flickr, and more.
ShareX Integrations
Dropbox, OneDrive, Google Drive, JIRA, Google Cloud Storage, Azure Storage, MEGA, Amazon S3, Hostr, Lambda, YouTube, Reddit, Facebook, Twitter, Tumblr, Pinterest, LinkedIn, StumbleUpon, Imgur, Flickr, Google Photos, and more
ShareX Cost
ShareX is completely free due to its open-source program.
Pros of ShareX
Completely free
Customizable watermarks
Open source
Cons of ShareX
Only available on Windows
No webcam recording option
UI not as friendly as other software
8. Ezvid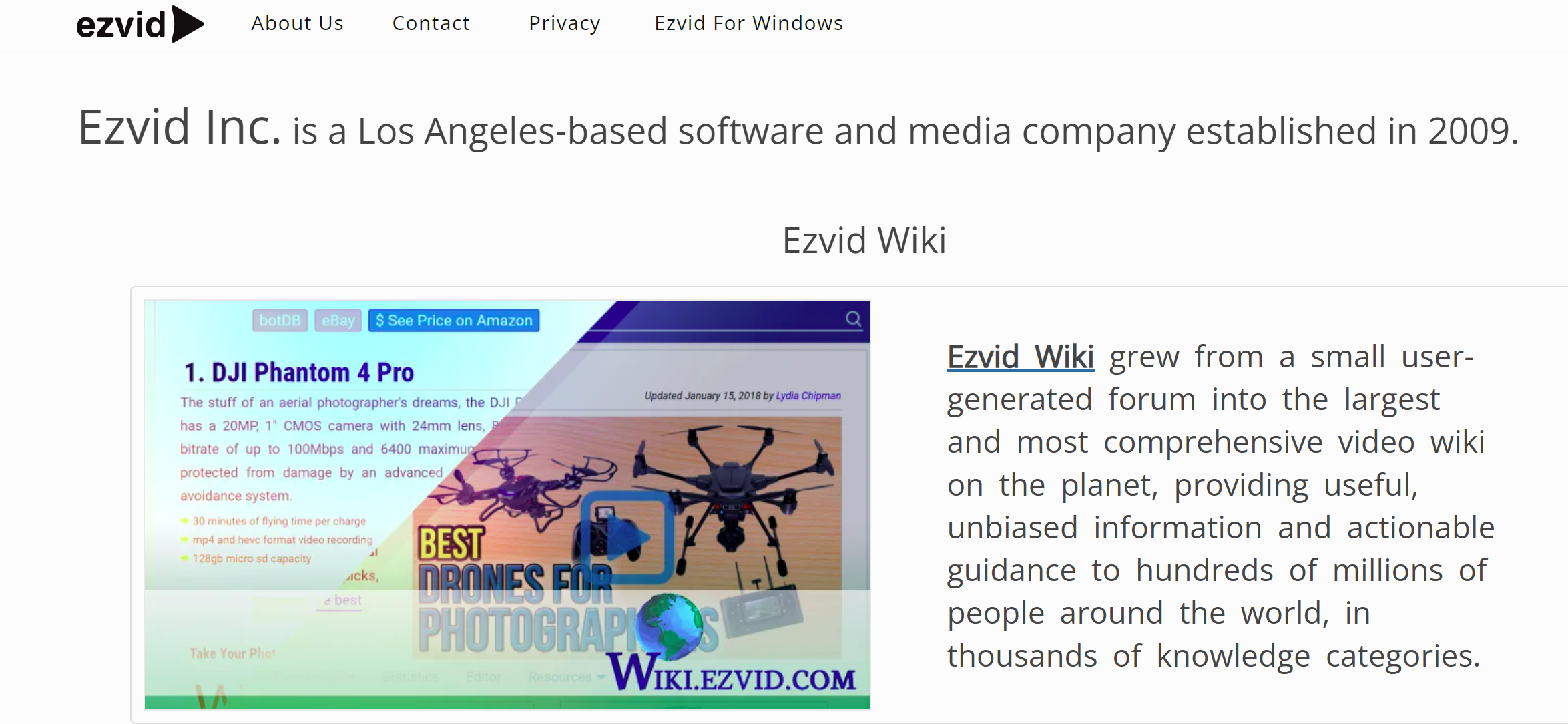 Another great option for Windows users is Ezvid, one of the first screen capture software made available to the public all the way back in 2011. YouTubers and other content creators will find it especially helpful since it allows them to easily edit content and then upload it directly to YouTube.
Ezvid is a free screen recorder to use while still being high-quality and simple to learn. However, it is important to note that screen captures have a maximum time limit of 45 minutes. It can only be uploaded directly to YouTube, not saved locally onto a computer or external hard drive. Users can choose to record their webcam during screen captures and do live annotations during the recording. Additionally, users can take advantage of text-to-speech, music track options, cut/crop/trim features, and more.
Ezvid Integrations
YouTube
Ezvid Cost
Ezvid is completely free to use
Pros of Ezvid
Free
Expansive video editing tools
Simple to use
Cons of Ezvid
Only available on Windows
Maximum video recording time of 45 minutes
Videos cannot be saved locally
No screenshot or GIF creation ability
9. TinyTake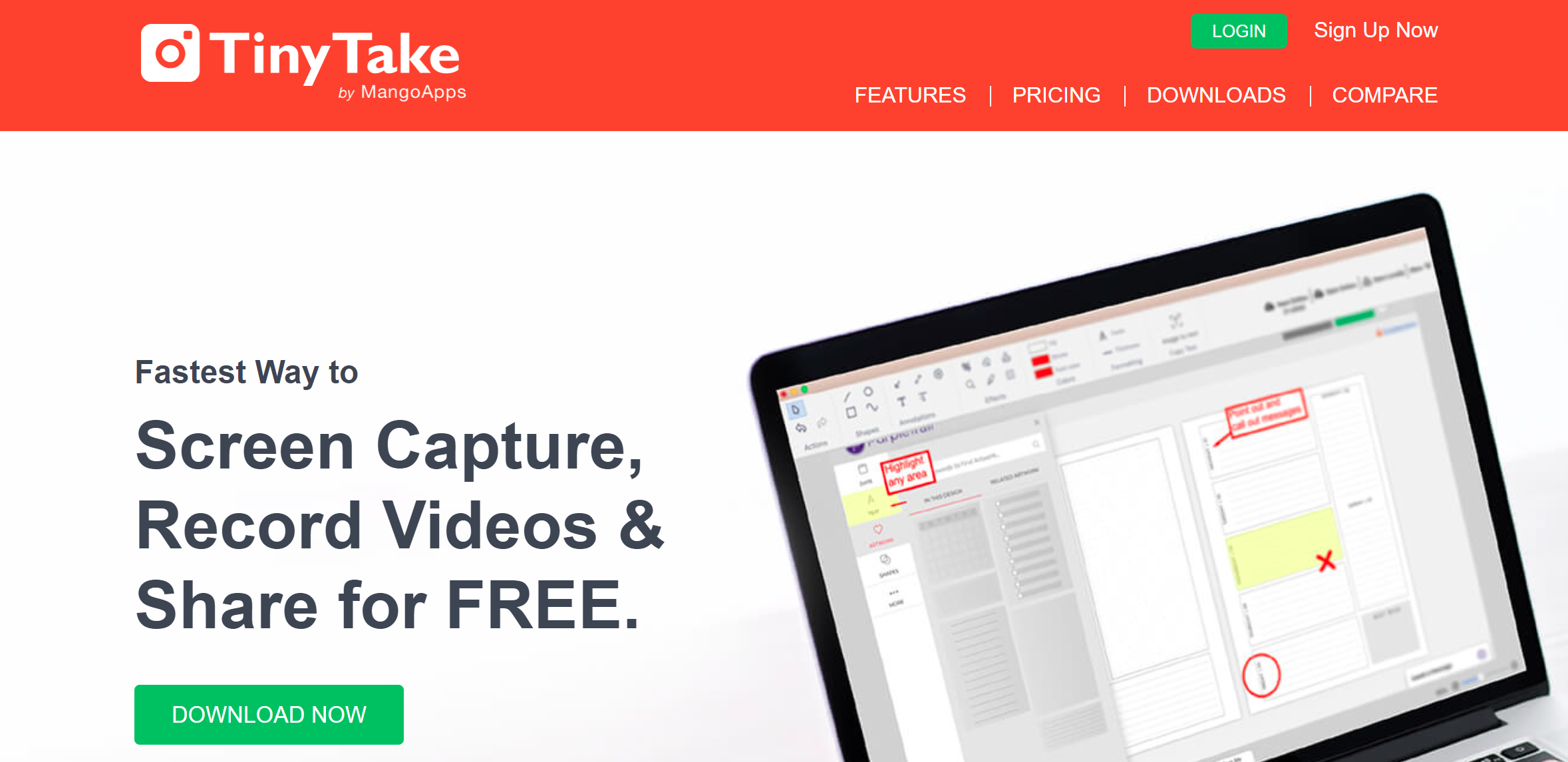 TinyTake by Mango Apps allows users to screen capture from Mac and Windows devices. It has an intuitive UI that makes it easy for users to record, edit, and publish screen captures. Though a free option is offered, the maximum recording time is 5 minutes per screen capture. For the purposes of this review, we will be focusing on the Jumbo plan, which runs at $99.95 per year.
TinyTake's Jumbo plan allows users to make screen captures and share them instantly or save them to their cloud-based gallery. Hotkeys and shortcuts can also be created to work as efficiently as possible. Along with 1TB of storage and a maximum of 60-minute recordings, the basic editing tools like blurring and annotation are, of course, included. Though there may be a lack of advanced editing tools, many users prefer its simplicity and ease of use.
TinyTake Integrations
YouTube
TinyTake Cost
Users can get a personal license for free. However, there is a limit of 2GB of cloud storage, and screen captures can only be 5 minutes long. If you need more capabilities, you can upgrade to a plan for $29-$99 a year, depending on what features are needed.
Pros of TinyTake
Simple UI
Cloud-based storage and file viewer
Cons of TinyTake
Expensive premium plan
Limited editing features
10. OBS Studio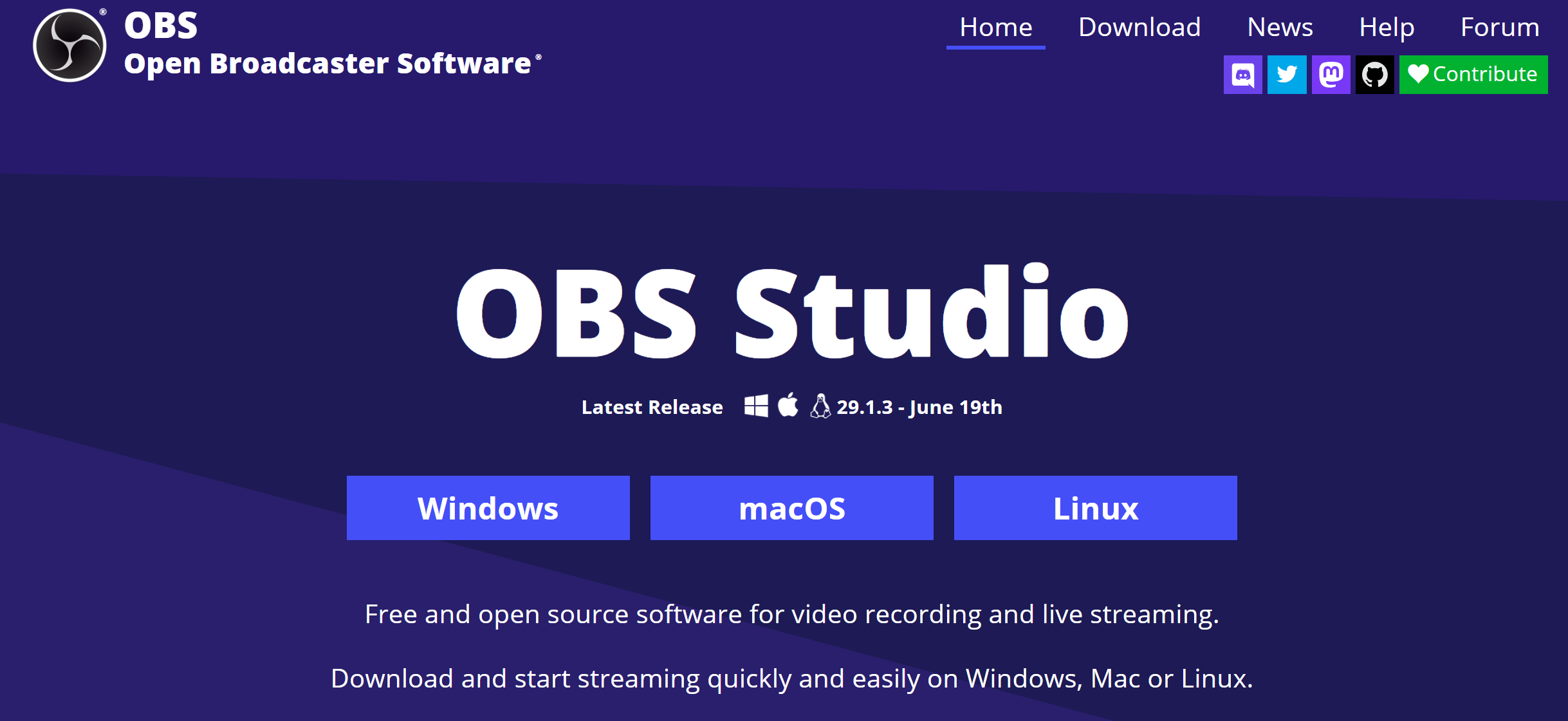 Open Broadcaster Software Studio is free, powerful, open-source software for screen capturing and live streaming on Windows, Mac, and Linux. It is designed for simplicity and provides everything content creators need to live-stream video games on both Twitch and YouTube.
To effectively use the software, users should use customizable hotkeys, customized watermarks, custom stream/webcam frames, and seamless overlays/transitions. It is also a good idea to have a dual-monitor setup to make recording easier.
Because of the advanced features included, the learning curve is pretty steep for new users, and it can take a while to master the software. It may be worth the while for professional gamers, streamers, and other content creators, but it may not be worth the effort for someone who doesn't need the various advanced features included.
OBS Studio Integrations
YouTube, Twitch
OBS Studio Cost
OBS Studio is open source and completely free.
Pros of OBS Studio
Free
Professional-level streaming and recording
Highly customizable
Cons of OBS Studio
Not user-friendly for beginners
11. Camtasia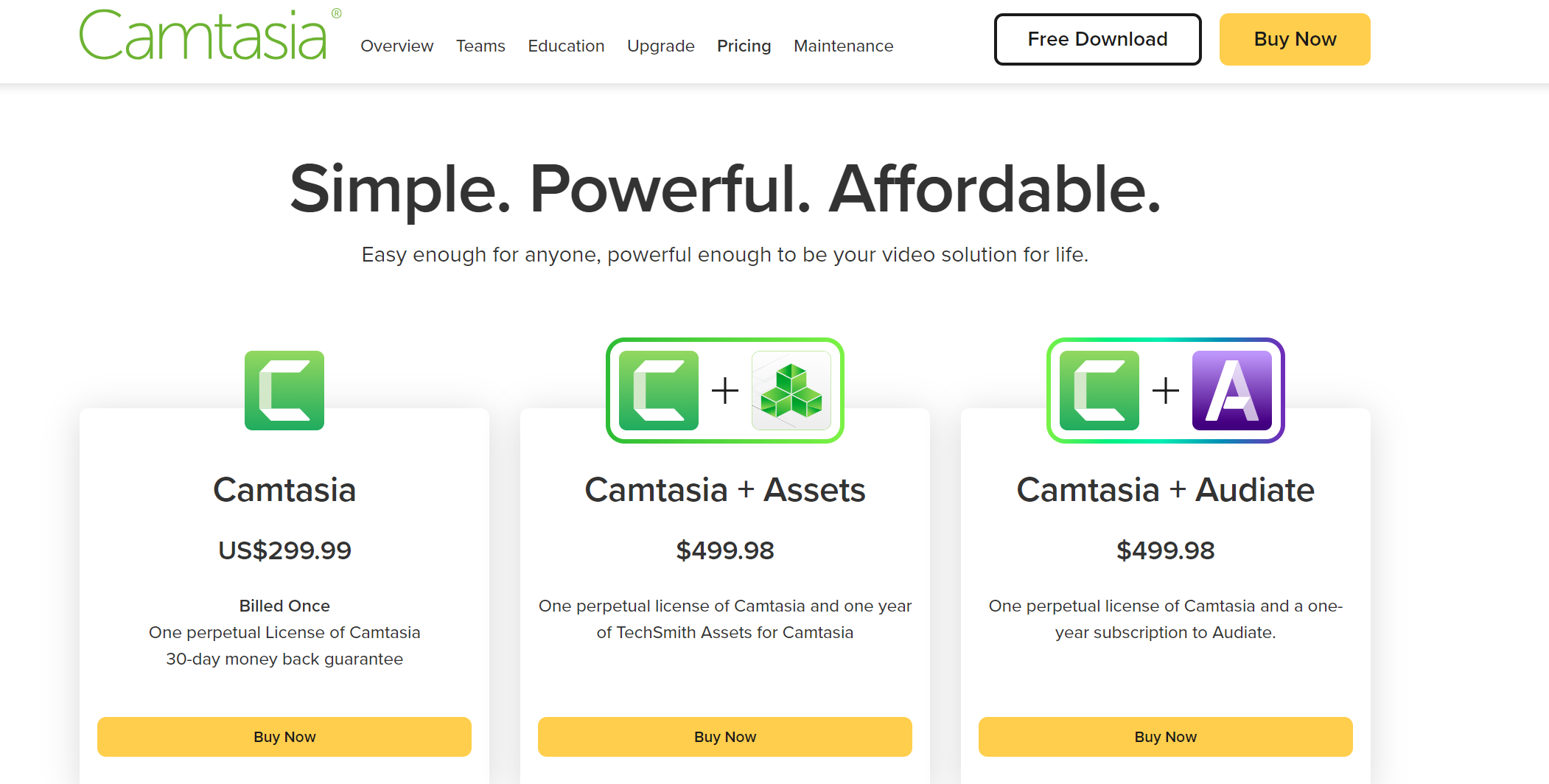 Camtasia is a powerful video editing tool used for capturing and editing visuals and creating videos. If you need to make professional-quality videos on Windows or Mac, then Camtasia is the way to go. It offers a variety of templates and tools that make it easy for you to create marketing videos and tutorials quickly and easily. Because of the incredibly high-quality features, the price is $299.99 per user per year.
After capturing full-screen or selecting a section of the screen, users can use the advanced editing suite to add audio, make annotations, use presets and templates, etc. One feature that is unique to Camtasia is the quiz creator that can be added to screen captures to make videos more interactive and engaging. After finalizing videos, they can be exported as a variety of different file types or uploaded to YouTube and Vimeo.
Camtasia Integrations
YouTube, Vimeo, TechSmith Screencast
Camtasia Cost
Camtasia's individual license is $299.99 per user per year with a 30-day money-back guarantee. If you qualify for an education license, the cost goes down to $169.99 per user per year.
Pros of Camtasia
Professional-grade screen capture software
Extensive editing suite
Customizable screen capture features, including quizzes
Cons of Camtasia
12. Screencastify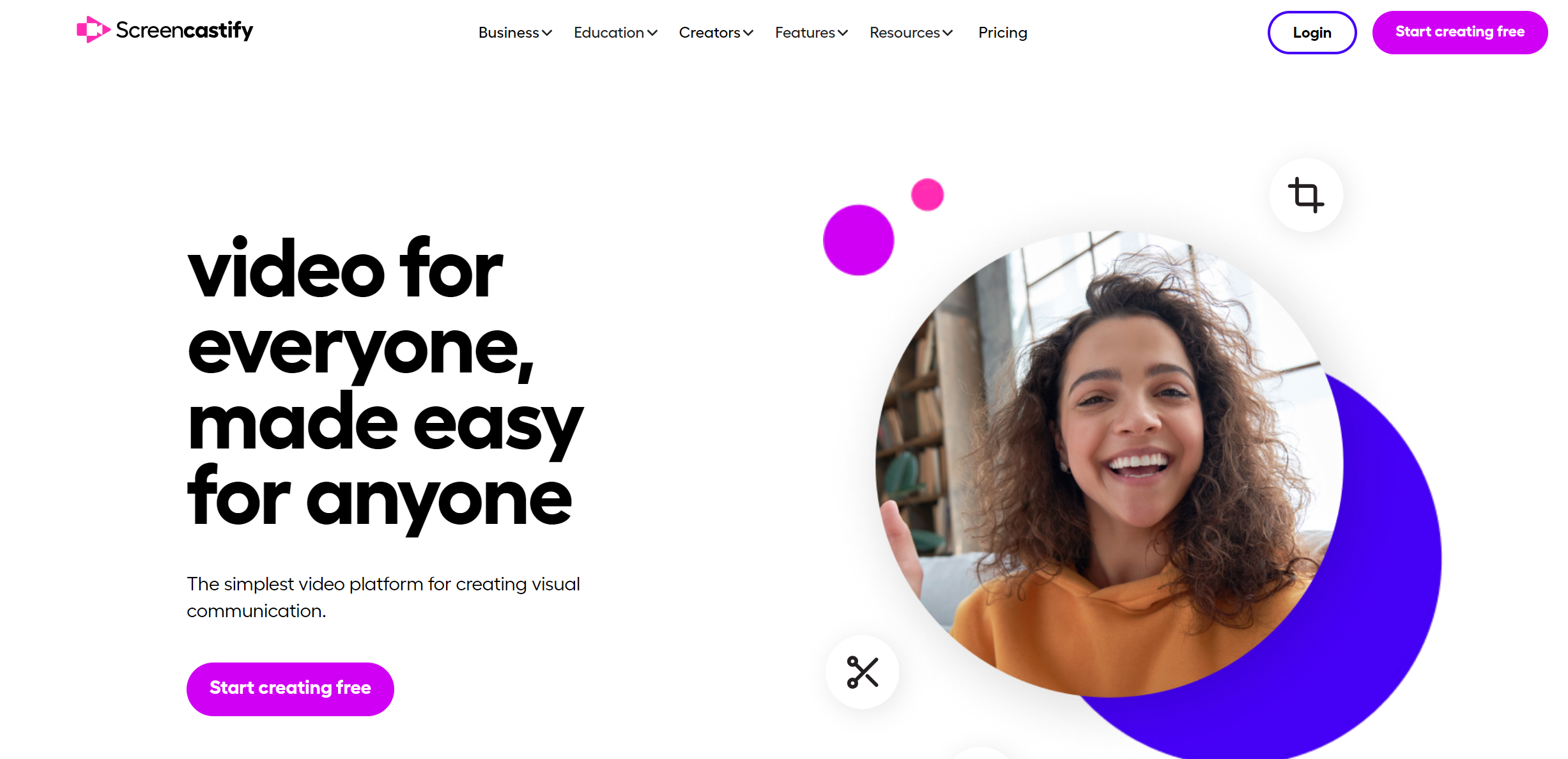 Screencastify is a Chrome browser extension that allows users to screen capture, edit, and share. With the free screen recording app, all features are included, and unlimited screen captures can be made. However, there is a time limit of 5 minutes for each screen capture. This extension is relatively easy to use and is one of the market's most popular screen capture apps. In fact, Screencastify has been downloaded more than 1 million times.
This is a helpful tool for anyone who can't (or doesn't want to) download software onto their device. Because it is a Chrome extension, it is lightweight and more accessible. Many students and teachers have used this tool to communicate during the pandemic. The main issue that free users report is that the 5-minute time limit is too short, forcing them to create several smaller videos.
Screencastify Integrations
Google Drive, YouTube, Google Classroom, EdPuzzle, Google Meet, Zoom, Remind, Wakelet, and PlayPosit
Screencastify Cost
Screencastify has a free plan that allows for unlimited screen captures with 5-minute time limits for each. To create and share screen and webcam videos without any time restraints, it costs $49 per year per user. In order to edit those videos, it is an additional $49 per year per user, and to collect video submissions from others via magic links, it is $99 per year per user. At nearly $200 per year for all three products, this may not be a realistic option for many users.
Pros of Screencastify
Easily accessible via Chrome extension
Free version available
Simple to use
Cons of Screencastify
Limit of 5-minute recordings for the free plan
13. Icecream Screen Recorder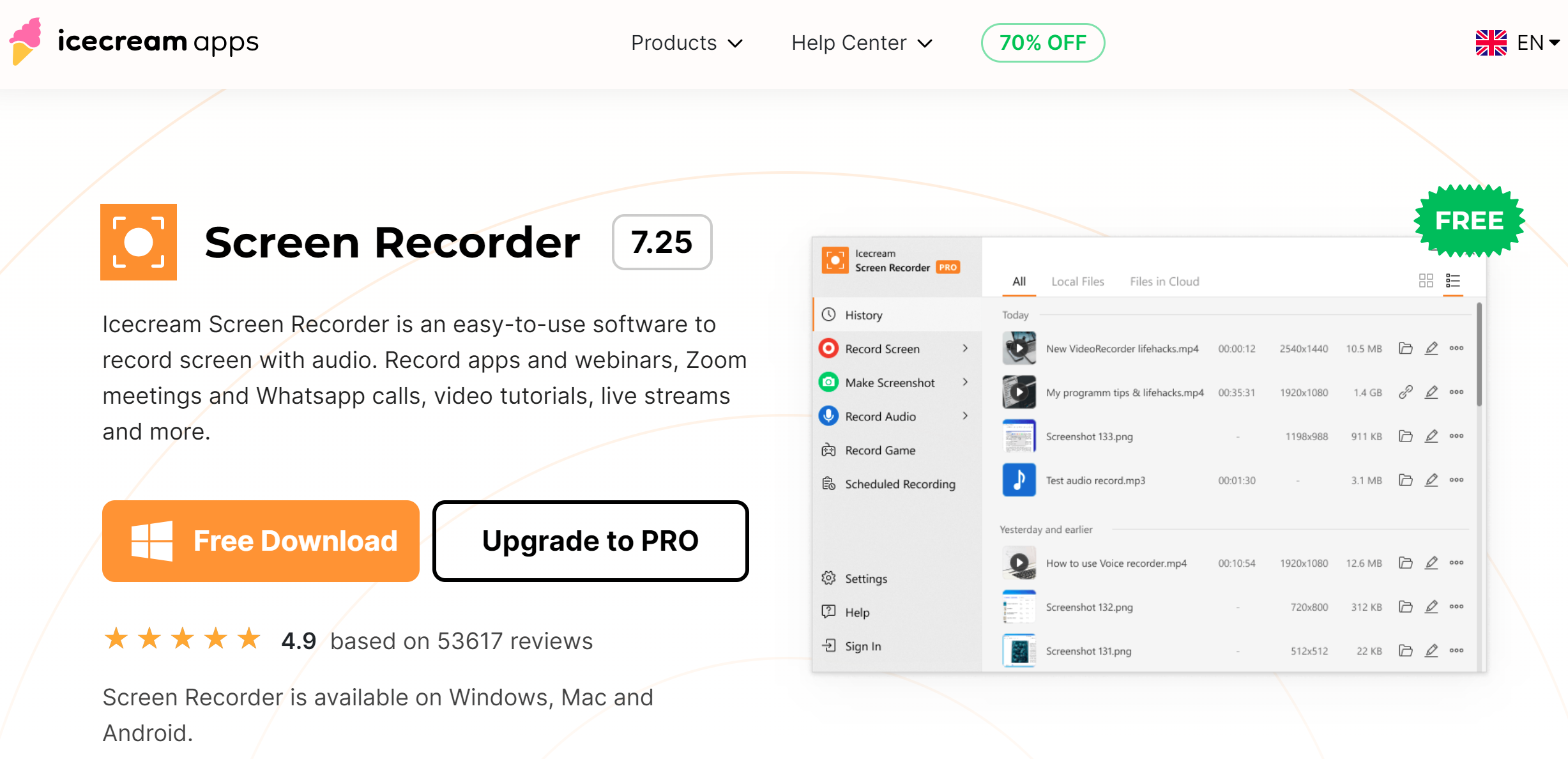 Icecream Screen Recorder is a user-friendly screen recording software that allows users to capture their screen, record audio, and even annotate the recordings with various drawing tools. It supports capturing the full screen, specific regions, or selected application windows.
Icecream Screen Recorder Integrations:
YouTube, Dropbox, Google Drive, and other platforms.
Icecream Screen Recorder Cost:
Icecream Screen Recorder provides a free account with limited features and a watermark on recordings. The pro version, available for a one-time fee of $29.95, removes the watermark, offers additional output formats, and provides access to priority support.
Icecream Screen Recorder Pros:
User-friendly interface and essential recording features
Annotation tools for adding drawings and text to recordings
Integration with popular platforms for easy sharing
Icecream Screen Recorder Cons:
Free plan includes a watermark
Advanced features require upgrading to the pro version
14. Movavi Screen Recorder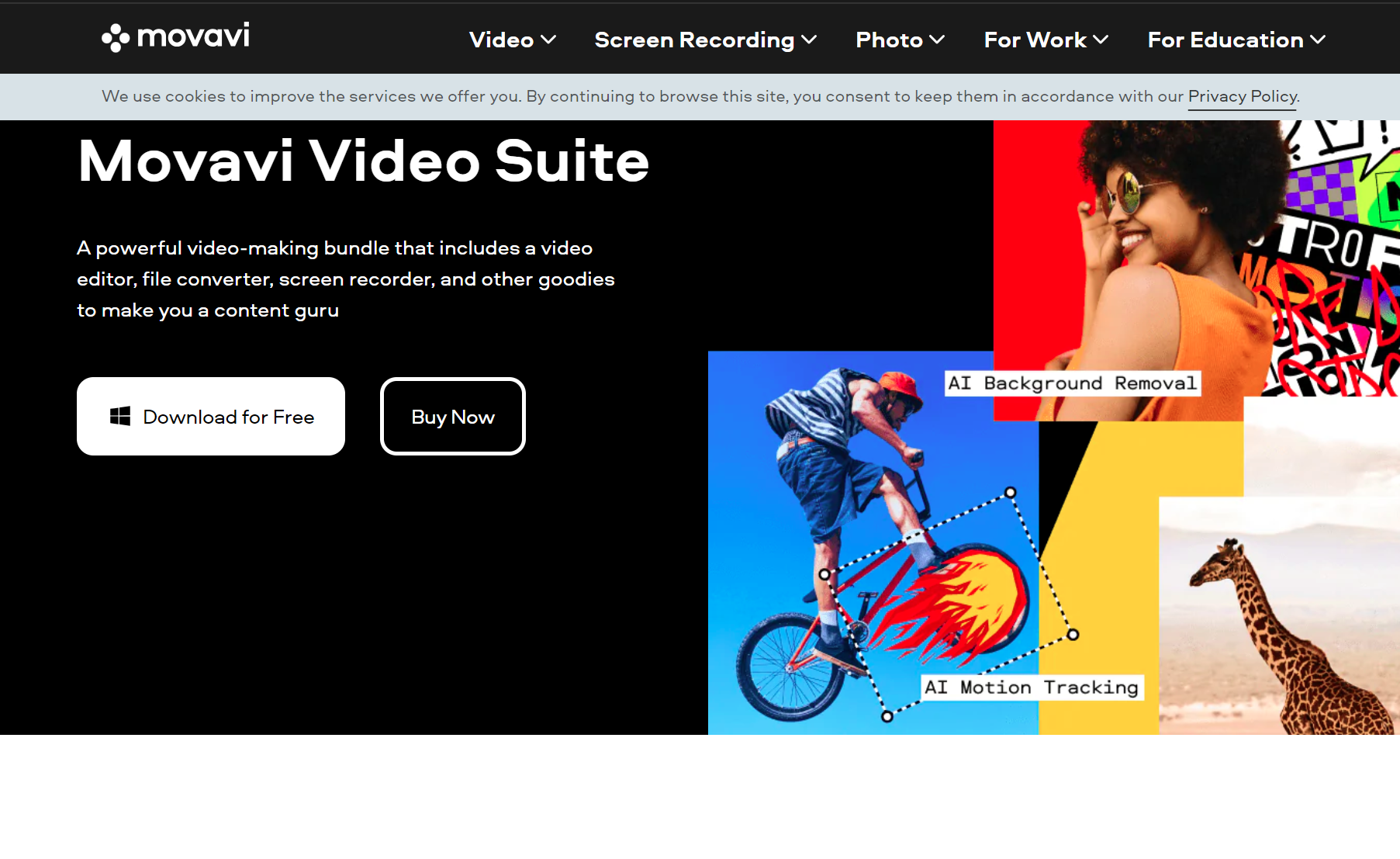 Whether you need to record tutorials, gameplay, video conferences, or any other on-screen activity, Movavi Screen Recorder has you covered. Its user-friendly interface, customizable capture settings, built-in video editor, and support for various output formats prove compelling for content creators, educators, and professionals.
Movavi Integrations:
YouTube and other social media platforms.
Movavi Cost:
Movavi Screen Recorder offers a free plan to explore its capabilities, but users need to purchase a license to unlock the full functionality. The premium plans start at $44.95.
Movavi Pros:
Highly customizable
Built-in video editor to trim, crop, add effects, and enhance recordings
Support for various output formats
User-friendly interface makes it accessible to both beginners and experienced users.
Movavi Cons:
Few features on the free trial
Limited integrations
15. Apowersoft Screen Recorder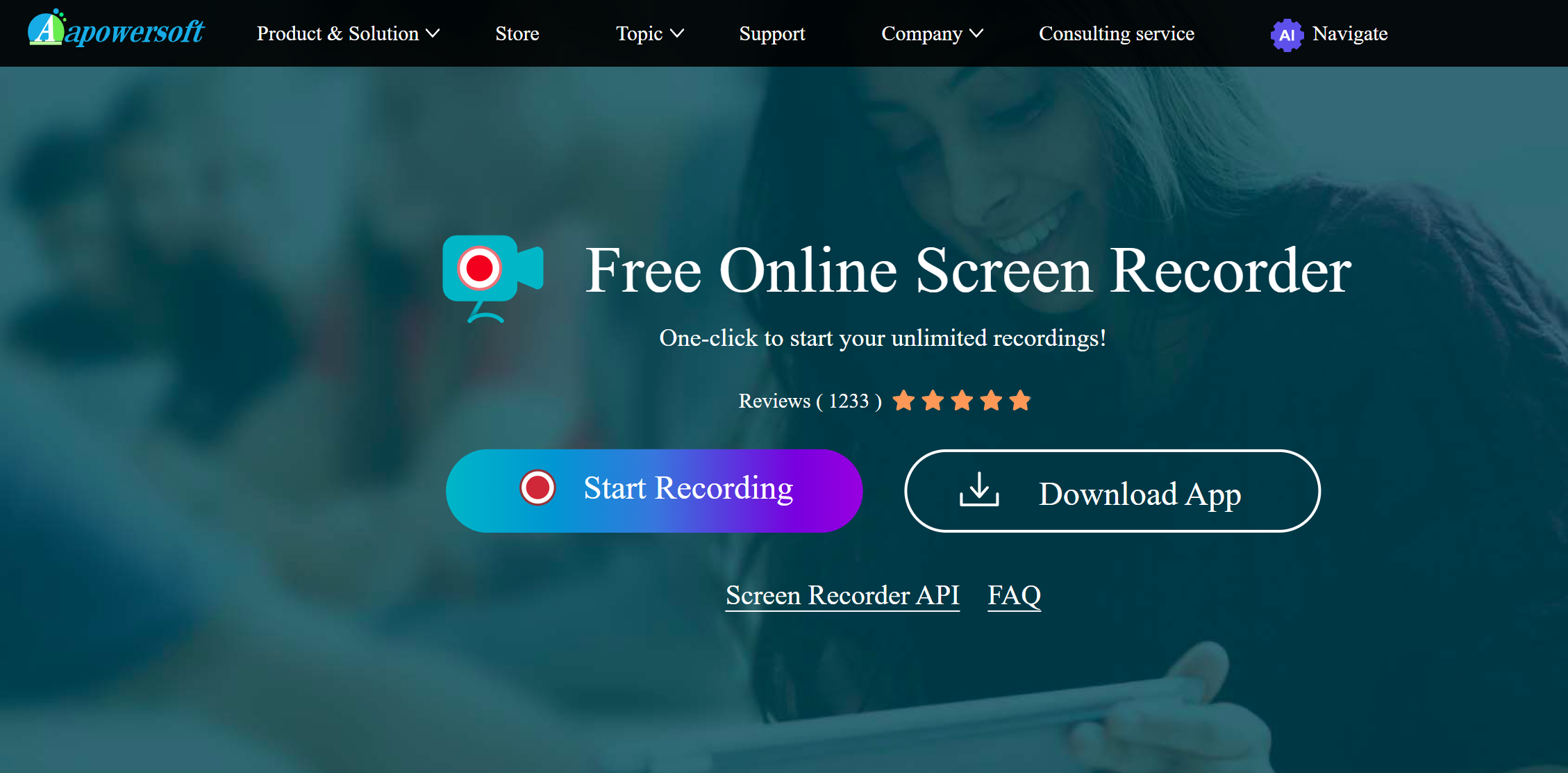 Apowersoft Screen Recorder is a comprehensive software that works on desktops including Mac and Windows, plus Android and Chome extensions. It allows users to capture their screen, audio, and webcam simultaneously.
It offers flexible recording options, enabling users to capture the entire screen, specific regions, or even just an application window. The software also provides various audio recording sources, such as system sound, microphone, or both.
Apowersoft Screen Recorder Integrations:
Google Drive, Dropbox, Vimeo, YouTube, and OneDrive.
Apowersoft Screen Recorder Cost:
Apowersoft Screen Recorder offers a free version with limited features and a watermark on recordings. The premium versions for screen capture software start from $19.95 for one PC.
Apowersoft Screen Recorder Pros:
Simultaneous screen, audio, and webcam recording
Flexible capture options and audio recording sources
Integration with popular cloud storage services
Apowersoft Screen Recorder Cons:
Free plan includes a watermark
16. Bandicam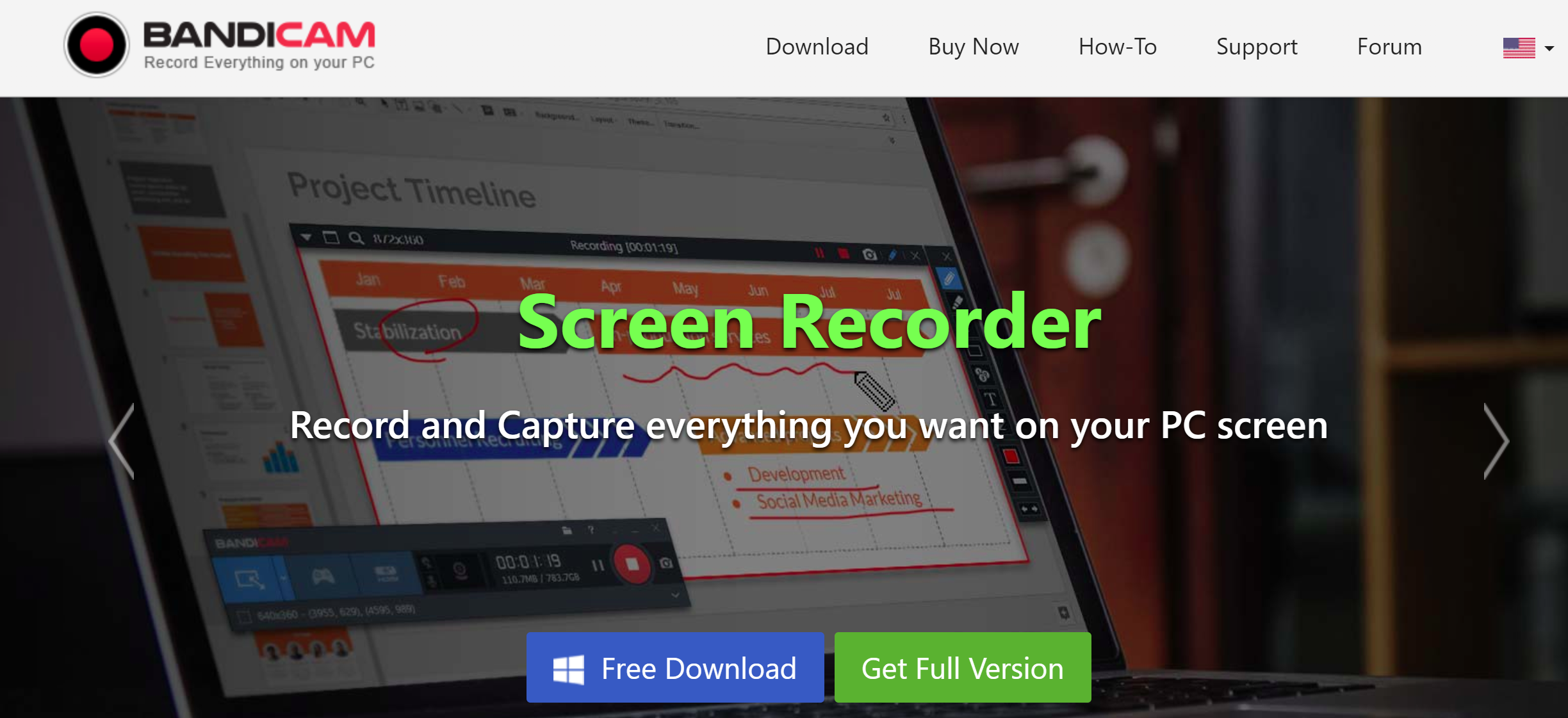 Bandicam is a popular Windows screen recording and video editing software that offers a variety of recording modes and customizable settings. With Bandicam, users can capture their entire screen, specific windows, or selected regions. The software also supports real-time drawing and allows users to add annotations during the recording process, which is particularly useful for tutorial videos or gameplay commentary.
Users can also record from different devices, including Webcam, IPTV, Smartphones, and PS/Xbox, and they can also record videos from popular social media platforms like FaceBook, TikTok, and Discord.
Bandicam Bandicam Integrations:
YouTube and Vimeo.
Bandicam Cost:
Bandicam offers a free version with limited features, including a watermark on recorded videos. To remove the watermark and access additional features like scheduled recording and hardware acceleration, users can purchase a license for $33.26 per year for one PC. There's also a one-time payment option of $44.96 for a lifetime license.
Bandicam Pros:
Multiple recording modes and customizable settings
Real-time drawing and annotations during recording
Direct integration with popular video-sharing platforms
Bandicam Cons:
Free version includes a watermark
Some advanced features require purchasing a license
17. FastStone Capture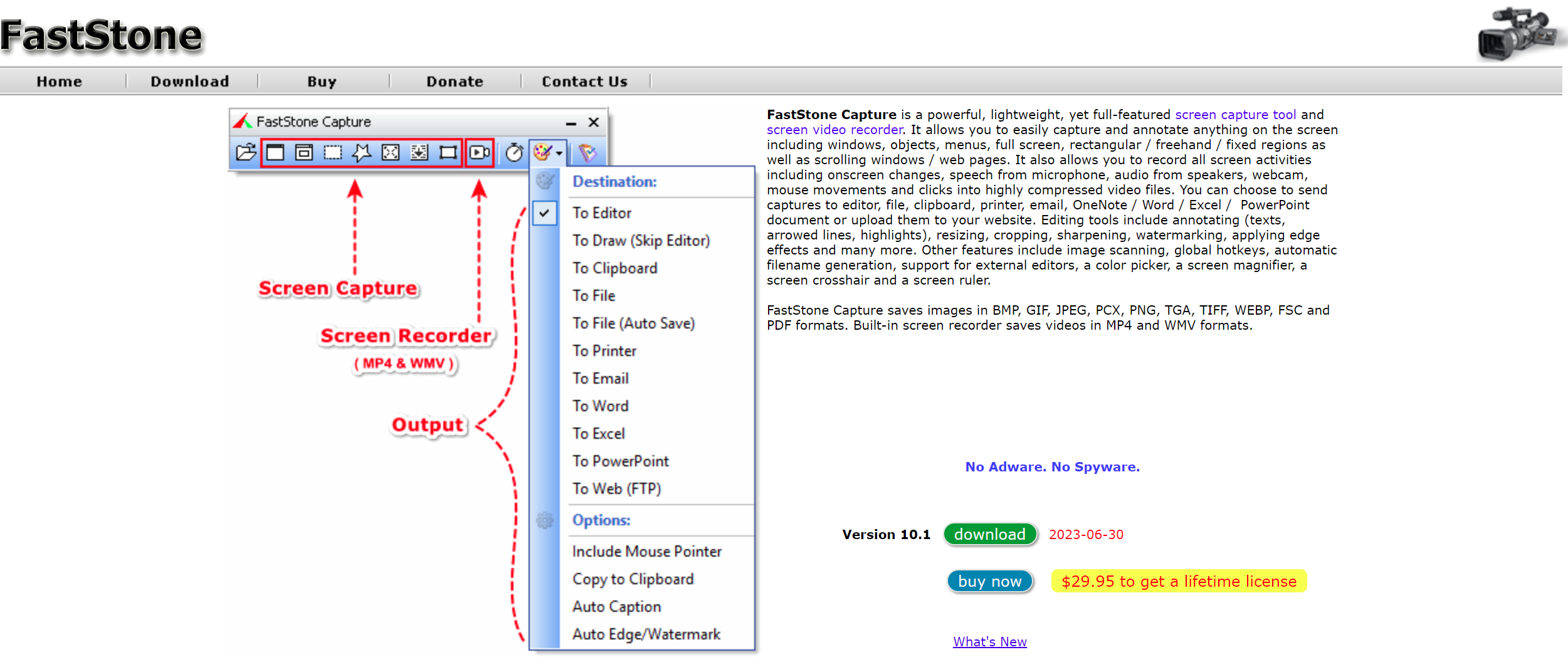 FastStone Capture is a simple software that provides users with a wide range of options for capturing and editing screenshots and screen recordings. Users can capture screenshots, record screen activity, annotate, and capture or edit multiple images.
Whether you need to capture an entire screen, a specific region, or even a multi-level menu, FastStone Capture offers an intuitive interface and a wealth of features to fulfill your screen capture needs.
FastStone Capture Costs
FastStone Capture offers a free trial version with limited features. Users can buy a lifetime license at $29.95 to unlock the software's full functionality.
FastStone Capture Pros
User-friendly interface
Different capture options
Annotations and editing tools
Supports audio capture and enables users to record screen activity with an optional webcam overlay.
Ability to capture and edit multiple images simultaneously using the powerful editor.
FastStone Cons
The interface may feel overwhelming for users who only require basic screen capture functionalities
Limited video editing capabilities compared to dedicated video editing software
Some advanced features may require additional steps or settings adjustments, which could be less intuitive for new users
Frequently Asked Questions About The Best Screen Recording Software
a) What is the best screen capture program?
Zight is your best screen capture tool. It is affordable, easy to install, a breeze to integrate, and easy to use on your computer.
b) What is a screen capture software?
This software allows users to capture and record what is being displayed on their computer screen. It can capture screenshots or record videos of on-screen activities.
c) What is the benefit of screen capture?
Screen capture offers several benefits, including:
Creating tutorials or instructional videos
Capturing and sharing software bugs or issues for troubleshooting
Recording gameplay for streaming or sharing
Collaborating and communicating visually by capturing and annotating content on the screen.