Remote and hybrid work has become the norm, and it's unlikely we'll ever go back to the way we worked before the Covid-19 pandemic. Even in businesses where colleagues work in the same location, chances are they are collaborating with team members, vendors, or other professionals long-distance.
Communication is paramount in this environment, so having the right business communication tools for your needs is the only way to be successful.
There are scores of business communication tools on the market, so finding the ones that meet your needs and the needs of your team can seem overwhelming. This article will give an overview of the different types of internal and external communication tools, what they do, and how to choose the right one that fits your business.
What are Business Communication Tools, and Why Do They Matter?
Simply put, business communication tools are all the apps and programs you use to share information within and outside your organization. They are the tools you rely on to ensure optimal communication between team members and vendors.
Before choosing the right team communication tool for your business, you must understand who you are communicating with and their preferred workplace communication method. Then, you can assess what additional tools you need by analyzing what each offers and how different tools can improve communication within your organization.
It becomes crucial to use appropriate workplace communication tools for both internal interactions and external communication because well-chosen and effective tools boost productivity and engagement. With the right tools, cross-functional communication becomes more effective as the right message gets to the right person at the right time.
Learn how to create an internal communication plan that meets your business goals. Read more.
Types of Business Communication Tools
When it comes to business communication tools, there are two types: internal communication tools and external communication tools. Let's look at each in detail below:
1. Best Internal Communication Tools
Internal communication tools are the backbone of your communication strategy. There are many options for each type of communication, so do your research to find the solution that best suits your requirements.
1. Zight
Zight is a versatile team communication tool with many features to enhance business communication and collaboration. It is ideal for remote teams, internal communication, and project management.
What are Some Zight Features?
Zight offers various features that are invaluable for effective team communication and management, and they include:
a). Screen Capture and Screenshot: Zight captures screenshots or records your screen, making it easy to communicate your ideas visually. You can take full or partial screenshots and edit them as needed. Then, store screenshots in the cloud for easy access and sharing.
b). Screen Recording and GIF Maker: Record your screen with audio and provide clear visual demonstrations without lengthy explanations. Also, you can create GIFs to explain complex concepts or give clear instructions more engagingly.
c). File Sharing: This feature allows users to turn content created in Zight into shareable links easily. Upload and share large files with optional password protection and expiration dates. Then, add annotations, drawings, and other elements to enhance clarity.
d). Video Editing: This feature caters to the part where you will need to edit your content after creation, including trimming or clipping recordings and cropping screenshots.
e). Webcam Recording: As one of the best team communication tools, users can use the webcam recording feature that adds a personal touch to their digital content. By recording videos with your webcam or overlaying them with on-screen recordings.
f). Viewing Analytics: Stay informed about how many views your content receives and who has viewed it, ensuring you're on the same page with different team members. Also, you can benefit from weekly productivity reports to track your team's productivity.
g). Security: Zight takes data security seriously, ensuring your information is protected with a SOC2 Type II compliance certification.
h). Customization: You can customize Zight to fit your workflow by creating shortcuts that align with your preferences. Add a call-to-action button to your videos for different tasks
i). Brand Recognition: Enhance your brand recognition with logos, custom redirect URLs, custom domains, and more.
How Can You Use Zight as Your Main Team Communication Tool
To use Zight as your main team communication tool, you can leverage its diverse features and capabilities. This makes it an effective solution for seamless organizational communication and collaboration. Here's how you can make the most of Zight to maximize employee communication:
1. Screenshots and Visual Communication
For the best team communication, utilize Zight's screen capture and screenshot features for visual communication within your team. You can easily do this by capturing and sharing screens, which makes conveying ideas or providing instructions visually simple.
In addition, you can capture point-in-time images or record your screen in videos or GIFs with team members for different communication needs.
Integrating Zight into your internal messaging systems facilitates instant messaging with team members and, in turn, makes internal communication more effective and engaging.
2. File Sharing and Collaboration
Zight allows teams to share content created in Zight and instantly makes the links accessible to your team. You can also add annotations and drawings to enhance clarity and emphasis in shared content.
This reduces the need for using separate file-sharing tools. Alternatively, you can upload and share various file types, enhancing collaboration and file management.
3. Team Communication
Enhance video meetings and conferences using Zight to share visuals, which can be valuable for explaining complex concepts like how-to's. Use Zight's video recording and sharing capabilities to simplify discussions and ensure everyone is on the same page.
In addition, screen sharing is made easy with Zight's screen recording and capture features, ensuring everyone is on the same page during virtual meetings.
4. Customization and Workflow Integration
You can customize Zight to fit your workflow preferences and optimize its use for your business needs. Add a call-to-action button to your videos to help streamline tasks like scheduling meetings, linking to articles, or closing deals.
5. Collaboration, Project Management, and Task Management
Zight is an ideal team communication tool for remote teams, as it bridges the communication gap regardless of physical location. Use Zight to share project updates, demonstrate progress, and clarify project details with your team. It also enhances task management by visually explaining tasks, reducing the need for lengthy written instructions.
6. User Management
Zight offers user management features, allowing you to tailor access and permissions for team members per your organizational structure.
7. Collaboration Features
Take advantage of Zight's collaboration features, including annotations, drawings, and visual aids to enhance teamwork.
8. Analytics and Reporting
Utilize Zight's viewing analytics and productivity reports to track content engagement and team productivity.
How to Setup Zight For Use in Your Team
Setting up Zight for your team is a straightforward process. Here's a step-by-step guide to quickly get started with Zight for your team's communication needs:
Step 1: Sign Up for Zight
Visit the Zight website (or download the app from the respective app store if you're using a mobile device). Sign up by providing your email address, creating a password, and verifying your account.
Step 2: Installation
Installing Zight is a breeze. You can install it on Windows, Mac, or as a Chrome extension, ensuring compatibility with your preferred platform. Follow these simple steps to get started:
a). For (Mac/Windows)
After creating your account, download the Zight application for your operating system (Windows or Mac) from the Zight website.
b). For Chrome Extension
Visit the Chrome Web Store.
Search for "Zight."
Click "Add to Chrome" to install the extension.
Follow the on-screen prompts to configure your extension.
Once installed, the Zight extension will be accessible in your Chrome browser.
Step 4: Initial Setup
Once logged in, you'll likely be prompted to customize your settings, including your preferred shortcuts, privacy settings, and notification preferences. Customize these settings to match your team's needs.
Step 5: Integration (Optional)
If your team uses specific collaboration software tools or platforms like Microsoft Teams, consider integrating Zight with these tools. Zight may offer integrations or plugins that enhance its functionality within these platforms.
Step 6: Inviting Team Members
To get your team set up with Zight, invite team members to join. You can usually do this from within the Zight application or through the Zight website. Provide their email addresses, and they will receive invitations to join your team's workspace.
Step 7: Training and Familiarization
It's essential to ensure your team members know Zight's features and how to use them effectively. Consider providing training or resources to help your team get started.
Step 8: Start Using Zight
Once your team is set up and familiar with Zight, you can begin using it for your day-to-day communication and collaboration needs.
Pricing
Free– $0
Pro– $9.95 Per User Monthly (annually)
Team– $8 Per User Monthly (annually)
Enterprise– Get a Quote
If you want to learn more, check out Zight's pricing plans.
Chat Tools
Chat tools enable the flow of communication among team members. They also reduce the need for meetings while building employee connections and camaraderie. A couple of top-performing chat tools include:
2. Chanty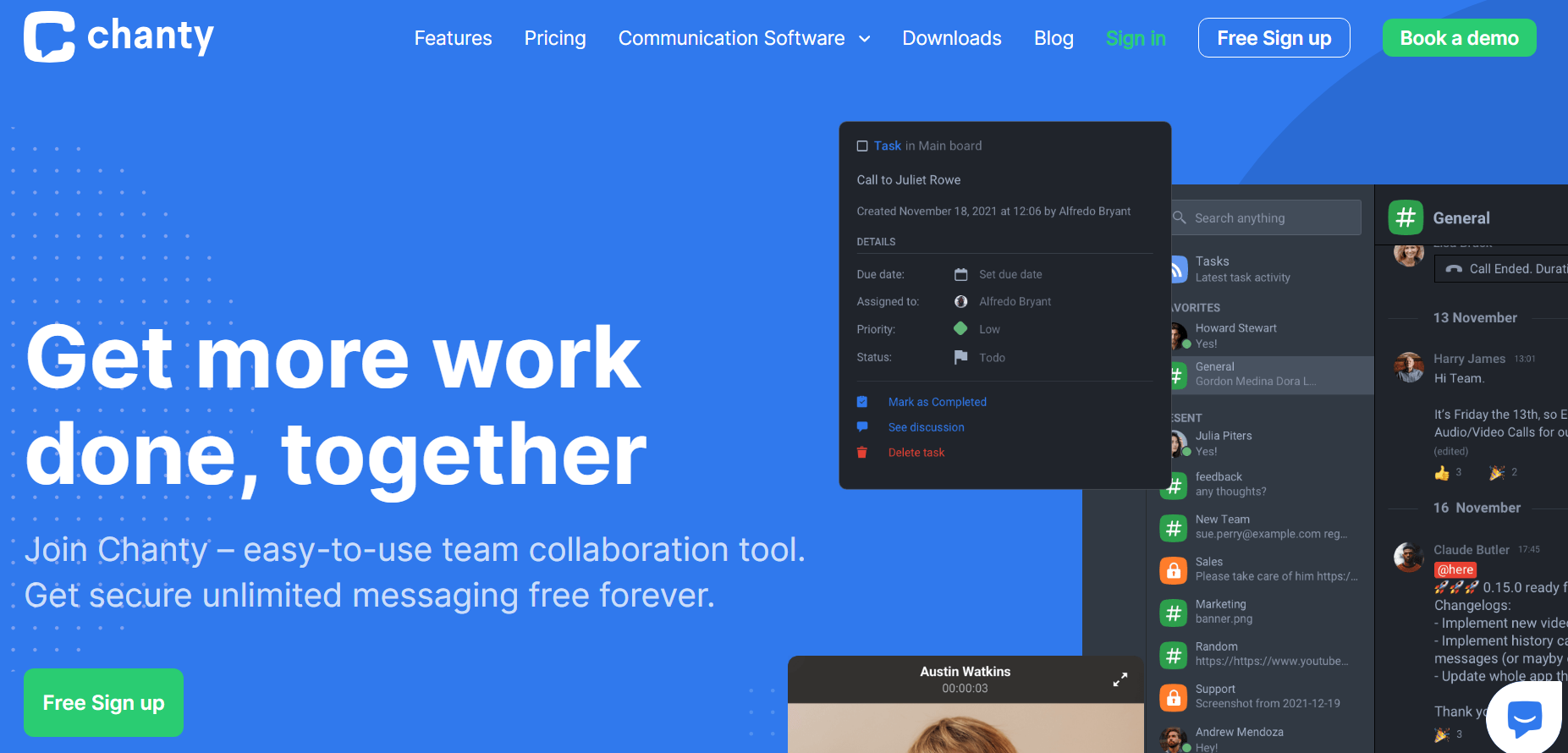 Chanty is another top team communication tool that offers a user-friendly experience with various features for effective business communication. It works on the web, Windows, Mac, and Android devices.
Features
Teambook: Hub for organized tasks, conversations, and content.
@Mentions: Highlight team members for quick communication.
Task Management: Create, assign, and manage tasks efficiently.
Kanban Board View: Visual task management for agile workflows.
Role and Privilege Control: Define post and visibility permissions.
Integration with Third-Party Apps: Connect apps for enhanced productivity.
Voice Messages: Quick voice communication on the go.
Audio and Video Calls: High-quality, secure communication.
Pricing
Free plan
Business– Starts at $3 per user per month
3. Slack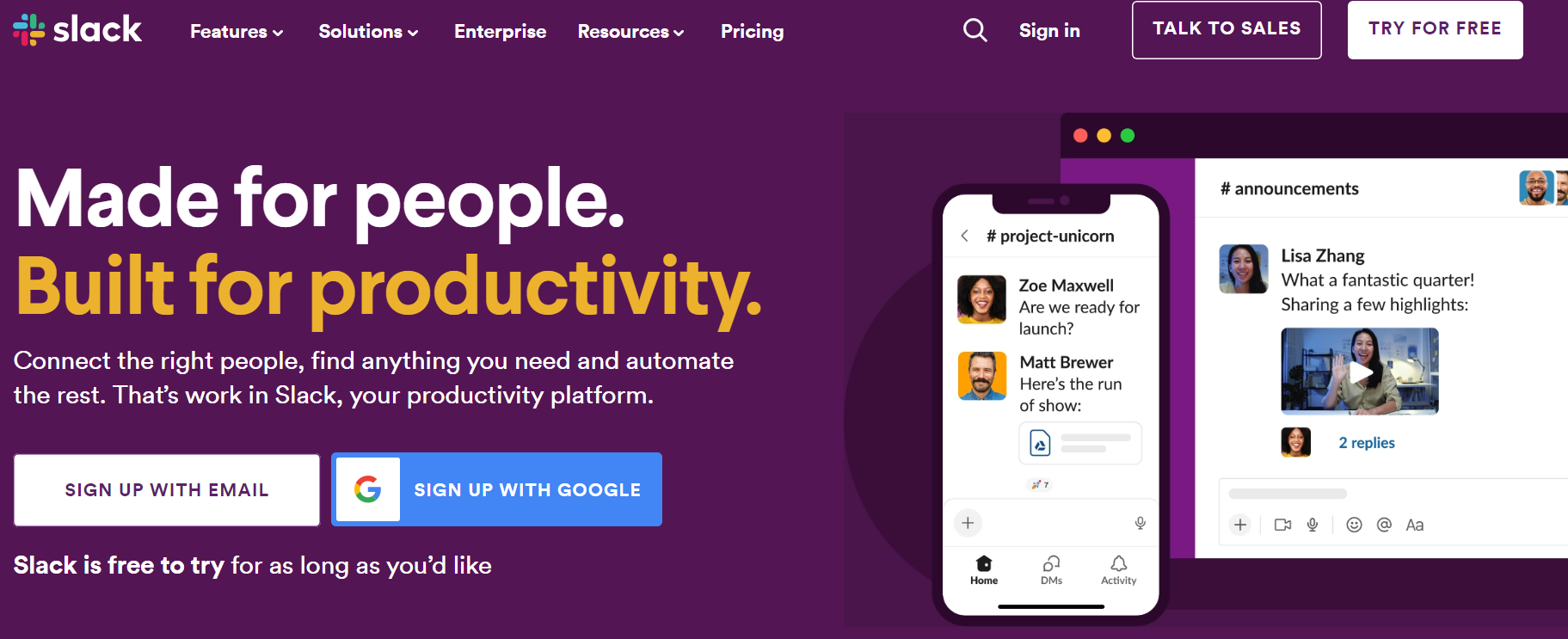 Slack is a messaging program that supports asynchronous work and team collaboration. It integrates with many programs, including Office 365 and Google Drive.
Features
Channels: Organize conversations into channels for specific topics, teams, or projects.
File Sharing: Share documents, images, and files within conversations.
Search: Find past messages, files, and conversations with a powerful search function.
Notifications: Customize notification settings to stay informed without distractions.
Voice and Video Calls: Make audio and video calls directly within Slack.
Screen Sharing: Collaborate by sharing your screen during calls.
Pricing
Free plan
Pro- $7.25 per active user per month
Business+- $12.50 per active user per month
Enterprise Grid– Contact sales
Task and Project Management
Your task and project management tools will help team members stay on task, keep materials and projects organized, and serve as a headquarters for any work materials. It's a key piece of your business platform, so choose it carefully. A couple of top-performing options include:
4. Asana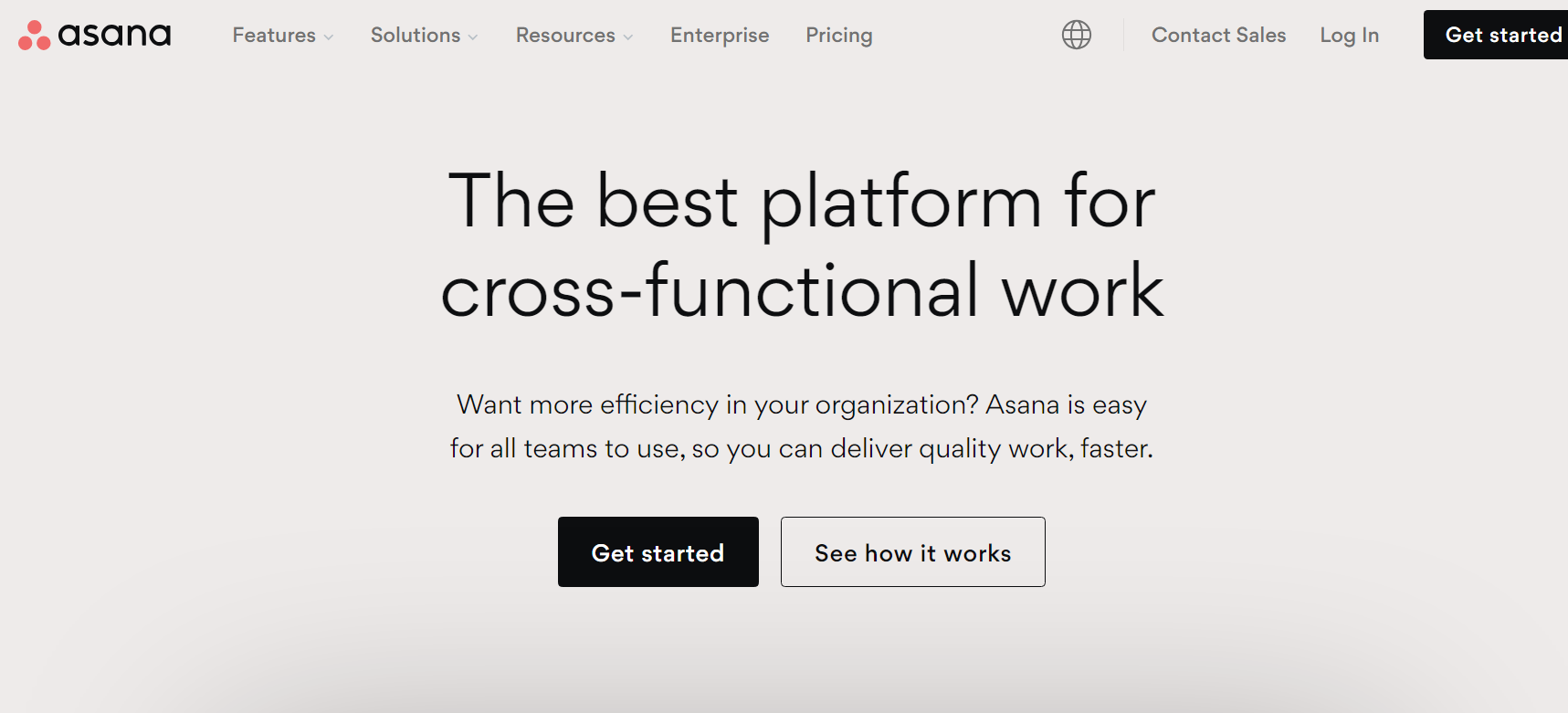 Asana is a task management program with both web and mobile apps. It offers various project management tools, from Kanban boards and Asana templates to planning functionality.
Features
Task Management: Create, assign, and track tasks with due dates and priorities.
Project Management: Organize tasks into projects and set project goals and timelines.
Kanban Boards: Visualize work with Kanban boards to move tasks through stages.
Calendar View: View tasks and projects on a calendar for better time management.
Task Dependencies: Link tasks dependent on each other to ensure a logical workflow.
Pricing
Basic– $0
Premium– $10.99
Business– $24.99
5. ProofHub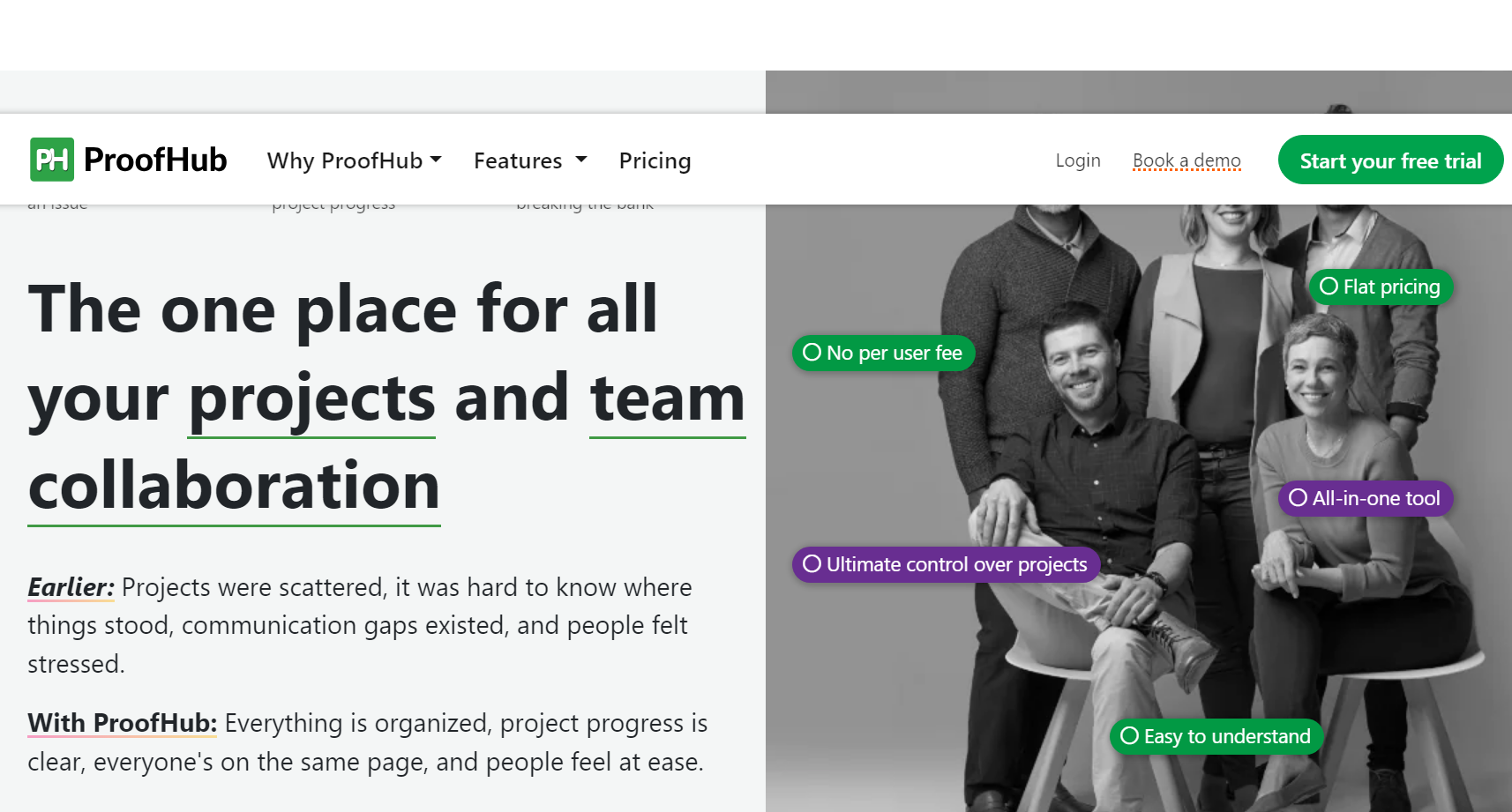 ProofHub is a project management and team collaboration software offering various features to help teams streamline their work and enhance productivity. It integrates with Box, Dropbox, Google, Microsoft Outlook, and FreshBooks.
Features
Task Management: Create and assign tasks, set due dates, and track progress.
Kanban Boards: Visualize tasks and workflows using Kanban boards for agile project management.
Gantt Charts: Plan and schedule projects with interactive Gantt charts.
Time Tracking: Log time spent on tasks and projects for accurate billing and productivity analysis.
File Sharing: Easily share documents, images, and other files within the platform.
Pricing
Essential– $45
Ultimate Control– $89
Video and Video Conferencing
What could be more important in a remote and hybrid work environment than the ability to collaborate "together"? Video conferencing software is becoming essential in business communication as it helps keep employees engaged. A couple of top-performing video platforms include:
6. Zoom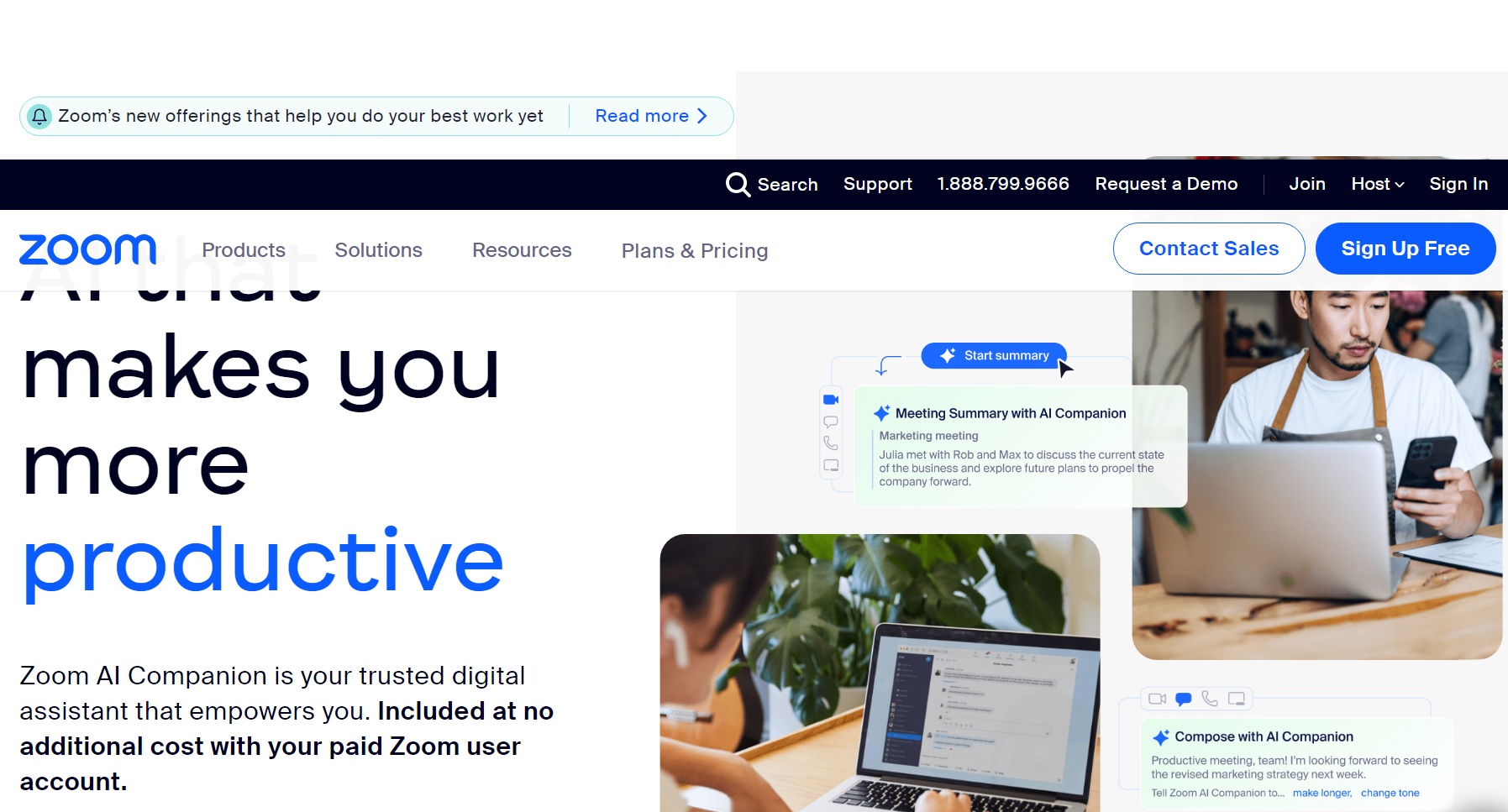 Zoom is a popular video conferencing program that enables remote video meetings, team chat, webinars, and other functions.
Features
Video Meetings: Host and join video meetings with high-quality audio and video.
Webinars: Conduct webinars for large audiences with interactive features.
Screen Sharing: Share your screen or specific applications to present documents, slides, or software.
Breakout Rooms: Divide participants into smaller groups for discussions or collaboration.
Recording: Record meetings and webinars for later reference or sharing.
Pricing
Basic- Free
Pro- $149.90 per user per month
Business- $199.90 per user per month
Business Plus– Contact for sales
7. Google Meet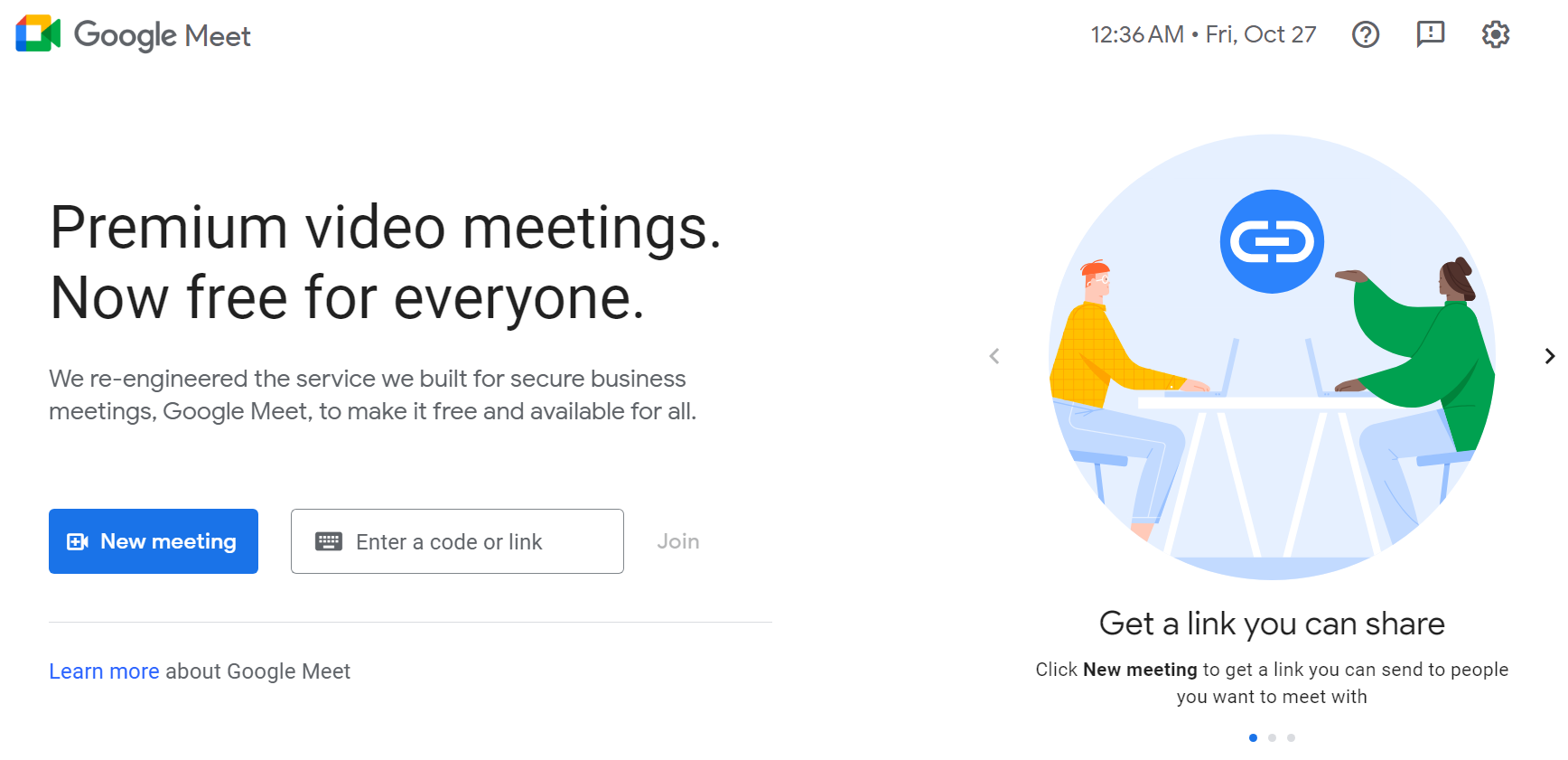 Part of the Google Suite, Google Meet (formerly called Hangouts) is a video conferencing platform that offers features like screen sharing, gallery view, and breakout rooms for moderators.
Features
Part of the Google Suite, offering video conferencing with screen sharing and breakout rooms.
Supports gallery view for larger meetings.
Provides features for moderators.
Offers a free version with limitations.
Pricing
Business Starter– $6
Business Standard– $12
Business Plus– $18
Digital Document- and File-Sharing Tools
Digital document- and file-sharing is important to both your team's productivity and your documents' security. Efficiency improves when multiple people collaborate on a digital copy, and cloud storage eliminates the need to sift through piles of papers. A couple of top-performing options include:
8. Dropbox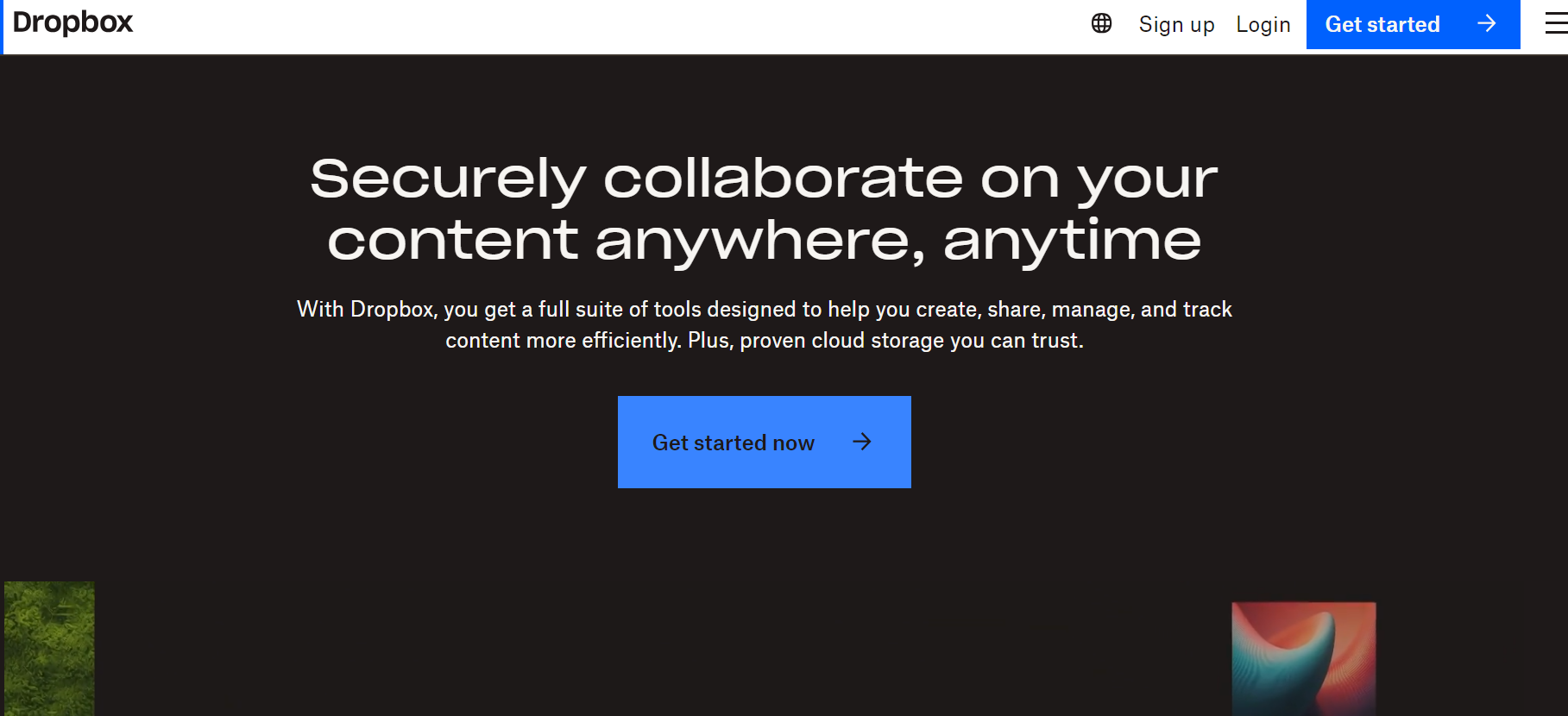 Dropbox is a cloud-based file-hosting program that enables team members to share documents, photos, and videos.
Features
File Storage: Store files, documents, photos, and videos securely in the cloud.
File Syncing: Ensuring you have access to the latest version.
File Sharing: Share files and folders with others, whether they have a Dropbox account or not.
File Recovery: Easily recover deleted files and previous versions of documents.
File Versioning: Allowing you to revert to earlier versions.
Collaborative Workspaces: Create shared folders and workspaces where teams can collaborate on files and projects.
Pricing
Plus– $9.99 / month
Essentials– $18 / month
Business– $20 / user/month
9. Office 365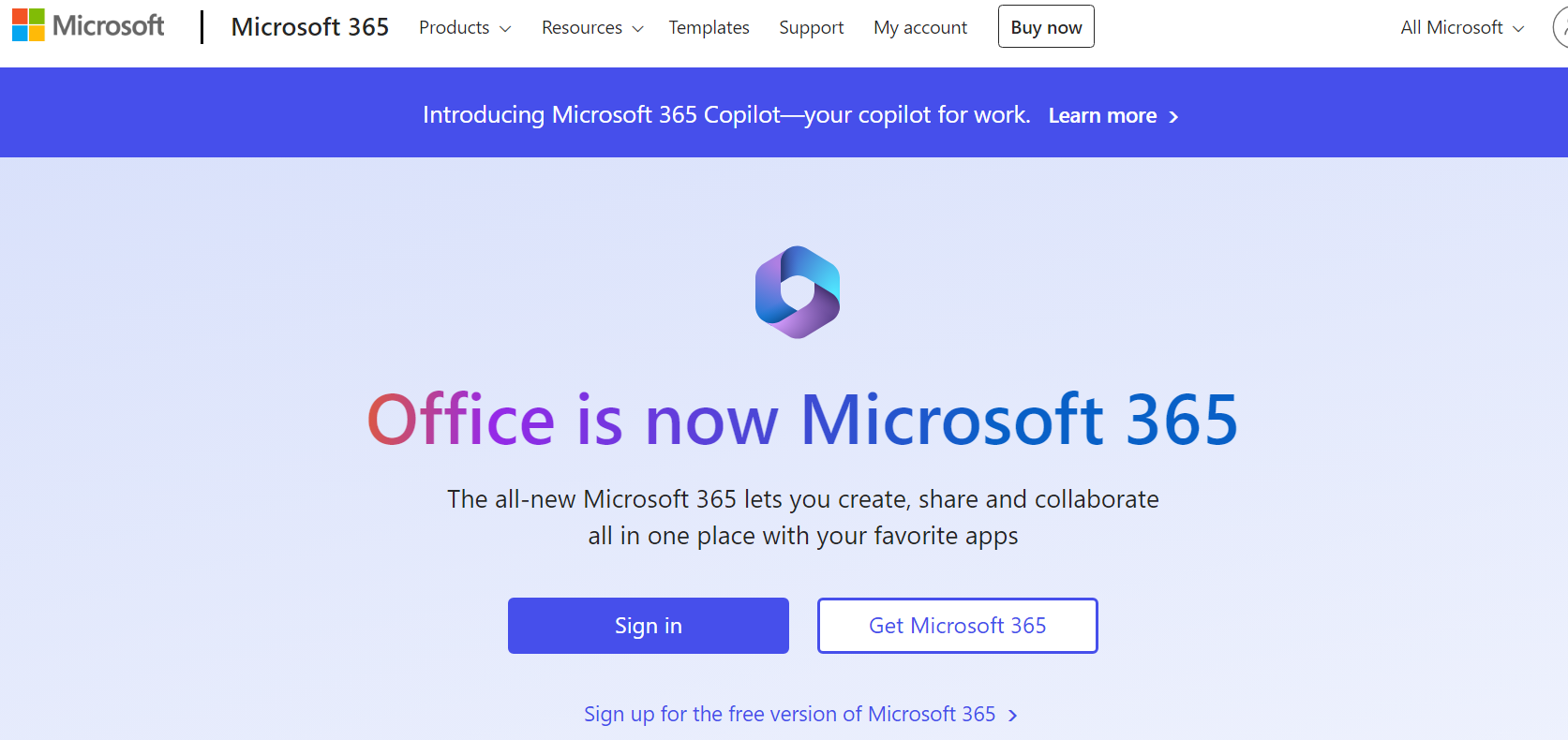 As part of the Microsoft universe, Office 365 offers many features that can be beneficial as team communication tools.
Features
Email and Calendar: Use Outlook to send and receive emails, schedule meetings, and manage your calendar.
Office Apps: Access popular Microsoft Office applications like Word, Excel, PowerPoint, and OneNote online or offline.
Cloud Storage: Get 1TB of OneDrive cloud storage per user for securely storing and sharing documents and files.
Collaboration: Work on documents simultaneously with colleagues in real-time using Office Online. Co-authoring is available in Word, Excel, PowerPoint, and OneNote.
Teams: Collaborate with team members through chat, video calls, and file sharing in Microsoft Teams.
SharePoint: Create and manage team sites for document sharing and collaboration.
OneNote: Organize notes and information in a digital notebook for personal and collaborative use.
Pricing
Microsoft 365 Family– $99.99/year
Microsoft 365 Personal– $69.99/year
Office Home & Student 2021– $149.99
2. Best External Communication Software
External communication tools can help you efficiently meet customers' needs, from aggregating customer thoughts via surveys to behavior tracking — all are vital to ensuring your customers feel heard.
Customer Service or Customer Relationship Management (CRM) Tools
A CRM tool stores information about interactions you've had with customers or prospects. These tools play an important role in verifying which stage of the pipeline your contacts are in, ensuring your team can take the appropriate next steps. A couple of top-performing CRM programs include:
10. Salesforce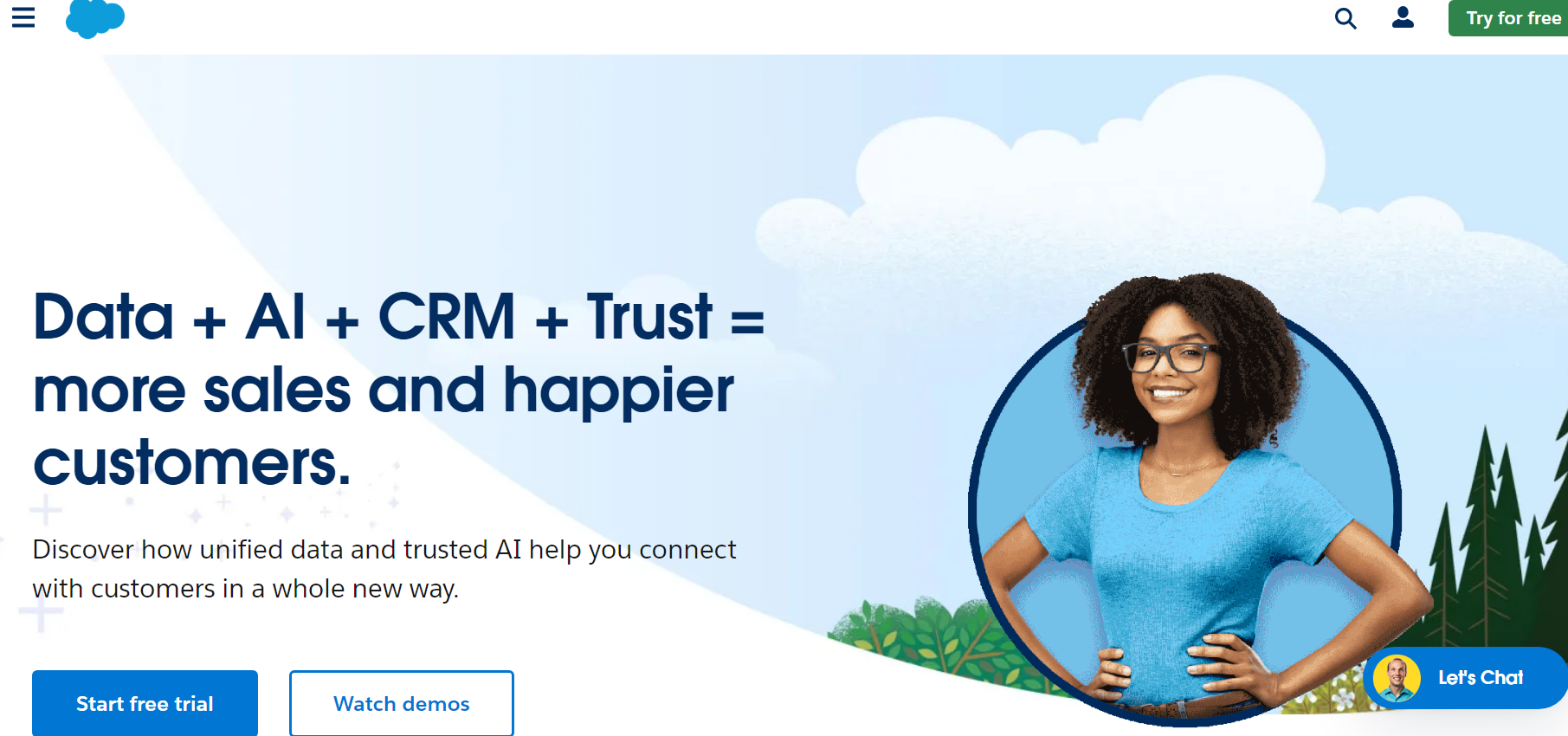 Salesforce is one of the most popular platforms in this category of team communication tools. It's perfect for large businesses with complex needs and is customizable to meet customers' requirements.
Features
Customer Profiles: Maintain comprehensive customer profiles with contact information and communication history.
Email Integration: Send and receive emails within Salesforce, ensuring all communication is recorded.
Task and Event Management: Schedule tasks and events, set reminders, and track their status.
Lead and Opportunity Management: Manage leads and track sales opportunities, including communication history.
Workflow Automation: Automate responses and triggers based on specific conditions.
Reports and Dashboards: Track communication metrics, team performance, and customer interactions.
Pricing
Starter– $25 per user per month billed annually
Sales Professional– $80 per user per month billed annually
Service Professional– $80 per user per month billed annually
Marketing Cloud Account Engagement– $1250 per user per month billed annually
11. Pipedrive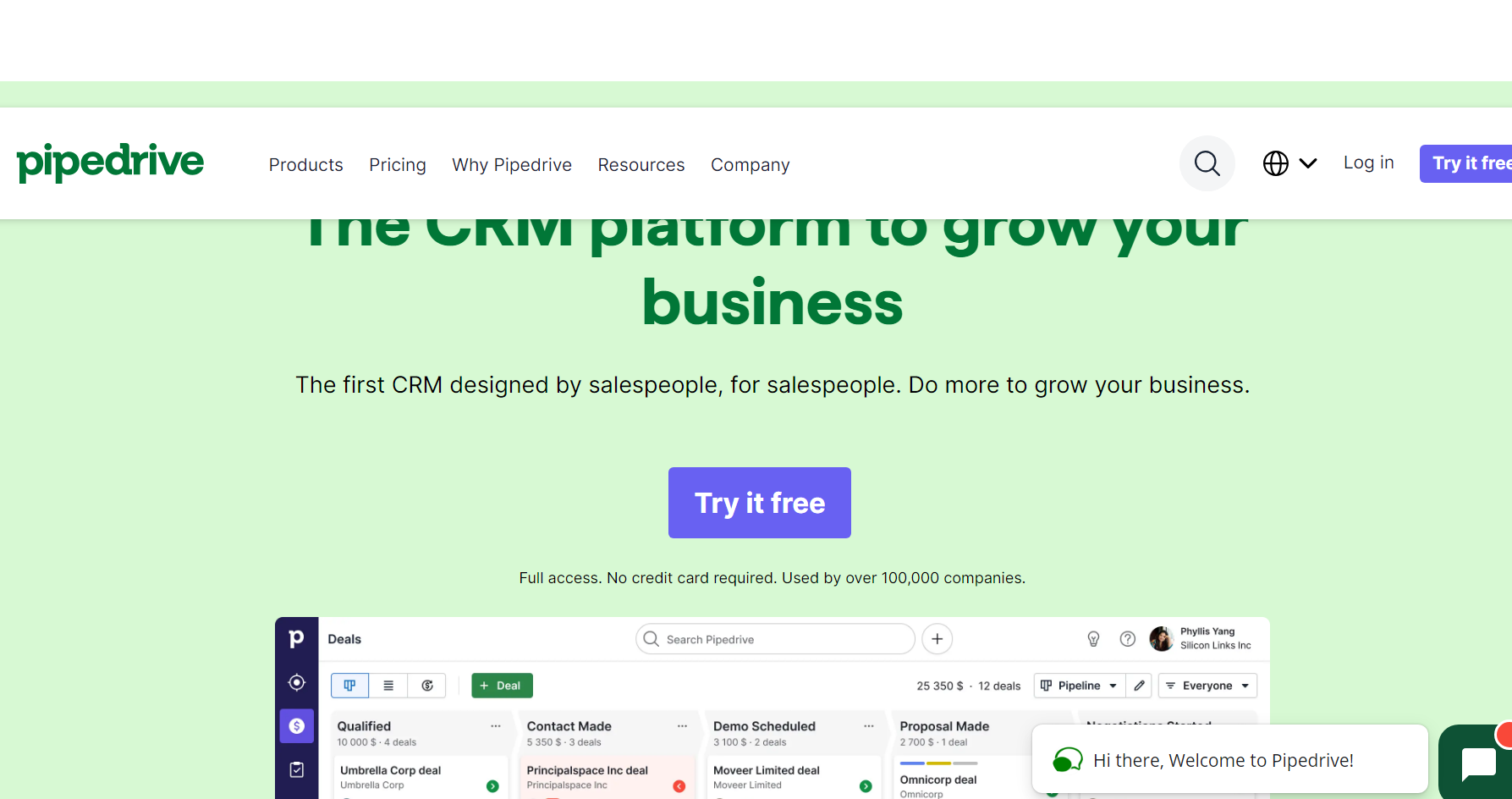 Pipedrive is known for its user-friendly interface, making it a good option for a business interested in investing in its first CRM tool.
Features
Contact and Lead Management: You can track interactions, assign leads to sales reps, and set follow-up reminders.
Sales Pipeline Management: Visualize your sales process with a drag-and-drop interface.
Email Integration: This helps you keep track of all communications related to a deal.
Activity and Task Management: Schedule tasks, set reminders, and track important activities.
Automation: Streamline routine tasks with automation.
Sales Reporting and Analytics: Gain insights into your sales performance with various reports and analytics.
Pricing
Essential– $9.90 per user per month, billed annually
Advanced– $19.90 per user per month, billed annually
Professional– $39.90 per user per month, billed annually
Power– $49.90 per user per month, billed annually
Enterprise– $59.90 per user per month, billed annually
Discussion Tools
Tools that facilitate online discussion have a multitude of external business use cases. They allow customers to engage with the company, offer ideas for improvement, and interact with other customers. It is a subtle yet powerful marketing and brand management tool. A couple of top-performing options include:
12. Zendesk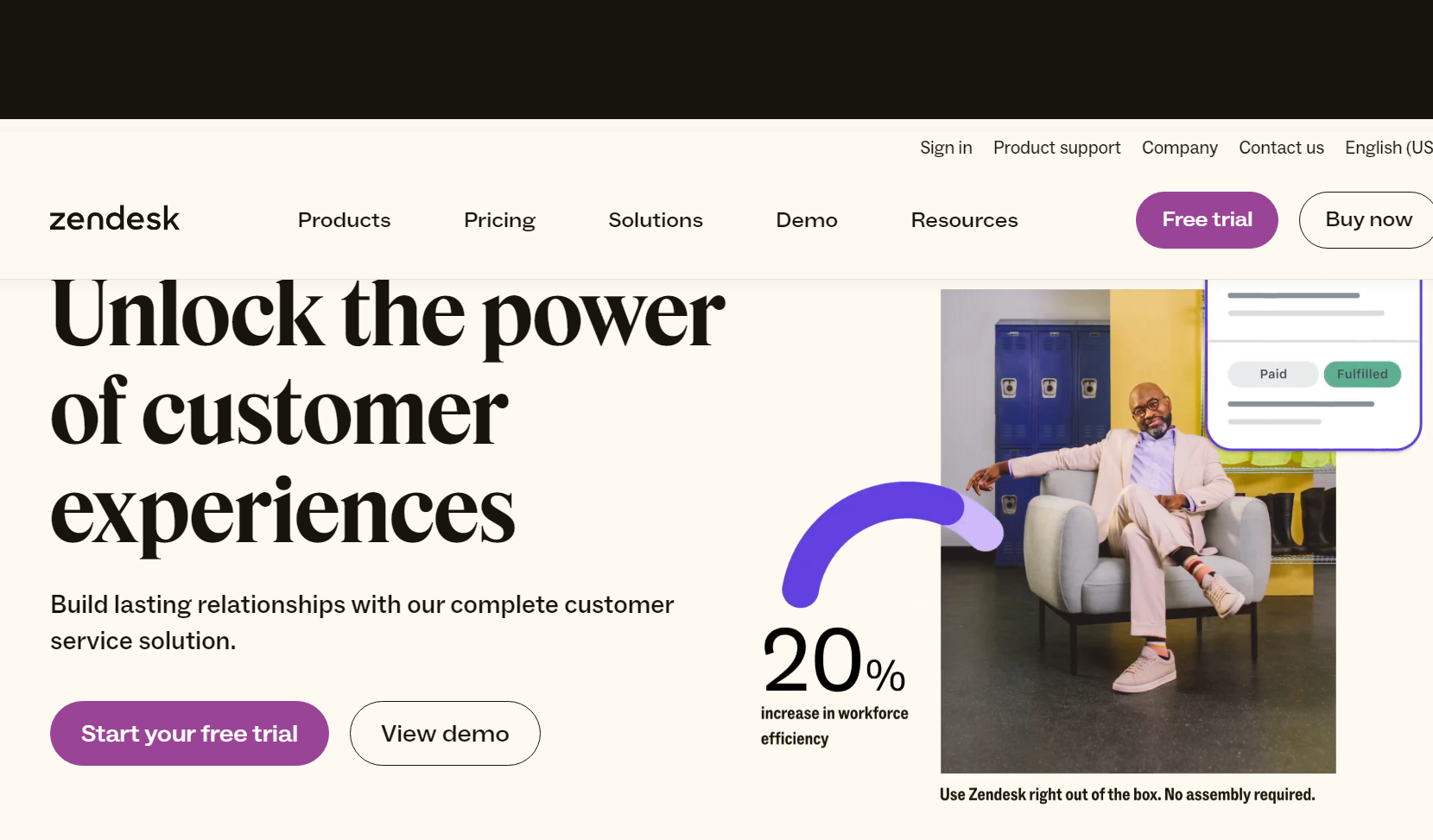 Zendesk is a CRM tool that provides a discussion platform as one of its features. It facilitates content approval moderation, spam management, featured and pinned posts, and social sharing.
Features
Ticketing System: Allows businesses to efficiently track, prioritize, and resolve customer inquiries and issues.
Multi-Channel Support: To engage with customers on their preferred platforms.
Automation: To streamline repetitive tasks, route tickets to the right agents, and send automated responses to common queries.
AI-Powered Chatbots: To handle routine customer inquiries, provide 24/7 support, and free up agents for more complex tasks.
Social Media Integration: For helping to resolve issues and build a strong online presence.
Reporting and Analytics: To gain insights into customer support performance, identify trends, and make data-driven decisions.
Pricing
Suite Team– $55 per agent/month
Suite Growth– $89 per agent/month
Suite Professional– $115 per agent/month
Suite Enterprise– Contact sales
13. vBulletin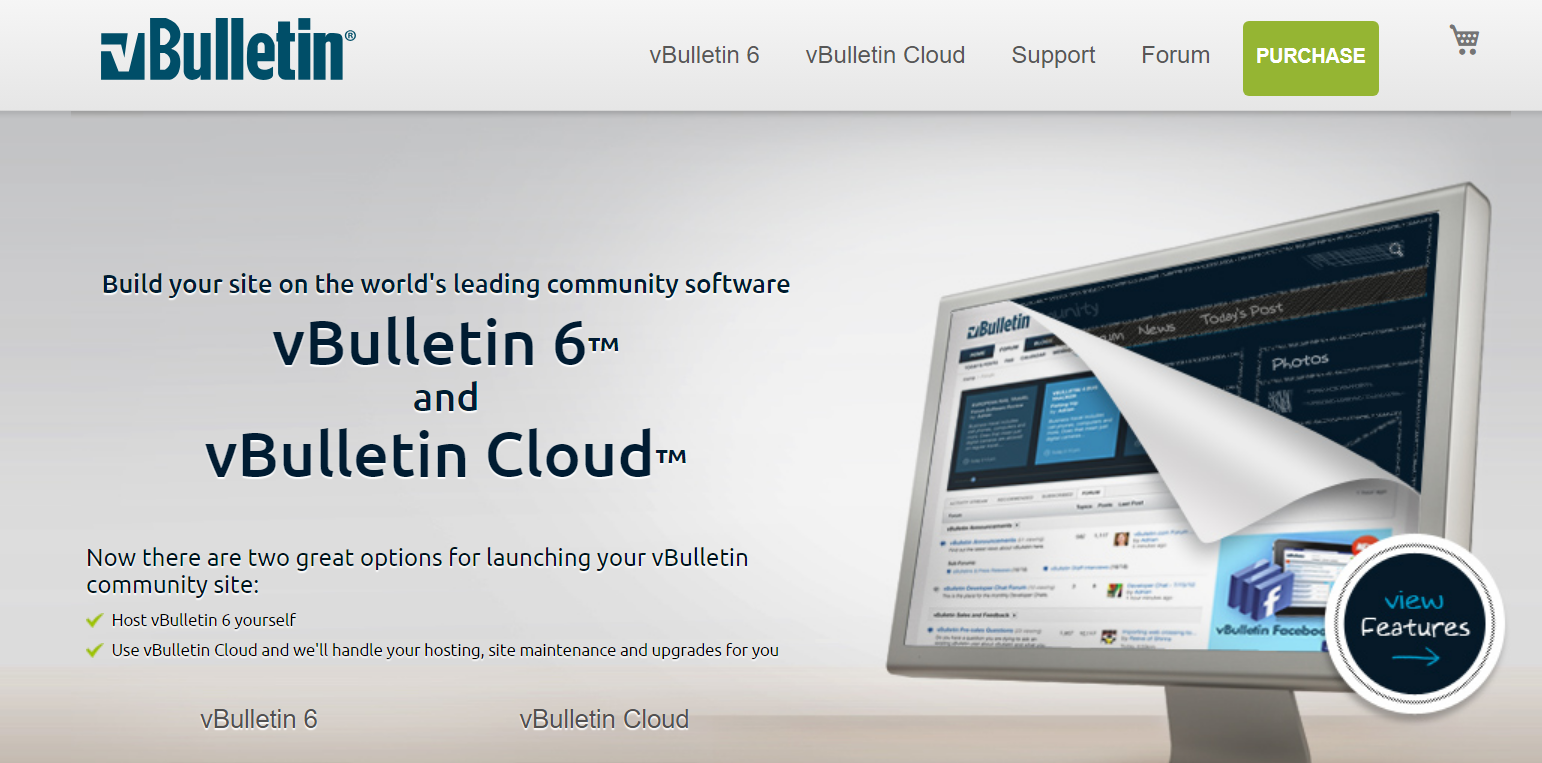 vBulletin is a tool designed to create and manage online discussion boards. Customers can choose to host the forum themselves or let the company handle hosting, site maintenance, and upgrades.
Features
Discussion Forums: To facilitate community members' conversations.
User Profiles: To customize their online identity.
Moderation Tools: The ability to edit, move, lock, or delete threads and posts.
Private Messaging: Users can send private messages to each other, fostering one-on-one communication within the forum.
User Groups: To categorize and manage forum members effectively.
Pricing
vBulletin 6– US$179.00
vBulletin Cloud– As low as $15.00/month
Customer Surveys or Customer Feedback Tools
Customer feedback is an important component of business growth and scalability. These tools make gathering, interpreting, and storing customer opinions easier. Customer feedback is instrumental when working to improve your product or processes. A couple of top-performing customer survey tools include:
14. Survey Monkey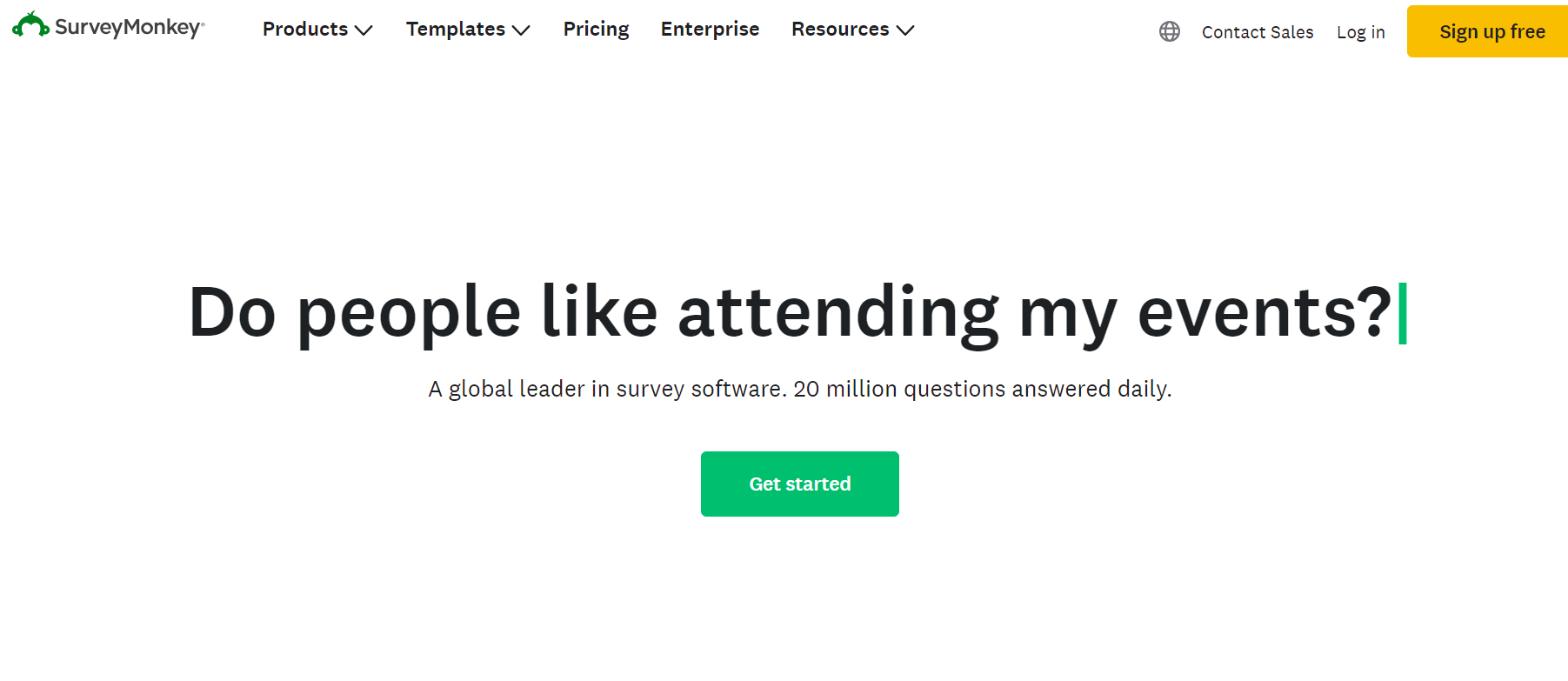 Survey Monkey enables you to create polls, surveys, or quizzes and collect results via email, social media, chat, or other means. Its reporting function makes it easier to analyze the data you receive.
Features
Survey Creation: Easily create surveys with a user-friendly drag-and-drop interface. Choose from various question types, including multiple-choice, open-text, and rating scales.
Customization: To align with your brand or project's identity.
Survey Templates: Access a library of survey templates designed for different purposes, saving time in survey creation.
Question Library: For consistency across multiple surveys.
Skip Logic: To tailor the survey experience based on respondents' previous answers.
Randomization: To reduce bias in survey responses.
Pricing
Team Advantage– $25 per user per month
Team Premier– $75 per user per month
Enterprise– Contact sales
15. QuestionPro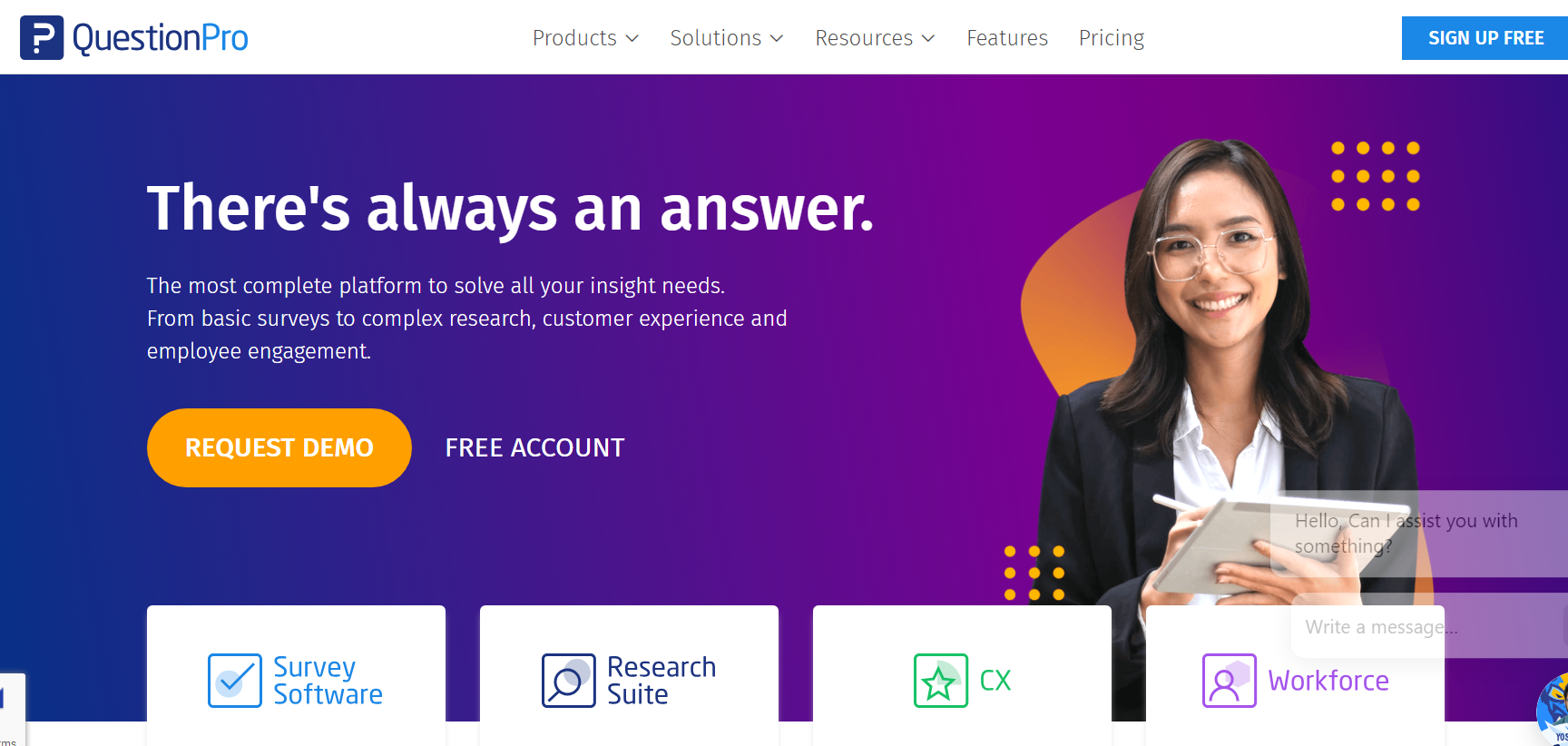 QuestionPro is an online survey tool that offers a variety of features and tools, from multiple question types to personalized branding and analytics that can help you glean insights from your results.
Features
Survey Creation: Create surveys with a user-friendly, drag-and-drop interface. Choose from various question types, including multiple-choice, open-text, ranking, and more.
Survey Templates: For various industries and purposes, saving time in survey creation.
Question Library: To maintain consistency across multiple surveys.
Skip Logic and Branching: Customize the survey experience for respondents by setting up skip logic and branching based on their previous answers.
Randomization: To reduce response bias.
Offline Surveys: Using mobile devices and sync data once an internet connection is available.
Pricing
Essentials– Free
Advanced– $99 per user per month
Team Edition– $83 per user per month
Research Edition– Request
External communication tools enable your team to understand how your company does business. That information can then inform the decisions you make to drive business improvements.
How Do You Choose the Right Business Communication Tool?
There are a lot of team communication tools on the market, so you'll need a strategy to evaluate which tools will best meet your needs. First, identify the types of messages you want to communicate, then confirm the recipients of these messages. Doing this will help clarify your goals and make it easier to build an action plan.
Here are some other things to think about:
Cost and budget: While many team communication tools have free or trial versions, most have a business-use price tag. Many tools offer a variety of features and could help cut costs by reducing the number of products you need to buy. Having a budget helps narrow your choices and ensure you only consider viable options.
Business needs: Do you rely much more heavily on video conferencing than intra-team chat? Are customer survey results critical to your future planning? Decide what you need most and focus on the tools that provide those things to avoid getting lost in an ocean of options.
Integration with existing systems: Look for team communication tools that can integrate with the systems you already use to cut down on unnecessary changeovers and extensive training for your team.
Need for training/onboarding: Your team will have to learn to use any new team communication tool you introduce, so keep their abilities in mind when deciding what to implement. If they're on board and enthusiastic, they'll pick it up faster and get the most from the new tool.
Security: Digital security has never been more important, and online threats continue to grow. Consider the security features of your new tools and how they will be used.
As with any significant decision, you must start with a full inventory of what you're already doing, what you want to be doing, and how you want to get there. From there, it's all about researching options and gauging what will work best for you.
Improve Business Communication with Zight (formerly CloudApp)
Finding the right team communication tools for your needs will improve your team's efficiency and create growth for your company. It is critical to select business communication tools that integrate well with your current tech stack. You need software that fulfills your current needs and can scale your business.
Zight helps organizations mitigate internal and external inefficient communication with audio and visual context delivered asynchronously through our video and screen recording platform.
Because of integrations with tools like Atlassian, JIRA, Slack, Trello, and Zendesk, Zight allows faster collaboration with more context and clarity through instantly shareable videos, GIFs, and screenshots. Our most popular use cases include customer support, product development, sales, and engineering.
Learn how Zight's team-based video and asynchronous communication features can help your team streamline communication. Schedule a demo today!
Make Async Video with Zight
Keep meetings to a minimum and productivity to a maximum with async video messaging. Click the button below to get started.