Are you tired of playing the never-ending game of "Storage Space Tetris" on your devices? We've all been there, desperately deleting precious memories or important files just to make room for new ones. But fear not, fellow digital nomads, because the era of the best free cloud storage services has arrived!
These cloud storage services aren't just your ordinary data dungeons. They come armed with powerful features, like seamless file syncing, effortless sharing options, and even collaboration tools that make teamwork a walk in the virtual park.
Zight's free cloud storage option is the best way to share files without fear of time-consuming uploads. However, we have listed many options to ensure you choose the best free online storage. Let's dive in!
1. Best Free Cloud Storage For Communication: Zight (Formerly Cloudapp)
Share files with the assurance that your most precious documents are protected. Zight is the best free cloud storage tool to secure your files using a password or setting expiration dates on each link you share.
Unlimited Cloud Sharing With Just A Link
No more waiting for a file from a colleague or client to get along with your work. Zight generates a shareable link when you drag and drop a file with Zight's free unlimited cloud storage plans.
Teams and individuals can easily share this link through email or your favorite workflow tool that integrates with Zight, like Trello, Asana, or Slack. And with link sharing, you won't be the jerk who makes someone download large, time-consuming files from another cloud service.
Superb Communication through Visuals
If you're using Zight, you're likely a visual person. So why wouldn't a visual communication tool also have a visual search function? Using free cloud storage from Zight, finding your files by searching color, picture, or keyword is a breeze.
And don't stop here. Step further by organizing your cloud storage with Zight's collections. Use collections to save specific files to specific folders and invite team members to share that folder with you for collaboration. Pinterest who??
A Cloud Storage Solution For Any Role
Whether you are a designer or a developer, free unlimited cloud storage is imperative for increased workflow and team collaboration for creatives. Keep visual inspiration and mood boards organized or easily share large design files with Zight. Examples include:
Use Zight to collaborate between designer and developer teams for a killer product created with less hassle and back and forth.
Sales and marketing teams can access campaign visuals, product demos, and specific customer files in one place that anyone on your team can access with a button.
Through integrations with leading CRMs such as Zendesk, Jira, Help Scout, and Freshdesk, everything you secure through Zight's unlimited cloud storage links directly into support tickets for support teams to manage seamlessly.
We Have an App for That
Have a Mac? A PC? Need to access files or save to the cloud on the go? Zight's screen recorder covers it all. Download our Mac or Windows App, and easily work through our Chrome Extension or iOS app. We're everywhere.
Other Free Cloud Storage Services
While Zight is one of the best free cloud storage services, we have listed other free cloud storage providers. They include:
2. Microsoft Onedrive: Best Combination of Performance, Aesthetic, and Security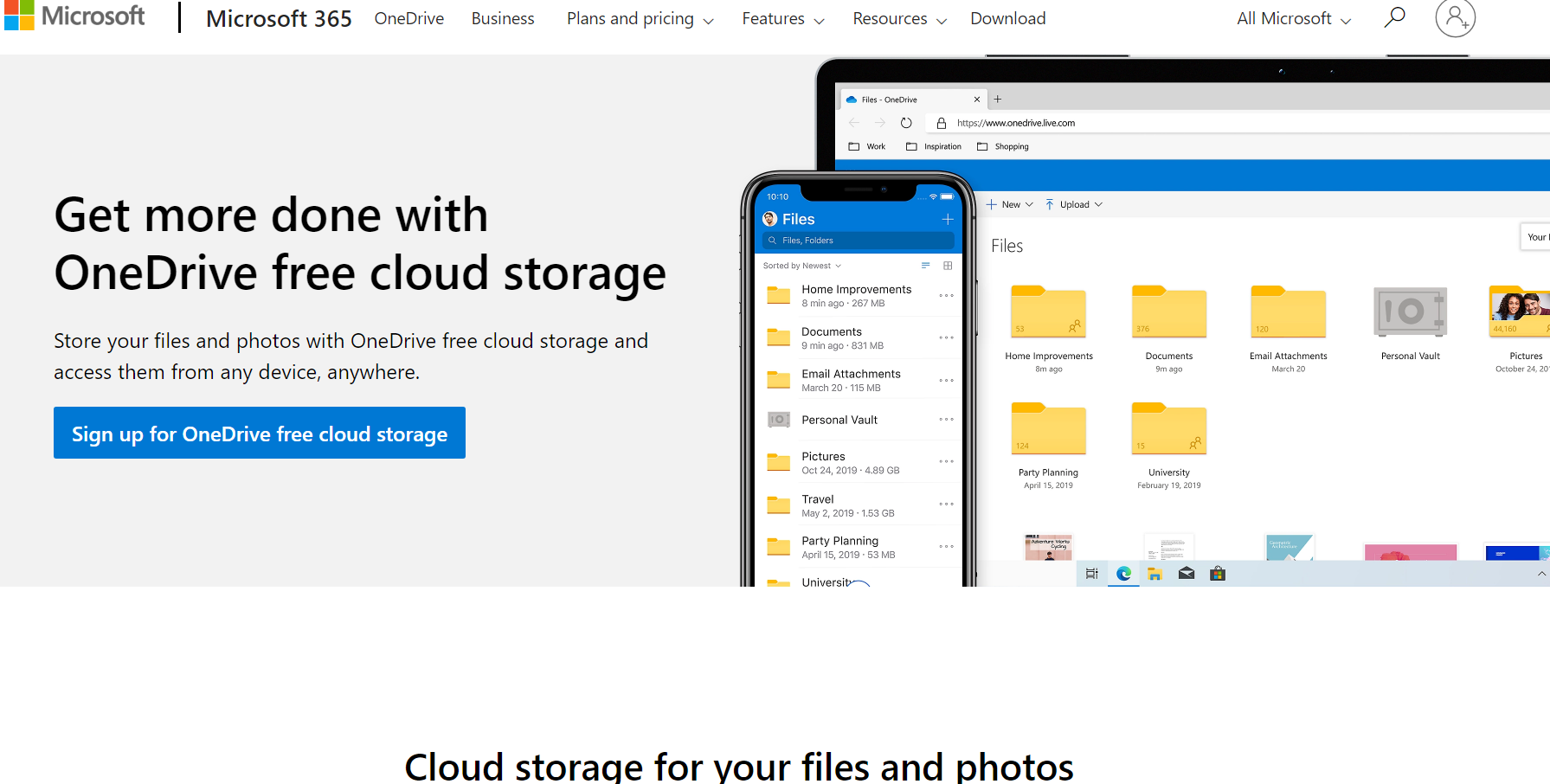 OneDrive serves as Microsoft's online storage platform, giving users 5 GB of complimentary storage upon registration. Additional storage space can be earned by following specific guidelines, such as referring friends to the service and synchronizing mobile photos. This strikes a balance between ample capacity and user-friendly interfaces.
Setting up OneDrive is hassle-free, and once configured, it operates smoothly without requiring additional effort or attention. Existing Microsoft 365 subscribers also benefit from 1TB of OneDrive storage included in their subscription. Its strong affiliation with Microsoft Office apps and compatibility with Windows 11 makes it an ideal solution for Microsoft users, while the availability of mobile apps enables cross-platform usage.
OneDrive also excels in collaborative features that extend beyond its users. It's among the best cloud storage services since you can easily share files, customize access permissions, and edit files online without downloading.
Pros
Available in a Microsoft 365 bundle or as a standalone product
Impressive apps across all operating systems
Natively built into Windows 10 file explorer
It controls how files are prepared
Excellent Office integration
Cons
Limited backup features
Limited 5 GB free storage space
3. Google Drive: Best for Google users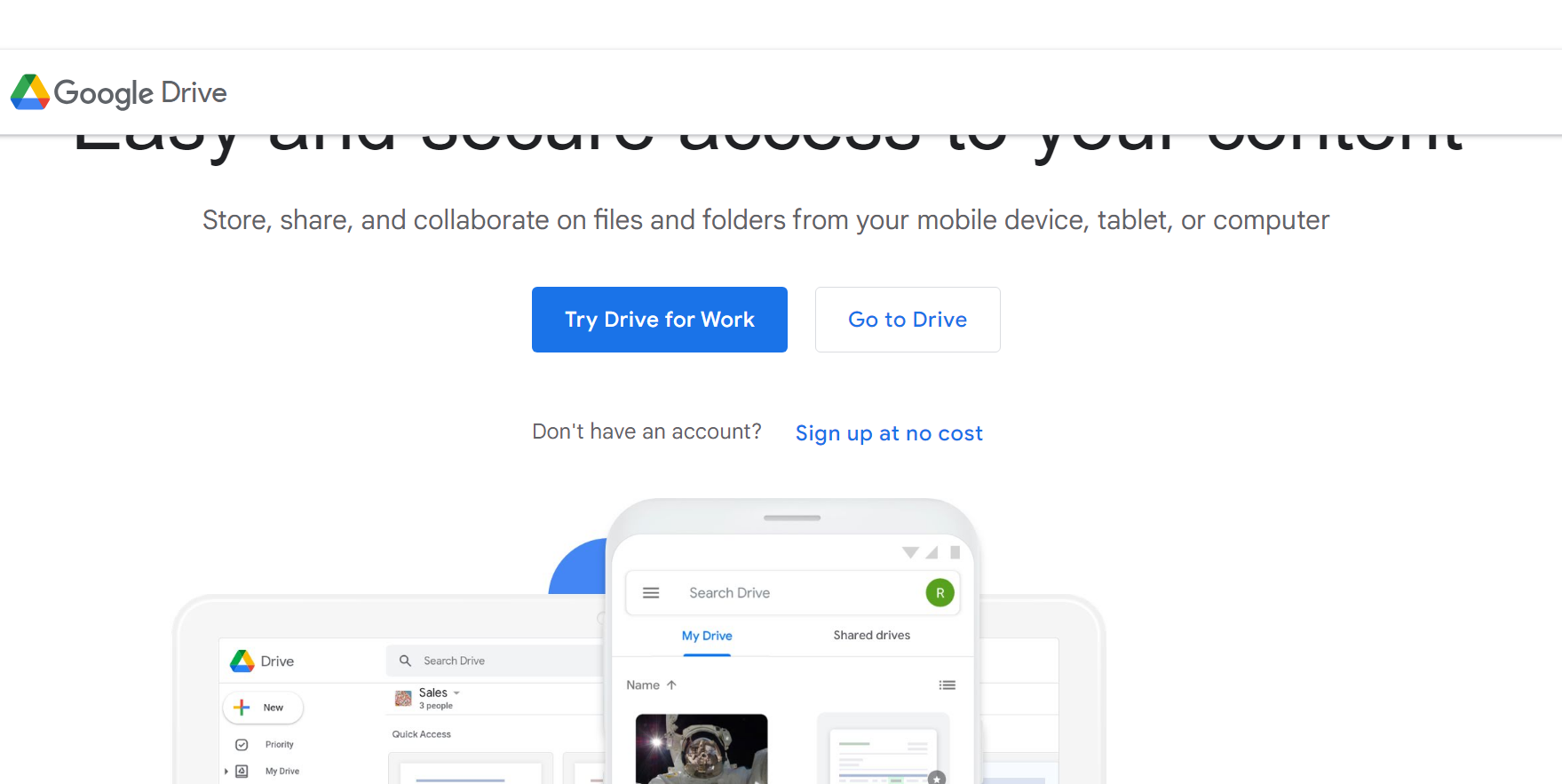 One powerhouse of cloud storage is Google Drive. It stands out with a generous free allowance of 15GB, cutting-edge add-ons, and incredible convenience. You can dive into Google Drive without additional signups or installs if you have an Android device or a Google account.
Sharing files has never been easier. Collaborate effortlessly with friends, family, or colleagues. Whether it's working on a group project or sharing memorable photos, Google Drive has got you covered.
No more file size restrictions. Store everything from important documents to precious memories without a hitch. And did we mention it's super user-friendly? Even if you're not tech-savvy, you'll navigate Google Drive like a pro in no time.
Since it's available on all your devices- iPhone, iPad, Android, Mac, and Windows, Google Drive is the free storage hero you've been waiting for!
Pros
Super user-friendly website
Collaboration and file sharing
Two-factor authentication
15 GB free cloud storage
Desktop and mobile apps
Cons
The file-sharing security is not the best
Lacks password protection
4. Dropbox: Best for Collaboration & File Sharing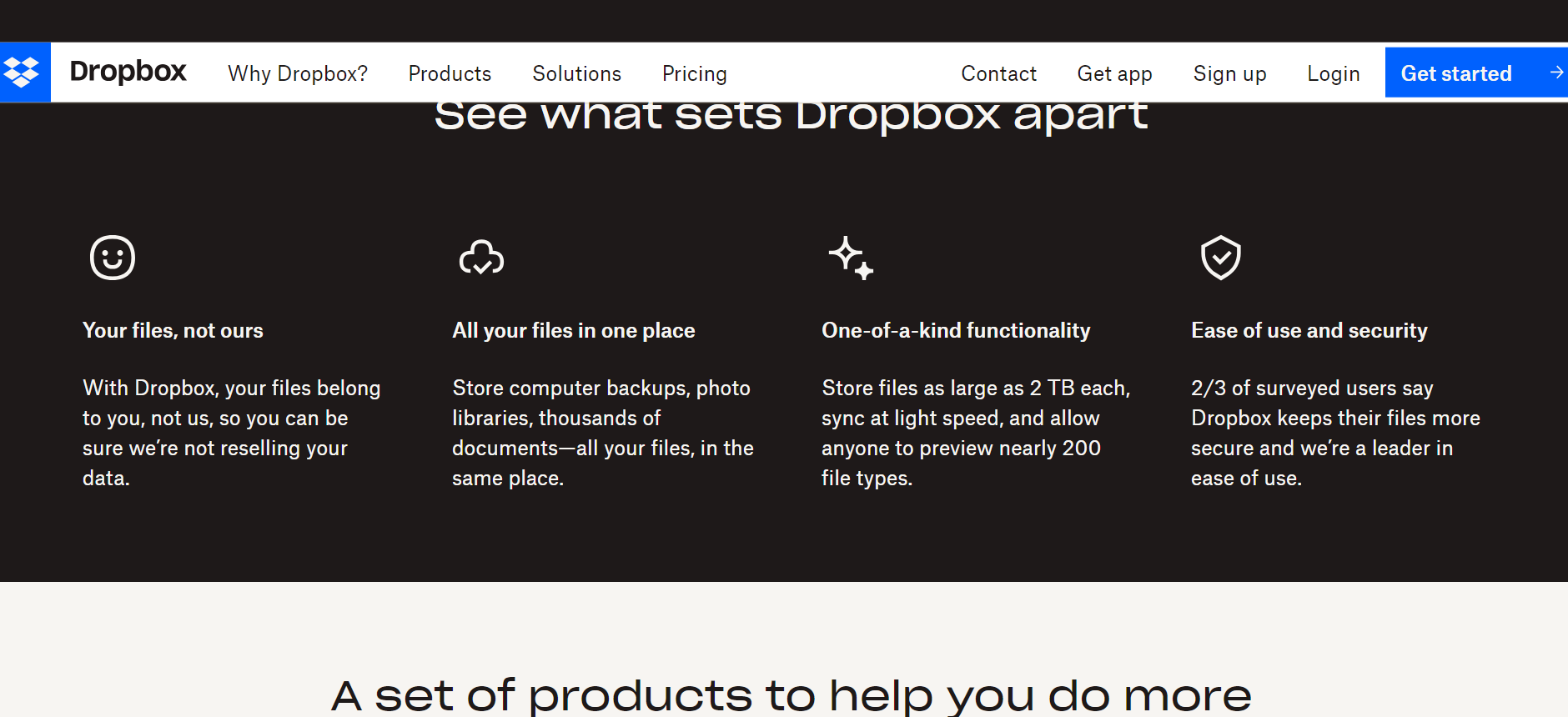 Dropbox is the best cloud storage for individuals seeking free personal cloud storage. It is among the best free cloud storage providers thanks to its free plan providing 2GB of storage, and luckily you have various opportunities to expand your space. By completing the starting guide, you can earn an additional 250MB. Referring others to Dropbox grants you 500MB per referral, with a maximum potential of 16GB.
When it comes to file sharing, Dropbox shines. It offers several features that simplify sharing large files with others, regardless of whether they use Dropbox. The collaboration tool, Dropbox Paper, facilitates seamless file sharing and enables the automatic syncing of photos through the desktop app.
One notable feature is the File Requests tool, which allows you to request that users upload files directly to your Dropbox account. Additionally, you can edit files without downloading them while working on the web client version.
In terms of security, Dropbox offers impressive measures without being exceptional. All files are encrypted at rest and during transit, but no end-to-end encryption exists. However, you can enhance account security by enabling two-factor authentication (2FA).
Pros
A low-cost and easy-to-use tool that keeps your files secure over the cloud
You can set a timeout for every download saving the bandwidth consumption
Offline mode
Third-party integrations
Collaborative features
Cons
2 GB free storage might be a tight fit
Limited third-party apps
5. Sync: Best for Confidential and Sensitive Data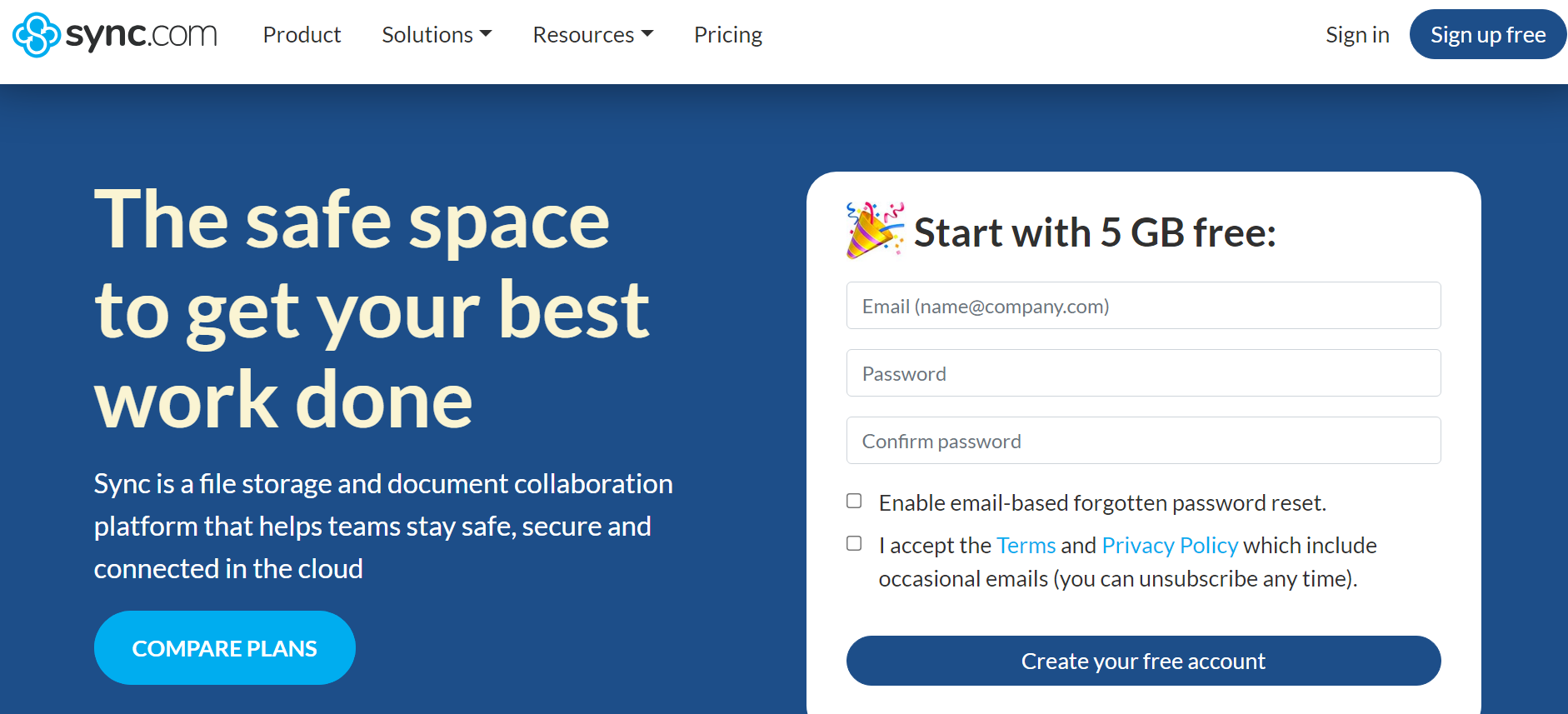 Join the ranks of over 700,000 businesses worldwide that have found their perfect file-sharing match in Sync. Considered a top-notch Dropbox alternative, Sync is praised for its lightning-fast speed. It's the ideal solution for small and mid-size companies, earning a well-deserved spot among the best.
Collaborate seamlessly with your team, even if they don't have a Sync account. Enjoy the freedom to work together efficiently while maintaining the utmost privacy for each file. Take charge by assigning user access levels, ensuring the right eyes see your files while others are limited.
Need to store files for future use? No problem. Safely tuck them away in the vault for easy access down the line. The best part? Pricing that's half the size of Dropbox and even more storage space to boot.
Pros
Web-based folded uploads
Collaboration with team folders
Password protected shares
You can complete tasks to earn more free cloud storage
Cons
Unsuitable for large files like videos
You can't pause web uploads
6. Mega: Best for Security

No better free cloud storage provider will offer reliable storage and fast transfers than Mega. For individuals seeking heightened security in their cloud storage, Mega proves to be an excellent choice. It offers a seamless user experience with exceptional main features and impressive advanced functionalities.
First, MEGA provides an impressive 20 GB of free cloud storage, offering an added layer of protection through secure end-to-end encryption, safeguarding your privacy from potential breaches. The best part is you can attain the full 20 GB without payment by completing various tasks.
A unique and exciting feature of the MEGA free storage solution is the ability to share links in a highly secure manner. Recipients are required to enter a second part of the URL, similar to a password before they can access and decrypt the shared information.
Pros
Share public folders
Allows FTP connection.
Mobile and desktop apps
Clean and modern look
Excellent security & client-side encryption.
20-40GB of free space
Open-source apps run on almost every platform
Cons
Slow to prepare files for download
Bandwidth limitations
Less plan variety than other services
It might reduce storage capacity if you don't complete achievements
7. Internxt: Best for Privacy and Security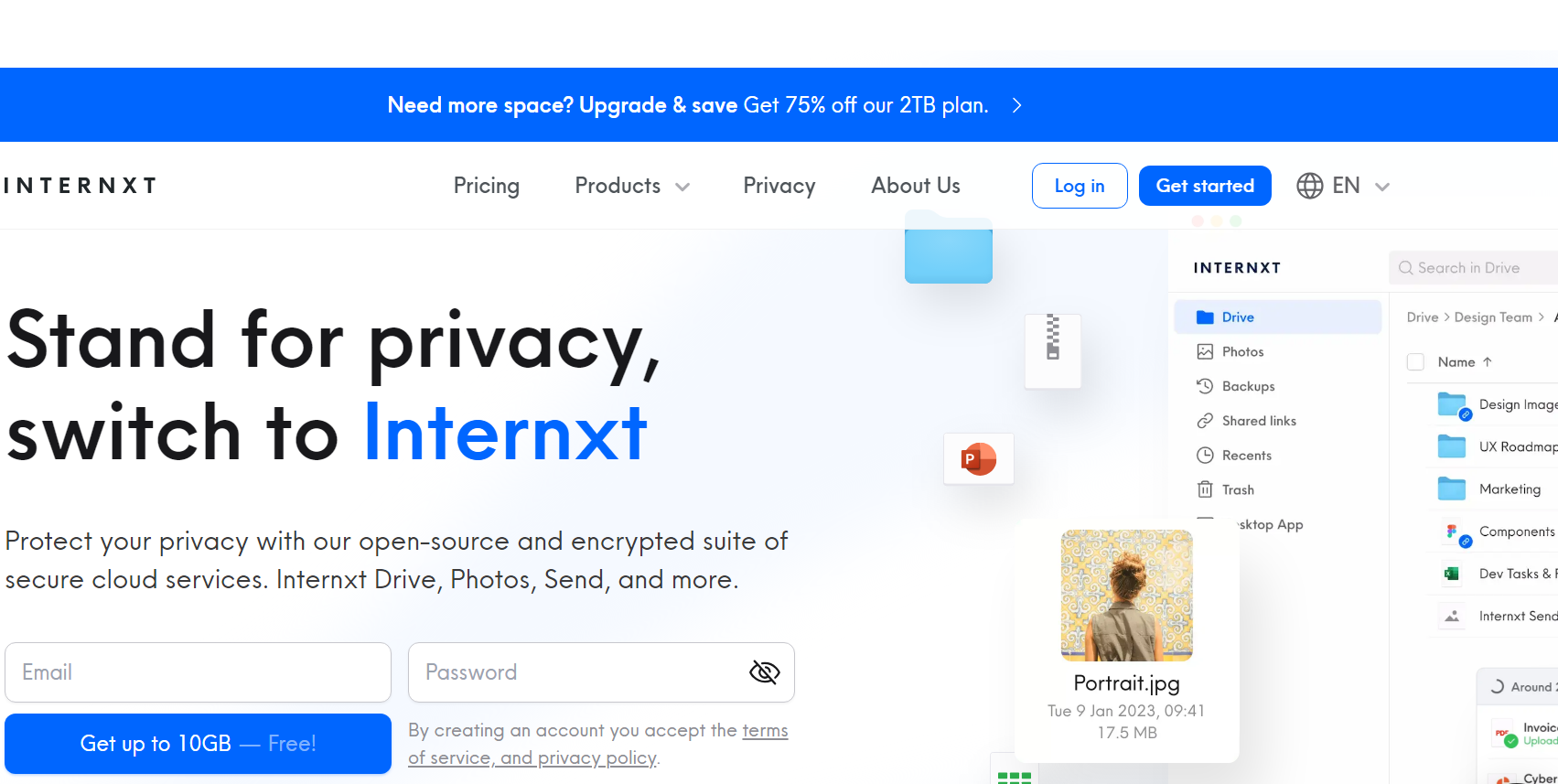 Although Internxt is relatively new but has earned a spot among the best free solutions for its speed, ease of use, and leading-edge cloud storage security. It offers a user-friendly experience with its web view, apps, and seamless integration with Windows Explorer and Mac Finder.
When it comes to security, Internxt takes measures to protect your account, starting with two-factor authentication. Where it lacks, Internxt compensates for it with an impressive array of privacy-protecting technologies. End-to-end encryption ensures the utmost privacy, as not even Internxt can access your data.
What sets Internxt apart is its commitment to transparency. The software is open-source, meaning the code is available for community inspection, reducing the likelihood of hidden vulnerabilities or backdoors.
The best part is that Internxt treats its free users fairly. While they may have limited storage, they still have access to all the same features as paying customers. No intrusive ads or essential features are locked behind paywalls for free users.
Pros
Top-notch security
Zero-knowledge encryption
Easy to use
Direct file sharing
The web app supports folder uploads.
Cons
Limited third-party integration
Lacks an SMS 2-factor authentication
8. Apple iCloud: Best for Apple users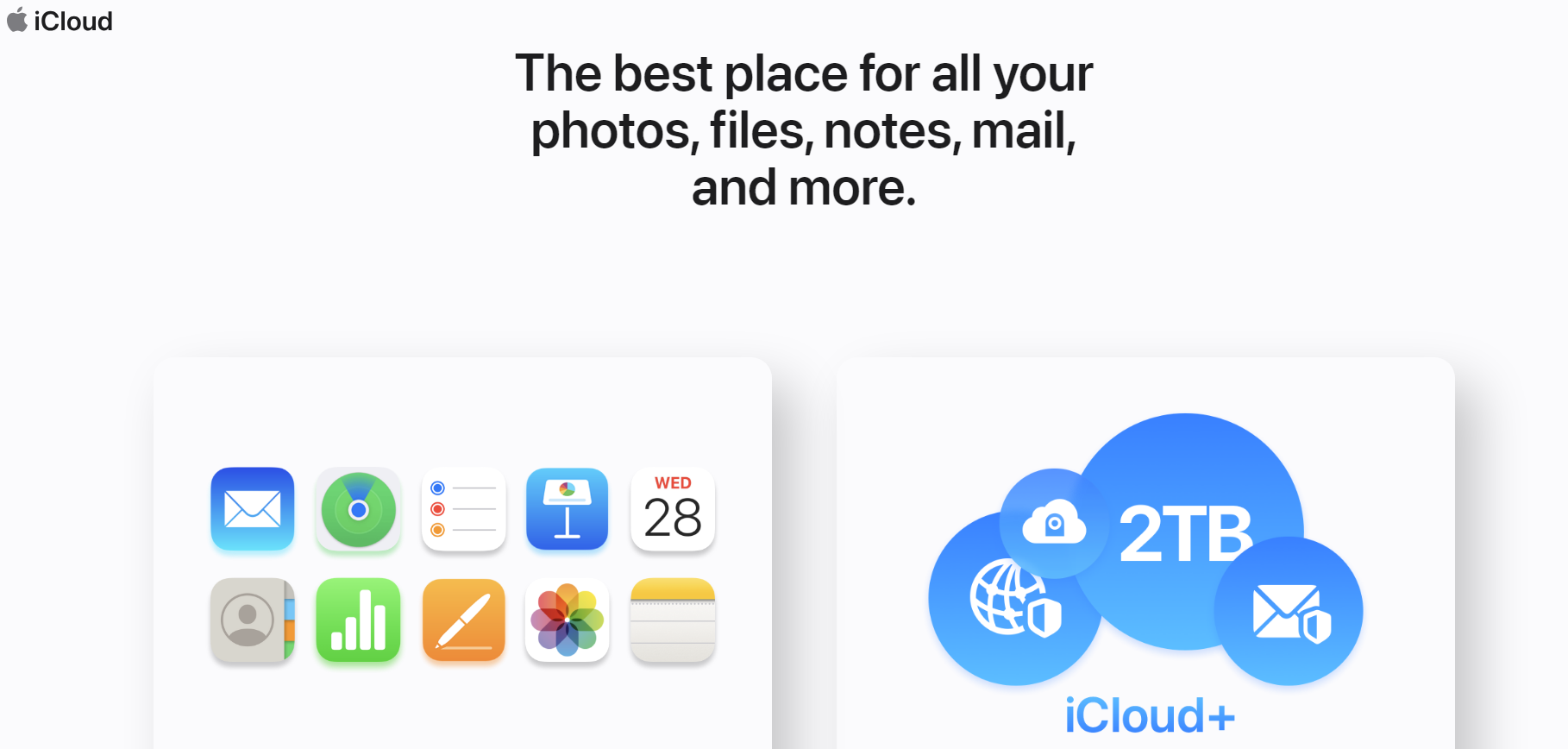 Apple's iCloud stands out as a user-friendly cloud storage service for effortlessly backing up photos, videos, contacts, calendars, documents, and notes. With seamless synchronization across iOS and Mac devices, it offers a smooth and integrated experience within the Apple ecosystem.
The 5GB, free storage allocation might seem insufficient for technical aspects, especially compared to Google's 15GB offering. Although iCloud Drive data is encrypted for enhanced security, not everything is end-to-end encrypted by default, which means Apple could theoretically access certain data.
Apple introduced Standard Data Protection, safeguarding information like Health data and iCloud Keychain passwords to protect some data with end-to-end encryption. Advanced-Data Protection, available with iOS 16.2 and macOS 13.1, extends end-to-end encryption to additional services such as iCloud Backups, Photos, and Notes.
For users heavily invested in the Apple ecosystem, iCloud performs exceptionally well. Its deep integration with MacOS allows easy access through Finder and System Preferences. Additionally, the iOS Files app offers a seamless file management experience with impressive speed and efficiency during file transfers.
Pros
Speedy transfers
Automatically syncs all your Mac content
Smooth document and photo sharing
Compatible with Windows
Cons
The main interface is not that user-friendly
Lacks email support
9. pCloud: Best Online Storage for Windows, Mac, Linux, and Music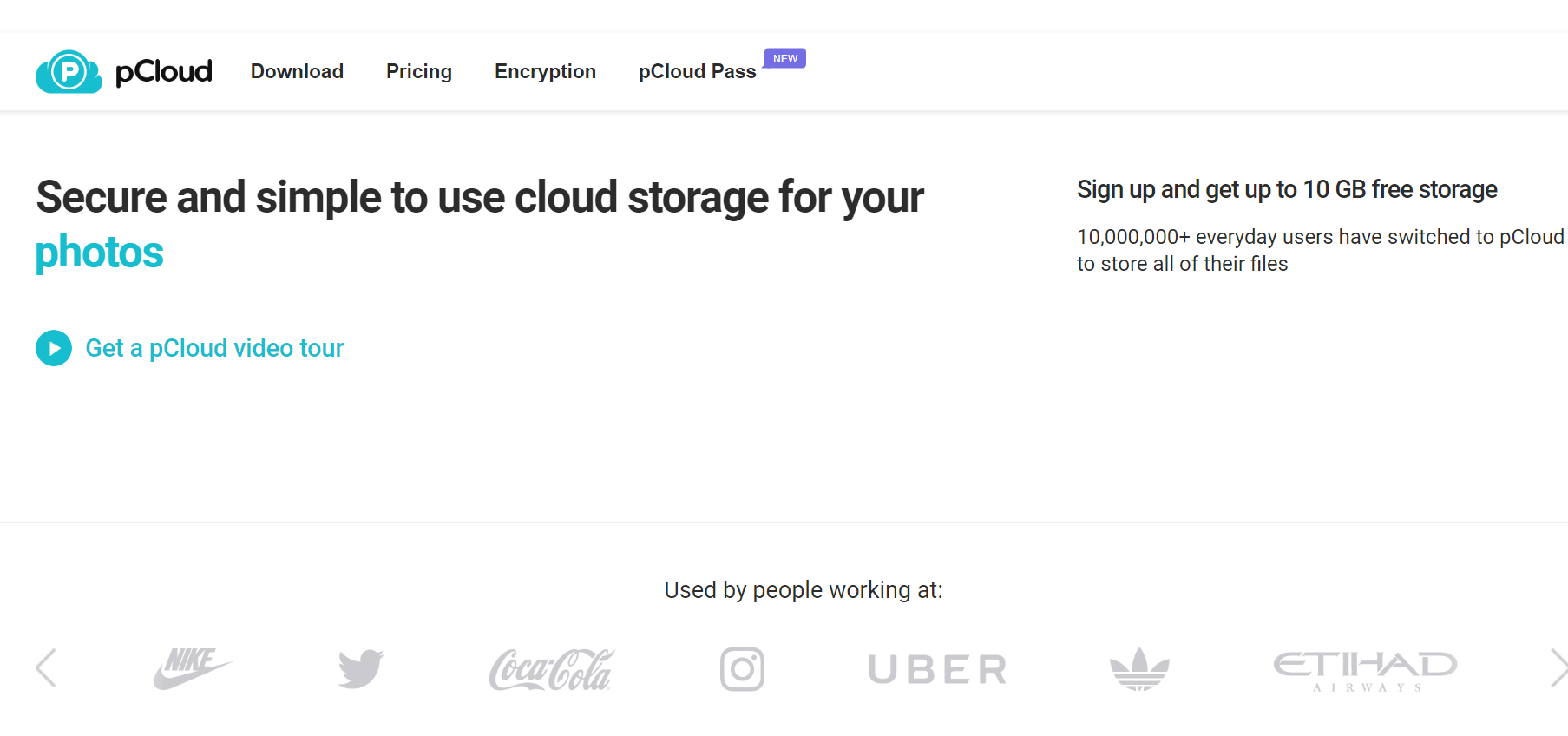 If you want a cloud storage service suitable for media files, pCloud qualifies as one of the best. With 10 GB of initial storage space, expandable up to a whopping 2 TB, pCloud offers a unique opportunity to store and manage your files. Also, pCloud rewards you for referring friends and completing simple tasks.
What sets pCloud apart is its freedom from file size limitations, allowing you to store and manage large media files effortlessly. While there are some bandwidth restrictions, pCloud is the ultimate choice for music storage.
But that's not all! pCloud features an inbuilt HD media player that takes your video experience to new heights, making it the perfect alternative for preserving your cherished home videos and enjoying your favorite TV shows.
Fortunately, the perks don't stop there! With unlimited upload speeds regardless of location, pCloud ensures blazing-fast file transfers. Take advantage of its cloud editing platform to directly resize and crop your photos, eliminating the need for any additional software downloads.
Pros
More free storage than most services
Multimedia streaming
Excellent inbuilt multimedia playback
The free forever plan offers sizeable storage
High encryption levels
No speed or file size limit
Cons
Lacks file sharing security for free accounts.
10. Amazon Drive: Best for Amazon Prime Members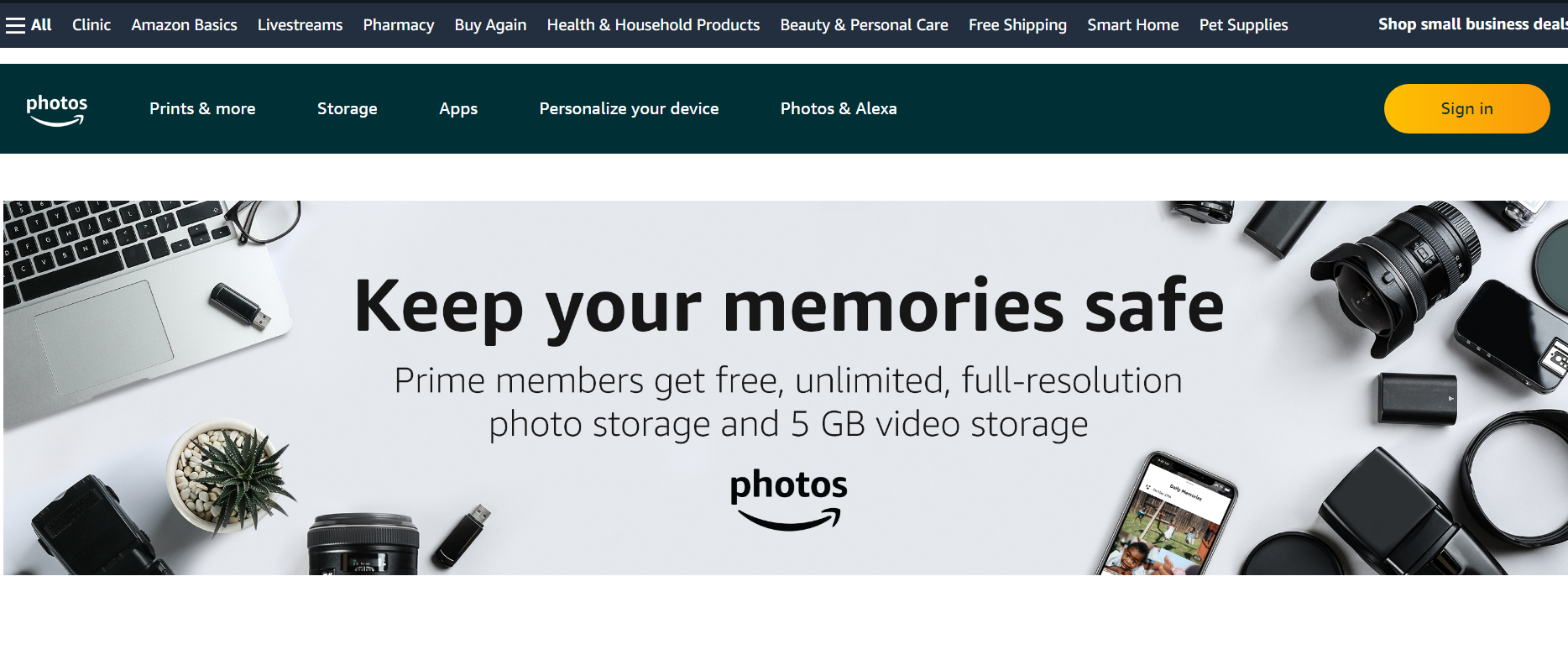 Like Google Drive, Amazon Drive offers a seamless account setup experience, as customers don't need to go through any additional steps. Amazon automatically grants all customers 5GB of free storage, and it's worth noting that this applies to all Amazon customers, not just Amazon Prime members.
However, there is a slight distinction: the basic Amazon Drive shares the same 5GB storage allocation with Amazon Photos, whereas Amazon Prime users enjoy the added benefit of unlimited photo storage in addition to the 5GB offered by Amazon Drive.
When it comes to syncing desktop files with Amazon Drive, the available tools are somewhat limited. While it provides some syncing capabilities, it may not be as comprehensive as other services.
In case you require additional storage, Amazon offers upgrade options. For $19.99 per year, you can expand your storage to 100GB or opt for the 2TB plan, priced at $119.98 per year. These options provide ample space for your storage needs.
Pros
Unlimited photo storage with Amazon Prime
Speedy backups because of Delta syncing
You can preview all your files, whether PDF, audio files, or JPEG images
Share files in email attachments, text messages, and other various apps
Cons
Its interface could use some work
Lacks password-protected file sharing
11. Mediafire: Best for Managing Digital Stuff Online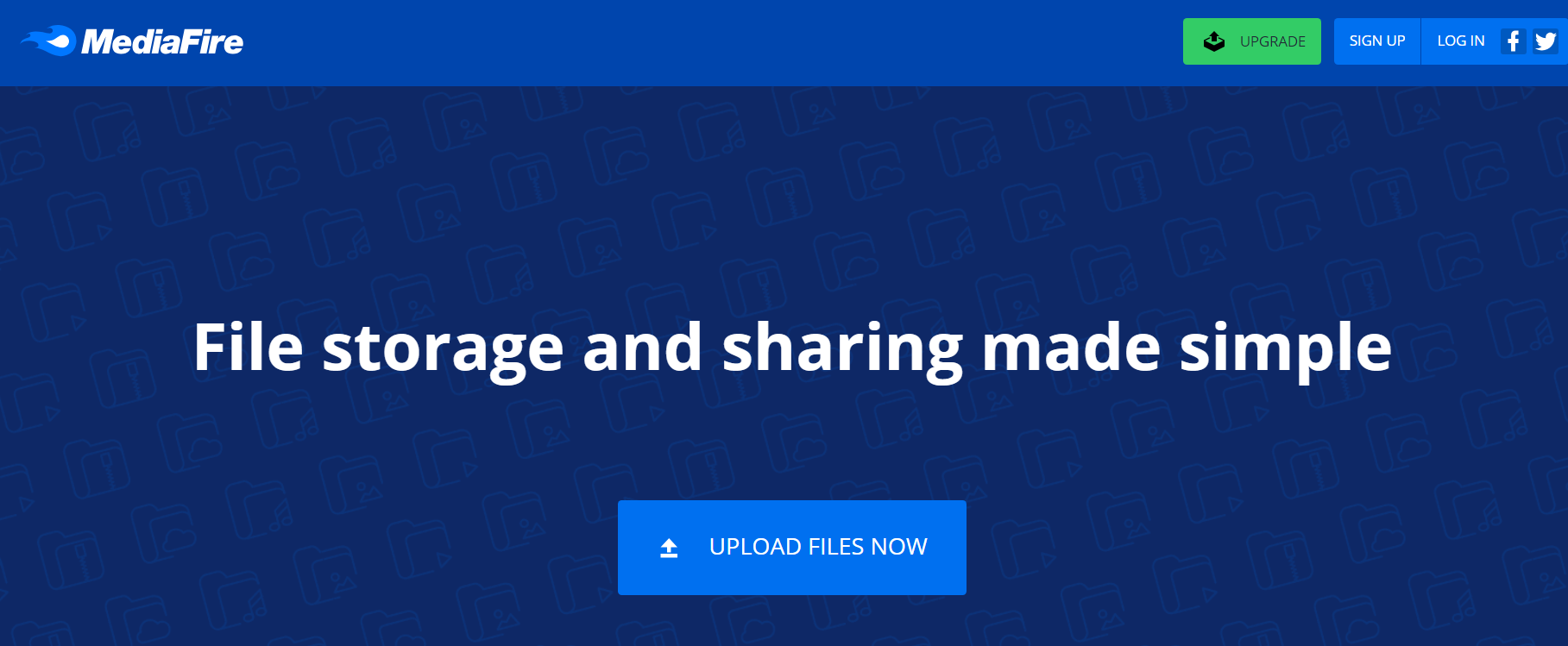 If you're still searching for an excellent free cloud storage provider for your personal needs, MediaFire is a fantastic choice. It generously offers up to 10GB of free file storage, and you can expand it to 49GB by referring friends and family to the platform.
One of the standout features of MediaFire is its user-friendly interface, making it effortless to store all your photos, files, and documents. Even better, it caters to various platforms, including Android, macOS, iOS, and Windows, ensuring seamless access across devices.
Furthermore, MediaFire excels in organization and file searching. With its compartmentalized folders for music, documents, videos, photos, and more, keeping your files in order becomes a breeze.
The platform boasts excellent download speeds and offers an ad-free experience for professionals and individuals, making it an even more enjoyable and efficient free storage solution.
Pros
You can upload large files
Excellent free storage
Offers support for guest accounts
Zero bandwidth limitations
Excellent download speeds
Cons
Ad-supported website
Account will expire after inactivity
12. Drive: Best for Personal Use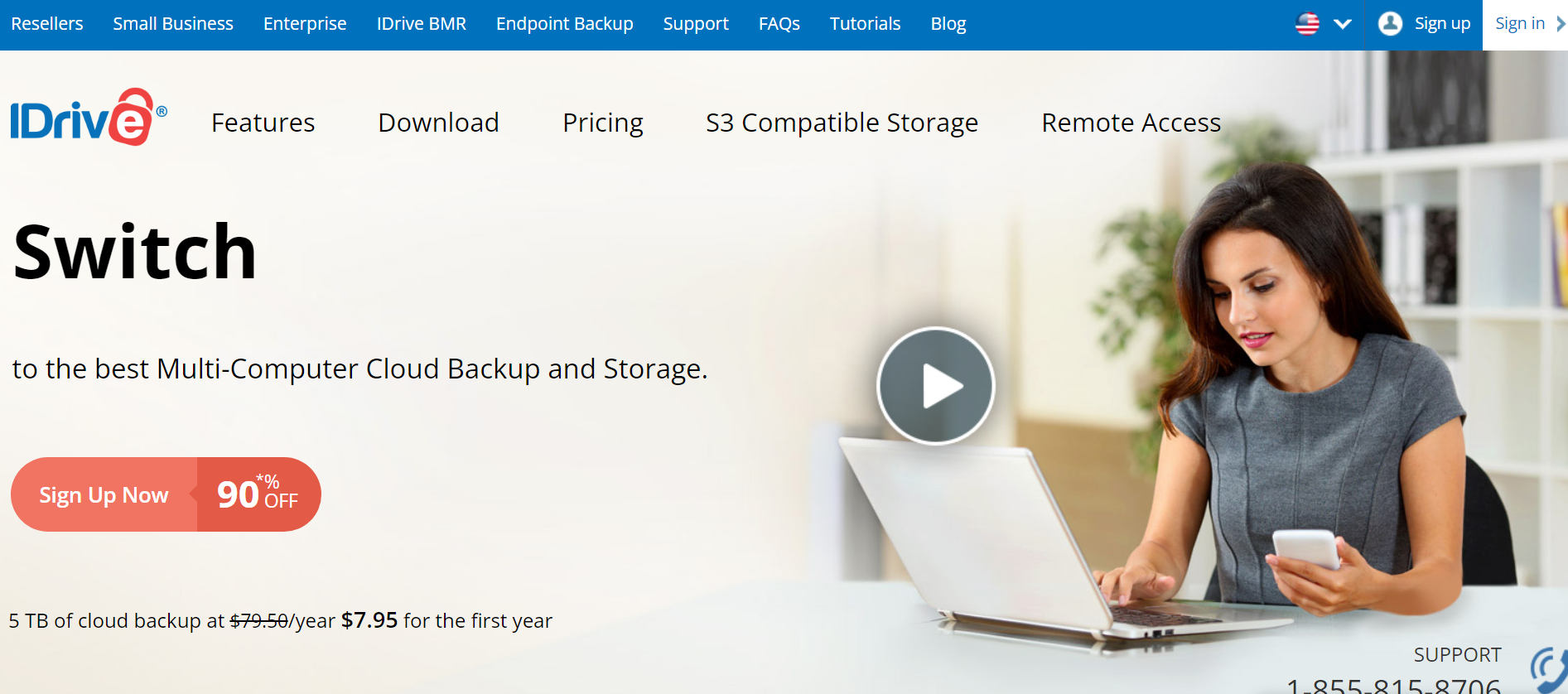 Looking for a cloud backup and storage solution that covers all your needs? Look no further than iDrive! It's not just for small businesses but also perfect for personal use and file sharing.
Unlike other services, iDrive doesn't limit you to a single computer. You can back up your Windows and macOS desktops, Android and iOS devices, and even network drives with one account. They've even got a Linux server backup option, though a desktop Linux client is currently missing. But don't worry, you can still manually upload files using their web interface.
Now, let's talk about the incredible storage options iDrive offers. With their killer deal, you can get a mind-boggling 10 Terabytes for just $75 a year. That's an unbeatable offer! I use it to back up my vast library of 1930s and '40s movies.
Pros
Online file sync usually takes place in real time
Deleted files stay in "trash" for up to 30 days
Disk image backup allows an entire drive
Both backup and cloud storage
256-bit AES encryption
Excellent desktop and mobile apps
Cons
The UI can be a bit confusing at times
Uploads and downloads can take some time
Lacks native support for Linux operating systems
13. Degoo: Best for Android and iOS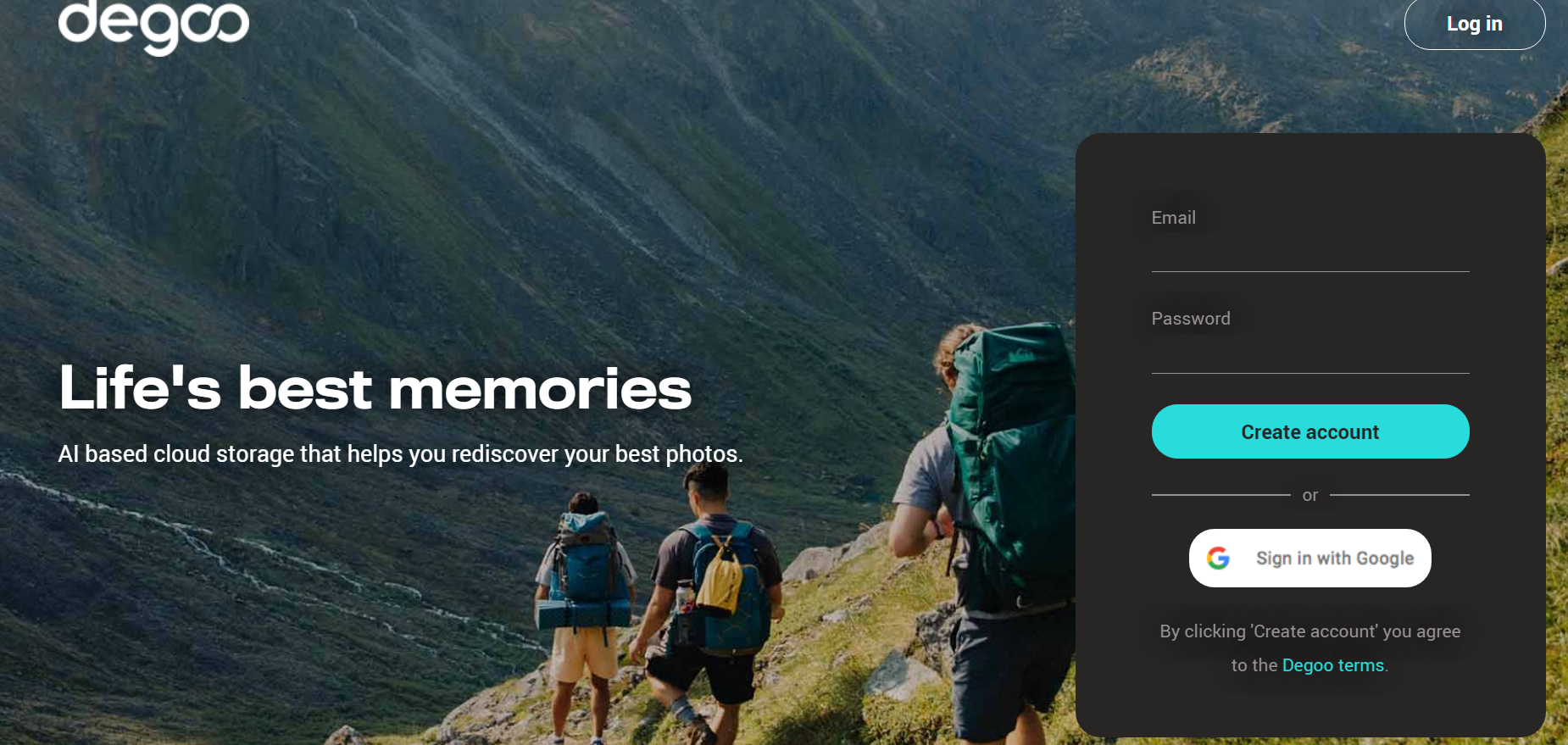 If you need the best free cloud storage for a wide range of files, look no further than Degoo. With Degoo, you can securely store various types of data, whether important business reports or cherished family photos. It is a reliable backup solution for physical files susceptible to loss or damage. It lets users enjoy the peace of mind of knowing their files are safely stored and easily accessible when needed.
Despite its benefits, Degoo falls short of being at the top of the best free cloud storage providers. Unlike services like Google Drive or Sync.com, Degoo lacks the day-to-day productivity tools that enhance user efficiency.
Additionally, it doesn't support file sharing with others and lacks file syncing functionality, which can be limiting for some users. While Degoo offers storage and backup capabilities, it may not meet the collaborative and productivity needs of those seeking more comprehensive cloud storage solutions.
Pros
Multiple ways you can earn more storage
You can connect multiple files with the same device
Great referral program
Slick and intuitive interface
Cons
Must access your account every 90 days to avoid deletion.
The website is difficult to navigate
14. Box: Best for Web Cloud Storage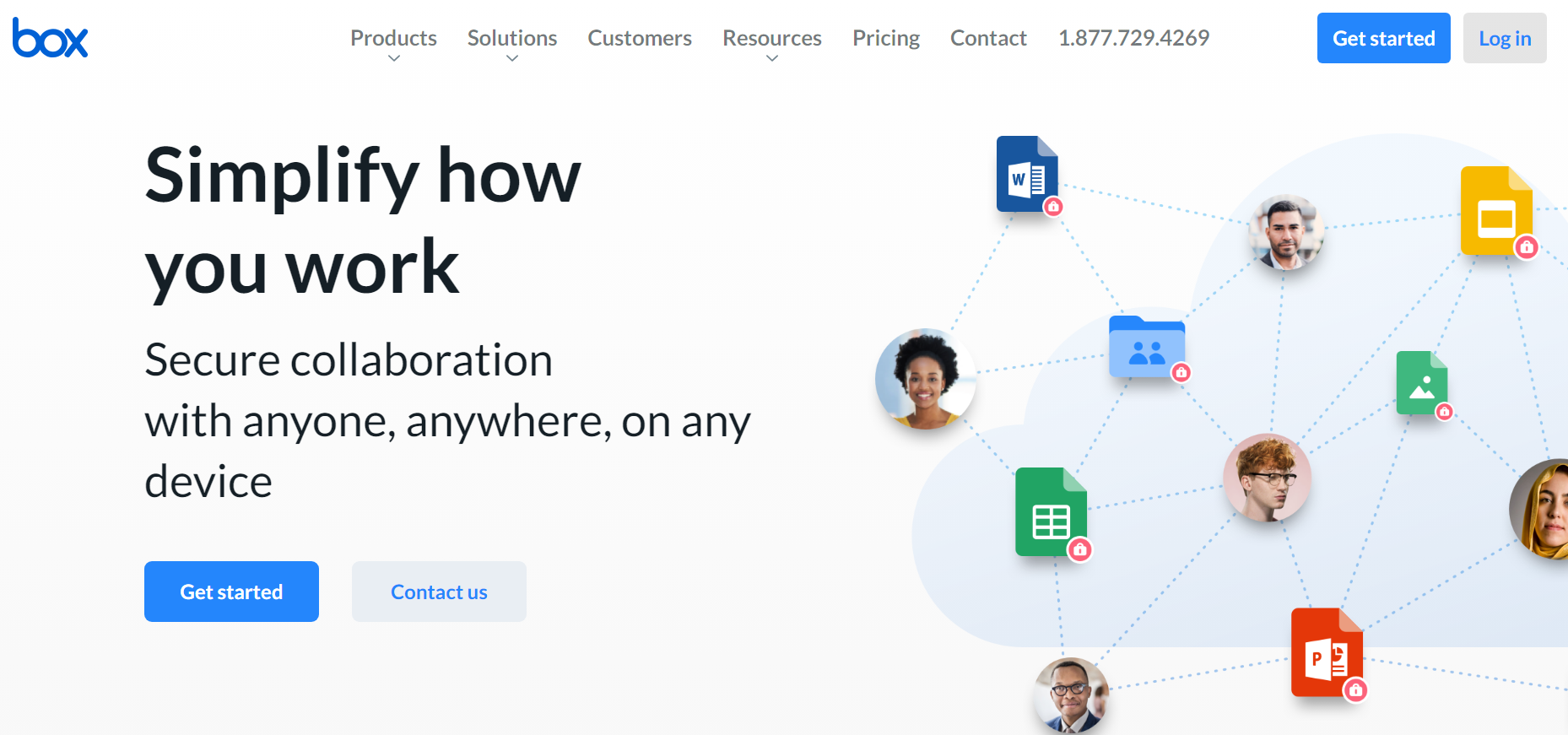 Box, a well-known cloud storage solution, earns a spot on our list mainly due to its robust business-oriented features. It seamlessly integrates with Microsoft Office 365 and Google Docs, enabling convenient access, file editing, and collaboration on the go through the Box platform.
Although Box stands out as an excellent provider of cloud storage solutions, we observed a limitation in their Free plan: the 250 MB file upload limit. While Box generously provides a substantial 10 GB of free cloud storage, the file upload limit may pose a challenge for certain businesses, as files often exceed the 250 MB threshold.
Box is a powerful free storage tool for businesses that can work within the file upload limit or are willing to invest the extra effort to overcome this constraint. Its integration with major productivity tools adds to its appeal, making it a practical choice for users seeking seamless collaboration and efficient file management.
Pros
Notes and spreadsheet integration.
Bulk file downloads
10GB free storage
Supports compliance standards such as GDPR, HIPAA, and FedRAMP
Offers SSL and at-rest security
Cons
Limits the upload file size
Lacks password-protected file sharing
15. Icedrive: Best for Virtual Devices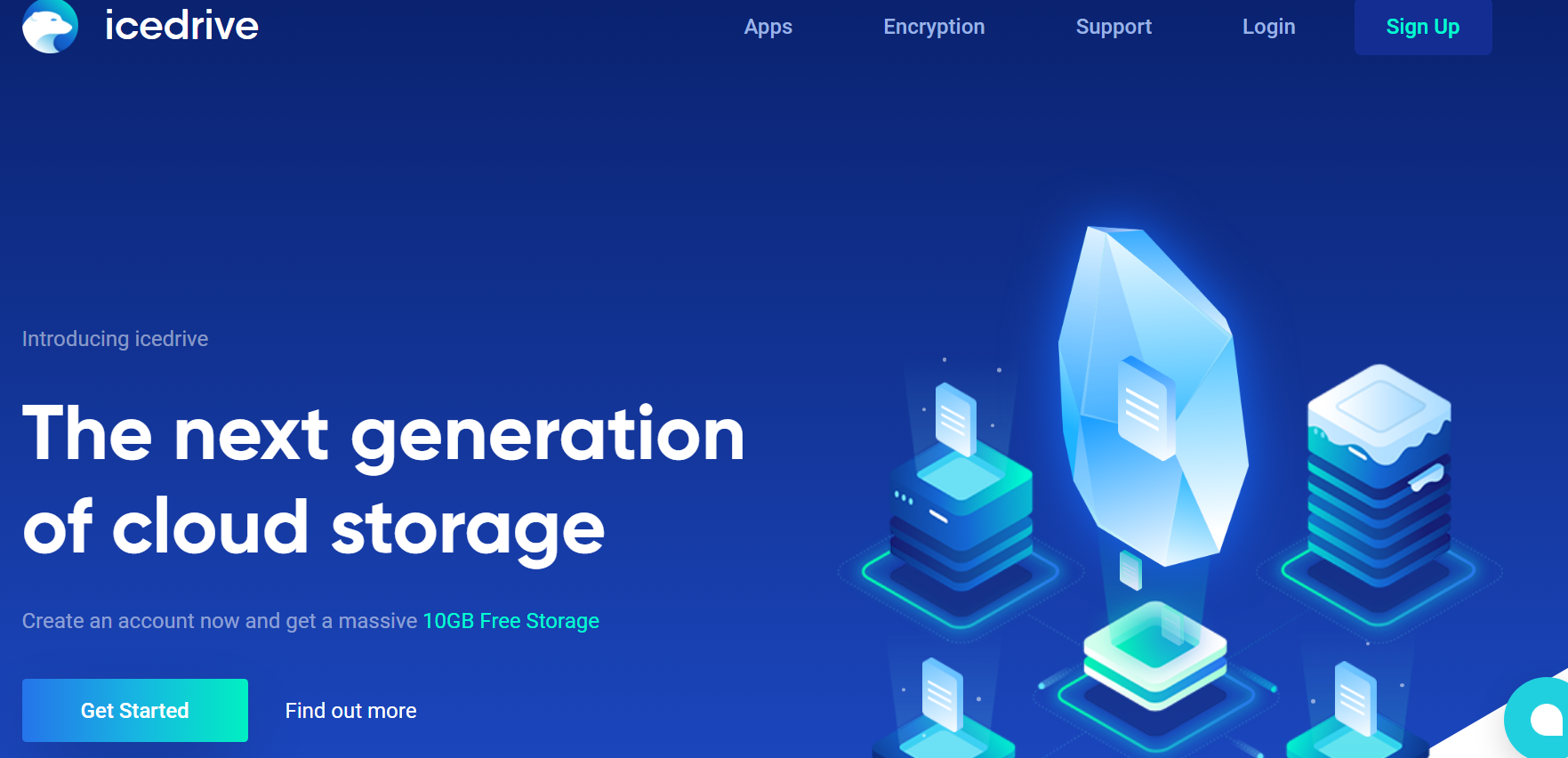 IceDrive, a relatively new player in the cloud storage arena, offers a unique approach that aims to simulate a physical hard drive experience with its innovative "drive-mounting" software. The advantage of this approach is that it doesn't consume any local device storage, ensuring seamless performance with intelligent caching for recently accessed files.
Sharing files and folders is easy on IceDrive, allowing users to generate public links or share content via email with options for passwords and expiry dates. While this sharing capability is convenient, collaborative document editing similar to Microsoft 365 or Google G Suite is not yet supported.
One significant advantage of IceDrive is its lack of file size limitations, making it an excellent choice for users dealing with large amounts of data. However, using their client app is recommended for such scenarios.
IceDrive emphasizes data security, employing the robust Twofish algorithm to safeguard user data. Paid subscribers benefit from client-side encryption, ensuring data remains encrypted on their devices before being transferred to the servers. The service also supports two-factor authentication for login security, offering options like authenticator apps or physical keys.
Pros
Plentiful bandwidth
Secure Twofish algorithm
Zero-knowledge encryption
Preview encrypted files
Password protection and share timeout
Cons
It doesn't provide integration with third-party applications
Zero-knowledge
Conclusion on the Best Free Cloud Storage Services
Since the world of cloud storage has evolved significantly, providing us with an array of exceptional options in 2023. Whether secure sharing, seamless collaboration, multimedia storage, or platform compatibility, the best free cloud storage services have indeed arrived to meet the diverse demands of digital nomads and creative teams.
With these powerful tools at our disposal, the days of "Storage Space Tetris" are finally behind us. Embrace the convenience and efficiency of free cloud storage and safeguard your precious memories and critical files effortlessly in one convenient location.