What are the words to describe where creativity meets engagement and storytelling meets the power of visuals? Explainer videos! These content pieces can serve various purposes and, when made correctly, engage and entertain viewers in ways other content types can't.
To start, you will need extraordinary explainer video examples to spark your imagination and fuel your video-making endeavors. We have covered ten remarkable examples of explainer videos that have left a lasting impact, capturing the hearts and minds of viewers across diverse industries. But it doesn't end there; we'll also guide you through creating your own compelling explainer videos.
From defining your objectives to selecting the right animation style, scripting a captivating story, and captivating your target audience, we'll provide you with the tools and know-how to bring your vision to life. You'll gain the knowledge and tools to make your own remarkable explainer videos without hiring an expensive video production company. Let's dive in!
What is an Explainer Video?‍
To ensure that we're on the same page, for this article, we'll define an explainer video as any video (live-action or animated) that engages viewers and effectively explains a topic quickly and compellingly. A few years ago, animated whiteboard explainer videos were the trend, and lately, the trend has been a mix of live-action and animated motion graphics.
Admittedly, that's a broad definition. But that's the beauty of explainer videos! They are very versatile and can be used in a variety of ways and for a variety of different purposes. But all good explainer videos share these traits in common:
Short: While exceptions to this rule exist, short explainer videos perform best. The attention spans of online audiences are not extended. The best explainer videos get their points across quickly.
Focused: To keep an explainer video short and sweet, they should be focused on just one topic that viewers care about. For example, you could create multiple short videos for each feature rather than one massive interactive product tour video.
Engaging: Lastly, a quality explainer video should be engaging. If it's not, what's the point of video creation? There are plenty of ways to increase engagement. We'll talk about them later in this article. For now, know that engagement is key.
The potential benefits of explainer videos for your company are numerous and include increased conversions, boosted online visibility, and better brand awareness.
Types of Explainer Videos
There are four main types of explainer videos that you need to be aware of how-to videos, benefits videos, demo videos, and FAQ videos. Let's take a closer look at each of these.
a). How To Videos
How-to videos are a classic type of explainer video that aims to simplify complex topics or demonstrate step-by-step instructions on accomplishing a specific task. They provide clear guidance and help viewers learn new skills or solve problems. How-to videos often use a combination of visuals, voice-over narration, and on-screen demonstrations to make the instructions easy to follow.
b). Benefits Videos
Benefits videos are persuasive explainer videos highlighting the advantages and value that customers can gain from a product or service. They go beyond describing product features and emphasize their positive impact on the audience's lives or businesses. Benefits videos often use storytelling techniques, testimonials, and captivating visuals to convey compelling and relatable benefits.
c). Demo Videos
Demo videos offer viewers a detailed look at a product, process, or service. They showcase how the offering works, its key features, and its potential applications. Demo videos provide a hands-on experience virtually, allowing viewers to see the product in action and understand its functionalities. These videos often combine screen recordings, product shots, and explanatory narration to provide an informative and engaging demonstration.
d). FAQ Videos
FAQ (Frequently Asked Questions) videos address common queries or concerns that customers may have about a product, service, or topic. They provide concise and informative answers to frequently asked questions engagingly. FAQ videos can cover various topics, such as product specifications, troubleshooting, or general industry knowledge. They are designed to save time for both the audience and the business by addressing common inquiries upfront.
In all likelihood, the explainer videos you create will fall into one of these categories. If you do happen to create custom explainer videos of a different nature, the above rules still apply. Do your best to keep them short, focused, and engaging.
How to Create an Amazing Explainer Video‍ Step-by-Step
No matter which of the above four explainer videos you create, the following five steps will help ensure you get effective and professional marketing videos.
1. Define Your Video's Purpose
Almost every good explainer video starts with this question: what am I trying to achieve? Do you plan to embed it on a landing page in the hopes that it boosts conversions? Will you distribute it internally as a way to train new hires? Maybe you plan to post it on social media.
Explainer videos work for all of these purposes. You have to determine what your goals are at the very beginning so that you can adequately craft your video script. Speaking of scripts…
2. Write Your Video Script
This is arguably the most essential part of your explainer video. Without a quality script, you don't have anything. If you've ever gone to the theater and seen a big-budget Hollywood blockbuster full of top acting talent and special effects, only to leave disappointed afterward, you know this to be true.
Special effects and quality voice-overs won't be able to hide a subpar explainer video script. Fortunately, if you apply these tips to your videos, you won't have to hide anything! Here are two bulletproof script templates you can use:
To Sell a Product or Service
The Overview: Give your viewers a quick overview of your product. Briefly describe what it does and how it works.
The Problem: Next, introduce the problem that your product solves. For example, if you were creating an explainer video to sell an affordable gym membership, you might start this section by asking, "Are you tired of paying $100 a month to work out?"
The Solution: It's time to position your product as the solution to the problem you mentioned in the previous section. "Well, now you don't have to! Our gym memberships only cost $20 monthly, including 24/7 access, free group classes, and a sauna."
The Call to Action: At this point in the video, it's time to ask your viewer to do something — purchase a product, sign up for a free trial, etc.
Credibility Boosters: Finally, you'll want to include some credibility boosters to let viewers know your product can be trusted. Well-known clients you have, awards you've won, or sparkling reviews all work.
But what if your goal isn't to sell but to educate? This script can be modified for in-house training videos as well that explain company processes:
To Explain a Process
The Overview: Quickly explain what you'll be teaching viewers. Is it a company process? Are you sharing the code of conduct principles? Let viewers know at the start.
The Problem: Briefly explain why the viewer needs to know this information. For example, "We developed this workflow because too many errors were made on the warehouse floor. These errors resulted in thousands of lost dollars."
The Solution: It's time to explain the process, workflow, code of conduct principles, etc., you must share with viewers. "First, unpack new shipments and place the contents of the boxes in the loading bay. Second…"
Credibility Boosters: At this point in the video, you can share any results or successes your company has achieved because of the new process, workflow, etc., that your explainer video educates viewers on. "Since we began implementing this workflow, mistakes have decreased by 85%."
The Call to Action: What do you want viewers to do next? Should they watch another video? Fill out a form. Something else? If you have any further directions for viewers, state them at this point in your explainer video.
These scripts can probably be adapted for other purposes as well. The key is to get creative and structure your video in a way that makes sense. As long as your explainer videos are short, focused, and engaging (as mentioned earlier), you should be fine.
3. Choose the Right Explainer Video Software
At this point, you should know what the purpose of your explainer video is and have written a quality script for it. Now it's time actually to start shooting your video!
There are A LOT of ways to do this. For instance, you could grab your smartphone and shoot a quick video of yourself in your backyard explaining the benefits of your company's product. You could then upload the footage to YouTube and hope for the best.
Or you could take a more professional approach (recommended!) and use a software program to help craft a beautiful explainer video. You worked hard on the script, right? You might as well get the rest of your video right as well.
The explainer video software you use will depend on whether you want to craft an animated or live-action video. Let's look at the software for each.
a). Live-Action Explainer Videos
If you want to create videos that demo a product or show your audience how to do something with your product or software, a live-action explainer video is your best bet. These two explainer video software tools will help you get the job done.
i). Zight (formerly CloudApp)
The Zight platform allows users to easily record their screens or themselves (via a webcam) and turn the recordings into top-notch explainer videos. Give potential customers a quick walk-through of your company's software. Or record yourself explaining proper procedures for business training materials.
When the video clips have been shot, you can edit them with annotations to quickly make your points clear to viewers and share them internally or online. Consider using what significant companies like Uber, Salesforce, and Adobe use for live-action explainer videos – and that's Zight.
ii). Video Editors
Another option is to create videos on your smartphone or camera and then upload the video content to video editing software. There are plenty on the market, including both professional and expensive applications like Final Cut Pro and Adobe Premiere Pro and free tools like Movie Maker Online.
These professional video apps generally require advanced video editing knowledge and may not be the best option for complete beginners. However, investing time and money into one of these tools can produce amazing results!
b). Animated Explainer Videos
Animated explainer videos are fun and can help a company stand out from competitors. An animated video is also a great option if you and your team aren't comfortable being on camera. Here are the best explainer video software apps for making animated explainer videos:‍
When it comes to strictly animated explainer video makers, Animaker is hard to beat. The platform's drag-and-drop interface is very easy to use and comes with plenty of characters, graphics, and effects to create with. After making them on this explainer video maker, users can upload their masterpieces directly to Facebook and YouTube.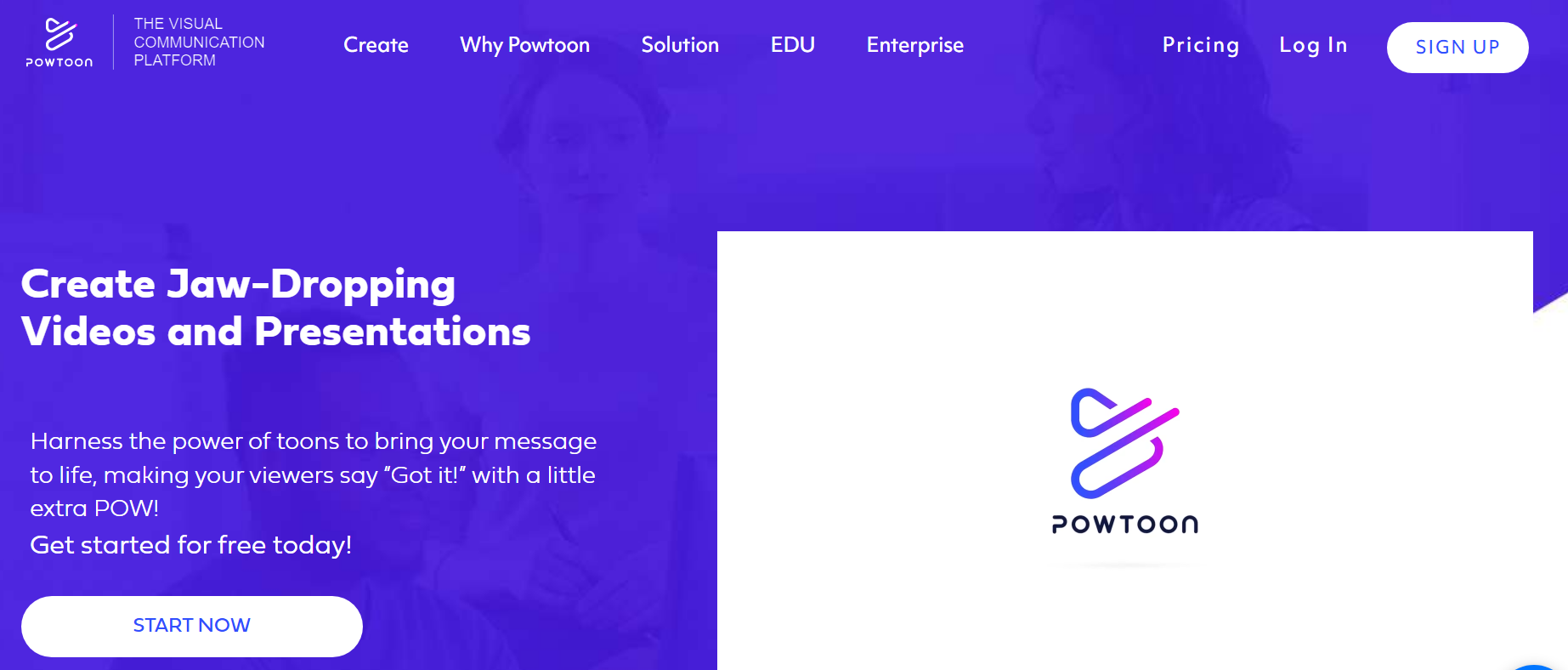 PowToon, like Animaker, is an explainer video software that gives users all the tools to make engaging animated videos. But PowToon doesn't stop there. Users can also make live-action videos by uploading video clips of real human beings. Once the visuals are right, creators can dig into PowToon's media library to add royalty-free music.
Biteable is similar to PowToon because users can create fully animated, fully live-action, or combination videos. What sets Biteable apart is its professionally designed video templates. Not an artist? No problem! Simply choose video templates for Biteable's library, drag and drop to add extra elements like your own text, and you have an explainer video ready for the spotlight.
4. Make Your Video Engaging
Once the main footage for your explainer video has been shot (or animated), it's time to add a few engagement elements to help your final product stand out.
a). Record a Quality Voice Over
This is especially important if you're working on an animated explainer video. Without a quality voice-over, your video will be a collection of graphics, text, and background music — which can work well and is generally cost-effective.
But a great voice-over will help engage your viewers. There are a couple of ways you can get one:
Record it Yourself: Do you or one of your team members have a radio-ready voice? Record it and sync it to your entire video. Try to get as clear a signal as you can and ensure that there isn't any background noise.
Hire Someone Else: Not confident in your voice-over abilities? Plenty of people online would be happy to record themselves speaking your script. You can find them on Fiverr or Voices.
b). Add Music and Sound Effects
You'll have difficulty getting anyone to watch your explainer video without music and the proper sound effects. Fortunately, adding these elements to your creations is pretty simple. Plenty of sites offer access to cheap and free royalty-free music.
Checkout: Free Sound, Audio Jungle, and YouTube. If none of these sites have what you're looking for, take to Google. Remember to read the fine print before using any audio in your explainer videos.
Pro Tip: Tools like Biteable (mentioned earlier) usually have a library of royalty-free music available to use.
5. Distribute Your Explainer Video‍
Congratulations, your explainer video is done! Now it's time to market and distribute your masterpiece to the world. So upload it to your company's website, share it on YouTube and Facebook, or add it to your internal training library. Use the video for its intended use.
But don't forget to measure its performance! If your explainer video was created for the public, measure engagement (views, watch time, click-throughs, etc.) and assess what's working well and what isn't. You can use this information to either improve your current video or to help you create more effective videos in the future.
If your explainer video was created for internal use (i.e., it's a training video, for example), get feedback from your viewers. Does it convey information? Is there anything you can do to improve the video? Again, use this information to make any necessary changes.
10 Excellent Explainer Video Examples
Now that you know what explainer videos are and are familiar with explainer video software tools, it's time to take your understanding to the next level! Let's explore ten excellent explainer video examples that will inspire and guide you in creating your own explainer video.
The following explainer videos are some of the best we've seen. Watch them, study them, and use them to inspire your creations.
1. Dollar Shave Club
This explainer video is hilarious and perfectly crafted for the Dollar Shave Club target audience. The video creators also did a great job structuring their scripts. The explainer video example starts with a product overview, addresses the problem the product solves, and then positions its offering as the ideal solution.
2. Crazy Egg
The Crazy Egg explainer video follows a unique style where a single character interacts with different sections visually representing the voice-over content. The video maintains a balanced movement level to keep the viewer engaged. With a touch of humor, the character adds a fun element, while the vintage aesthetics of the animation style create a distinct visual appeal.
This explainer video is from Unroll.Me is short and sweet. It does a great job of exacerbating the problem Unroll.Me solves, and because it features actual users (at least that's what the viewer is led to believe), it seems very credible.
4. Visme
This 3D animated explainer video by Visme takes viewers on a captivating journey through its digital environment, showcasing design, creation, and human interaction. The explainer video example embodies a distinct brand character and reflects the hard work and pride of the team behind it.
5. Vntana
The explainer video for Vntana is an impressive combination of 3D designs and live-action videos. It showcases their specialization in optimizing 3D technology in design, which aligns perfectly with their business objectives. By skillfully blending 3D and 2D elements, the video effectively emphasizes their solutions' unique visual appeal and capabilities.
The video takes viewers on a captivating journey through Vntana's digital world, where they demonstrate the seamless integration of 3D designs and live-action footage. Incorporating 2D elements adds depth and contrast, making the stunning 3D visuals stand out. Through engaging animated storytelling, it showcases the innovative ways Vntana leverages 3D technology to enhance the design process and create amazing explainer videos that give immersive experiences.
With meticulous attention to detail and impressive execution, the Vntana 3D explainer video effectively communicates the company's expertise. It leaves viewers with a clear understanding of their value to the industry.
6. PooPourri
PooPourri succeeds for similar reasons as Dollar Shave Club, leading to some stylistic similarities between their explainer videos. While PooPourri's video primarily uses live-action, it cleverly incorporates animation to demonstrate the workings of its product with a touch of humor (avoiding the need for explicit live-action scenes). This is a good explainer video since it concludes with a prominent green button urging viewers to take action.
It's essential to note that replicating PooPourri's humor may be challenging for most businesses, as a more subtle approach often works better. PooPourri's outrageous product aligns with their equally bold humor, but a more toned-down approach might suit other businesses better.
7. Spotify
Spotify effectively utilizes fun animated explainer videos and a rockin' soundtrack to promote its digital music service. The animated explainer video exemplifies their style and aligns perfectly with the Spotify design, making viewers instantly familiar with it.
The video's fast-paced cutting and live music keep the audience engaged, while the color scheme adds to the visual appeal. Instead of overcomplicating things, Spotify's explainer video keeps it simple, relying on the power of animation, music, and concise text to convey their passion for music and create an excellent user experience.
8. Mint
Mint's animated video is a prime example of how animation can be more advantageous than a live-action explainer video for certain businesses. Through animation, Mint effectively showcases how it consolidates financial information from various aspects of a user's life into a user-friendly interface. The animated video also incorporates screenshots of the actual product, familiarizing viewers with its design and layout.
9. Slack
The explainer video for Slack begins with a compelling clip featuring the CEO and founder discussing how Slack's channels can effectively replace email communication. The video then seamlessly transitions into a series of simple yet engaging animations that vividly illustrate the shortcomings of email and demonstrate how Slack can provide a solution.
Two examples from the industrial sector are highlighted in the last part of the explainer video. Explainer videos in this industry often have unique requirements to showcase complex processes and tangible products. To make these examples more captivating, skilled designers transform the actual products into animated elements, adding an attractive visual appeal to the video.
By combining live-action footage with animated sequences, the Slack video effectively communicates the advantages of using Slack as an email alternative. The visual storytelling and dynamic animations help viewers grasp the concept quickly and understand how Slack can streamline communication and enhance productivity in various industries.
10. BaaS
This innovative explainer video takes a futuristic approach, deviating from the conventional linear animated illustrations commonly found in similar videos. The explainer video incorporates glowing lines against a captivating dark background to effectively communicate Build as a Business.
Incorporating gradients adds a distinctive and aesthetically pleasing touch, enhancing the overall visual appeal of the video.
Craft a Winning Explainer Video Today‍
With this knowledge, you have all the tools to create exceptional explainer videos that propel your company to new heights! Remember the three "golden" rules: keep it short, stay focused, and captivate your audience. By following these principles, success is guaranteed. Best of luck with your own explainer video!
Ready to bring your ideas to life with engaging live-action explainer videos? Take advantage of a free trial of Zight and unlock a world of incredible features, including screen recording, GIF creation, and image annotation. It's everything you need to craft business-boosting explainer videos. Sign up now and unleash your creativity!
Editor's note: This article was first published in June 2019 but has been updated for comprehensiveness.