Traditional methods fall short in a business world that demands clarity and efficiency. Also, as visual creatures, we thrive on effective communication, and that's where the best free screen capture software tools come into play. Forget complicated processes and expensive solutions. These software tools are within your reach, offering intuitive interfaces and advanced features without breaking the bank.
Dive in as we cover the ten best tools that bring clarity and efficiency to your team collaboration. Capture your screen effortlessly, share ideas visually, and watch productivity soar. With these tools in your arsenal, you'll revolutionize your communication, leaving no room for misunderstandings.
1. The Best Free Screen Capture Software: Zight (Formerly Cloudapp)
Zight is a premier tool that provides many video and image capture options. The most popular feature is its screen recorder.
You can capture everything on your screen in HD video, whether scrolling the page, clicking links, or moving from tab to tab in your web browser. Zight records uninterrupted video. Plus, you can record your webcam, either exclusively or simultaneously capturing video, while recording your screen to personalize and narrate your recordings.
Zight lets you sign up and create a free account where your videos and images will automatically be saved. It also generates an easy-to-share link instantly copied to your clipboard for fast sharing and collaboration after your recording ends.
Zight doesn't require any browser extensions. It doesn't have limits on file storage. And you get all of its features at no cost.
You can create HD GIFs or screen snippets instead of videos for repeatable walkthroughs and tutorials. You also can annotate images and videos for added clarity, even blurring out parts of your recording for extra privacy and security. In addition, you can add call-to-action buttons to get viewers to take the next step.
To highlight certain details, you can add circles, arrows, lines, drawings, and emojis to your recordings and screenshots. After you're finished recording your screen, you can easily share a link with your team or drag and drop the file into any collaboration app, social media platform, and more.
Not only do you get all the top features of expensive screen capture tools for free… But Zight makes team collaboration more accessible than any other option.
Pros
Works with Mac, Windows, Chrome, and iOS
Ability to create screen captures, screenshots, GIF creation, and annotations
Automatic share link generation
Video transcription and other advanced screen capture features
Many enterprise features including SOC2 integration, custom branding, SSO & more
Integrations with Zendesk, Slack, Zapier, Asana, Google Suite & more
Cons
Monthly subscription instead of a one-time licensing fee
Other Free Screen Capture Software Tools To Consider
Now that you know the best screen capture software, it's time to check out other screen capture options you can consider. They include:
2. Debut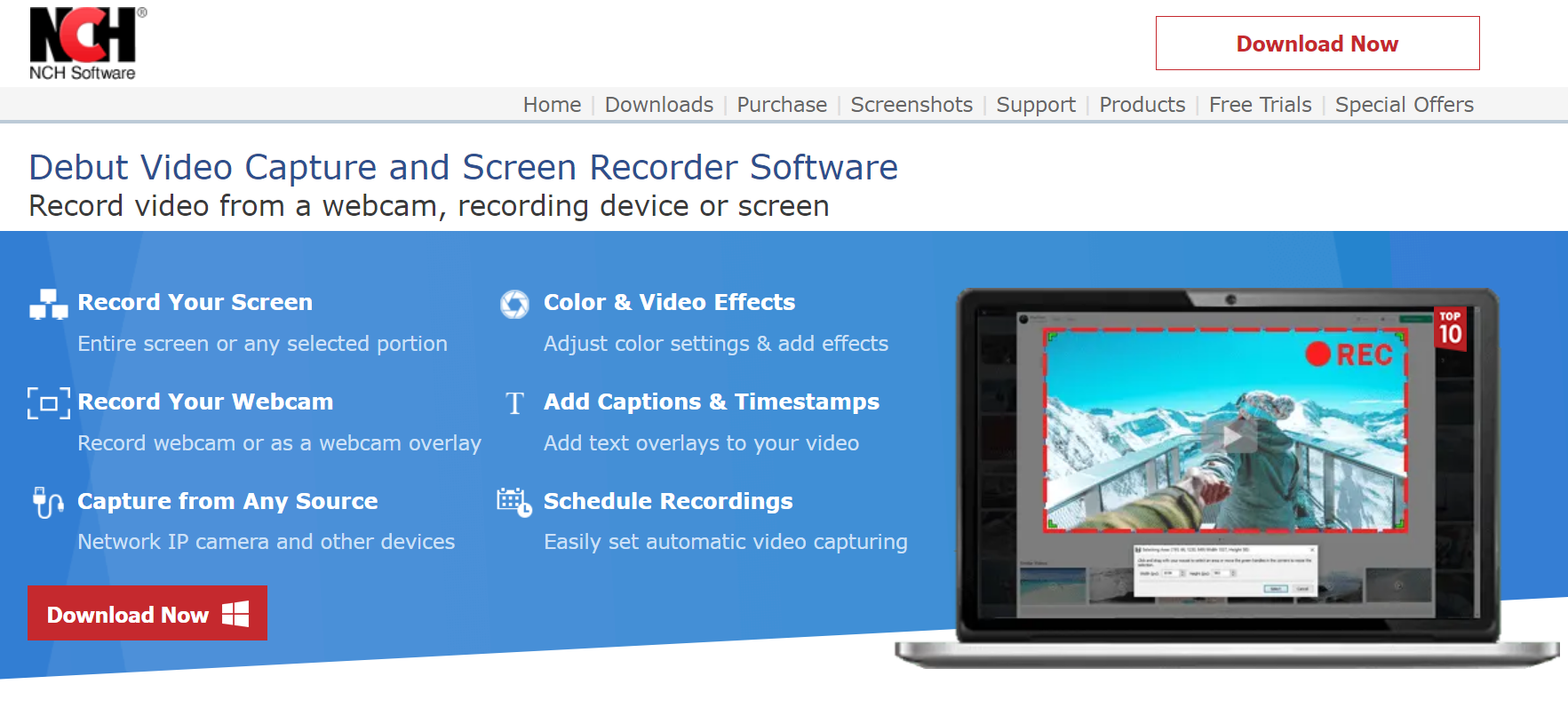 Debut is a top tool with many features. Many other best screen capture software options set severe restrictions on use, force you to have watermarks on what you capture, and even sometimes bundle junk software with your download.
Debut Video Capture eliminates many restrictions and provides a better screen capture experience. You can use it to capture your screen, webcam, or other connected devices, such as security cameras.
You can capture the entire display, a selected window, or a custom region you choose for recordings. You can show or hide your mouse cursor. Debut even lets you highlight your cursor when you click on something, which is helpful if you're recording a demo or tutorial.
Debut screen recorder allows you to record audio from your PC screen (like in a video), externally from a microphone, or both, giving you plenty of flexibility. You can also execute a webcam overlay, recording your screen and your face on a webcam simultaneously.
While Debut doesn't offer video editing tools for the video you create, you can adjust color settings and certain effects that can be applied instantly.
Pros
It can capture multiple inputs, including webcams
Green screen function, which can allow you to change your background image
Color correction and simple effects
Flexible, allowing you to schedule recording times from different video sources
Cons
It's only free for personal use
The free version restricts some features
3. ShareX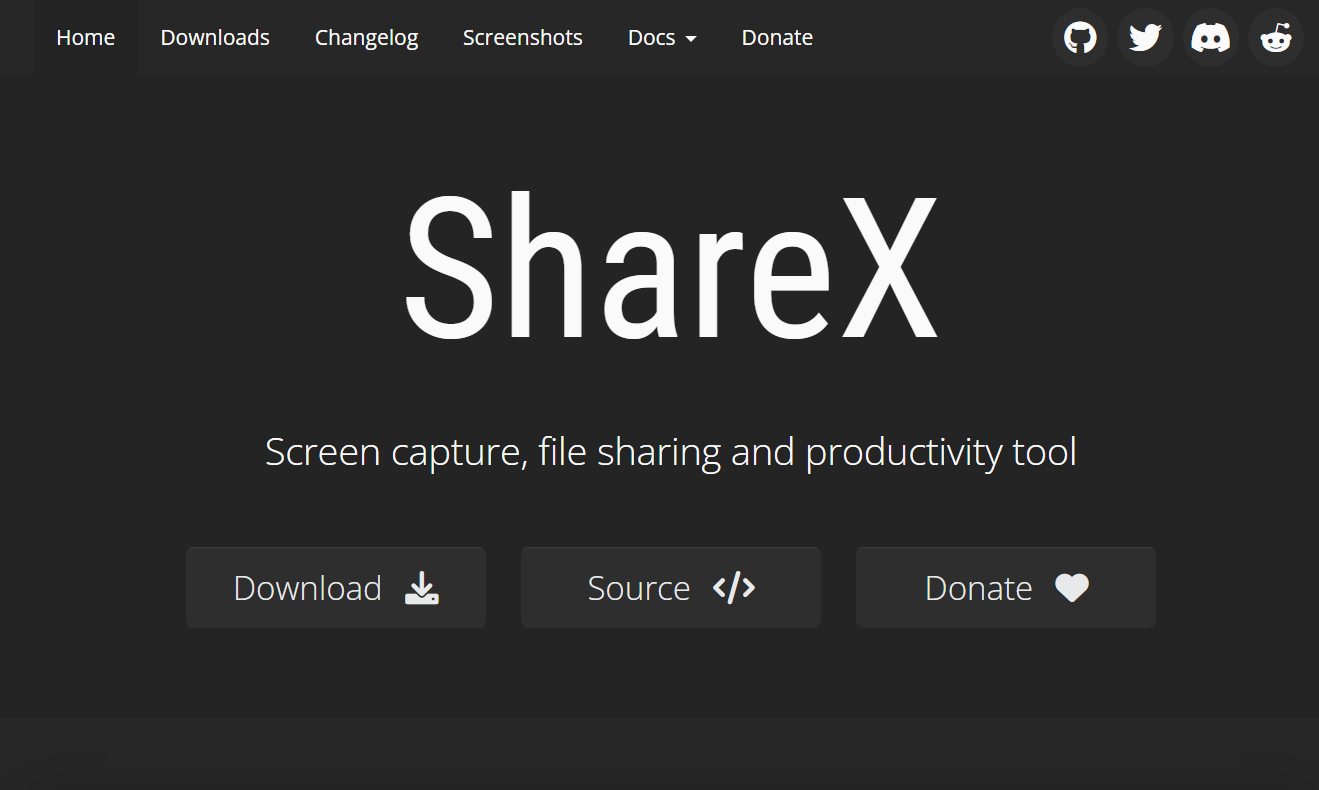 ShareX is an all-around screen-capturing, file-sharing, productivity-improving software tool. You can download it directly or find it in the Microsoft Store if you're using Windows OS. It comes with all the top screen capture options: full screen, window, a specific region, scrolling capture, and plenty more.
Screen recordings can be kept as videos or turned into GIF files. All the options available to capture your screen or record video are conveniently kept in a drop-down menu within the free software. After using the capture function to record the screen, you're taken to the editor, where you're presented with different options to manipulate your videos and images, such as color picker and screen color picker to enhance your captures. You can even add your own watermark or scan QR codes.
The sharing options you get after capturing your screen set ShareX apart from other free tools on this list. Images and videos captured with ShareX can be uploaded to various cloud services and social media. You can upload individual files or folders across many platforms, including Flickr, Imgur, ImageShack, and Google Photos. You can also upload directly to Google Drive, Dropbox, OneDrive, and similar sites.
Pros
Lightweight with no ads
It comes with inbuilt commands for simple actions
Customizes workflow
Easily uploads to Youtube and other video platforms
Cons
Limited editing features
Not the easiest layout to navigate
4. Droplr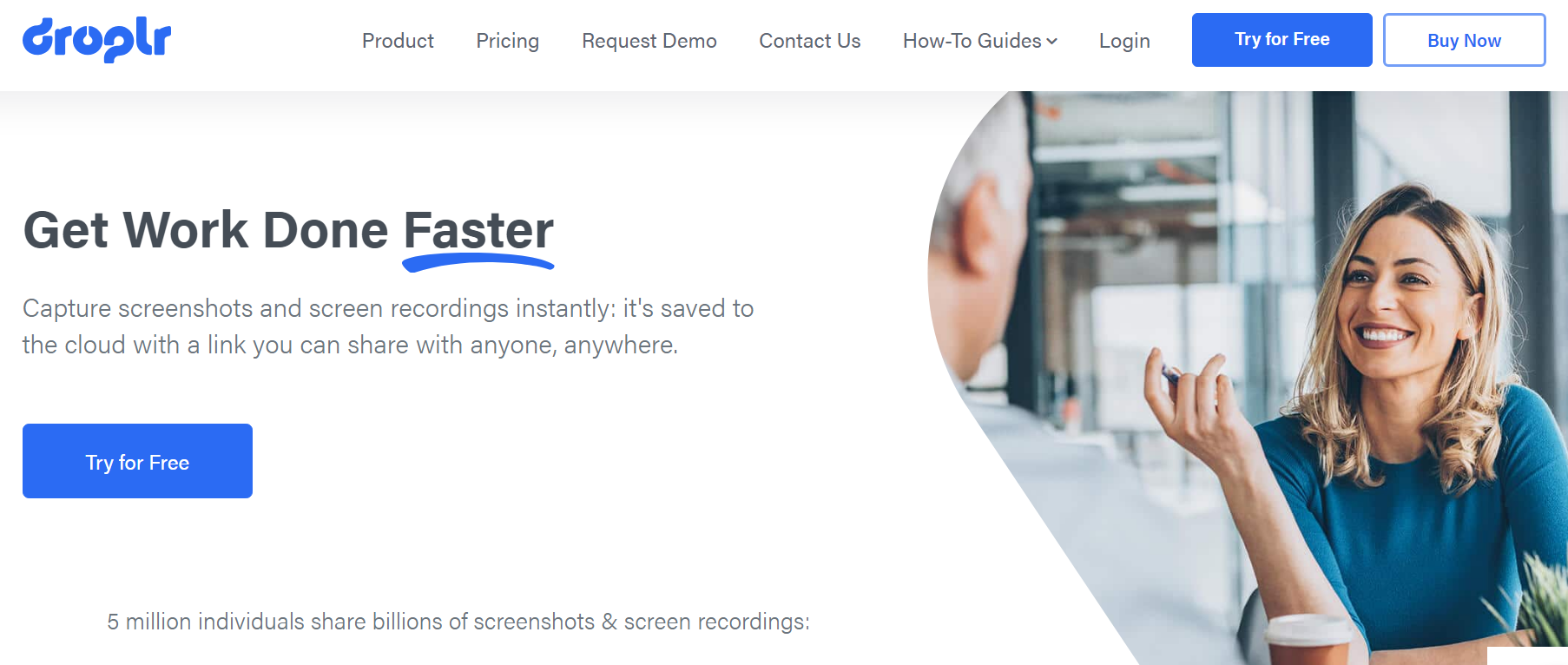 Droplr is one of the sleekest software tools on this list, and like ShareX, it is focused on making sharing as easy as possible without involving too many steps or systems. Droplr integrates with Slack, Sketch, Adobe Creative Suite, and many others allowing you to record videos or screenshot images and instantly share them with your team. Plus, it runs in the background, so it's unobtrusive and consumes minimal computing power.
The screenshot function lets you capture your whole screen or just a select part and can also capture full web pages. It also lets you annotate what you capture with text or color highlights to provide extra direction, important notes, or any other message. Plus, you can add lines, circles, arrows, and boxes to convey your point visually effectively.
The free screen recorders allow you to create HD and GIF videos of your webcam or screen. Screen recordings can encompass the entire screen or one part of it. And Droplr lets you create as many GIFs and video clips as possible.
Here's where Droplr really shines. The moment you use the screenshot tool or screen recorder, it's automatically saved to the cloud in your own personal Droplr account, and a link is generated and automatically saved to your clipboard for instant sharing. Files up to 10GB can be dragged and dropped for seamless collaboration.
One of the unique Droplr features that were recently added is a "self-destructing drop." This lets you share a file and have it disappear in a specified amount of time – a day, a week, or longer. This means the file will be deleted from your Droplr account and won't be viewable by anyone after it "destructs." This is handy for files that are important to share once but don't need to be saved.
Pros
Easy screen-capture and editing
4K video recording
Premium enterprise add-ons
Mobile companion apps
Cloud storage and team file sharing
Cons
Lacks OCR
Limited file types
5. Loom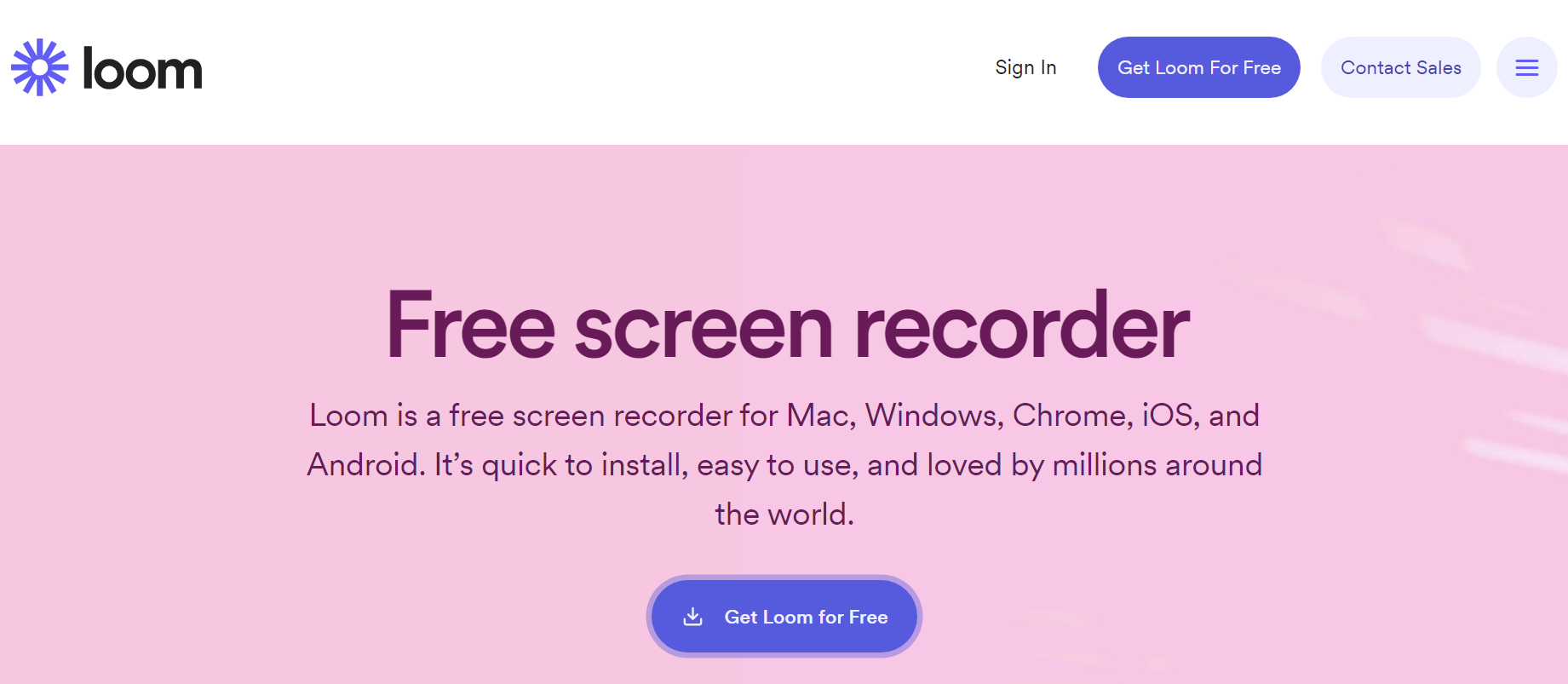 Loom screen recorder is one of the newest and most popular software tools, and its use is only growing. They immediately tell you the problem they set out to solve: replacing long emails and constant in-person meetings.
Loom lets "you capture your screen, face, and voice and instantly share your video." Making quick videos allows you to communicate with your team faster and do it anytime for flexible collaboration.
Loom's main function is fast HD screen and video recording.
The screen recording function comes with three different options:
Record just your screen.
Record just your webcam.
Record your screen and your webcam at the same time.
One interesting aspect of webcam recording is that Loom records within a circle instead of a square shape outlining the video. This unique feature of Loom adds a nice aesthetic to your videos.
One of the reasons Loom has been widely adopted is because of how intuitive and easy it is to get started, especially for beginners. You choose one of the options above and start recording. There's nothing to download with Loom. After you sign up, you get a free account where all your videos will be saved immediately after recording them. After recording videos, you'll be given the option to share them or download them locally.
The best part about sharing a Loom video is that the recipient can have instant access to it the minute you stop recording to share a link with them, unlike other software tools that require you to download the video file and then upload it again to share it.
Before sharing your video, Loom gives you the option to edit it. You can trim parts of the video to make it more concise, add calls-to-action within the video if you want viewers to do something after watching it, and customize the thumbnail. Also, viewers can "react" to your videos using emojis or comments for fun and easy collaboration.
Pros
Easy to share recordings and captures
Record from multiple inputs, including internal audio, screen, camera, and mic
You can download videos if you want to
Simple editing features, and you can even add annotations and links to
videos
Cons
Hard to share with people who don't have Loom accounts
6. Ezvid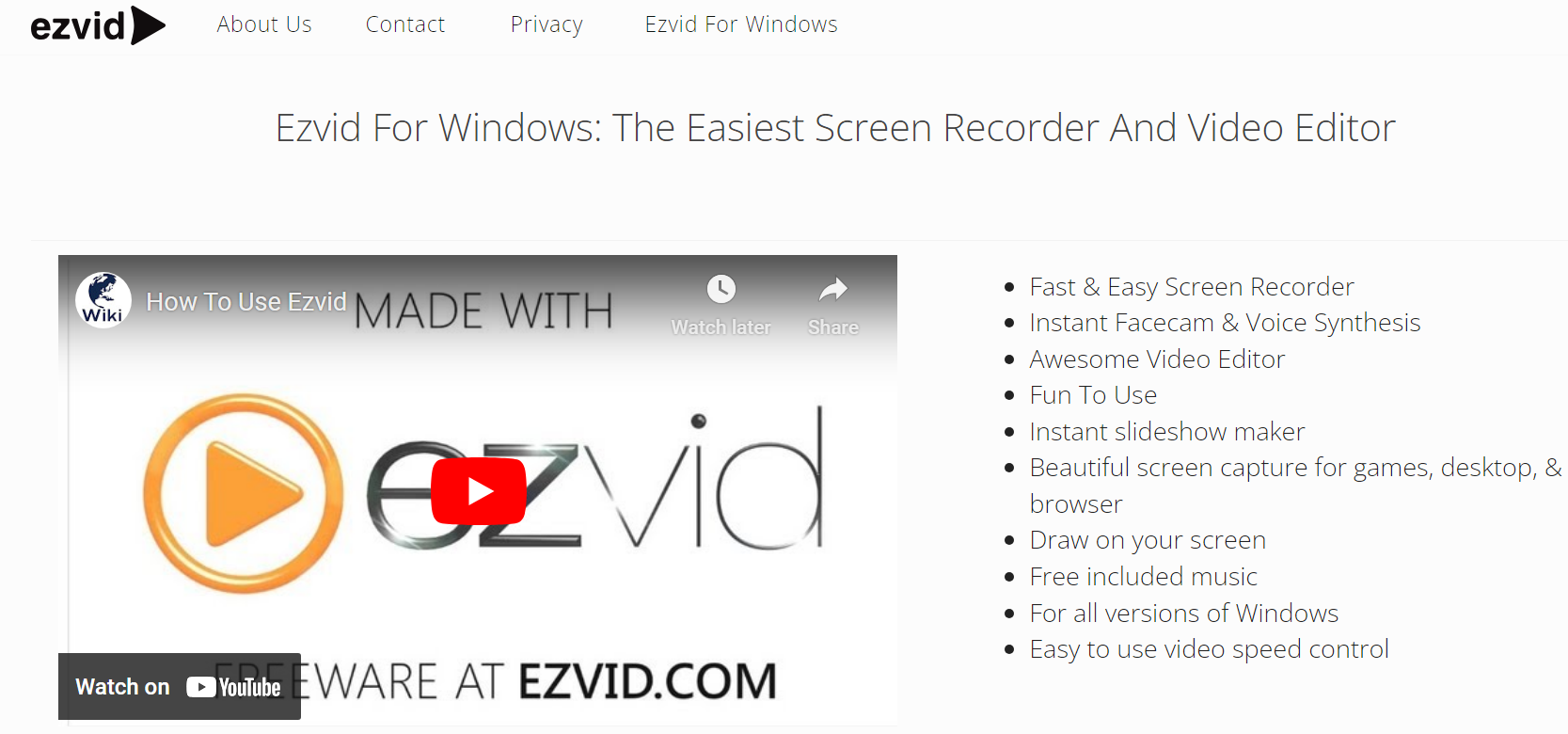 Ezvid is another reliable and feature-rich software tool that deserves recognition among the best free options. With Ezvid, you can easily capture your screen, record screen activity, and create impressive recordings.
One of the standout features of Ezvid is its intuitive interface, making it accessible for users of all skill levels. It allows you to capture the full screen or specific areas with ease. The software also includes a built-in video editor, enabling you to make quick edits, add annotations, and enhance your captured footage.
Ezvid supports audio recording, allowing you to narrate your screen recordings or include background music. Additionally, the software offers seamless integration with Google Drive for convenient storage and sharing of your captured videos.
With key features like unlimited recording time, stable performance, and decent video quality, Ezvid stands out as a powerful screen capture tool free of charge. While it may not offer the extensively features found in premium software, Ezvid provides a solid and user-friendly solution for capturing, editing and sharing recordings.
Pros
It comes with simple editing capabilities
This software makes it easy to create a slideshow
Annotation features
Facecam and Voice Synthesis features
Cons
The layout is not the simplest
Maximum video recording time of 45 minutes
Videos cannot be saved locally
No screenshot or GIF creation ability
7. OBS Studio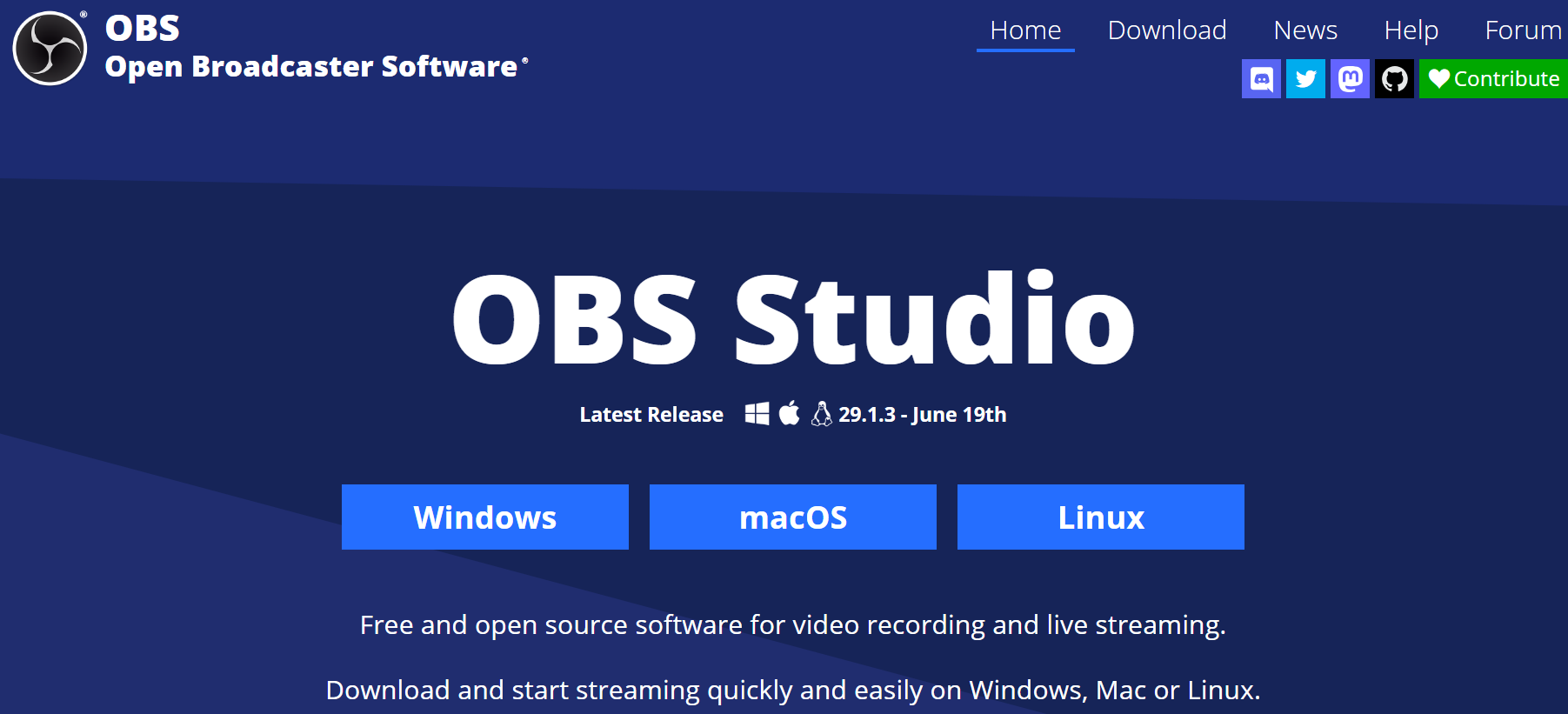 OBS Studio (Open Broadcaster Software) stands out among the best software tools thanks to its robust and versatile platform that caters to a wide range of users, from gamers to content creators. OBS Studio excels in screen recording, allowing you to precisely capture your full screen or specific areas. With its features, you can record high-quality recordings and create captivating video content effortlessly.
One of its key features is the ability to record your computer screen and external devices like webcams and microphones, making it ideal for creating tutorials or live streaming. This software seamlessly integrates with various platforms, including YouTube, Twitch, and other streaming services, making it a top choice for live streamers and content creators.
OBS Studio also offers advanced editing capabilities, allowing you to tweak your recordings and add professional touches to your videos without needing external video editing software. With a stable internet connection, OBS Studio ensures smooth live-streaming experiences, making it a favorite among gamers and streamers.
Pros
Allows streaming to some platforms
Open-source and free cross-platform
Enhances functionality of over 20 plugins
Plenty of options for audio and video inputs
Supports multiple filters
Cons
It lacks as much support as other options
You can't link the audio file as a source
It's not the most suitable for beginners
8. SimpleScreenRecorder
SimpleScreenRecorder is one of the finest capture software tools available today, making it an excellent choice for users seeking simplicity and efficiency in their screen recording endeavors.
This software excels in screen recording, allowing users to effortlessly capture screen activity with ease. Whether recording the full screen or specific areas, SimpleScreenRecorder offers a user-friendly interface, making it accessible to users of all skill levels.
One of its key features is the provision of advanced capabilities, allowing for fine-tuning and adjustments during recording sessions. This feature-rich software ensures users can create high-quality recordings and precisely capture video tutorials.
SimpleScreenRecorder has editing capabilities, enabling users to make quick adjustments and add finishing touches to their recorded videos. This built-in video editor streamlines the post-recording process and eliminates the need for additional software. Moreover, the software offers a seamless sharing experience, allowing users to save and share their recordings effortlessly across various platforms, including Google Drive.
SimpleScreenRecorder remains a strong contender among capture software tools with unlimited recording time and reliable performance. For users seeking a straightforward and efficient screen recording solution, SimpleScreenRecorder is an ideal choice, offering a powerful set of features without additional expenses.
Pros
Many settings, including video size and frame rate
Simple controls for Linux users
Preview function that allows you to see your captured video
The software has tooltips that help you to use all the settings
Cons
The layout can be intimidating for beginners
9. Free Cam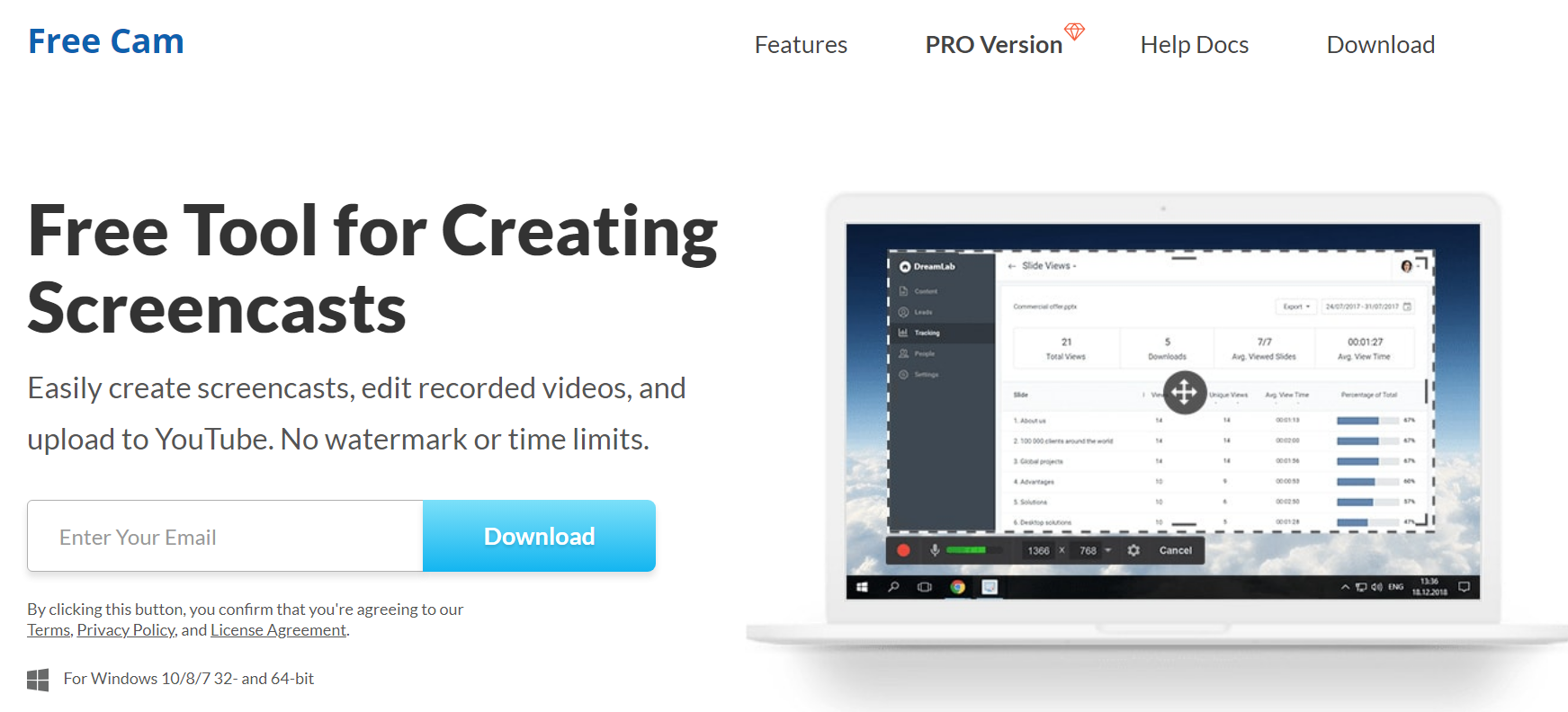 Free Cam earns its spot as the best screen capture software tool for its user-friendly interface and impressive set of features, making it an excellent choice for various screen recording needs. When it comes to screen recording, Free Cam delivers outstanding performance, allowing users to capture screen activity with clarity and precision effortlessly. Whether recording the full screen or specific regions, this software ensures smooth and reliable recordings.
One of its standout features is the integrated video editor, providing users with advanced capabilities to edit and enhance their recorded videos. With Free Cam's video editing tools, users can trim, cut, and add elements to their recordings, streamlining the post-recording process.
Audio recording is another strong suit of Free Cam, enabling users to record audio and recordings. This is especially useful for creating video tutorials or adding voiceovers to presentations. Free Cam's unlimited recording time sets it apart from many other software tools, allowing users to capture lengthy videos without restrictions.
Furthermore, Free Cam ensures a seamless sharing experience by allowing users to save and share their recordings effortlessly. Integration with Google Drive facilitates easy access and sharing of recorded videos.
With its user-friendly nature and robust features, Free Cam is an excellent screen capture tool for beginners and experienced users. Its ability to capture screen activity, record audio, and edit videos within a single platform makes it a top choice for various recording purposes.
Pros
An easy interface that is ideal for beginners
Simple to make audio edits to reduce background noise
Includes effects and background noise removal
Easy to choose a recording area on the screen
Easy to share videos to YouTube or save as WMV files
Cons
Only records up to 720p unless you upgrade
10. Free Screen Video Recorder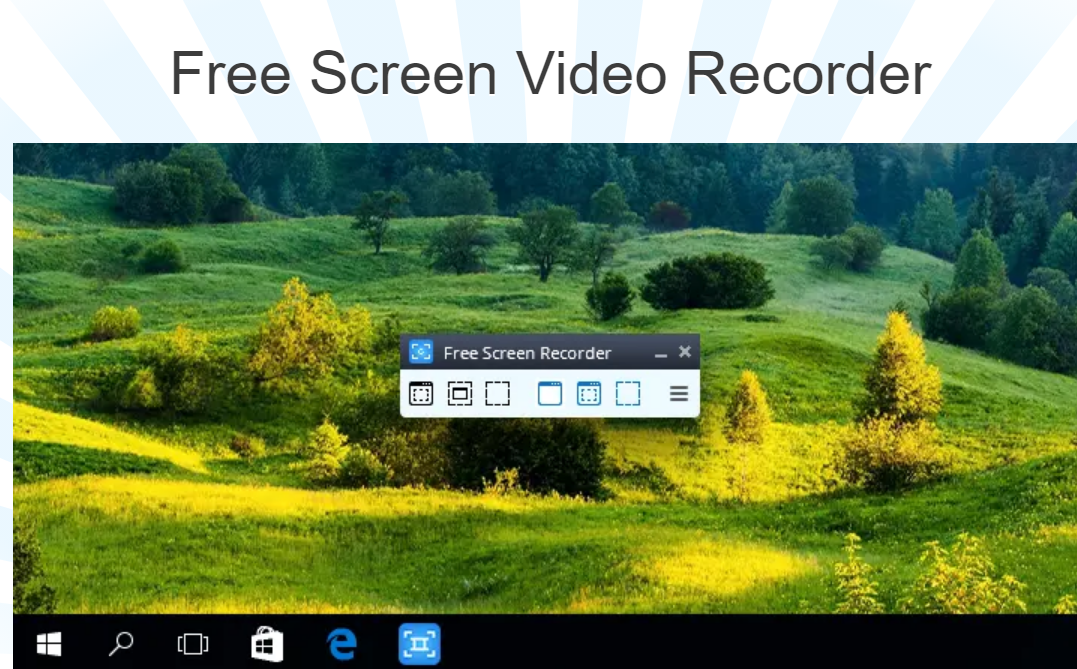 Free Screen Video Recorder is one of the best free screen capture software tools for a simple yet effective solution for screen recording needs. With this recorder, users can effortlessly capture screen activity, making it ideal for creating video tutorials, recording webinars, or preserving memorable moments from online videos. Its user-friendly interface ensures a smooth experience, making it accessible to beginners and experienced users.
The software excels in recording high-quality screen videos, ensuring that every detail is captured. Whether recording the full screen or specific regions, Screen Video Recorder delivers reliable results. While it focuses primarily on screen recording, it performs exceptionally well and includes essential features that enhance the overall experience. Users can easily capture audio and screen recordings, providing informative and engaging narrations.
While it may not offer extensive video editing capabilities, this recorder still provides valuable editing features, such as trimming and cutting recorded videos, enabling users to make minor adjustments.
One of the standout features of Free Video Recorder is its unlimited recording time, allowing users to capture lengthy videos without any restrictions, making it ideal for recording extended webinars, presentations, or gaming sessions. Sharing recordings is made simple with Free Screen Video Recorder, allowing users to save their videos in various formats, facilitating easy sharing and distribution.
Pros
Simple and unobtrusive layout
Plenty of file formats for image capturing
Capture still images or MP4 containing sound
Capture multiple windows and objects
Cons
Basic editing functions, especially for video recordings
Get the Free Screen Capture Software Tool That Makes Collaboration as Easy as Walking to a Coworker's Desk
Zight helps everyone in your company communicate with each other faster and easier.
Product managers can quickly send A and B options for decision-makers to decide between with screenshots or videos, ask for changes using annotations, and provide clear instructions with GIFs.
Executives and managers in other departments can provide quick feedback on projects by recording webcam videos.
Product Marketers can use Zight to screenshot performance metrics, communicate revisions, and quickly provide essential feedback.
And the list goes on.
Zight makes this possible through an easy-to-use, enterprise-grade app ranked by G2 Crowd as one of the top sales enablement tools. Discover why Zight is an essential free capture software tool for collaboration today.
Frequently Asked Questions on Free Screen Capture Software
1. What is the best free screen capture tool?
Many great capture tools are available, but one highly recommended option is Zight. Zight offers comprehensive features, making it an excellent choice for capturing screenshots and recording videos. With its intuitive interface, customizable capture options, and easy-to-use annotation tools, Zight stands out as a free top-notch screen capture tool.
2. Is Snagit no longer free?
Snagit is not a free capture tool. It is a premium software developed by TechSmith that offers advanced features and functionalities, making it a popular choice for professionals and businesses. However, if you are looking for a free alternative, Zight is an excellent option. Zight provides similar capabilities to Snagit, allowing you to capture screenshots and record videos without cost.
3. How can I record my computer screen for free?
Recording your computer screen for free is possible with various software tools. One recommended option is Zight, a software that enables you to record your computer screen effortlessly. Download and install Zight, choose the recording area, select the audio source if needed, and start recording. Zight offers additional features like annotations and easy sharing options, making recording your computer screen convenient without spending money.