In an age of viral sensations and information leaks, most companies strive to protect their meetings and internal dialogues from the world's prying eyes. No company wants their private moments to become the next internet sensation. Most businesses continuously seek a video-sharing platform that protects their videos from theft, unauthorized distribution, and the lurking threat of becoming an unwelcome online spectacle.
However, the question looms large: How can companies ensure their recorded content reaches the intended audience and the intended audience alone? The answer lies in the top secure video-sharing tools, the guardians of your digital privacy. But still, how can companies ensure they are using the best video-sharing platform for their needs?
This article is all you need since it covers all the in-depth information you will need to navigate the world of the best video-sharing platforms for different needs. Dive in!
How Companies Benefit from Secure Video Sharing
As more and more companies are moving to a hybrid work environment or even going fully remote since the pandemic, it has become increasingly challenging to communicate effectively with teams. Luckily, video-sharing sites can help employees in one way or another, including:
a). Effective Collaboration
Secure video sharing allows employees to collaborate effectively and efficiently within the organization, reducing barriers preventing employees from engaging with one another.
b). Increase Productivity
In the new hybrid work environment, videos can replace emails, educate employees, and improve customer service. Many companies have adopted async communication, such as video sharing, for multiple reasons.
Some companies utilize video sharing to increase productivity. We know how difficult it can be to schedule meetings around employees' busy schedules. Async communication, like video, allows employees to view content on their own time, preventing any abrupt stops in productivity to attend a meeting.
c). Clear Communication
Other companies utilize video sharing to focus on communication. When recording a high-quality video for employees or customers, the user needs to plan their thoughts before recording while clearly outlining their objectives. Video sharing allows recipients to replay the message to understand better what is being communicated.
When using video as a means of communication, the last thing anyone wants to worry about is issues ranging from problems with display to potential security breaches. A secure video-sharing tool protects your videos and allows a company to control the content produced and information shared.
What To Look For in A Secure Video-Sharing Tool?
Not every secure video-sharing tool is the same, but there are certain questions and features that you should ask yourself and look for when weighing which option suits your needs.
When deciding if your company would benefit from secure video sharing, some questions to ask yourself in your role at the company include:
Who needs to see the information I'm sharing?
How long should the information be available?
Is the information confidential?
How will the audience be able to access the video?
If your answers to these questions require more control over the information you're sending, it's time to consider utilizing the benefits of secure video sharing.
With secure video sharing, privacy and security are everything. Having features of a secure video-sharing platform such as password-protected hosting and secure uploading tools protect and can view videos and prevent data from being lost in the mix.
Encryptions also add another vital protection element in keeping videos private and in the right hands. Other features to look for in a secure video-sharing tool include the ability to group videos together as well as batch edit.
The Best Secure Video-Sharing Tools
The best secure video-sharing tools in the market guarantee that your content and videos are safe and protected.
So, now that you've decided that your company's video content deserves to be protected and you know what features you are looking for, it's time to choose the best secure video-sharing tool for your business.
Here are some of the best options in the market:
1. Zight (formerly CloudApp): Best Overall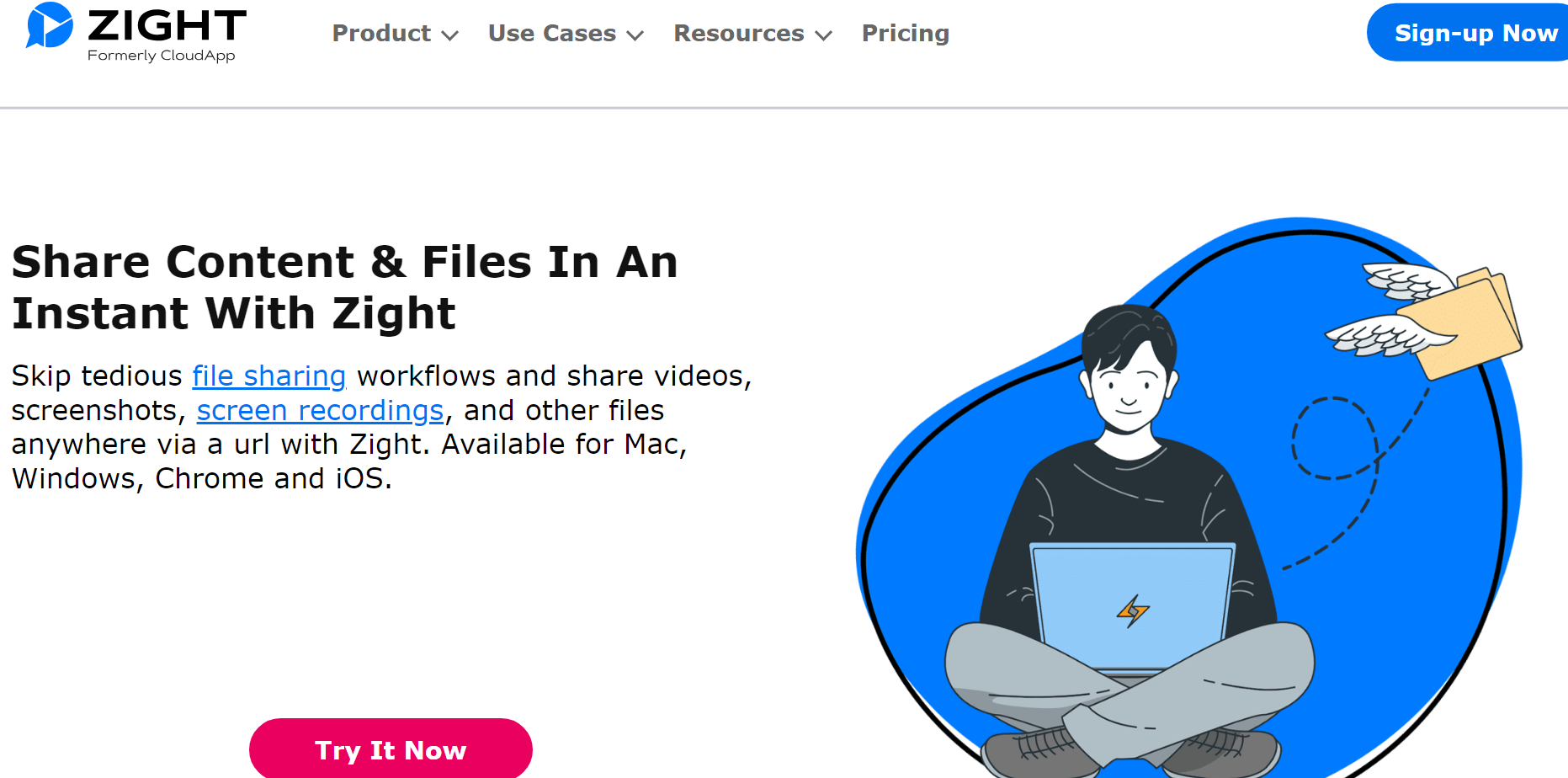 Zight is the best video-sharing platform overall, and it was built with enterprises for enterprises. Zight has focused on businesses with enterprise-grade security, administrative, and privacy options from day one.
Using machine learning, our content analysis enables your IT team to keep customer data safe and secure. Zight provides multiple layers of security, such as custom SSL, multi-layered access control, and 256-bit SSL enforcement. Zight allows companies to customize their platform to suit their needs.
Teams can now communicate seamlessly and safely through various integrations across platforms such as Slack, Zendesk, and Trello. With over 4 million people using Zight's screen recording software, the platform saves time in your calendar and ensures all the important information is sealed.
Pros
Easy and quick sharing to ensure that your videos are shared securely and only accessible to authorized individuals
Versatile annotation and markup tools
Integrations and workflow enhancements with popular productivity tools and platforms such as Slack, Jira, Trello, and Google Drive, streamlining your workflow
Secure and private sharing
Cons
2. Brightcove: Best for Businesses & Agencies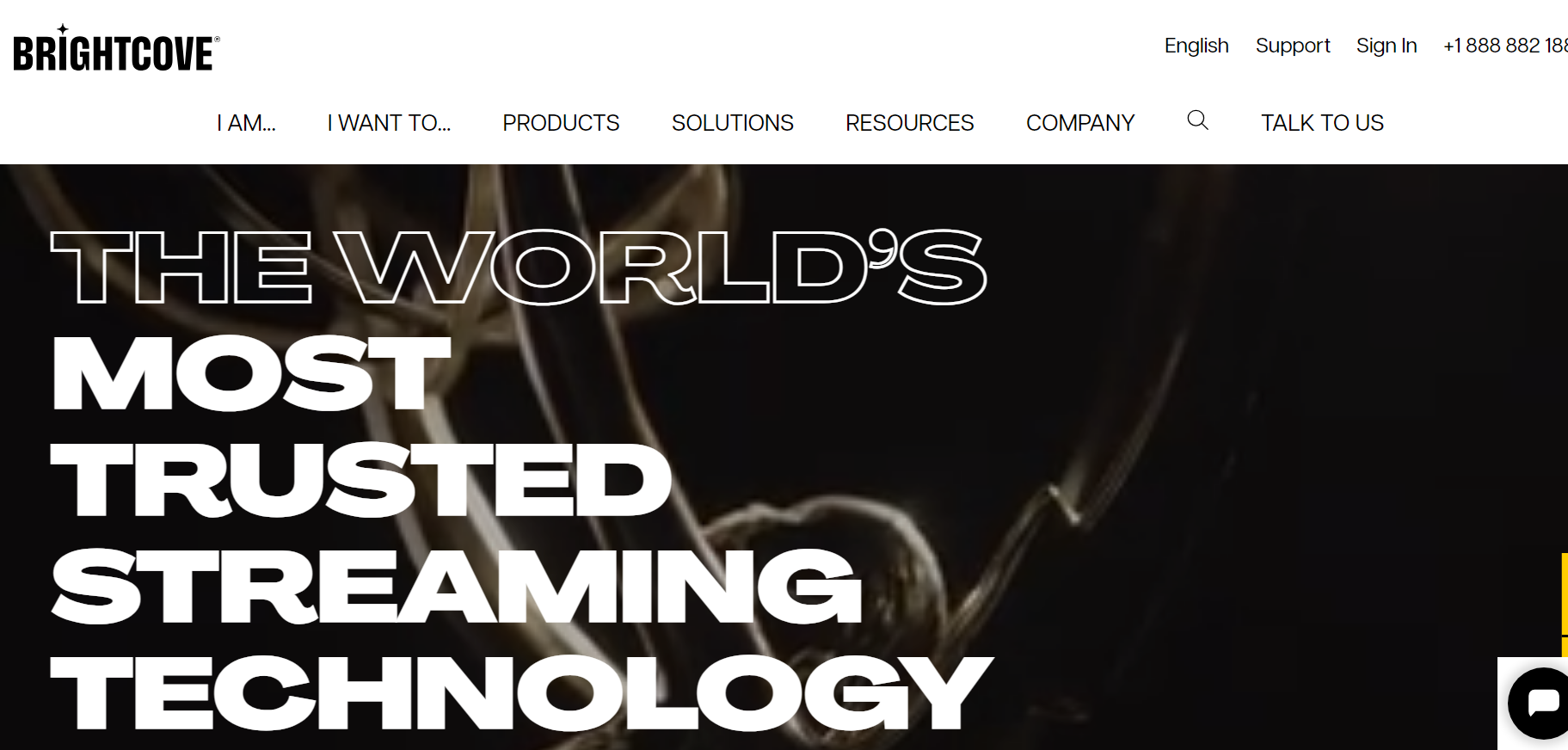 With Brightcove, employees have a better way to stay engaged. It is a professional video-sharing platform that major publications and some Fortune 500 companies use. The video-sharing platform has security features such as IP restriction, SSO, and URL tokenization to ensure videos only reach your intended audience.
The platform has powerful editing tools with customizable privacy and security options. However, Brightcove's advanced tools can make adapting to new technology difficult. Brightcove is not meant for smaller companies as they may find the pricing too steep.
Pros
Fast video load times and adaptive bitrate videos
You can live stream directly to your app or website
Content and video library management
Customizable privacy and security settings
Advanced marketing automation integrations
Cons
Complex
Additional purchase is required for 24/7 support
3. Dacast: Best for Advanced Security and Monetization Tools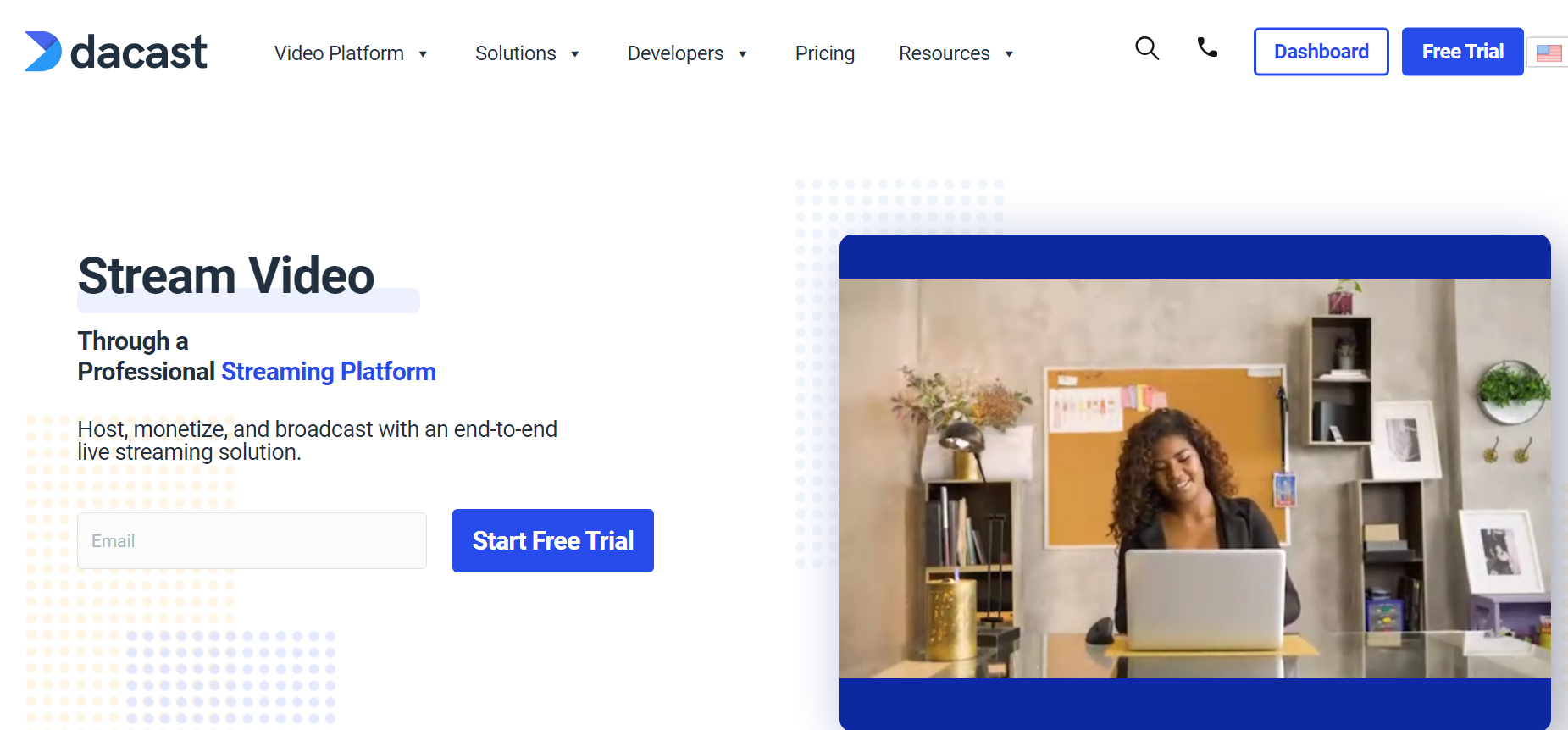 Dacast is designed specifically for business professionals and enterprise use. The platform is also meant for all experience levels, with key features including real-time analytics, content control and advanced security options, and adaptive streaming.
Datacast provides secure video support, suits every budget, and offers live streaming capabilities. In addition, it's one of the best video-sharing platforms that allows users to embed videos on their websites while maintaining 100% control of their content.
While Dacast has advanced security and distribution capabilities, the platform does not support many encoders; some may find their tools difficult to navigate. However, it also offers HLS and AES encryption for your videos.
Pros
Unlimited viewers and live channels
White label and branding control
Plans for different budgets
Zoom live streaming integration for meetings and live events
Expo video gallery to display your live streams in an immersive video showcase
Cons
It might take a while to learn its features
4. Dropbox: Best for Organizations that Share Small Video Files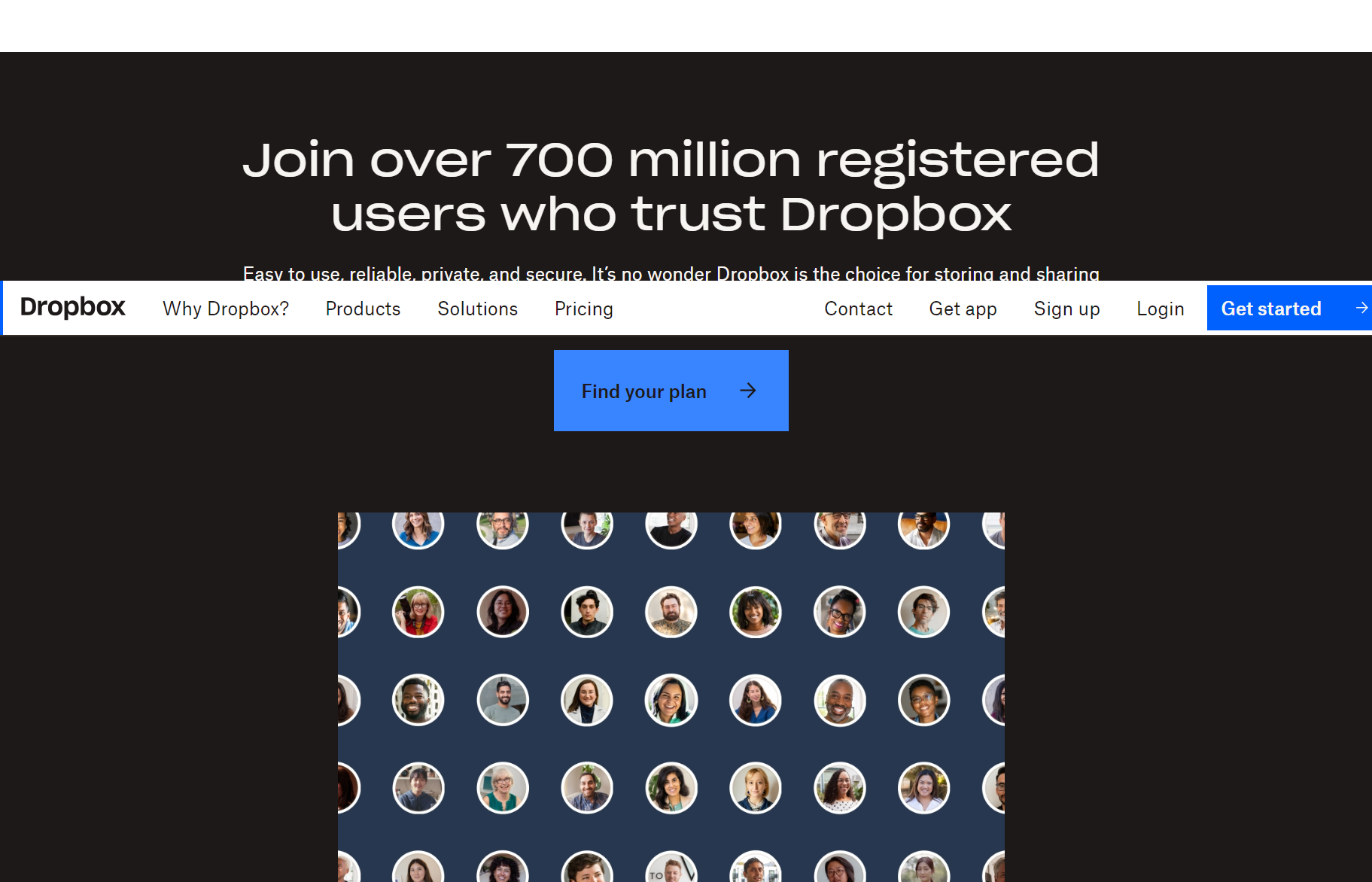 Dropbox is the perfect choice if you're looking for a secure and reliable video-sharing tool for your organization's small video files. It's one of the best video-sharing sites offering a seamless and user-friendly platform to upload, store, and share your videos securely.
A standout feature of the Dropbox video-sharing platform is its robust security measures. Your video files are encrypted even in transit, ensuring the utmost protection of your sensitive content when sharing with team members, clients, or partners, knowing your files are safeguarded.
Dropbox's user interface is intuitive and easy to navigate, making uploading and sharing videos a breeze. You can create dedicated folders for different projects, organize your video library efficiently, and grant specific access permissions to different users, controlling who can view and edit your videos.
Another advantage of using Dropbox is its seamless collaboration capabilities. You can invite team members to collaborate on video projects, allowing them to make comments, suggestions, or edits directly on the videos. This streamlines the feedback process and enhances team collaboration.
Furthermore, Dropbox offers excellent compatibility across devices and platforms. Whether you're accessing your videos from a desktop, laptop, or mobile device, Dropbox ensures a consistent experience. Thanks to its reliable cross-platform support, you can watch videos on the go or present them during meetings.
Lastly, Dropbox provides robust video streaming capabilities. You can stream videos directly from Dropbox without downloading, ensuring convenient and efficient playback for you and your recipients.
Pros
Send files up to 2GB for free
It uses Secure Sockets Layer (SSL)/Transport Layer Security (TLS) to protect videos between the server and the end-user device
One can restrict downloading for the users they share videos with
Recipients don't need a Dropbox account to access your video content
AES-256-bit encryption to keep your videos secure
Cons
Lacks advanced video analytics tools
Bandwidth limitations
Limited video editing capabilities
5. Wetransfer: Best for One-Time Quick Transfer of Videos Online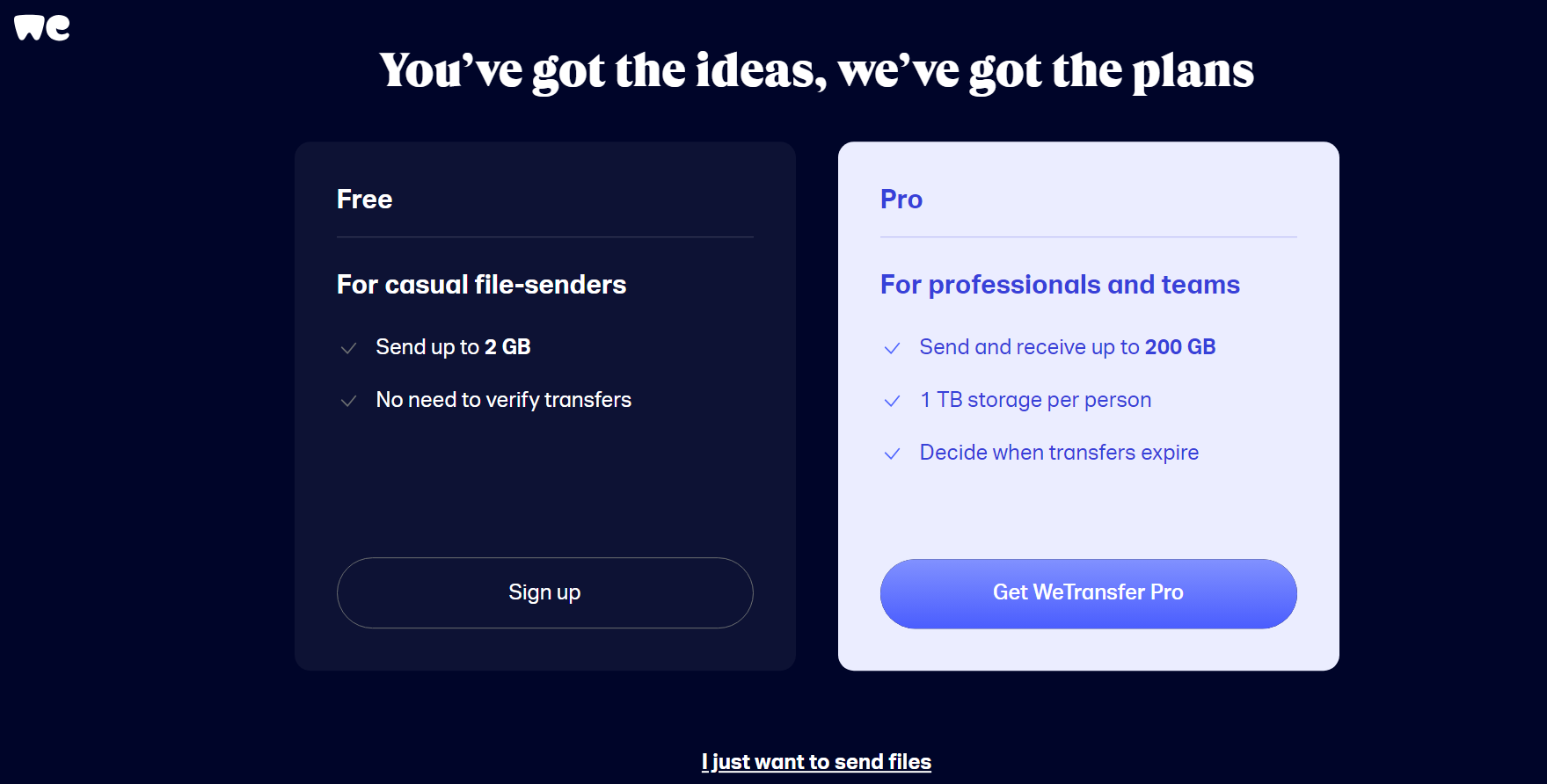 When it comes to quickly and securely sharing videos online, WeTransfer stands out as the best video-sharing website. It's one of the video hosting platforms that offer a simple and intuitive platform that allows you to transfer videos effortlessly in just a few clicks.
WeTransfer's key strength lies in its ease of use and efficiency for one-time transfers. Whether you need to send video content to a colleague, client, or friend, this video-sharing platform makes the process fast and hassle-free. With its straightforward interface, you can upload videos, add the recipient's email address, and hit the transfer button.
Security is a top priority for WeTransfer. The video-sharing platform encrypts your video files during transmission, protecting them from unauthorized access. Moreover, WeTransfer adheres to strict data privacy standards, giving you peace of mind when sharing sensitive video content.
For convenience, the video platform doesn't require recipients to have an account or sign up for any service. They receive a download link via email, making accessing and downloading the shared video file incredibly simple.
While WeTransfer excels in quick and one-time transfers, it has limitations when managing a comprehensive video library. Unlike dedicated video-sharing websites, WeTransfer does not provide features such as video organization, analytics, or customization options since it is primarily designed to transfer individual video files quickly.
Pros
Allows transfer of large video files
User-friendly interface
Fast and efficient video transfers
High-security levels as you share videos by encrypting them
No recipient account required
Supports various file formats
Cons
Minimal analytics and tracking
6. Wistia: Best for Video Analytics
Wistia is a top choice for secure and user-friendly video sharing, and it stands out for its powerful video analytics capabilities. With Wistia, you can easily upload and share videos online while gaining valuable insights into their performance.
The popular video-sharing platform offers features such as easy embedding, fast load times, and SEO optimization for better visibility. While it lacks the option for secure embedding restricted to authenticated users, it provides various other options.
Additionally, Wistia excels in video analytics, providing detailed metrics on viewer engagement. You can track play rates, viewer interactions and identify audience drop-off points. These analytics enable data-driven decisions to optimize your videos, understand your audience better, and improve your video strategy.
With Wistia's secure video sharing and powerful analytics, you can confidently share your videos online, measure their impact, and make informed decisions to enhance viewer engagement and achieve your marketing goals.
Pros
Advanced video analytics
It gives you insight into the parts of your videos that were rewatched or skipped
100% customizable embedded video player
Host videos ad-free and create targeted ads
CRM integrations for easy use by marketing and sales teams
Automated video SEO
Cons
The customization can be clunky
7. Vimeo: Best for High-Quality Videos

Vimeo is a popular video-sharing platform that stands out for its focus on high-quality videos and its community of content creators, filmmakers, and businesses. It's the best video-sharing platform where professional videos find their place, whether short films, music videos, training content, or promotional videos.
One key advantage of the Vimeo video hosting site is that no disruptive ads interrupt viewers while they enjoy your content. Vimeo should be your go-to video-sharing platform if you value ad-free viewing and want to share professional videos with an audience that appreciates quality.
Vimeo's video compression and transcoding capabilities contribute to its support for high-quality videos. This video hosting site reduces file sizes through advanced compression algorithms while maintaining the original video's quality. This ensures your own videos look great on any device or screen size, providing an optimal viewing experience.
Another noteworthy feature of the Vimeo video-sharing platform is its customizable video players. If you plan to embed your Vimeo videos on your website or social media, you can customize the video players by adjusting colors, themes and even upload your logo. This allows you to create a seamless viewing experience that aligns with your branding and website design.
Pros
Customizable video players
Video compression and transcoding
Ad-free viewing
High-quality videos
Cons
Less focus on user-generated content
Limited reach compared to larger video-sharing platforms
8. Ultreon: Best for a Distraction-Free Viewing Experience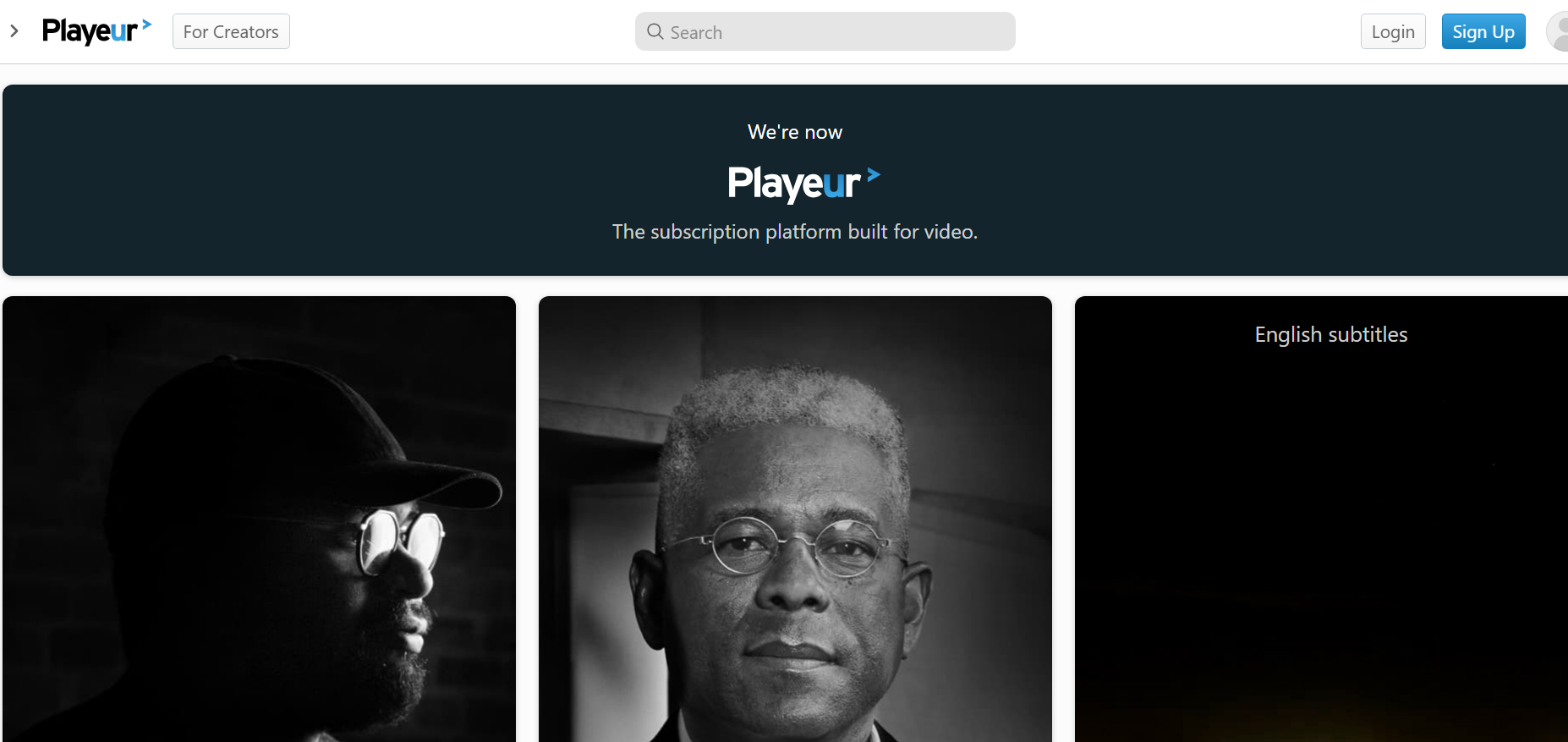 Utreon stands out as a versatile and user-friendly video-sharing platform, catering to a wide range of users with its diverse content and intuitive navigation. While it's not among the popular video-sharing sites, the video hosting service offers a refreshing alternative that prioritizes a distraction-free viewing experience. Unlike other video hosting platforms, Utreon does not impose limitations or heavily promote channel discovery, allowing content to surface organically through transparent algorithms.
One of the notable features of Utreon is its subscription system, which enables users to support their favorite creators directly. This innovative approach fosters a mutually beneficial relationship between creators and their audience, ensuring continued content production and engagement.
Additionally, Utreon empowers content creators by allowing them to create their series or shows. This includes a comprehensive table of contents, episodes organized by season, and the ability to add cover art for each video. This level of customization enhances the presentation and organization of content, providing a seamless viewing experience for users.
While Utreon may not have the same level of mainstream recognition as other platforms, its unique features and user-centric approach make it an appealing choice for users seeking an alternative to traditional video-sharing sites.
Pros
Diverse video content
Distraction-Free Experience unlike other video-sharing sites
A subscription model that enables users to support their favorite creators directly
Transparent algorithms mean content discovery is not limited or heavily influenced by promotional algorithms
Content creators on Utreon have the option to create their own series or shows
Cons
Limited creator base
Limited monetization options
9. DTube: Best for Earning cryptocurrency through video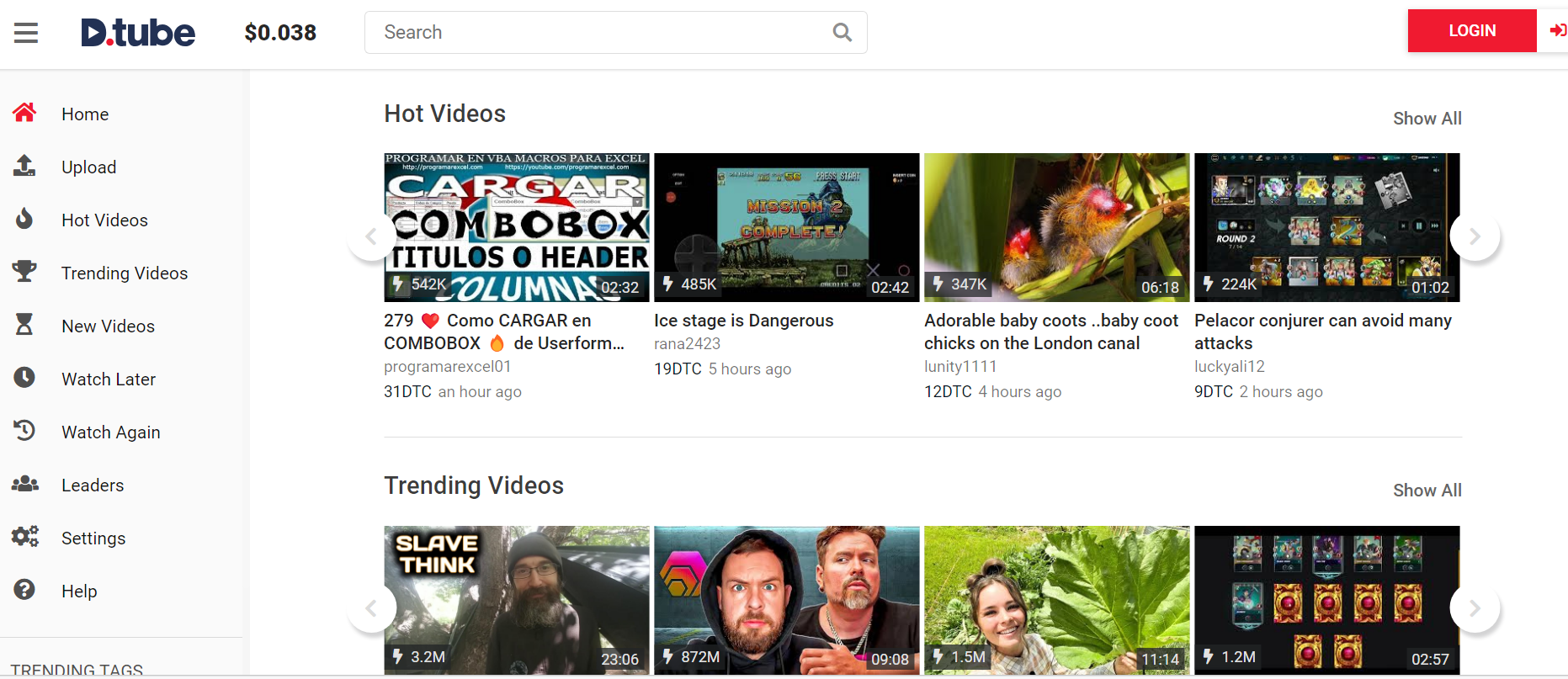 Dtube is an innovative video-sharing platform that offers a unique opportunity to earn cryptocurrency through your videos. It provides an alternative to traditional video-sharing platforms like YouTube, focusing on decentralized and blockchain technology.
One of the standout features of Dtube is its integration with the Steem blockchain. This allows content creators to earn cryptocurrency rewards, specifically Steem tokens, based on the popularity and engagement of their videos. As viewers interact with your content through upvotes, comments, and shares, you can earn cryptocurrency as recognition and appreciation for your contributions.
By leveraging blockchain technology, the free video hosting platform ensures transparency and immutability. Content uploaded to Dtube is stored and distributed across a decentralized network of peers, making it resistant to censorship and providing increased security for your videos.
Another notable advantage of Dtube is its community-driven nature. It fosters a supportive and engaged community of content creators and viewers who appreciate the decentralized and rewarding aspects of the platform. This community aspect can provide opportunities for collaboration, feedback, and growth.
While Dtube offers an exciting way to earn cryptocurrency through your videos, it's essential to understand that the platform is still growing and may have a smaller user base than established video-sharing platforms. This could potentially impact the reach and viewership of your content.
Furthermore, as with any cryptocurrency-related platform, some learning curve involves understanding the cryptocurrency ecosystem and managing your earnings. Familiarizing yourself with cryptocurrency wallets, exchanges, and the overall market is necessary to utilize the rewards earned on Dtube fully.
Pros
Decentralized rewards where content creators earn cryptocurrency rewards based on the popularity and engagement of their videos
A perfect alternative to traditional platforms since the centralized video-sharing platforms offer a different experience and allow for exploration
Engaged community
Blockchain technology ensures transparency, immutability, and resistance to censorship.
Cons
Smaller User Base
Learning curve since it needs an understanding of the cryptocurrency ecosystem,
10. Youtube: Best for Attracting Viewers
Last but not least, YouTube is one of the best video-sharing platforms, offering a wide range of impressive features and a massive user base. It is considered the largest video-sharing website and has become the go-to destination for uploading, sharing, and discovering videos.
One of YouTube's greatest strengths is its popularity. With millions of users worldwide, YouTube provides a vast audience for your videos, allowing you to reach a broad and diverse viewer base. Whether you're a content creator, business, or individual, YouTube offers a platform to share your Youtube videos.
YouTube's security measures ensure that your videos are protected. This video-sharing site provides robust copyright protection tools and content ID systems to safeguard your content against unauthorized use. YouTube's community guidelines and reporting mechanisms also help maintain a safe and secure environment for video creators and viewers.
Another advantage of this video-sharing platform is its extensive video library. With billions of videos available, YouTube offers vast content across various categories and genres. This makes it a go-to video-sharing platform for discovering new videos, learning, entertainment, and staying up-to-date with the latest trends.
YouTube's user-friendly interface and intuitive video management tools make uploading, organizing, and sharing your Youtube videos easy. You can customize your channel, engage with your audience through comments and likes, and build a dedicated subscriber base.
Furthermore, the video-sharing app offers various monetization options, such as ads, sponsorships, and merchandise sales, allowing content creators to generate revenue from their videos. This can be particularly useful for businesses and individuals looking to monetize their content and build a brand.
Pros
It has a vast audience and reach
Powerful analytics tools
Diverse video content and genres
User-friendly interface
Monetization opportunities for an eligible content creator
Cons
Limited control over video monetization
Copyright and content restrictions
Conclusion on Video Sharing Tools
With the best video hosting services and solutions at your fingertips, these platforms empower you to unleash your creativity, share high-quality videos, and easily reach the right audience.
They embrace your large video files, effortlessly handle the weight of your creativity, and empower you to send your masterpieces far and wide. Luckily, there is something for everyone to fit different needs.
Learn more about incorporating secure video-sharing tools into your business to protect your information and employees.
Schedule a demo today to get started with Zight, one of the top-ranked video recording platforms in the market.