URLs, the unsightly combinations of letters, numbers, and symbols, can be an eyesore. Luckily, hyperlinks are one way to conceal its unsightly aesthetic. However, when branding, marketing, or sharing links with your audience, you want them to look appealing and "cute," not clunky and intimidating. Fear not, for the solution lies within a link shortener.
But that's not all – link shorteners come with a treasure trove of additional features, empowering you to manage an ever-growing library of links, track traffic, and measure the success of your campaigns.
In this post, we'll show you why you should use link shorteners and the best link shorteners you can use immediately. But first things first, let's define a link shortener.
What is a Link Shortener?
At its most basic, a URL shortener reduces a long URL into a much shorter one.
Link shorteners go by many names: a vanity URL creator, link compressor, URL condenser, link shrinker, or URL shortener.
Why Should You Use a Link Shortener?
Link shorteners should be added to your digital toolbox for a few reasons:
1. Easier to Share
Which URL is easier to share and likelier to be clicked?
The longest URL in the world:
Or its shortened version (using one of the link-shortening tools you'll see in a moment):
While most links are nowhere near that unruly, there's no denying the attractive simplicity of a URL after using a link shortener. Shrinking the URL makes sharing easier on social media, especially when you have to keep your messages to a certain character count, as on Twitter.
2. Track and Record Engagement Data
While many link shorteners shorten links and offer no other functions, a new wave of full-featured link shorteners is now widely available. These URL shorteners provide click data such as the geographic location of the users clicking the links, click-through rates, and the device they were using.
These deeper analytics are essential for running successful, targeted social media marketing campaigns online.
3. They're Always Getting Better
Link shorteners started simple and have steadily evolved since their conception in 2000. There are options for every type of business available.
You can shorten a link. You can track a few metrics. Or you can use an entire platform to run increasingly complex marketing campaigns, collecting as much data available on your users.
If you think you don't need a link shortener now, it's probably only a matter of time before they become even more powerful tools you can't ignore.
Of course, if you know you need the best link shortener, the following list will give you plenty to choose from.
‍Features of a Great URL Shortener
Whether you're a social media marketer, business owner, or simply someone who loves sharing content, here are the key features that make a URL shortener truly exceptional:
1. Custom URL Shortening
First and foremost, the best link shortener should allow you to create custom, branded links. This means having the flexibility to use your own custom domain, giving your links a personal touch that enhances your online presence and leaves a lasting impression.
Additionally, link customization with custom URL slugs can result in cleaner and more user-friendly links, adding a touch of professionalism to your online presence.
2. Link Management Features
A solid link shortener should allow you to easily organize, edit, and delete shortened links. This way, you can control your links and make changes whenever needed. An often overlooked aspect is the ability to handle broken links gracefully.
A dependable URL shortener should ensure that users who click on outdated links are redirected to relevant content rather than encountering frustrating dead ends.
A user-friendly interface is always a plus. Look for a service that offers a comprehensive dashboard and a smooth user experience, making creating and managing short links a breeze.
3. QR Code Generator
For added versatility, a custom URL shortener that generates QR codes can be a game-changer. QR codes have become increasingly valuable for offline marketing in today's digital landscape. A good URL shortener service should offer a built-in QR code generator, allowing you to seamlessly integrate these codes into your printed materials or product packaging.
4. Link Analytics
Analytics plays a crucial role in understanding the performance of your short links and evaluating your marketing efforts. A good service will give you click-through rates, geographic data, and referral sources, among other insights. These analytics allow you to measure the impact of your shortened URLs and fine-tune your marketing strategies accordingly.
5. Social Media Integration
If you're active on social media, check whether the shortener integrates seamlessly with popular platforms, making it easy to share your short URLs across other social media posts and channels.
6. Advanced Features for Scalability
Depending on your requirements, unlimited branded links might be a critical factor. Some URL shortener services may limit the number of branded links you can create, so it's worth checking if they meet your branding demands. In terms of scalability, if you envision large-scale URL shortening needs, ensure the service can handle high volumes of short links without hiccups.
7. API Access
If you're a developer or love integrating tools, watch for API access services. This allows you to seamlessly blend the link shortener with other applications, streamlining your workflow.
The Best Link Shorteners
You probably now want to use the best URL shortener and might not know where to start. We have listed the best URL shorteners with their pros, cons, and pricing plans.
1. Bit.ly: Best for Individual and Business Use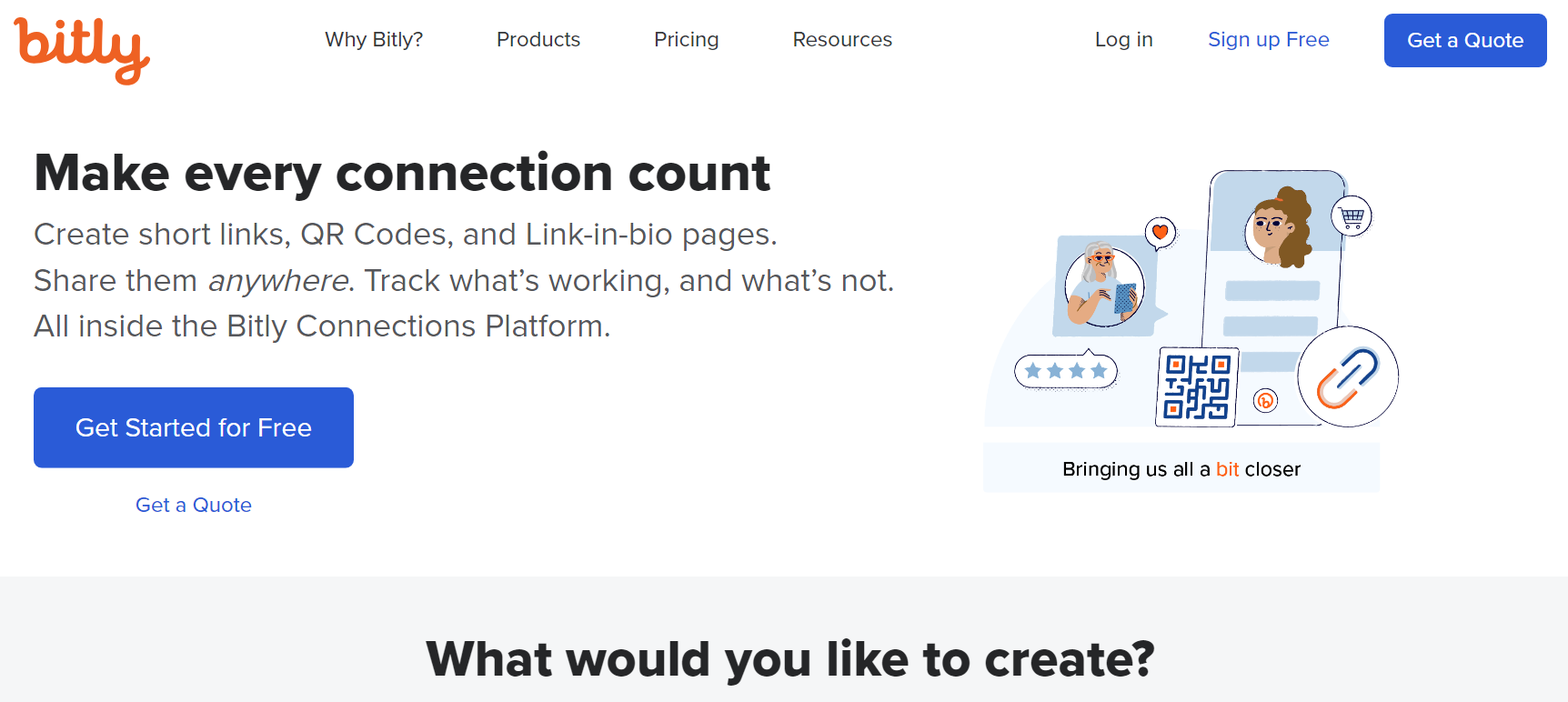 Bit.ly is the most well-known and used link shortlist. You can visit the site and shorten a link for sharing immediately, but it has many more professional marketing and branding features.
Instead of using "bit.ly" in the shortened URL, swap it with your brand's URL to instill trust in your audience, boost clicks, and match everything with your brand. According to Bit.ly, this feature alone could increase click-throughs by 34%. You can also change the destination of URLs with a Bit.ly shortened link. This is especially helpful for correcting an error or updating an expired shortened link.
Bit.ly provides a detailed dashboard for all the relevant metrics for your shortened links. Click-through rates, channel stats, geographic information of the people clicking on your links, and more than 20 data points are presented to help you make data-driven decisions.
Bit.ly integrates with over 700 other apps for scaling and automating your workflow. As a bonus, Bit.ly encrypts every link with HTTPS to guard against third-party tampering and eavesdropping. There's no doubt that Bit.ly is one of the finest link shorteners with enough features to satisfy any power user.
Bit.ly Pricing
Bitly offers four different pricing plans to cater to the diverse needs of its users. There is a free version, then a starter plan starting at $8 per month when paid annually.
For users seeking additional features, such as a custom domain, basic plans start at $29 per month with annual billing, and premium plans are $199/month when billed annually.
Pros
A user-friendly interface offers an intuitive and easy-to-use platform for shortening URLs, making it accessible to users with varying technical expertise
Customization allows the creation of branded and memorable links that match their brand or campaign
It offers link management features to organize, categorize, and edit short links
Integrates with various platforms and services
It comes with a mobile app that enables users to manage and share their short links on the go
Cons
No control over link destination
Limited features in the free plan pricing
2. Ow.ly: Best for Current Hootsuite Users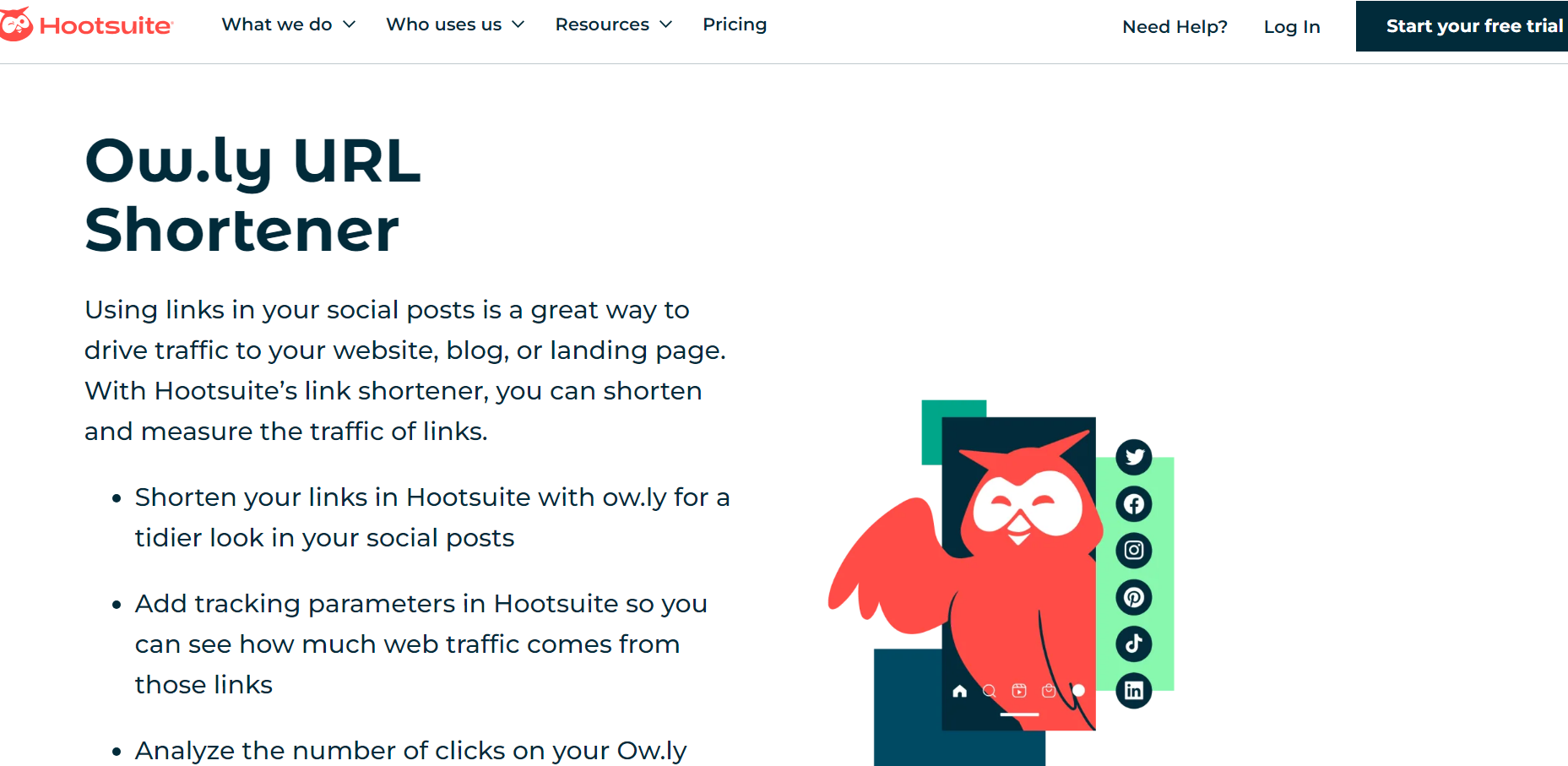 Ow.ly is a link shortener offered by the social media platform HootSuite and is available with a HootSuite account. This tool lives inside the HootSuite dashboard and lets you "shorten links, measure traffic, and demonstrate social ROI."
You can integrate Ow.ly shortened links with the social media accounts connected to Hootsuite. Hootsuite is one of the best platforms for managing your social media presence and ROI, and Ow.ly meshes well with its other features.
You can plan the content you're going to publish on Ow.ly to create links for your content so that you can track and measure results on your campaigns.
Ow.ly may not have all the most robust features, but if you're already using (or thinking about using) Hootsuite, you'll get a lot of good use from this tool.
Ow.ly Pricing
It is available as part of both the free and premium Hootsuite plans. This means you can access Ow.ly without additional charges beyond the Hootsuite subscription. To use Ow.ly, you must create a Hootsuite account, but no separate fee is associated with using Ow.ly.
Hootsuite offers various plans starting at $99 per month when billed annually. These plans provide access to Hootsuite's comprehensive social media management tools, including Ow.ly. Additionally, Hootsuite offers a 30-day free trial, allowing users to explore the platform's features before committing to a paid plan.
Pros
UTM builder is available within the settings
It's integrated into the Hootsuite platform
Users can see link analytics on top of other social analytics
Cons
Unsuitable for users who aren't using Hootsuite
3. Bl.ink: Best for Enterprise-level Link Tracking and Customization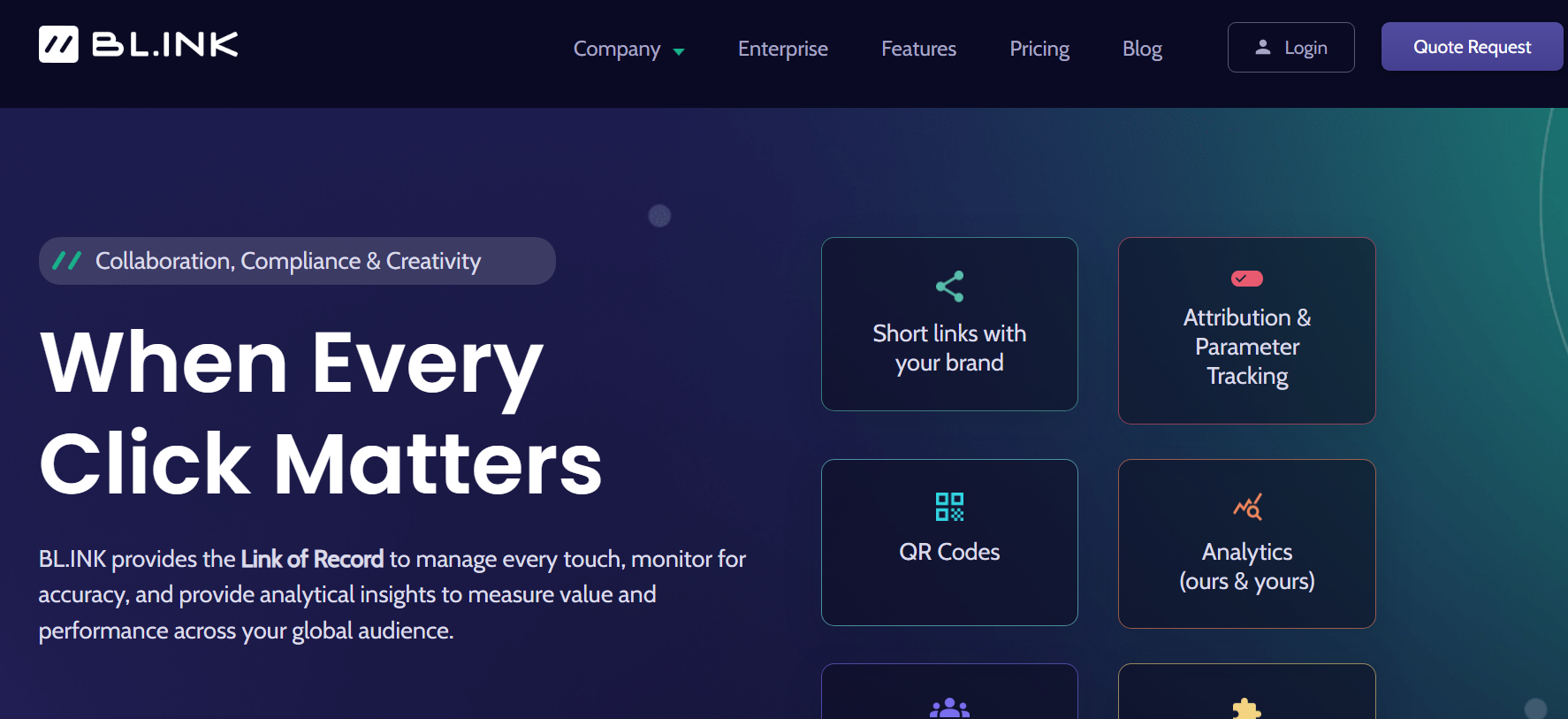 Bl.ink is another robust link shortener that provides a lot of data about your links and many advanced features, including the ability to edit the keywords in your link rather than having a random string of characters.
They aim to help you manage, monitor, and measure every touchpoint in your audience's engagement journey. Bl.ink measures what's happening with your link engagement in real time so you can stay on top of the traffic and engagement you create.
As your links, teams, and goals grow, Bl.ink scales with you. Bl.ink guarantees that each link meets the most stringent data privacy and security requirements for total peace of mind when sharing links containing sensitive information.
Thanks to its open API, Bl.ink provides access to native integrations with platforms like Khoros and Sprinklr while allowing you to connect to thousands of other tools using third-party software like Zapier and Zoho Flow.
And if you ever need help or are confused about the URL shortener, they provide prompt and friendly customer service.
Bl.ink Pricing
Blink offers a range of four main plans, with an additional Enterprise option that requires contacting their team for pricing details. Each plan includes a generous 21-day free trial for users to explore the platform's capabilities.
The available plans are as follows:
Expert Plan: Priced at $48 per month.
SMB Plan: Priced at $99 per month.
Team Plan: Priced at $299 per month.
Business Plan: Priced at $599 per month.
Pros
An extensive list of features that are suitable for enthusiastic link-shortening users
Advanced dynamic routing for your URLs
It can bulk-edit links
Excellent reporting and analytics features
Cheapest URL shortener service subscription offering 10,000 links
Compliance and privacy controls
Cons
Lacks a free plan
Lacks an option of shortening links without signing up
4. Rebrand.ly: Best for Businesses with a Smaller Following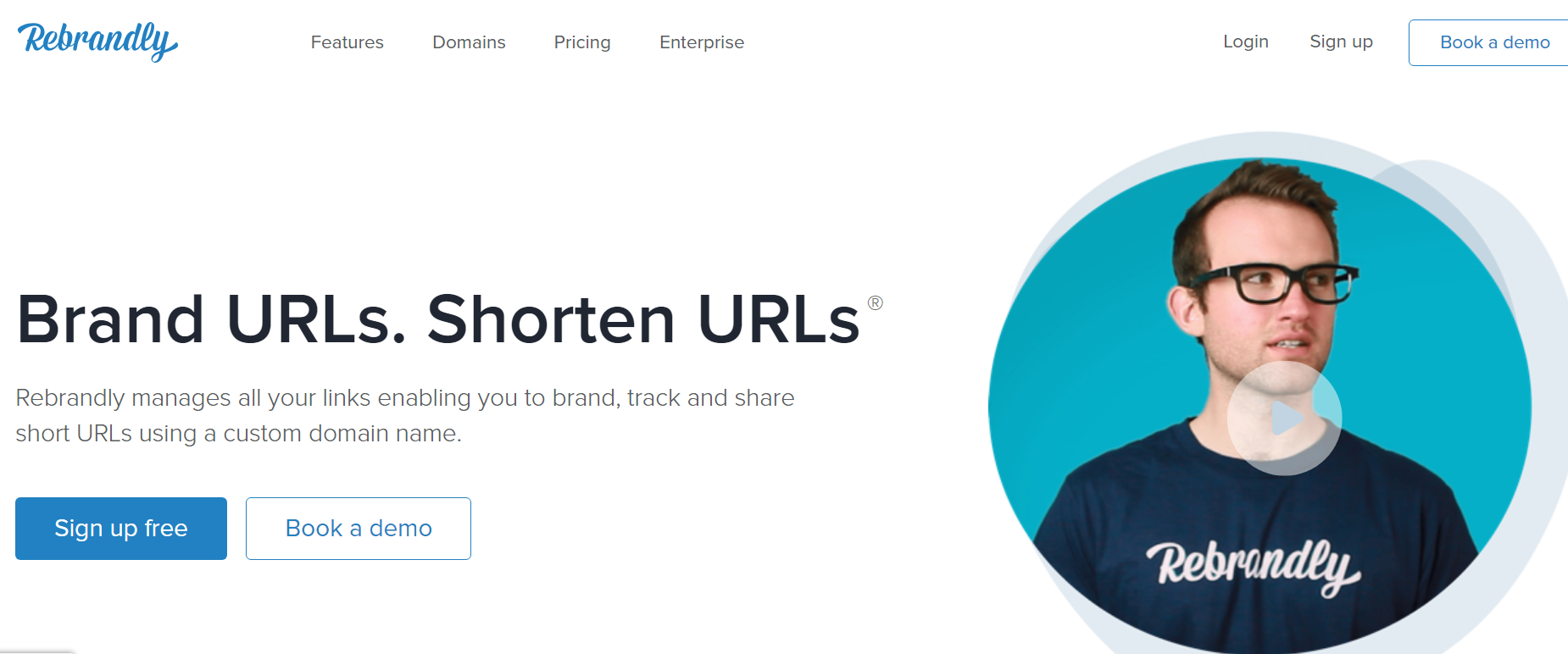 Rebrand.ly is a complete platform for managing and branding your links, with over 250,000 customers using the tool daily. It's especially useful for teams because it lets you set up folders where your team members can connect and collaborate with many branded links.
Rebrand.ly lets you manage many domains and even control specific link paths, like error 404 traffic. All the analysis for your branded links can be organized into customizable reports that are easily scheduled and shared.
Rebrand.ly provides many advanced features, such as redirecting traffic from a certain link to specific landing pages based on their location, device, browsing language, and many other factors.
With so many options for managing your shortened links, it can be overwhelming to use the tool. However, Rebrand.ly built their app with the non-tech savvy in mind and offered outstanding customer support and onboarding if you ever get confused.
Rebrand.ly Pricing
For this link shortener, they have different pricing plans. A free plan allows you to create and track up to 25 branded links. Additionally, there are:
Lite plan at $13, tracking 250 branded links per month with one custom domain
Essentials plan starting at $32 per month with 1,500 branded links per month and three custom domain names
Professional plan at $99 with 3,500 branded links per month and 5 custom domain names
Enterprise plan from $625 with 20,000+ branded links per month and 20+ custom domain names
Pros
Many in-depth analytics and custom reports
Extensive link management with editable redirects
Domain name management with SSL
Powerful collaboration tools for teams
Traffic routing technology with an open graph control
Cons
Links will expire on the free plan
5. Cuttly: Best for Optimizing the Most Powerful Links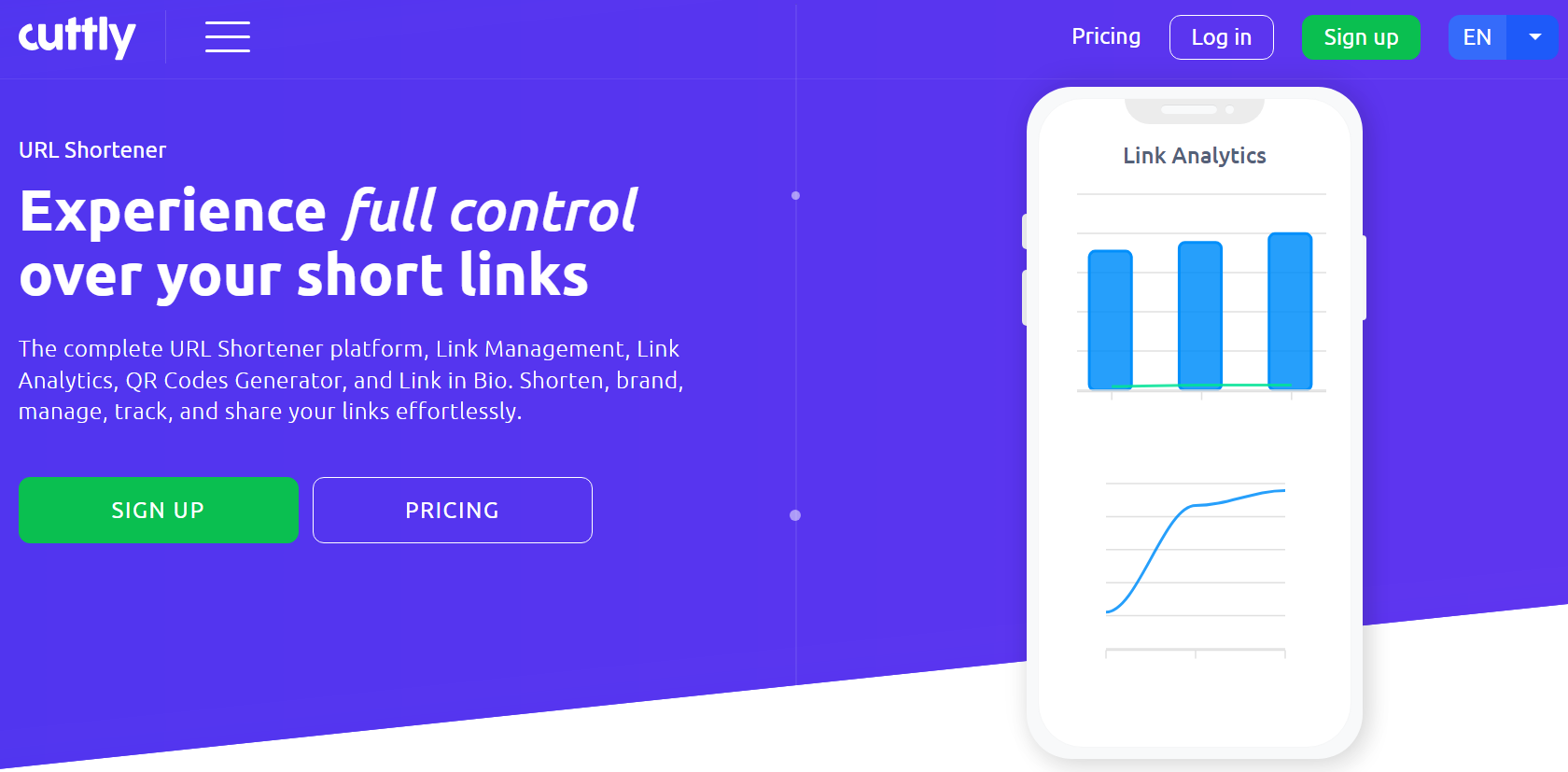 Cuttly is one of the most feature-rich and free link shorteners with an advanced tracking system for your URLs. You can quickly create shortened links, and Cuttly allows you to change the URL name into your custom name.
You can turn shortened links into QR codes with the QR code button, saving the code as a .PNG file to print and use anywhere offline, including on flyers. The URL shortener never lets your URLs expire and never displays ads to traffic while redirecting to the original URL.
Cuttly also has many real-time data analytics and measurements to ensure your URLs perform how you want them to. You'll also receive data about social media clicks, devices, and browsers used when clicking your link, geolocation of traffic following your links, and much more.
You'll see if a link was clicked on Facebook, Twitter, Pinterest, Instagram, LinkedIn, etc., in addition to SMS messages, emails, direct links, and many other traffic sources. Cuttly will even show you the Operating System used by the traffic clicking your link.
Cuttly Pricing
This link shortening tool offers an impressively generous free URL shortener that shortens links and provides a range of other valuable link management features. The Cuttly free plan includes:
One free branded (custom) domain
Up to 1,000 links per month
A link-in-bio page with five links
QR code generation
For users seeking even more features, there are three premium plans available, priced as follows:
Single Plan: $25 per month
Team Plan: $99 per month
Enterprise Plan: $149 per month
Pros
Generate QR codes
Split testing for link analytics
In-depth link analytics with insights into user location and device
Pixel tracking and UTM campaign creation
Expiration and passwords for custom links
Cons
SSO is only available on the most expensive package
6. TinyURL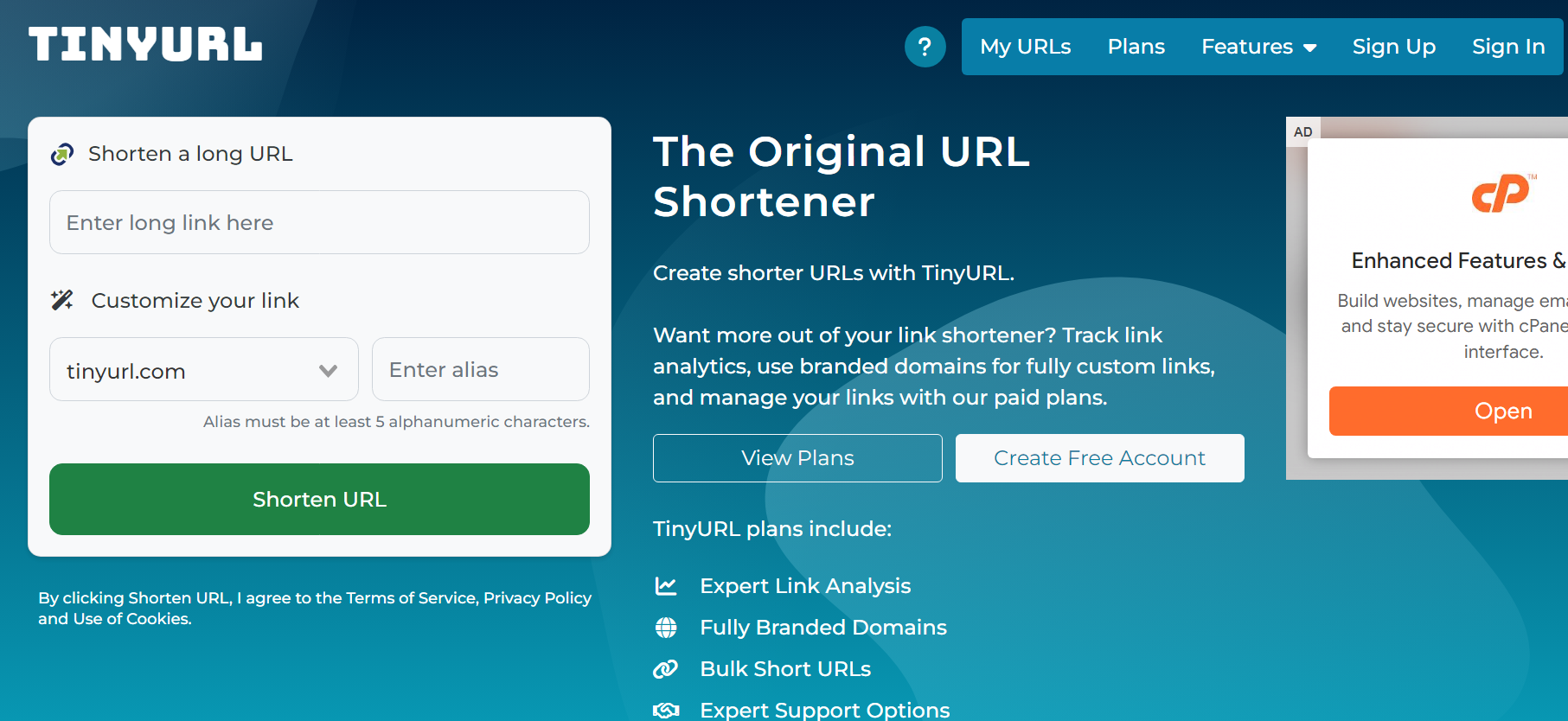 TinyURL is a free and user-friendly link-shortening platform, perfect for occasional users seeking to condense their long URLs. With over two decades of experience in the URL shortener market, TinyURL has established itself as a reputable and invaluable tool.
TinyURL offers more than just basic shortening. Once you sign up for a free account, you unlock access to essential metrics and analytics for your links. This feature is valuable for measuring your campaigns' success, even if you use it for a one-time project.
The custom URL shortener lets you generate and handle thousands of shortened URLs within a single space, streamlining your workflow. The user-friendly dashboard provides valuable insights, revealing which links drive the most traffic and helping you optimize your marketing efforts effectively.
TinyURL is the best URL shortener service for hobbyists and occasional users, especially those who plan to shorten long links for temporary use, one at a time. Its user-friendly, plug-in-and-go approach makes it incredibly easy to use and get the job done quickly.
TinyURL Pricing
TinyURL offers basic URL-shortening services that are completely free for individual users. It is one of the URL shortener services that allow you to customize your links and track your link history easily.
However, upgrading to TinyURL's premium plans is necessary if you require advanced features such as analytics. The premium plans are available at the following prices:
Pro Plan: Priced at $12.99 per month
Bulk 100K: At$129.00 per month
Pros
Enjoy extensive customization options for your branded links.
Seamlessly create domains right from the TinyURL dashboard.
Access comprehensive tracking information all in one convenient dashboard.
Benefit from API access and seamless integrations with other tools.
Take advantage of the user-friendly and convenient features offered in the free plan, including unlimited click data.
Cons
The free plan cannot use branded domains.
7. Short.io: Best for Sharing Different Links to Different Visitors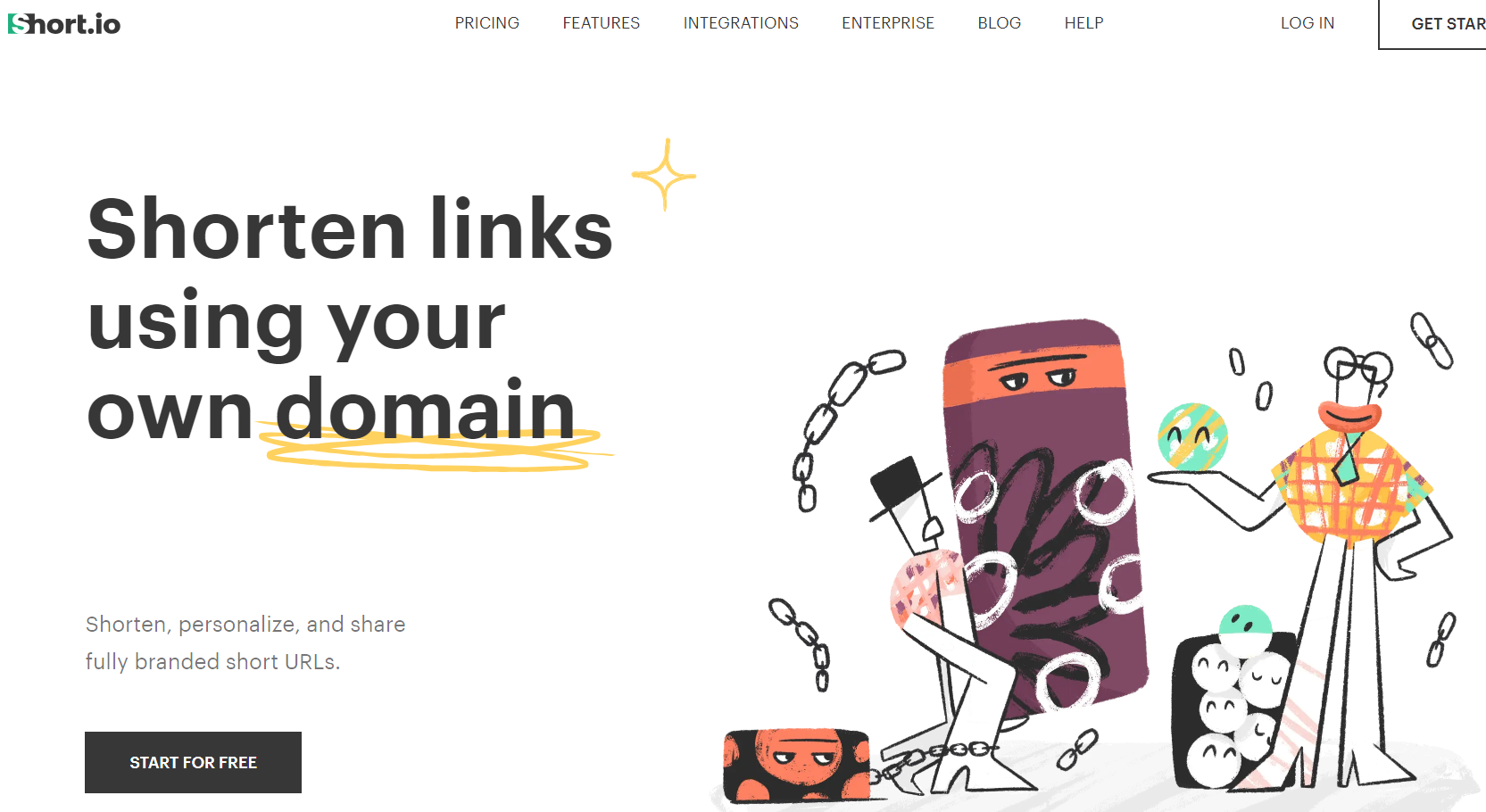 Short.io is a modern custom URL shortener with exceptional features catering to various needs. One of its key strengths lies in real-time click tracking for all shared URLs, empowering you with valuable insights into audience engagement.
Additionally, Short.io offers a collaborative environment by creating team environments. Your employees can conveniently access the library of custom URLs from a centralized location, streamlining your link management process. Tailoring to mobile audiences, Short.io provides tools to generate custom mobile links. Furthermore, you can set link expiration, ensuring timely and relevant access to your content.
For enhanced privacy and branding, Short.io offers link cloaking, presenting only your shortened URL to customers. The geo-targeting feature is another valuable addition, directing customers to the most relevant short URL based on their region or country.
Ensuring utmost security, Short.io provides in-depth password protection for safeguarding private links. Additionally, QR code generation further facilitates content discovery for your customers, and with support for 303 redirects, app integrations, and API access, Short.io offers a seamless integration experience.
Short.io Pricing
This is among the best URL shorteners, with a free plan limited to a single user and permits up to 5 custom domains. You can create 1,000 branded links within this plan and benefit from unlimited redirects.
However, to access more advanced features, such as country targeting, link expiration, password protection, and unlimited branded links, the "Personal" plan is available at $19 per month.
If you collaborate with a team and require multiple users to track and access the same links, the minimum requirement would be the "Team" package priced at $49 per month.
Pros:
Robust privacy and security features, ensuring link protection.
Flexible link expiration and link cloaking options to enhance branding and control access.
Real-time click tracking for valuable performance insights.
Convenient link importing and exporting capabilities.
SSL coverage for all your links, ensuring secure connections.
Seamless app integrations and API access for effortless interactions.
Cons:
Beginners might find the wealth of features a bit overwhelming initially.
Some of the most advanced features are available in the paid plans, requiring an upgrade for access.
8‍. Tiny.cc: Best for One-Off Link Shortening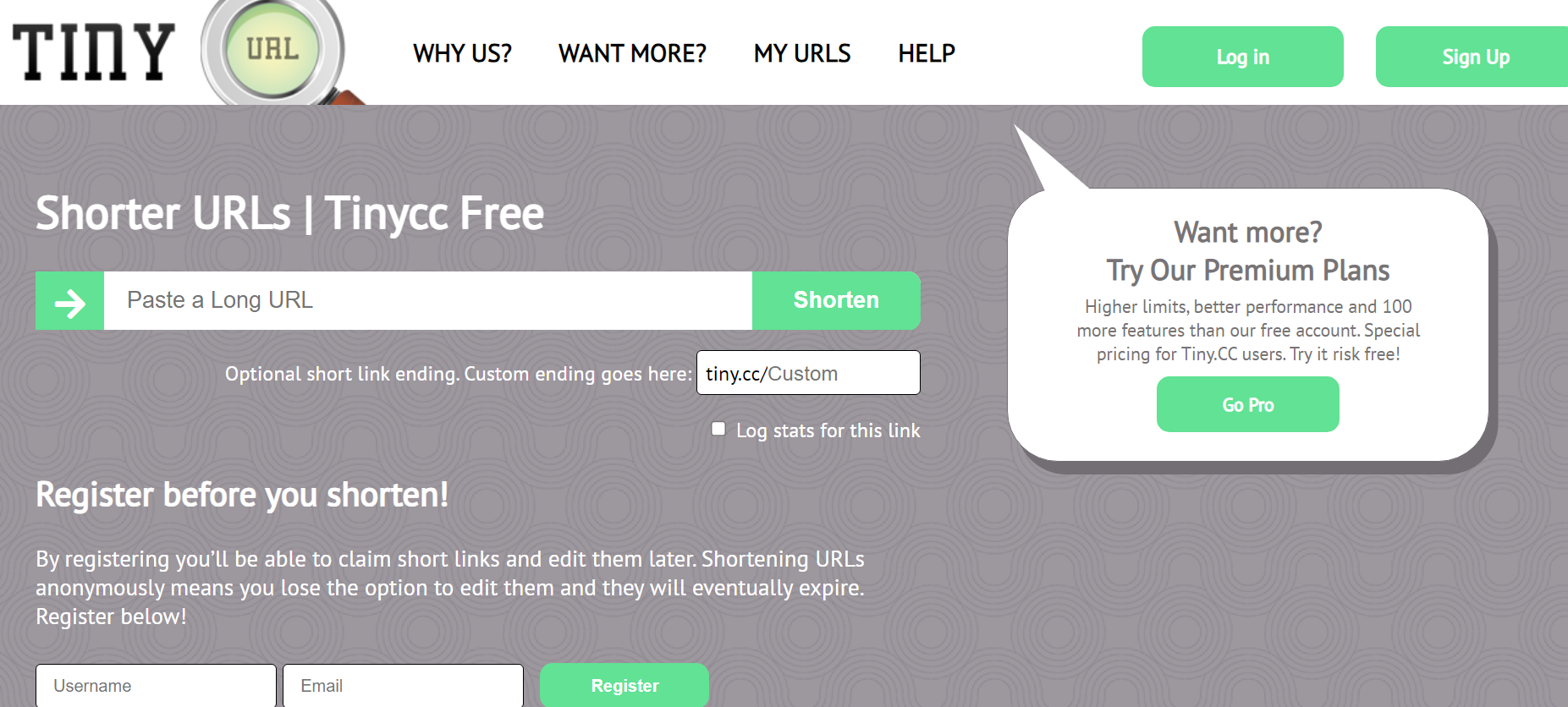 Tiny.CC stands out as a free and user-friendly link shortener, offering a seamless process to create short links effortlessly. You can paste your long link with a simple text box and hit "Shorten" to generate a compact version. Moreover, just like TinyURL, you can customize the slug for a personalized touch.
Tiny.CC serves as a versatile link management platform. It goes above and beyond by enabling various functionalities like sharing, editing, organizing, and personalizing your links. Keeping track of link performance is also made easy, allowing you to optimize your strategies for profitability.
An intriguing feature is the option to convert URLs into customizable, low-DPI QR codes for offline marketing. You can filter URLs for better organization and management. Also, registration is only necessary if you require link editing and management.
Tiny.cc Pricing
Tiny.cc offers one of the best free URL shorteners, providing plenty of capacity for individual users with a limit of 500 URLs. For most individuals, this limitation proves to be more than sufficient.
However, if you require expanded capacity for marketing purposes or media publications, this shortening URL service offers pricing plans to accommodate your needs.
Basic Plan: Priced at $5 per month.
Business Plan: Priced at $25 per month.
Pro Plan: Priced at $44 per month.
The prices mentioned above are for month-to-month plans. Opting for an annual upfront payment will result in even lower monthly costs than the abovementioned amounts. Additionally, Tiny.cc offers an Enterprise plan tailored for large-scale URL shortening. To receive a quote for the Enterprise plan, it is necessary to contact Tiny.cc directly.
Pros
Enjoy an intuitive dashboard for effortless link customization and editing.
Organize your links efficiently by utilizing campaigns and tags.
Leverage geolocation to create smart link redirects, ensuring a personalized user experience.
Enhance your marketing efforts with unique QR codes generated for each campaign.
Stay on top of link health by monitoring broken links and addressing common click issues.
Utilize retargeting pixels and UTM campaigns to optimize audience targeting.
Benefit from the flexibility of pay-as-you-go packages, tailoring the service to your needs.
Cons
Beginners won't find a free plan available, which could be a drawback for those starting.
Customer support may be limited on lower-tier plans, potentially impacting assistance availability.
9. T2M: Best for Getting Shortened URLs plus QR codes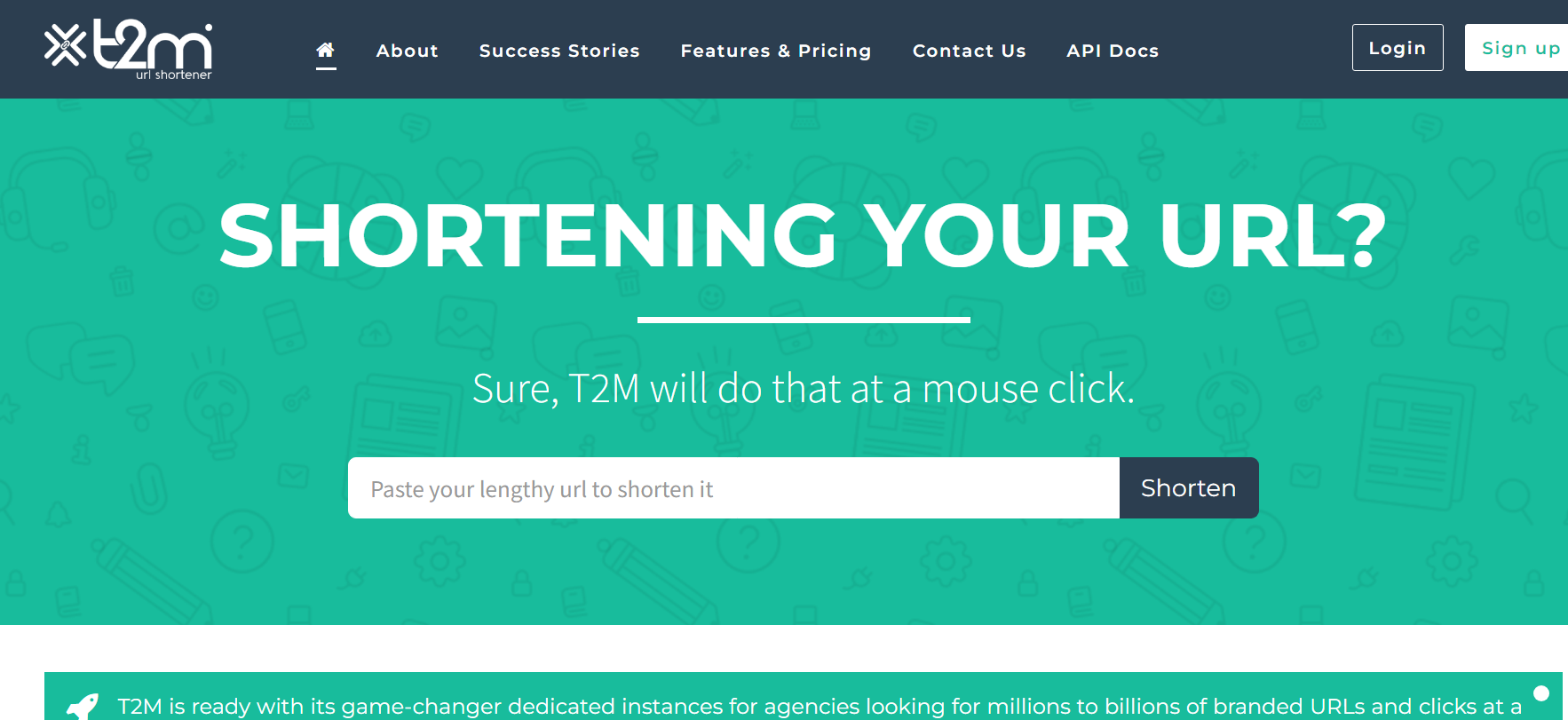 T2M stands out as one of the best link shorteners in the market, offering a feature-rich and user-friendly experience. With just a few clicks, you can easily shorten long URLs and keep detailed records of link visits. The URL shortener provides a fantastic dashboard, granting lifetime access to all your URLs and printable QR codes in an all-in-one environment.
Managing your links becomes simple and efficient with T2M's numerous features. The dashboard lets you view all your links from a centralized location, with one-click social sharing and password security. Additionally, you can set URL expiration dates and customize routing requirements based on your target audience's location.
T2M goes the extra mile by offering control over multiple domains, access to custom vanity URLs, and guaranteed SSL encryption for all your links. With API access, you can seamlessly connect your URL shortener to the tools you already use. The analytics area provides a timeline chart, private and public reports, and sophisticated analytical charts, including device type and country, ensuring comprehensive insights.
For better organization, T2M offers a UTM builder and the ability to categorize and organize URLs based on campaigns. You can also rely on a dedicated uptime guarantee of 99.9%, ensuring the utmost reliability for your links and GDPR compliance.
T2M Pricing
T2M does not offer a free package; however, they provide a 15-day trial period to explore their features and determine if the service meets your needs. However, there are other paid plans, such as:
Basic: at $5
Standard: at $9
Pro: at $29
Premium: at $89.99
Pros:
Comprehensive URL management with password and expiration protections.
QR codes and one-click social sharing support.
Branding on unique domains and URLs.
Comprehensive analytics and tailored reports.
Bulk campaign builder and management.
IP address and load balancer support.
White labeling and on-demand teammate add-ons.
Cons:
No free plan is offered.
A modest learning curve for beginners.
10. ClickMeter: Best URL Solution to Enhance Affiliate Marketing Campaigns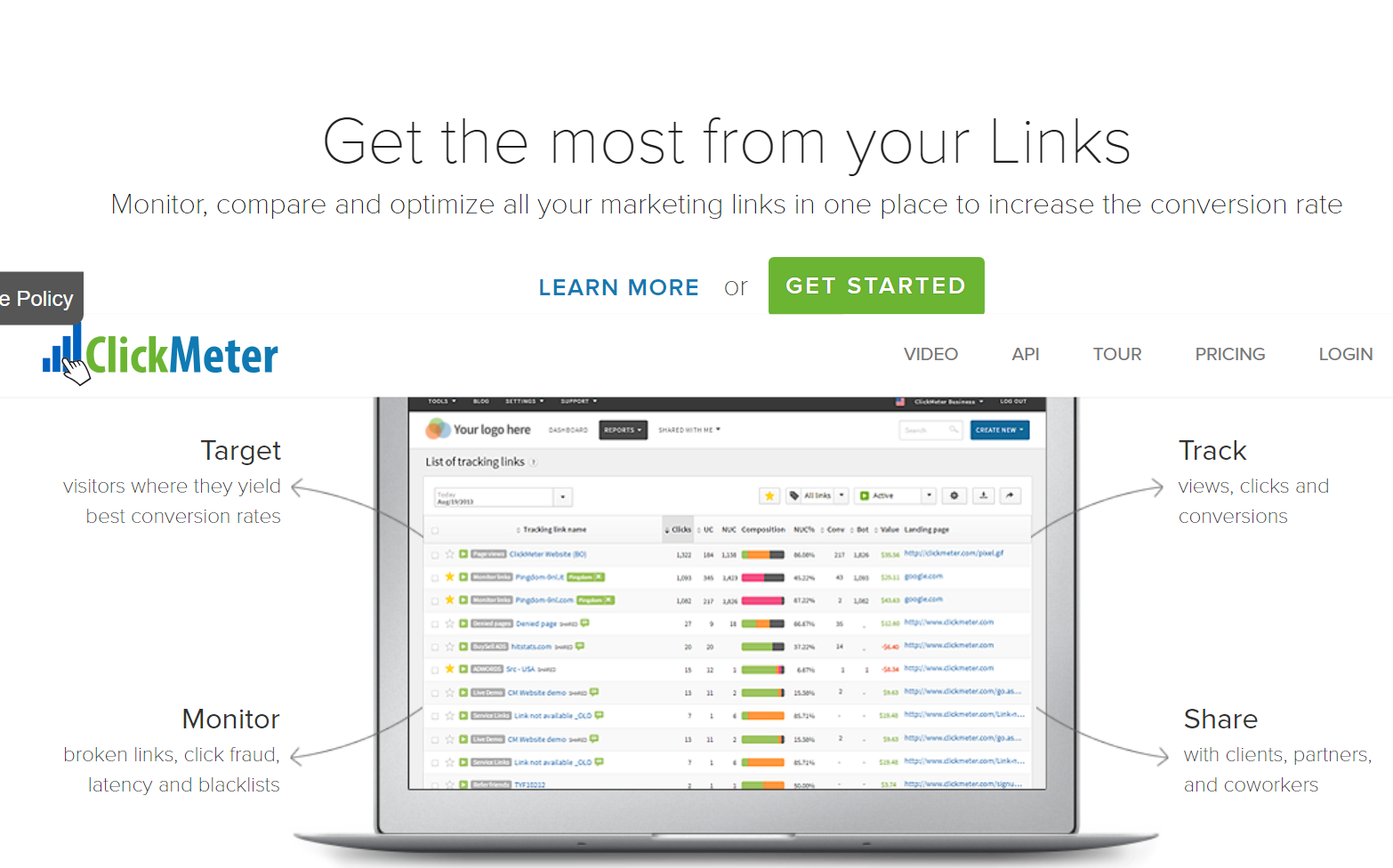 ClickMeter, a versatile URL shortening, affiliate click tracking, and monitoring tool, offers a comprehensive business solution. With its user-friendly application trusted by over 100,000 firms worldwide, you can maximize your interactions and stay on top of every link's performance. The platform even includes a broken link checker, ensuring your business never misses out on valuable engagement opportunities.
Geared toward marketers and marketing firms working with Google AdWords or other ad networks, ClickMeter proves effective for webmasters with a global readership and multiple languages. It seamlessly interfaces with popular content management systems like Shopify and WordPress, providing location-based targeting for tailored campaigns.
ClickMeter's capabilities extend beyond simple URL shortening. You can personalize your links, employ alternative URLs to target specific audiences, and more. The convenient dashboard monitors latency, blocklists, click fraud, and broken links. The platform offers sophisticated tracking options for better insights into your views, clicks, and conversions.
ClickMeter's API access and robust tools for sharing URL libraries make it easy to connect with other applications, benefiting your workflow. Notable features include affiliate marketing capabilities, built-in Excel reporting, and data storage options.
One of its best features is the A/B testing capability, empowering you to optimize your marketing efforts. Remarketing, retargeting, and team functions with subaccounts for your employees further enhance your campaign management.
ClickMeter Pricing
ClickMeter provides three premium plans, each backed by a 30-day money-back guarantee:
Medium Plan: Priced at $29 per month, which supports tracking for up to 25,000 clicks per month, one year of data storage, support for one branded domain, and conversion tracking
Large Plan: Priced at $99 per month with more affiliate marketing tools, 10 sub-accounts, click fraud protection, and extra event tracking
X-Large Plan: Priced at $349 per month.
Pros
Top-notch affiliate marketing and tracking tools
Multilingual support and geotargeting
Efficient bulk link creation and multiple API keys
Included A/B test rotator in all packages
Comprehensive click fraud protection and broken link tracking
Support for Google Analytics UTM
Precise device-based targeting
Accurate tracking for conversions and revenue
Cons
Cost can be high for advanced features
Slight complexity for beginners
Beyond Link Shorteners: Why "Shortening" Your Communication With Your Team Improves Productivity
The big idea behind link shortening is that it helps you communicate more effectively and quickly. This same principle can be applied to other forms of communication. Long emails and meetings can often hurt your message, cause confusion, and decrease productivity.
Humans are visual creatures. We prefer and better understand visual communication. Zight helps everyone in your company communicate with each other faster and easier.
Product managers can quickly send A and B options for decision-makers to decide between with screenshots or videos, ask for changes using annotations, and provide clear instructions with GIFs.
Executives and managers in other departments can provide quick feedback on projects by recording webcam videos.
Product Marketers can use Zight to screenshot performance metrics, communicate revisions, and quickly provide essential feedback.
Zight makes collaboration fun and easy while reducing miscommunication and mistakes. We bring HD screen, webcam recording, and GIF creation to the cloud in an easy-to-use, enterprise-grade app so you can quickly create and share visual content with automatically-generated share links. No more multi-paragraph emails or unnecessary team meetings.
Zight is used by over 3 million people and is trusted by top companies such as Uber, Salesforce, and AG2 Crowd has ranked us, Crowd, as one of the top sales enablement tools, and we continue to help companies improve communication with all of our solutions.
We believe fast and easy collaboration is a great thing, not only for your bottom line but for your company culture as well.
And we make it easy for teams like yours to:
Save Time
Communicate More Clearly
Grab Attention
Personalize Content
And so much more.
Discover how "shortening" communication with Zight (formerly CloudApp) makes communication faster while boosting productivity today.
Frequently Asked Questions on the Best Link Shortener
1. Which is the best URL shortener? (Answer "best free" and "best paid")
Best Free URL Shortener: Bitly is often regarded as one of the best free URL shorteners. It provides a user-friendly platform, link management features, and basic analytics.
Best Paid URL Shortener: Rebrandly is considered one of the best-paid URL shorteners. It offers advanced features like custom domain support, branded links, link customization, comprehensive analytics, and a user-friendly dashboard.
2. Is Google URL Shortener Better than Bitly?
Google enjoys a significant security advantage over Bitly. Users of Bitly often encounter abuse from spammers, leading to a decline in the efficiency and quality of Bitly links. However, when Google shortener links are utilized, the occurrence of abuse decreases significantly.
3. Which URL Shortener Pays Daily?
Shrinkearn.com is the best link shortener that pays daily. The free URL shortener allows users to earn profits through conversions and clicks on shortened URLs. With an Alexa rating of 21,584, it offers earning opportunities from desktop and mobile clicks. This service is available globally, accessible from anywhere in the world.
Editor's note: This article was first published in September 2020 but has been updated for comprehensiveness.