Gone are the days when video editing tools were reserved for seasoned professionals. Today, anyone can dive into video editing and unleash their creativity. The best video editing software or tools have quickly become must-have investments. Also, video editing software is fantastic for creating product demos, posting on Instagram, or sharing video streams on YouTube. So hello, content creators!
Thankfully for today's professionals, video editing tools are easy to come by. There are many excellent tools to help you deliver the best customer experience, especially if you're in the customer service space. But unfortunately, it's daunting to determine which video editing software you should invest your hard-earned money in.
Today, we'll review the best video editing tools to help you make an informed decision.
What to Consider when Choosing the Best Video Editing Software for Your Business
To find the best video editing software, you need to realize that there's no one-size-fits-all. Instead, it depends on what you want to use the tool for. For example, some professionals need video editing software to filter video content and remove unwanted mistakes. Others need a video editing solution to chop through clips and splice them together.
A few things you should consider are:
1. Ease of use
All video editing solutions have a learning curve to consider. However, some options are easier to use compared to others. A brilliant way to ensure you're comfortable using your chosen tool is to look for a video editing tool with many guides, documentation, community support, and videos to help you.
2. Online or downloadable
Some video editing options allow you to upload your content into a web-based application for editing purposes. With others, however, you'll need to download the tool. Both options are ideal for a wide range of video editing needs, but downloadable solutions are more comprehensive.
3. Budget
The more affordable the video editing tool, the more likely you'll have to compromise on advanced features. However, finding a tool that matches your budget while still offering you the proper functionality is vital. Luckily, you can get some free video editing software that is worth it too.
4. Features
What do you want to achieve with your video editing solution? Most tools have many features, such as adding overlays and filters, changing aspect ratios, or adding captions and text to your videos. Some options include stock audio, scene transitions, and other functions.
5. File formats
An excellent video editing solution should permit you to access videos in many formats and save your finished video projects in the correct format and file type. In addition, access to various formats makes it easier for you to upload your videos to your desired platforms.
Let's now dive into the best video editing solutions available today.
The Best Simple Video Editing Software for Business Videos
The right video editing software is essential when creating professional and engaging business videos. The best simple video editing software can help you enhance your videos, add effects, trim and merge clips, and create a polished final product that represents your business in the best possible way.
Whether you're a small business owner, a marketer, or a content creator, having user-friendly software with powerful features can save you time and effort while delivering impressive results. We will explore the top contenders for the best simple video editing software for business videos, highlighting their key features, pros, and cons, so you can choose the right tool to take your business videos to the next level.
1. Zight Video Editor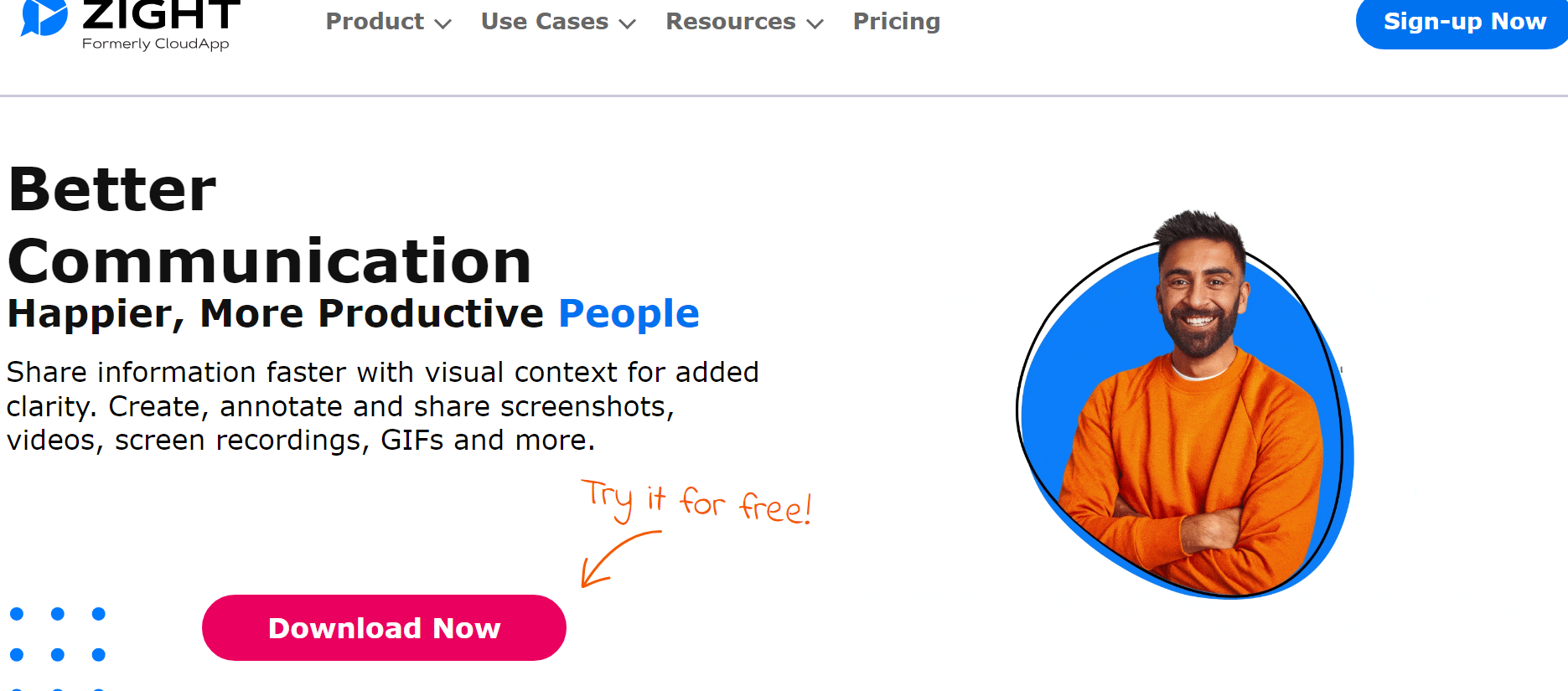 Zight is an exceptional choice for businesses looking for simple yet powerful video editing software tailored for screen and video recordings. With its extensive features and user-friendly interface, Zight empowers businesses to create professional-looking videos easily, making it the best video editing software.
One of Zight's standout features is its specialized editing capabilities for screen and video recordings. Whether you need to edit software tutorials, product demonstrations, or online training videos, Zight provides the tools to enhance and polish your video recordings. This allows you to easily trim, crop, and merge video clips, add captions or subtitles, and incorporate annotations to highlight important points.
Installing Zight is a seamless process. Simply visit the Zight website and follow the instructions to download and install the software on your preferred operating system. Luckily, Zight is compatible with Windows and macOS, ensuring businesses can utilize this software regardless of their chosen platform.
When it comes to quickly editing a video, Zight offers an intuitive and streamlined workflow. Once you have recorded your screen or video footage, you can import it into Zight with just a few clicks. Zight's timeline-based editing allows you to precisely trim or split video clips, apply transitions, and add overlays or annotations. With its real-time preview feature, you can instantly see your changes, ensuring efficient editing and saving valuable time.
For businesses seeking detailed information about Zight's video editing features, Zight's website provides a comprehensive overview.
Lastly, the Zight video editing tool has two plans: Team at $8.00 per monthly user and Pro at $9.95.
Pros
Specializes in editing screen and video recordings.
Intuitive interface for seamless editing.
Offers a range of features for trimming, cutting, and enhancing videos.
Easy installation process.
Ideal for business professionals seeking quick video edits.
Cons
Limited advanced features compared to more robust editing software.
It may not be suitable for complex editing projects.
2. Movavi Video Editor

Movavi has established itself as one of the best simple video editing software options for business video editing. What sets it apart is its visually appealing interface that hosts a comprehensive range of tools, catering to the needs of business video editing, hobbyist video editors, and YouTubers.
With Movavi video editor, you can expect attractive effects, seamless transitions, and a selection of soundtrack music. Moreover, as one of the best video editing software, it boasts impressive export speeds and allows direct uploading to platforms like YouTube and Vimeo.
Since time is of the essence when it comes to business videos, Movavi video editor excels in rendering and editing videos quickly, enabling users to complete their projects efficiently and meet tight deadlines. In addition, it's a suitable editing software for beginners, thanks to its user-friendly interface and appealing video and audio editing tools.
Furthermore, it caters to entrepreneurs seeking affordable video editing software without compromising functionality.
In terms of pricing, Movavi offers both one-time purchase and subscription options, making it reasonably priced for users. It is available for both macOS and Windows.
Pros
Easy-to-understand user interface
Chroma-key capability
Motion tracking and picture-in-picture tools
Quick movie creation tool
Transitions with sound
Cons
It doesn't have advanced trim modes and clip pre-trimming
The rendering is on the slow side
The free version may have limited functionality.
3. Loom Video Editor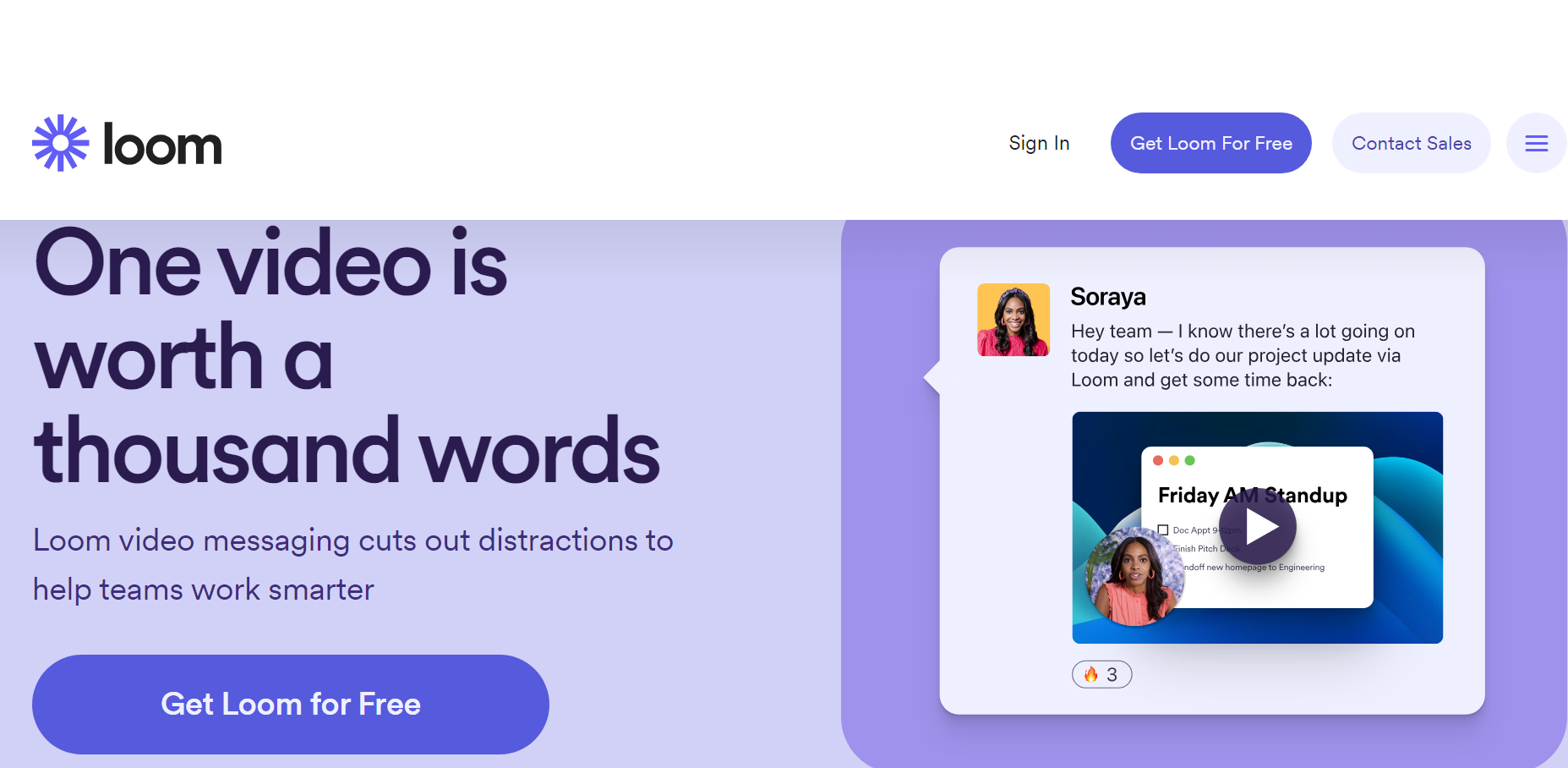 If you are not using Zight, you can't miss capturing your screen effortlessly with Loom's intuitive interface. It is perfect for showcasing software demos, tutorials, and presentations. Edit your recordings easily, trimming and cropping to perfection while ensuring your videos are polished and professional without the steep learning curve.
It is another of the best editing software for beginners since it allows you to share your videos instantly through direct links or embed them anywhere for maximum impact. You can also collaborate in real-time, working with your team to polish your business videos perfectly. Loom video editor integrates flawlessly with your favorite business tools, streamlining your workflow and boosting productivity.
Engage your audience with interactive features like captions, comments, and reactions. Ensure your video files reach all viewers and leave a lasting impression. Rest easy knowing your valuable video content is securely stored in the cloud, accessible whenever and wherever you need it.
Loom is the ultimate companion for business videos, combining simplicity, functionality, and creativity. Elevate your video communication game and leave a lasting mark with Loom!
Lastly, the video editor has a free version, a business plan of $12.50, and an enterprise option where you can get customization depending on your needs.
Pros
Effortless video creation and editing experience.
Intuitive interface for easy navigation.
Share videos with clarity and polish.
Suitable for quick and simple editing tasks.
Cons
It may lack some advanced features required for complex edits.
Limited customization options compared to more advanced software.
4. Camtasia Video Editor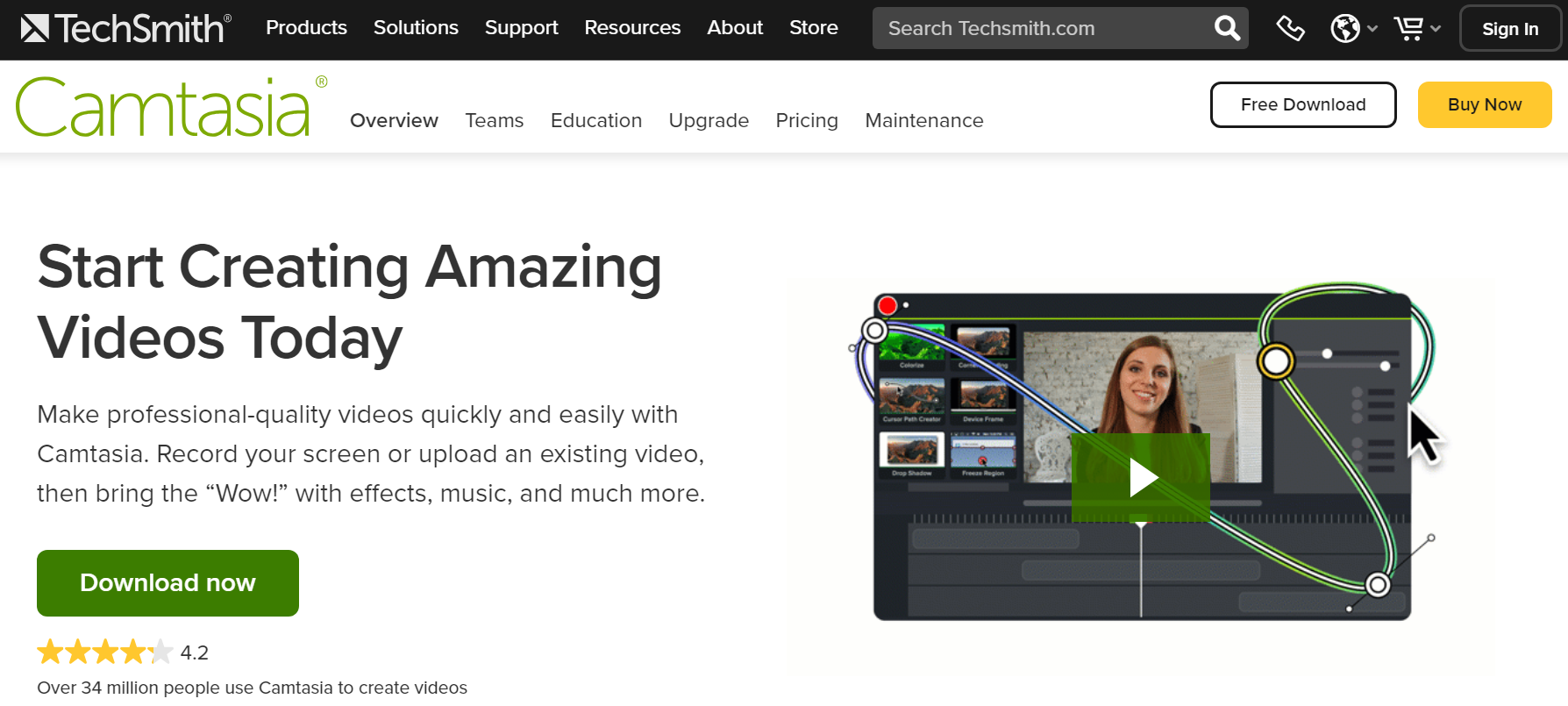 Camtasia is an exceptional choice for businesses seeking a comprehensive, user-friendly video editing solution. With its wide range of features and intuitive interface, Camtasia empowers businesses to create professional videos easily.
One of the key advantages of Camtasia is its extensive editing capabilities. Whether editing audio and video clips or adding visual effects, Camtasia provides robust tools to enhance your business videos. Its simple drag-and-drop functionality allows for a seamless arrangement of media elements, making the video editing process more efficient and enjoyable.
For businesses focused on producing high-quality videos, Camtasia offers support for 4K resolution, ensuring that your content looks sharp and visually impressive. This is especially valuable when creating product demos, training videos, or promotional content.
Camtasia also caters to the needs of business professionals by offering advanced features like screen recording and motion tracking. These key features will enable businesses to create engaging software tutorials, presentations, and demonstrations. Additionally, Camtasia provides options for adding annotations, callouts, and captions, ensuring clear communication and enhancing the overall viewer experience.
Furthermore, Camtasia simplifies the process of sharing your business videos. It offers various output formats and allows direct publishing to popular platforms like YouTube and Vimeo. This makes it effortless to distribute your videos across different channels and reach your target audience effectively.
They also offer a 30-day free trial to get a feel for the platform before making any financial commitments. Prices begin at $299.99 and range to various points based on the number of users and business size.
Pros
Clean setup and user-friendly interface
Fast importing of media
Fast rendering & exporting
Simple editing controls but with a minimal learning curve
Cons
Constant crashes And bugs
Fewer keyboard commands
5. DaVinci Resolve Video Editor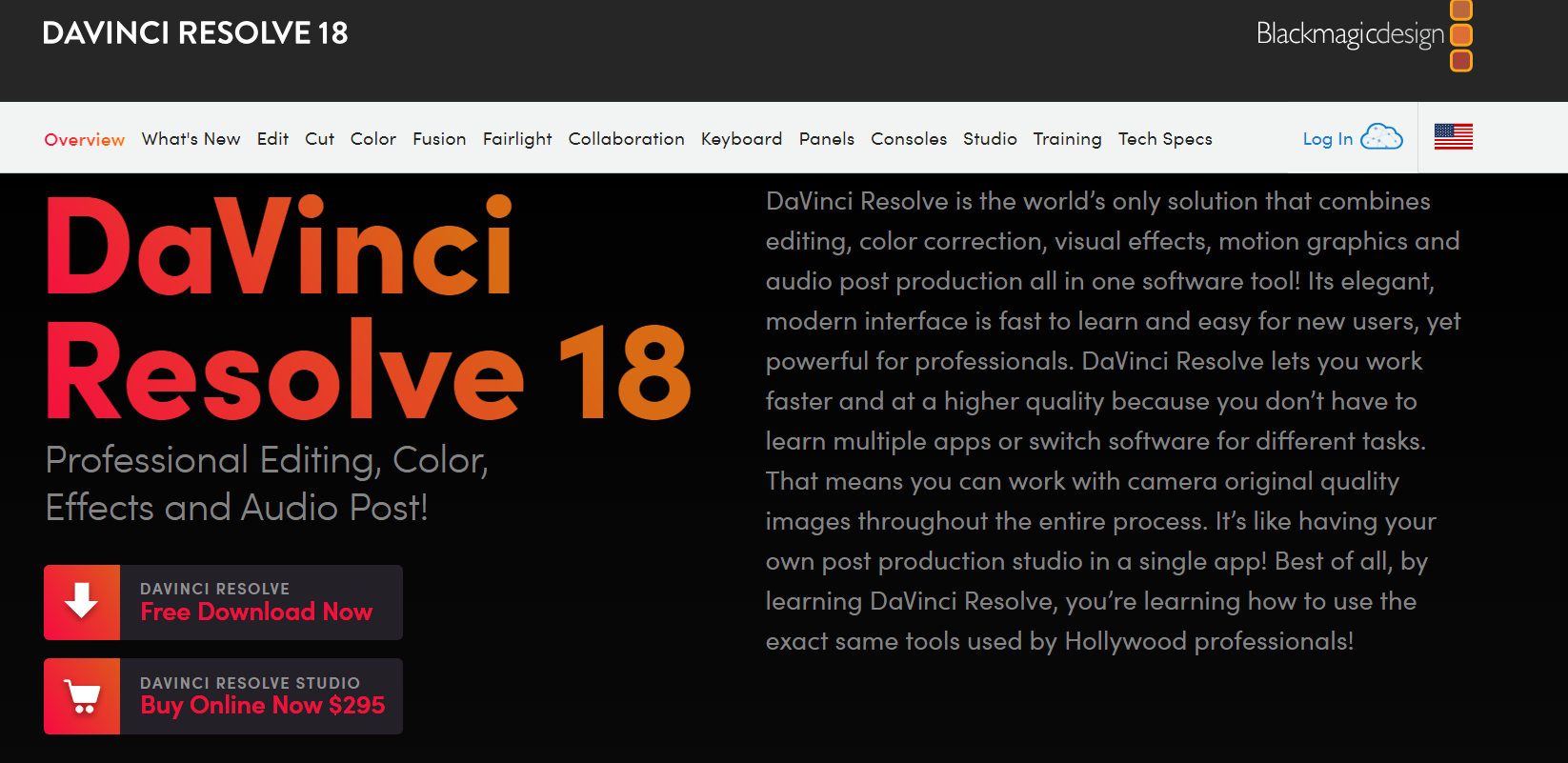 DaVinci Resolve is an exceptional choice for businesses seeking powerful and versatile video editing software. With its comprehensive feature set and professional-grade capabilities, DaVinci Resolve empowers businesses to create impactful and visually stunning videos.
One of the standout features of DaVinci Resolve is its advanced color grading capabilities. This software is renowned for its industry-leading color correction tools, allowing businesses to enhance the visual aesthetics of their videos and maintain consistent branding. Whether adjusting brightness, contrast, saturation, or applying creative color grading techniques, DaVinci Resolve provides the tools to achieve exceptional results.
DaVinci Resolve supports up to 8K resolution for businesses requiring high-quality output, ensuring your videos look stunningly crisp and detailed. This level of visual fidelity is particularly advantageous for businesses creating promotional videos, advertisements, or corporate presentations.
DaVinci Resolve's intuitive interface and streamlined workflow make it easy for business professionals to edit their videos efficiently and effectively. Additionally, the software provides robust audio editing capabilities, allowing businesses to enhance their videos with high-quality soundtracks and audio effects.
Collaboration is made seamless with DaVinci Resolve's project-sharing and version-control features. This is especially valuable for businesses in teams, as it allows multiple editors to work on the same project simultaneously, ensuring efficient collaboration and smooth workflow.
Moreover, DaVinci Resolve includes powerful visual effects and motion graphics tools, enabling businesses to add professional-level effects to their videos. This feature is handy for businesses creating visually engaging presentations, explainer videos, or animations.
For pricing, it is one of the video editors with a free version of DaVinci Resolve 17, formerly known as DaVinci Resolve Lite and a paid version that costs only $295.
Pros
Multiple formats and resolutions.
Industries' best color grading
Free version
Fast processing.
Relatively low system requirements.
Cons
The interface can be confusing.
Not as well integrated with outside software as some competitors.
Noise reduction is only available in the paid version.
The Best Video Editing Software for Professional Videographers
After we've covered the best simple video editing software for business videos in the section above, we can't forget the individuals who mostly use video editing programs- Professional videographers. We understand that quick how-to videos and customer support screen recordings may not be your tea. Instead, we're here to unveil the best video editing software to fuel your creativity and help you create awe-inspiring visuals.
This section will highlight the video editing software specifically tailored for professional videographers tackling intense recording and editing tasks. Most of these best video editing software caters to the heavyweights of video recording and editing, offering advanced features and capabilities that truly elevate your creations. Let's check these video editing software out:
6. Adobe Premiere Pro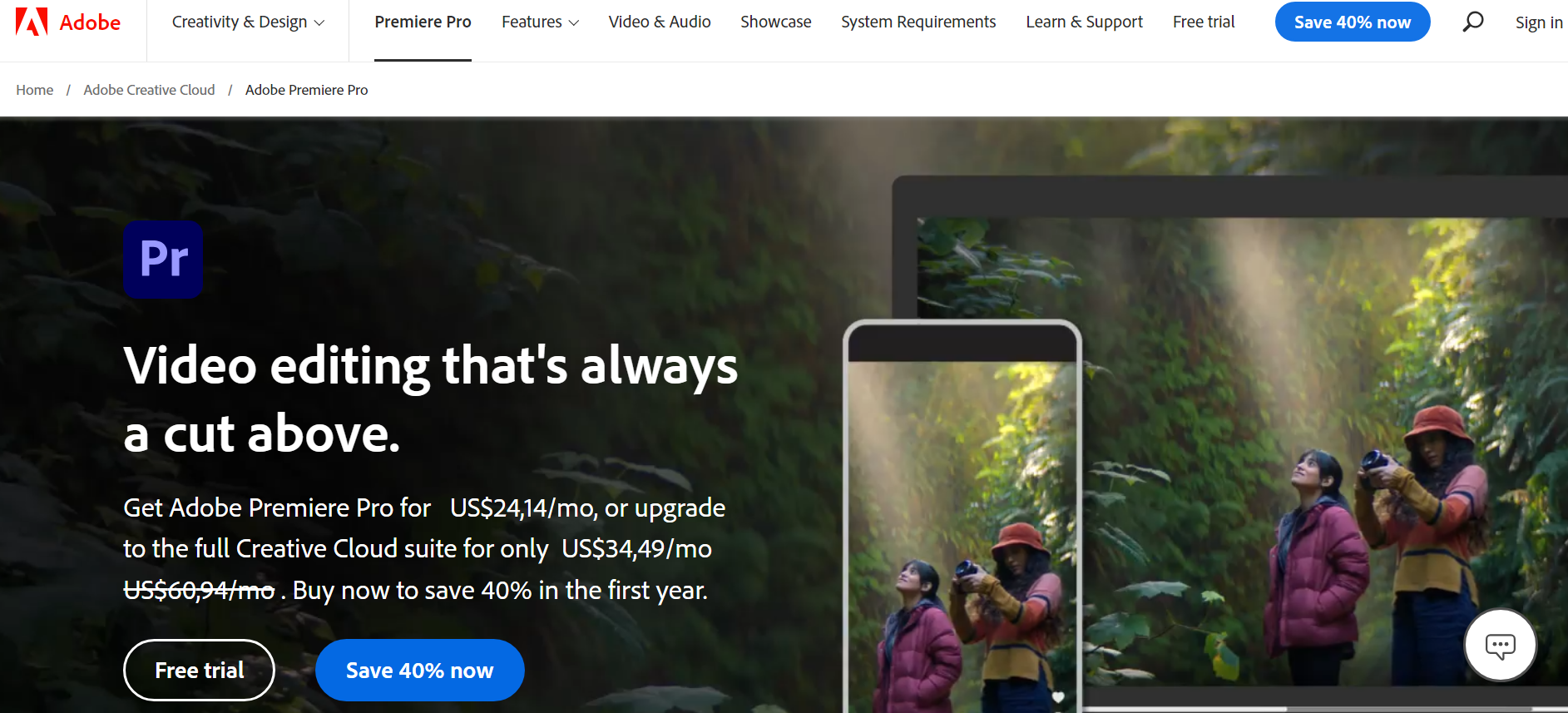 Adobe Premiere Pro is widely considered the industry standard for video editing solutions. It sports a massive selection of features to choose from. Whether you purchase it as part of the Adobe Creative Cloud or as a standalone tool, it's a powerful and feature-rich video editing tool for all professionals.
With Premiere Pro, you'll have access to many intelligent tools, which means you can easily design and edit 4K, VR, and 8K videos to suit various needs. In addition, you can create and convert your videos to different formats and save your projects however you wish. Also, with Premiere Pro, you'll have unlimited access to other Creative Cloud apps, allowing you to access video effects, photos, and other tools easily.
This video editor also has access to Premiere Rush, which allows you to film and edit your videos on your smartphone and publish them straight to social platforms.
Pros
Tons of professional features for photo and video editing
Create and edit your pictures and videos in various formats
Access to a vast selection of adjustments, filters, and fixes
Access to all Creative Cloud's features for touch-ups
Perfect for Windows users
Cons
Requires time to learn how to use it.
Pricing for Adobe Premiere Pro as part of the Creative Cloud starts at $39.99 monthly, thanks to a limited-time offer. Alternatively, you can buy it as a standalone tool for $20.99/month with an annual commitment or $31.49/month.
7. Corel VideoStudio Ultimate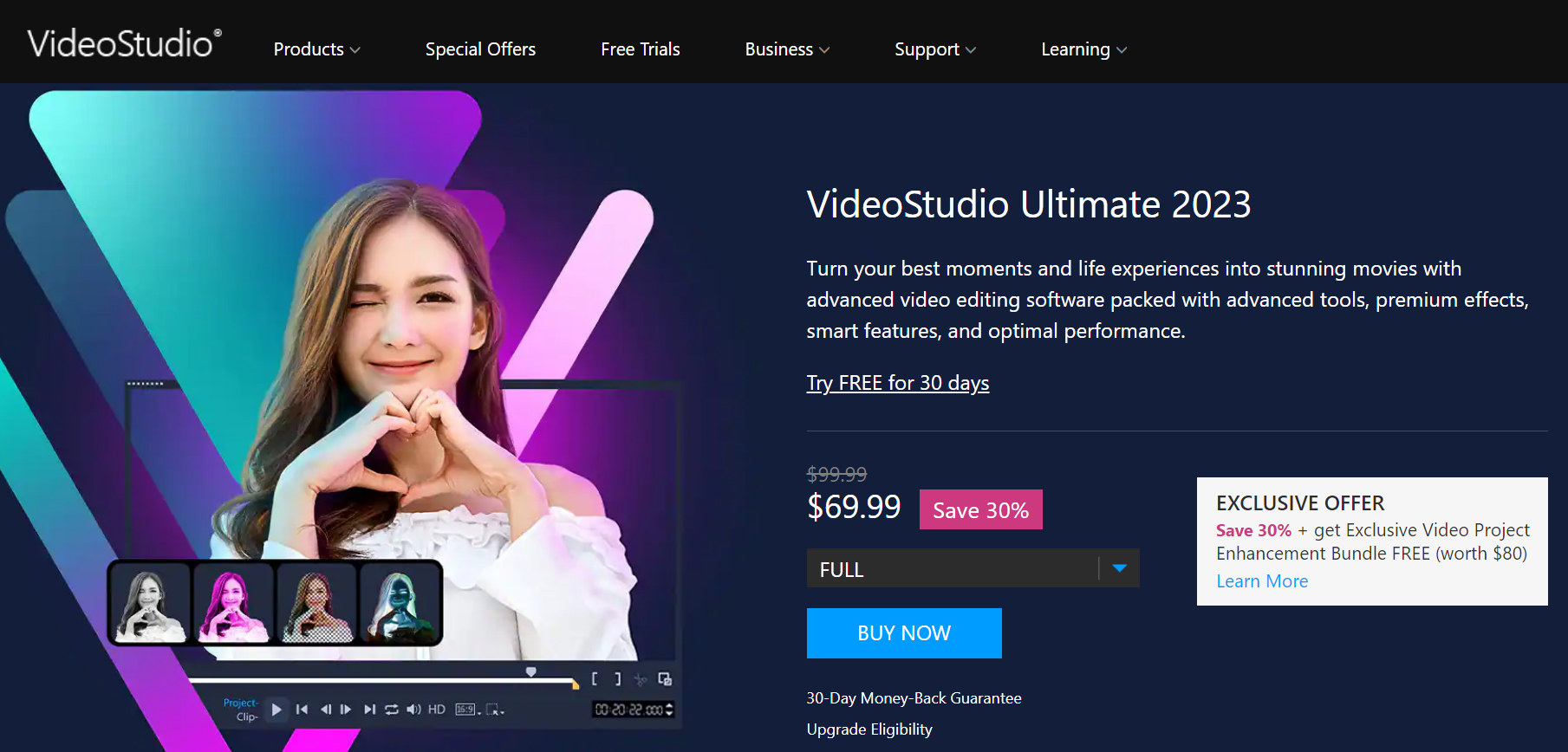 This is an immersive and straightforward video editing software, which is now in its 2022 version. It's perfect for Windows users. The software allows you to transform your video clips and movies with premium effects, color grading, and video masking.
Corel VideoStudio sports a reliable, straightforward, and clean user interface, making it easier for everyone to get started. After mastering its basics, you can explore advanced tools like 360-degree videos, motion tracking, and 4K video editing. With this video editing tool, you can add 3D text and music for captions.
Although this software is tricky to use at first, primarily if you've never used similar software, it's one of the best video editing solutions available today, with much lower learning than tools like Adobe Premiere Pro.
The price starts at $79.99, thanks to a limited-time 20% offer.
Pros
360-degree videos and 4K video editing.
Powerful video masking and color grading.
Optimized performance for all file types.
Fantastic user interface with simple features.
Perfect for all kinds of users.
Cons
Layering can be complicated.
8. PowerDirector 365

Today, PowerDirector 365 is a widely used video editing tool for those looking to make their video clips look better or edit components of their professional videos. It sports loads of great tools for cutting, cropping, editing, and adding effects to your videos.
This software offers an intuitive interface, allowing users to access advanced tools and refine their videos. This tool allows you to access advanced features like mask designer tools, intuitive motion tracking, and dynamic keyframe controls.
Its personalized vector shapes also allow you to add several unique customizations to your content, and the animated titles can help you grab your audience's attention. PowerDirector 365 also allows you to change the aspect ratio of your videos quickly so you can easily upload them to social media networks.
This software from CyberLink starts with a monthly subscription of $19.99. Alternatively, you can access a free trial to try out its services; however, you won't yet access the more advanced features.
Pros
Quick rendering and video stabilization
360 video creations and advanced features
Excellent stabilization and motion-tracking features
Multicam designer functionalities
Access to simple social tools
Cons
Some features are complex to use, including blurring.
9. Final Cut Pro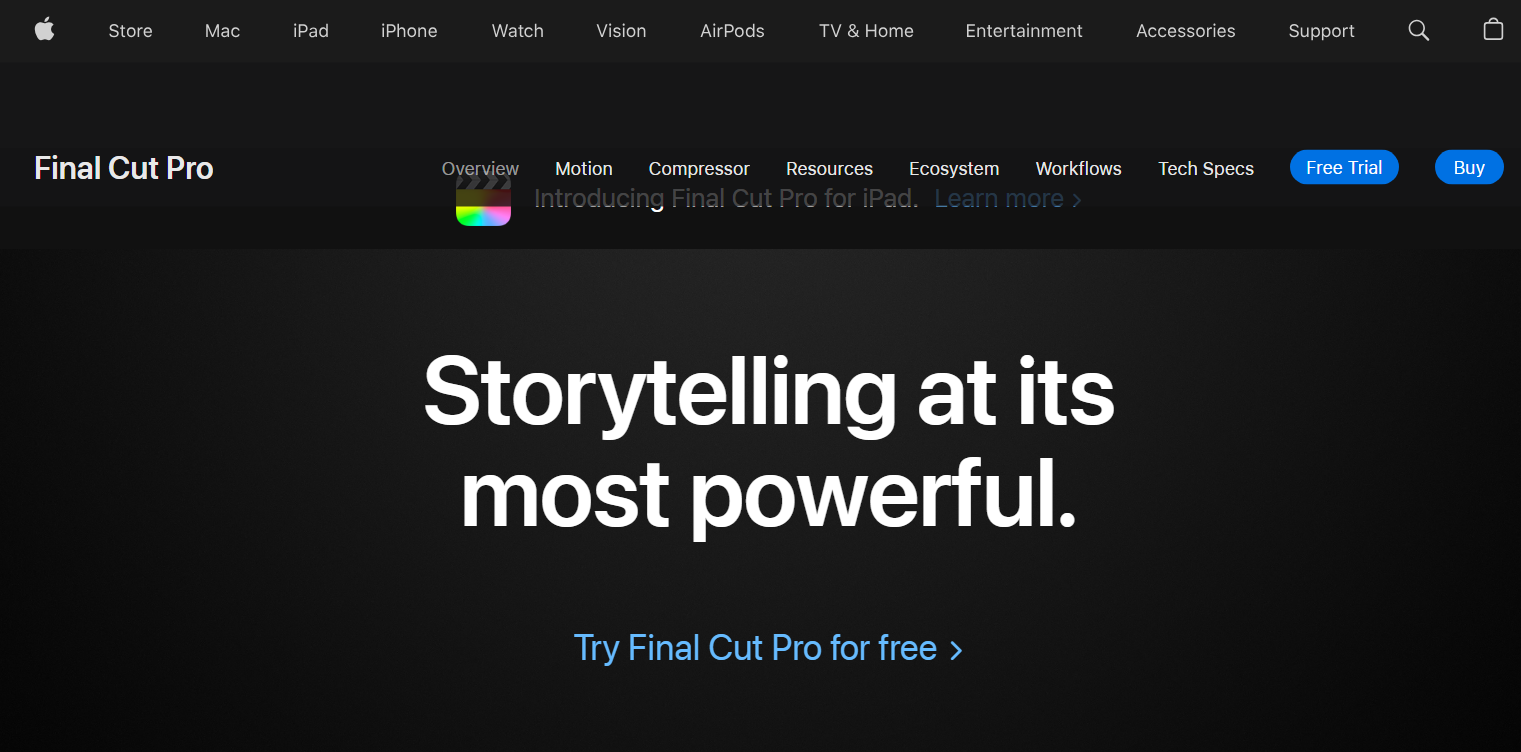 Adobe Premiere Pro and Final Cut Pro are similar for professional-level and feature-rich video editing software. Both tools are industry leaders, and it's difficult to say which is better. However, there are some key differences.
One of those is pricing. Unlike Adobe Premiere Pro, Apple Final Cut Pro doesn't feature a subscription-based pricing model. Although, in the long run, it's relatively cheaper than paying for a monthly subscription, some people might not be too happy to spend such an enormous sum. Thankfully, Final Cut Pro also features a free 90-day trial, so you have enough time to explore its features before making any commitments.
Although Adobe Premiere Pro works perfectly with Creative Cloud apps, Apple Final Cut Pro fits beautifully into the larger Apple ecosystem. It's designed to leverage Metal for wicked-fast graphics and is well-optimized for Mac Pro.
With Final Cut Pro, you'll have unlimited access to advanced features such as range-of-effect options, intelligent Smart Conform cropping, and Magnetic Timeline that follows dominant motion on the screen to ensure you don't cut vital details. It's fast, innovative, and perfect for Mac users.
Pros:
Subscription-free pricing model
Intuitive user interface
Fit perfectly into the larger Apple ecosystem
Cons:
Lacks the Windows version
No motion tracking for 360 degrees and no stabilization.
10. Filmora9 by Wondershare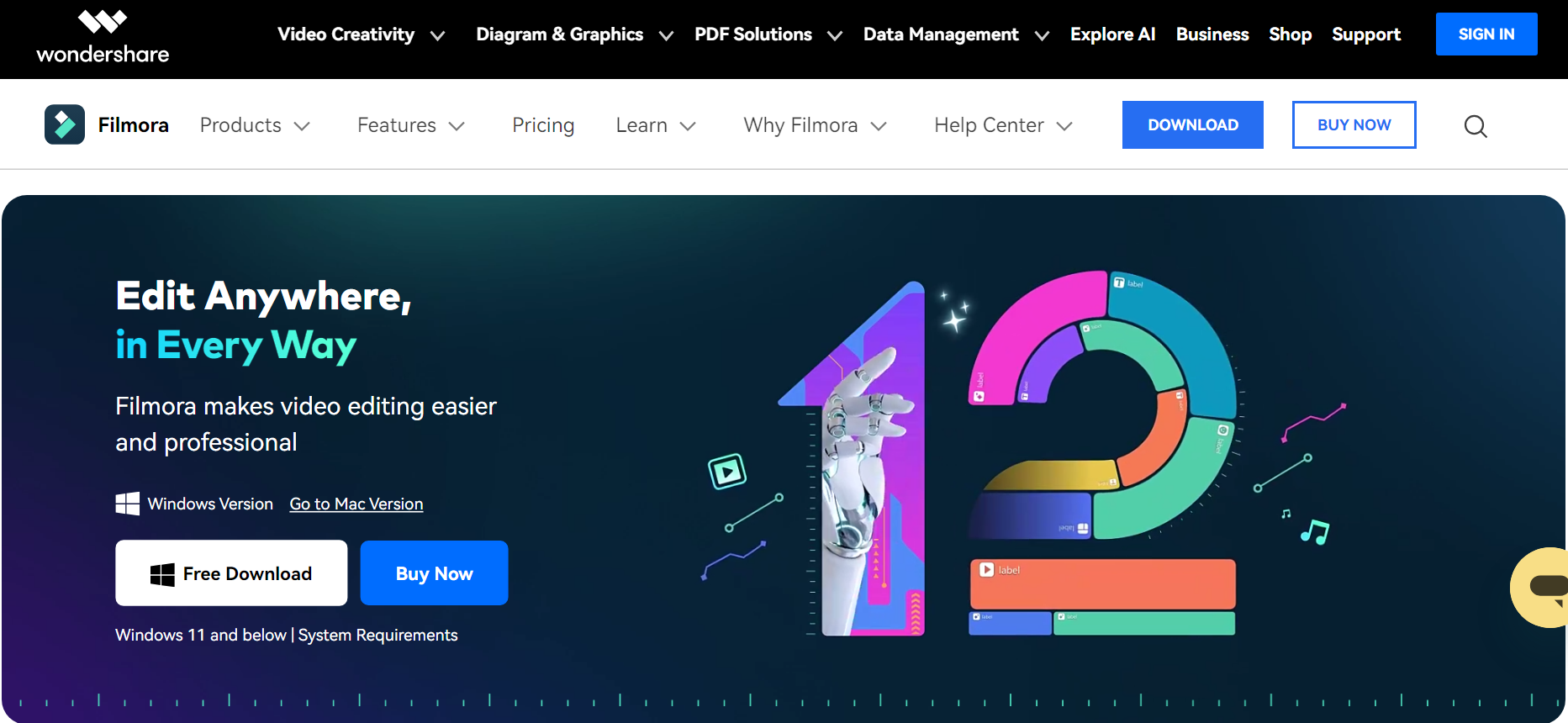 This video editing software by Wondershare is one of the best editing software for beginners. It has a straightforward, intuitive, and clear workflow that's easy to navigate and easy-to-use video. Filmora9 also features plenty of filters and effects, which you can easily apply to your video footage. In addition, its royalty-free sound library with music and sound effects makes adding flair and emotion to your videos easier.
Unfortunately, since this is one of the best editing software for beginners, it lacks many advanced Adobe Premiere Pro and Final Cut Pro features, such as Multicam, VR, and motion tracking. Still, it's not meant for the same level of knowledge or audience.
Also, it doesn't feature a professional price tag. You can enjoy the free, fully-featured version with a watermark or opt for the full version, which costs $68.98 per year for individuals with full user support and no watermark.
If you're new to video editing and want to learn the tricks with simple but powerful software that's affordable, Filmora9 is the best free video editing software for you.
Pros:
Perfect for both Windows and Mac users
Affordable
A variety of filters and effects
Easy to use
Cons:
Lacks motion tracking
It doesn't support chaptering or DVD menus
Leverage Zight (formerly CloudApp) to Offer Outstanding Customer Service Experiences
Visual content is often consumed faster than text messages, so with Zight, your customers can get answers to their questions more quickly than ever. Using Zight to create detailed and easy-to-understand content, your customer support team can save time by cutting down on follow-up questions.
In addition, since Zight automatically copies an embeddable link to your clipboard, your team can swiftly share content with your customers. The ability to create and share content promptly with your customers means you can close customer tickets faster, increasing customer satisfaction.
To learn more about how your customer support team can close customer tickers three times faster with Zight, visit our customer support page today!
Frequently Asked Questions on Video Editing Software
1. What is the best video editing software?
When shopping around for the best editing software, you can't go wrong with Zight. It is a comprehensive video editing platform that combines powerful editing features with an intuitive interface. It offers advanced tools, real-time collaboration, and cloud-based storage, making it suitable for individuals and teams. Zight provides an efficient workflow for editing video clips, adding effects, and enhancing audio and video quality. It is worth exploring as a potential solution for your video editing needs.
Some other top options are Adobe Premiere Pro which offers advanced features, an intuitive interface, and extensive support for various Windows PC and Mac video formats. Another one is Final Cut Pro X, popular among Mac users, providing professional-grade editing features and seamless integration with other Apple software and hardware. Lastly, Davinci Resolve is known for its powerful color correction and grading capabilities, making it a preferred choice for professionals in the film and television industry.
2. What do most YouTubers use to edit videos?
When it comes to editing YouTube videos, Adobe Premiere Pro is a popular choice among many YouTubers. It offers comprehensive editing tools, advanced features like multi-camera editing, and efficient workflow integration. Additionally, Final Cut Pro X is commonly used by YouTubers who work on Mac platforms due to its professional capabilities, user-friendly interface, and seamless integration with other Apple software and hardware.
3. How can I edit videos for free?
Several options are available if you're looking for the best free video editing software. HitFilm Express is a feature-rich free video editing software that offers advanced tools like motion tracking, 3D compositing, and visual effects. iMovie is a free video editing software exclusively for Mac users, providing a user-friendly interface and basic editing features.
VSDC Free Video Editor is a free software for Windows users, offering features such as video stabilization, screen recording, and basic visual effects. Shotcut is a free and open-source video editing software compatible with Windows, Mac, and Linux, providing a range of basic editing features and support for various video formats.
4. What do I need to edit videos?
To edit videos, you will need a computer (Windows PC or Mac) with sufficient processing power and storage capacity to handle video editing tasks smoothly. You will also need video editing software installed on your computer. Popular video editing software options include Adobe Premiere Pro, Final Cut Pro X, and Davinci Resolve.
You will also require video clips or footage you want to edit. These can be recorded using a camera, downloaded from stock footage websites, or imported from other sources. Depending on your editing goals, you may need additional resources like music or sound effects to enhance your video's audio.